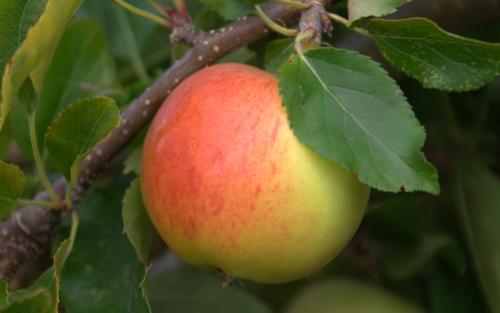 One of the most widely grown apple varieties in the world, and a mainstay of the supermarket apple selection - not least because it is available year round from northern and southern hemisphere suppliers. One of the unique features of Gala is that it can be grown with good quality results in both temperate and warm apple-growing regions, and it is generally regarded as a low-chill variety (i.e. it can be grown in regions which experience less than 800 hours of cool winter temperatures a year).
Gala is a cross between Kidd's Orange Red and Golden Delicious - a highly promising start. Bearing in mind that Kidd's Orange Red is the offspring of Cox's Orange Pippin and (Red) Delicious, Gala is effectively a union of three of the world's most important and distinctive apple varieties. Perhaps the flavor does not quite live up to that promise, but this is still a high quality apple with the potential to deliver really good flavor, particularly when home grown.
The colouration of Gala is exactly as you would expect from a cross between a Cox-type variety (Cox is one of the parents of Kidd's Orange Red) and Golden Delicious. It starts out as a very light coloured Cox, mainly orange streaks over yellow; mature apples are much darker, often a strong red colour. (The colour is a good indicator in supermarket Galas of the age of the apple: if it is very pale then it is probably the new season's crop, probably picked slightly early; if it is very dark then either it has been left deliberately on the tree to mature or it has matured over a long period in a cold store).
It is interesting to compare Gala with Freyberg. Freyberg was developed by the same grower in New Zealand and is a cross between Golden Delicious and Cox's Orange Pippin, whereas Gala is a cross between Golden Delicious and Kidd's Orange Red (which is itself an offspring of Cox). A comparison of Gala and Freyberg is therefore a way of looking at the effect of the aromatic qualities of a Cox, applied in varying degrees on the easy-going sweet flavour of Golden Delicious.
Because Gala is so widely grown, and keeps well in storage, it is not unusual around April/May and September/October to see Gala apples for sale from both northern and southern hemisphere suppliers at the same time - with one having spent roughly six months in storage. In the UK and USA, make sure you are buying southern hemisphere Galas after April, and northern hemisphere after September. We reckon that Galas from South Africa and New Zealand seem to taste fresher and crisper than those from Brazil. From the northern hemisphere, French ones are generally better than UK or Italian ones. However in both cases it is largely a matter of luck, and regardless of the source, Galas are generally pleasant and un-demanding to eat.
Given its commercial importance, a number of sports have been developed - mutations of the original variety with slightly different qualities (usually better colouration). The following varieties are all sports or tradenames of Gala: Annaglo, Galaxy, Regala, Tenroy, Mondial Gala, Royal Gala.
Apple purists tend to dismiss supermarket varieties like Gala as bland and boring, often with good reason. However it has to be said that if you want a reliable sweet easy-eating apple, Gala is actually hard to beat. It is also important to compare "apples with apples" - a locally-picked specialist variety in a farmers market is inevitably going to taste better than a supermarket Gala which has travelled from another country. However, anyone fortunate enough to have tried a Gala straight from the tree will know that it has a surprisingly punchy sweet flavour, not found in supermarket specimens. In freshly-picked examples the sweetness typical of Gala has a pear-like quality - which is perhaps more fully expressed in one of its offspring, Jazz.
At the end of the day, whilst there are undoubtedly many better varieties around, none of them are so readily available !
Our headline photo shows a tree-ripened Gala grown in the south of England. Note that it is a deeper red than some shop-bought Galas, and the resemblance to Kidd's Orange Red is quite noticeable in this particular example.
Gala apple identification images
All images copyright Orange Pippin unless otherwise stated.
USDA identification images for Gala
The identification paintings in the USDA Pomological Watercolor Collection span the years 1886 to 1942.
Citation: U.S. Department of Agriculture Pomological Watercolor Collection. Rare and Special Collections, National Agricultural Library, Beltsville, MD 20705.
Parents and other ancestors of this variety
Sports of this variety
Sports are natural genetic mutations of the original variety.
Visitor reviews
20 Sep 2022 

Brian

The Gala is all I eat because it doesn't give me itchy gums and throat like many other varieties, they are hit or miss at the supermarket though. I can't stand when I buy a bag of mealy apples, so disappointing . I usually squeeze on them in the store for firmness and that helps but not always accurate. Tonight I bought a bag which were grown in the US and they are delicious, first sweet and crunchy one I've had all summer, has those hints of pear flavor which you spoke of. Good tip on when to buy from which side of the hemisphere, thanks

14 Jun 2022 

Phyllis Smith

lMy apples look fine however they have a stale taste

23 Jul 2020 

Nicole Carter

NSW, United States

Grown as Thomas bouch hedge sweet crisp apple that spur bears well reliable early bearer

17 Jan 2019 

Steve

OHIO, United States

Delicious and healthy, not too sweet. Perfect.

12 Aug 2017 

Laura

NY, United States

These apples taste great, but boy are they hard to grow. My little tree starts out great every year, but always looks like it's on the verge of death. I never get more than 5-10 apples.

20 Oct 2015 

Anomaly

United States

Gala are hit or miss in the supermarkets. They were my original "fall-back apple" once the orchards were closed for the winter, but I've since moved on to more reliable varieties like Pink Lady and Jazz. While you can still get decent Gala apples at the store, in the Northeast U.S. I'd say your chances are 50/50.

31 Mar 2014 

Jamie

BERKSHIRE, United Kingdom

Gala is a poor mans excuse for an apple! Its taste disgusts me, whenever I take a bite I feel like my mouth is slowly drying up due to the dryness of this 'apple'

31 Mar 2014 

Kasey

NZ, New Zealand

great apple 10/10 0.48 per kg at paknsave wanganui go grab a bargin

13 Sep 2013 

Susan

GEORGIA, United States

My favorite apple. So sweet, crisp and juicy. Love these.

15 Jan 2013 

Bo and Brent

NY, United States

Brent - A sweet and tasty apple with a relatively soft flesh. lacked the crispness of some other varieties

05 Oct 2012 

Maranda

WA, United States

my favorite apple of all. better than all the others...except the infamous pear-apple. ;)

31 Jan 2012 

Mrs. Smith

MI, United States

Gala is my absolute FAVORITE apple!!!

23 Jan 2012 

Albany Appleguy

United States

I little soft and bland for my tastes

02 Nov 2009 

Ardine Joss

VANCOUVER, BRITISH COLUMBIA, Canada

I buy the organic apples. Gala is my favourate because it has a nice crispiness to it along with good flavour. It is not too sweet. It seems to hold its flavour well.

20 Jul 2008 

Arwadoo

Jammu and Kashmir, India

Hi I want to introduce galla variety in an area which is located at about 7000Ft altitude ,The requirement of the variety is early ripening. Will galla variety be useful for this area With Regards ARW

25 Oct 2007 

B. Wilkinson

OAMARU, New Zealand

I have a friend with a rare skin complaint. The doctor says the only variety of apple she may eat is a Golden delicious. These seem impossible to obtain in Otago. Where can I get some ???
Tree register
Spring blossom records for this variety
2022 season
2021 season
2020 season
2019 season
2018 season
2017 season
2016 season
2015 season
2014 season
2013 season
2012 season
2011 season
2010 season
2009 season
Record your blossom dates in our Fruit Tree Register - more >>.
Harvest records for this variety
2021 season
2020 season
2019 season
2018 season
2017 season
2016 season
2015 season
2014 season
2013 season
2012 season
2011 season
2010 season
2009 season
Origins
Species: Malus domestica - Apple
Parentage: Golden Delicious and Kidd's Orange Red
Originates from: New Zealand
UK National Fruit Collection accession: 1976-144
Identification
Country of origin: New Zealand
Period of origin: 1900 - 1949
Fruit colour: Orange / Red
Flower colour: Pink - light
Leaf colour: Green
Popularity: Best sellers
Annual cycle: Deciduous
Using
Picking season: Late
Keeping (of fruit): 3 months or more
Flavour quality: Average
Flavour style (apples): Sweeter
Discoloration of fruit: Slightly oxidising (browns slowly)
Cropping: Good
Fruit persistence: Normal ripening
Food uses: Eating fresh
Food uses: Juice
Picking period: mid-September
Wildlife: RHS Plants for Pollinators
Growing
Gardening skill: Average
Flowering group: 4
Pollinating others: Average
Ploidy: Diploid
Vigour: Vigorous
Bearing regularity: Regular
Fruit bearing: Spur-bearer
Self-fertility: Partially self-fertile
Climate
Frost resistance of blossom: Good resistance
Cold hardiness (USDA): (5) -20F / -29C
Chill requirement: Low-chill
Climate suitability: Temperate climates
Climate suitability: Warm climates
Summer average maximum temperatures: Cool ( 20-24C / 68-75F)
Summer average maximum temperatures: Warm (25-30C / 76-85F)
Summer average maximum temperatures: Hot (>30C / 86F)
Other qualities
Disease resistance: Poor
Canker: Some susceptibility
Powdery mildew: Some susceptibility
Fire blight: Some susceptibility
Cedar apple rust: Some susceptibility
Scab (Apple and Pear): Very susceptible
Where to buy trees
The following tree nurseries offer Gala apple trees for sale:
Where to buy fresh fruit
The following orchards grow Gala:
United States
United Kingdom
England - midlands

England - south-east
Netherlands
Canada
British Columbia

Nova Scotia

Ontario
Australia
Switzerland
India
References
Cedar-Apple Rust  
Author: Stephen Vann, University of Arkansas, Division of Agriculture (FSA7538)
Rated as highly susceptible - control always needed where CAR is prevalent.
Apples for the 21st Century
Author: Manhart
Fruit Expert
Author: Hessayon