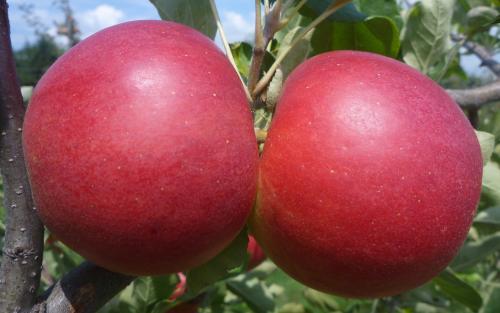 Sansa was developed in the 1970s by the Morioka Research Station in Japan, in collaboration with researchers in New Zealand, as a straightforward cross between Akane and Gala varieties.
Sansa appears to have good disease resistance, although it was not developed specifically for this purpose. The disease resistance is likely to come from the Akane parentage, since Akane is itself naturally disease resistant whereas Gala is susceptible to several common apple diseases.
In terms of flavor, Sansa is essentially an early-ripening Gala. It inherits Gala's inherent sweetness, but with more acidity - as might be expected given its earlier ripening season.
Sansa apple identification images
All images copyright Orange Pippin unless otherwise stated.
USDA identification images for Sansa
The identification paintings in the USDA Pomological Watercolor Collection span the years 1886 to 1942.
Citation: U.S. Department of Agriculture Pomological Watercolor Collection. Rare and Special Collections, National Agricultural Library, Beltsville, MD 20705.
Visitor reviews
24 Aug 2019 

Stephen Messier

MA, United States

Bought my first bag of these today at Big Apple Orchard in Wrentham, MA. I guess never go looking for local apples this early in season, but this was a great choice. Sweet and juicy in hand. Will buy again.

07 Oct 2018 

El

WISCONSIN, United States

I tried this variety. It was late in the season and because of that was getting grainy. The taste was so good however that the texture didn't matter. To add to the description above — this apple (at least locally) is slightly russetted.

09 Sep 2015 

Mark Eich

NY, United States

Just picked some of these at a local u-pick farm that has only a few rows of these trees available. They were small in size, maybe due to the early age of the trees or lack of rain in the past few weeks, but the apples were really pleasantly sweet with a good chewing consistency. We're so lucky to have such a large variety of apples to pick from.

16 Sep 2014 

Palmer

PALM BEACH COUNTY, United States

Just had Sansa for the first time. ORGANIC from The Boys Market in Delray Beach, Fla. $1.99 lb. I can't grow 'em. I do grow papaya,mango, pineapple,carambola, passion fruit, key lime, all organic. sweet corn and guava,next. I am going back now to buy more sansa. I always have pie in mind. Be well and be happy

27 Aug 2013 

Ingrid

NY, United States

A new variety at my local orchard so I gave it a try. Its a very nice, sweet, crisp apple. It is definitely my favorite of the early apple varieties.

18 Aug 2013 

Sarah

NY, United States

Purchased some sansa apples at the farmer's market in Union Square (Manhattan) to try for the first time. I think this variety is my new favorite! Thinking of going upstate to pick some this September.
Tree register
Spring blossom records for this variety
2021 season
2019 season
2018 season
2017 season
2016 season
2015 season
2014 season
Record your blossom dates in our Fruit Tree Register - more >>.
Harvest records for this variety
2021 season
2020 season
2019 season
2017 season
2015 season
2014 season
2011 season
Origins
Species: Malus domestica - Apple
Parentage: Gala x Akane
Originates from: Japan
Introduced: 1988
Developed by: Morioka Research Station
Identification
Country of origin: Japan
Period of origin: 1950 - 1999
Fruit colour: Red
Leaf colour: Green
Popularity: Best sellers
Annual cycle: Deciduous
Using
Picking season: Early
Keeping (of fruit): 1 week
Flavour quality: Very good
Flavour style (apples): Sweeter
Discoloration of fruit: No discoloration (Good for drying)
Cropping: Heavy
Fruit persistence: Normal ripening
Food uses: Eating fresh
Picking period: early September
Wildlife: RHS Plants for Pollinators
Growing
Gardening skill: Beginner
Flowering group: 4
Pollinating others: Average
Ploidy: Diploid
Vigour: Weak growing
Precocity: Precocious
Bearing regularity: Regular
Fruit bearing: Spur-bearer
Self-fertility: Not self-fertile
Climate
Cold hardiness (USDA): (5) -20F / -29C
Climate suitability: Temperate climates
Climate suitability: Warm climates
Summer average maximum temperatures: Cool ( 20-24C / 68-75F)
Summer average maximum temperatures: Warm (25-30C / 76-85F)
Other qualities
Disease resistance: Good
Powdery mildew: Very resistant
Cedar apple rust: Very resistant
Scab (Apple and Pear): Some resistance
Where to buy trees
The following tree nurseries offer Sansa apple trees for sale:
Where to buy fresh fruit
The following orchards grow Sansa:
United States
Canada