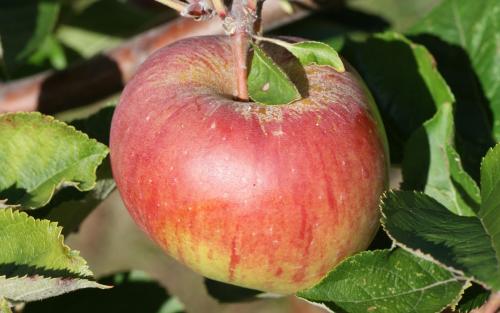 Winesap is a well-known American heirloom apple, and was a major commercial variety in Virginia during the 19th century. Its origins are unknown but it probably dates back to the 18th century. It has all the qualities needed for commercial production - it is a regular heavy cropping tree with very little biennial tendency, and the apples can be kept in natural cold storage for a good 3 months or more. It can be eaten fresh but is primarily a culinary apple, also popular for juice/cider production.
Commercially Winesap was eclipsed during the 20th century by varieties such as Red Delicious, and to some extent by one of its own offspring Stayman (Stayman's Winesap) which has many of Winesap's qualities but a sweeter flavor. However it remains a respected and popular garden apple tree, with the additional advantage of having blossom that is unusually red by apple standards.
Winesap apple identification images
All images copyright Orange Pippin unless otherwise stated.
USDA identification images for Winesap
The identification paintings in the USDA Pomological Watercolor Collection span the years 1886 to 1942.
Citation: U.S. Department of Agriculture Pomological Watercolor Collection. Rare and Special Collections, National Agricultural Library, Beltsville, MD 20705.
Offspring of this variety
King David - Probable parent (or Arkansas Black, one of its offspring)
Visitor reviews
25 Oct 2023 

Vanessa

Where can l purchase a winesap tree?

04 Oct 2023 

Cori

Just harvested my 6 yo winesap this year - first year she gave me a good crop. Slow-maturing tree, my apples are a deep red with maroon/purple lowlights, a tough skin, a crisp snap and pale, juicy white flesh. Definitely the kind of winesap I remember as a child.

30 May 2023 

Patricia Crawford

I would like to buy some of the winesap apples.

18 Sep 2018 

David

WA, United States

The photo on the front page for this must have been taken in UK, for the true Winesap here in WA, USA, is red on red, with bright yellow if a leaf lays against the skin. Not to be confused with Stayman, a seedling of Winesap, with twice the size and half the taste or flesh color. Big flavor, of a different sort than Margil or Suntan.

27 May 2018 

David Waln

OREGON, United States

I planted a Winesap, (think it might be the Stayman), 42 years ago. I am in NE Oregon at 3,000 feet elevation. Shady site, clearing in the woods, fairly high up on the foothill of a 5,600 mt.. it fully ripens about 70% of the time. When it does it definitely has a Pomegranate overtone! Most refreshing!

12 Jan 2017 

Ray

TX, United States

Today was my first taste of a Winesap. I find them at the co-op in Las Cruces, New Mexico for $3.99/lb. Price means nothing when I'm buying natural/organic/heirloom. Especially that it's something I've never tried. The smell had me hooked immediately. I'm eating one fresh right now and based on what I've read here, I'll make myself a little apple pie next. I love them now! There aren't too many apple varieties down here in the southwest so I envy you northeasterners. Anyone out there want to trade for quince?! ??

11 Sep 2016 

Rusd

CHARLOTTE, NC, United States

Another annual visit to York SC for late summer apple picking after Labor Day. Love the Wnesap for its firmness, and tart and juicie flavor characteristics. Being from the northeast, I'm used to multiple varieties to select from.

02 Aug 2015 

David

VA, United States

I'm confused, none of the winesapes from Virginia look like the one pictured! They are bright vibrant red mixed with a deep maroon color and white spotting. A very good looking apple! They make incredible cider.

17 Nov 2014 

J. Szympruch

PENNA, United States

I have been able to get Winesap and Northern Spy Apples at a Girard Penna Orchard. Both are my favorite old time fall apple. Both are getting hard to find locally as people want "red apples".

28 Mar 2014 

Dennis Odonnell

PA/MONTGOMERY, United States

NO better memory of this beautiful variety than picking and eating winesap apples after a tough football game. These were old trees that were left over from the farm my suburban tract home was built on. Laying on the ground or picking from the tree,they were the best. A flavor and juicy delight I will never forget.

31 Jan 2014 

Patrick

MARYLAND, United States

The Winesap is is one of those classic apples that is becoming difficult to get. A pity because what sets them apart from the travesties pushed on us in supermarkets is the rich depth of flavor. Heirloom apples like Winesap have a spiciness that modern apples lack. Needless to say they work beautifully in pies and tarts. The apple is also fantastic as a snack (esp. if you love the developed flavor of good apple cider), but will spoil you forever once you've tasted one. While I still think Jonathan is the best apple ever, the Winesap comes pretty darn close and I snap either up whenever I can find them.

18 Mar 2013 

Ed Hands

United States

This flavorful old variety is getting hard to find in eastern Massachusetts. Love it out of hand, but would like to get enough to make cider.

14 Feb 2013 

Dave Liezen

WASHINGTON, United States

At the risk of redundancy, this was my childhood favorite, and remains one of the best apples to my experience so far. My buddy who owns the tree I have eaten from for half of each of the past two years is selling his house, so now I must get scions for grafting. This apple makes fabulous sauce, pies, crisp and I can only imagine the juice if squeezed!

22 Oct 2012 

Tucker Keene

TX, United States

Judy, Central Market in Dallas has Winesaps when they're available, which I believe I was told is mid November. Another option with the pie would be to take the Alton Brown approach, toss the apples in some of the sugar used in the filling and let them drain in a colander for an hour and a half or so, this will prevent them from watering down your pie and the drained juice can be reduced and spread on top of the pie crust for a wonderful apple caramel coating.

24 Sep 2012 

Sherrie Miller

NJ, United States

To the person that struggled with the juice in the pie pan issue - I too am a Jersey resident, and Winesap apples are THE apple for me. AFter many years of struggling with the juice issue in the pies, I saw a cooking show that said to saute the apples lightly in butter for about 5 minutes to cook off the extra liquid. To this day, I have never had a soupy pie. Try it!

07 Feb 2012 

Judy Rayburn

TX, United States

I have lived in Dallas,TX for 9 years and have not been able to find any Winesaps. I remember eating them when I lived here 30 years ago. Does anyone know where I can find them here?

25 Jan 2012 

Richard Wolek

NEW JERSEY, United States

Like the commentator and former Jerseyman Mr. Wes Rolley, I also await until the Winesaps are out before visiting farmers' stands. And of course, that means no sooner than early fall. Sadly, they have all become tourist traps these last few decades. It was the Winesap that opened my eyes to apple connoiseurship. In my public high school we were compelled to take a half semestre cooking class. At home afterwards I would try my hand at Betty Crocker recipe apples pies. They were always excellent with Winesaps as filling, and mine were my favorite apple pie until the farmers' stands began offering the caramel/walnut upgrade a few years ago (at $20+ a pop!). My father preferred my own to even his mother's, though she could make them quickly, in greater number, with a coal fired oven, and given whatever other constraints one might encounter in depression-era Philly. My misgiving about my pies-and by that I mean the Winesap-was the syrup that would form at the bottom of the pie. While it didn't prevent the bottom crust from crisping, it happened every time and the cookbook failed to address it. People used to suggest cornstarch or extra flour, but I wanted to avoid the pasty mess I find in the worst store bought pies. Perhaps next fall I'll try it and see what results-in a worse case scenerio, I'll deal with the syrup. Of course, I'll also experiment with wet nuts and caramel! But getting back on track, I so look forward each year to that cool weekend day when I drive alone down my favorite road, the White Horse Pike, to beautiful Hammonton to pick up my large basket of Winesaps, that I try to leave the house on an empty stomach. Immediately upon leaving the market-keeping an eye to make sure no other cars are nearby!-I lustily chomp into a large example of that treat I waited so long for! The loud crisp snap that competes with One Republic on upgraded speakers! Every time caught by surprise by the spray that fires in all directions-face, windshield, eyes-from this ultra juicy fruit! My hunger quenched first by the sweet, hot-heel followed by an acidic tart! The sun on my face, the wind in my hair! Whew!!! Winesap!!! Chomp, chomp, chomp! I will certainly regret sharing this, but this experience is so transforming and mystical for me that in my single Pagan tradition, I toss part of my apple out the window into a copse of trees to share back some of the bounty which that land had lent to me. p.s. Kudus to Faye Kane, nice read! p.s.s. Can't find much 'net clarity on the difference between colonial Winesaps and the Stayman strain! Need more scholarly disseration on the former.

24 Jan 2012 

Christina

MD, United States

I just bought some Winesaps today at the Fruit Bowl in Cumberland, MD for $0.69/lb., in case anyone is looking in the western MD area. I can't wait to bake with them tomorrow.

15 Oct 2011 

Wes Rolley

CA, United States

I used to wait for the winesaps to ripen before visiting fruit stands in NJ. In California now and planing apples, so I planted one. We just picked it tonight and it was so good. Planted between an Ashmead Kernel and a Chojuro Asian pear.

15 Sep 2011 

Faye Kane Homeless Brain

VA, United States

I came here specifically to see if "Winesap" is an apple species or a name brand owned by a company that went out of business. Apparently, it's an apple species that went out of business. When I grew up in New York, in the sixties, we had a Winesap tree and I thought apple=Winesap. I only found out that there were other, inferior, kinds of apples after many years. Like those dry, mealy Red "Delicious" apples. But like so many other yummy foods in this God-forsaken used-to-be country, the REAL kind has been replaced by waxy, plastic simulations that make things more profitable for big businesses; like tomatoes, apricots, canned spaghetti. Cheddar slices and crunchy hard rolls at the Strawtown mom 'n pop corner grocery disappeared along with the store, their groceries, mom, and pop. Only the corner remains, with the Super Mart where we can buy the aptly-named American "cheese food product" and "hard" rolls that have crust as soft as the tasteless white bread inside. Well at least I found out here that other (old?) people miss Winesaps too. BTW, I'm 22. When did I turn into an old person? I look in the mirror and say WTF is THAT?? It must have happened while I wasn't paying attention.

21 Apr 2011 

Maryanne

LA, United States

Ate this as a child in North Carolina and have been trying to find them in stores ever since. Juicy, firm and tart with a taste like no other apple. I went to the organic store tonight looking for another apple to try and wondered whatever happened to Winesap apples. Figured I would investigate. Think I will buy one and a pollinator for the yard now that I know they still exist. Consumers will have very limited choices for fruit varieties in the future unless the DEMAND goes up for heirloom and locally grown produce.

02 Apr 2011 

Mark b

WASHINGTON, United States

Nice to know there are still winesaps grown commercially in the state. I'll have to visit those listed sites on my next trip to the Wenatchee area. In the meanwhile, a Whole Foods outlet in Seattle orders Winesaps especially for me, which I really appreciate. None of the other markets I know of in the city carries Winesaps.

02 Feb 2011 

Ella

United States

Hi all in WA - Orondo Cider Works (N of Wenatchee, along hwy 97) grows and sells Winesaps. I discovered them there, and they have since become a favorite of mine.

23 Jan 2011 

Debra

BRITISH COLUMBIA, Canada

Teresa et al, We are happy to be the recipient of a red flesh wine sap from a friend who has them on Salt Spring Island. We are also interested in accessing suitable rootstock this year for some of our other heritag apples if you have any suggestions please feel comfortable letting us know. We live on a small heritage farm that has some nice trees, however we still look forward to adding some additional variety. We also like the wolf river apple as well as others like the bel de bos koop. This past season I also tried the sweet 16 and liked it very much. Will keep posted. Debra

20 Oct 2010 

Dave Liezen

WASHINGTON, United States

Teresa: Also check into Feil Pioneer Fruit Stand on Hwy 2, E. Wenatchee (address 13073, if memory serves). They have many heirloom apples, and they might have Winesap. I went there for a first taste of Golden Nugget, Ashmead's Kernel, Hudson's Golden Gem, Lady, Calville Blanc d'Hiver, Spartan, Roxbury Russet and Karmijn de Sonnaville. Tasting the Golden Russet and KdeJ has changed my plans for the back yard! (Already growing a young Ashmead.) Hope you find Winesap.

19 Oct 2010 

Dave Liezen

WASHINGTON, United States

Teresa in Wenatchee area: I just helped a friend in Spokane pick his apples and I believe they are Winesap. They sure remind me of my childhood favorite. Are you growing any apples on your property and, if so, have you tried grafting? I might be able to arrange scion wood late this winter.

25 May 2010 

P. Seburn

VA, United States

A bowl full of these exudes a wonderful aroma in a room. You can still find them here in VA if you look at local fruit stands, farmers markets. Intense flavor. I've one planted now to make sure I can always get some. My 96 yr. old grandmother in law says they're the best pie apple.

09 Apr 2010 

Teresa

WA, United States

I live in the intermountain area of WA state where the famous Wenatchee apples are grown. The apple commission told me they are grown throughout this area, but when i talked to an orchardist he told me that it is rare to find anyone who grows them anymore. I miss them, the new apples coming out don't compare.

16 Nov 2009 

Weston

CLAREMONT, CA, United States

I grew up eating this in northeastern Indiana (Kercher's Orchards), and they are one of my favorites. I consider the flesh a bit mealy, which I like. Tart and sweet, but not overly so. I had not had these in years - since moving away from Indiana. I live in the Los Angeles area and I recently found some from a local grower at our farmer's market: I was so happy!
Tree register
Spring blossom records for this variety
2022 season
2020 season
2019 season
2018 season
2017 season
2016 season
2015 season
2014 season
2013 season
2012 season
2009 season
Record your blossom dates in our Fruit Tree Register - more >>.
Harvest records for this variety
2022 season
2013 season
2012 season
2009 season
Origins
Species: Malus domestica - Apple
Parentage: Unknown
Originates from: Eastern states, United States
Introduced: 1800s
UK National Fruit Collection accession: 1951-103
Identification
Country of origin: United States
Period of origin: 1800 - 1849
Fruit colour: Orange / Red
Flower colour: Pink - light
Leaf colour: Green
Popularity: Best sellers
Annual cycle: Deciduous
Using
Picking season: Late
Keeping (of fruit): 3 months or more
Flavour quality: Very good
Flavour style (apples): Aromatic
Cooking result: Textured puree
Discoloration of fruit: Very oxidising (browns quickly)
Cropping: Good
Fruit persistence: Normal ripening
Food uses: Eating fresh
Food uses: Culinary
Food uses: Juice
Picking period: late October
Wildlife: RHS Plants for Pollinators
Growing
Gardening skill: Average
Flowering group: 3
Pollinating others: Poor
Ploidy: Triploid
Vigour: Average vigour
Precocity: Slow to start bearing
Bearing regularity: Regular
Fruit bearing: Spur-bearer
Attractive features: Attractive flowers
Self-fertility: Not self-fertile
Climate
Cold hardiness (USDA): (5) -20F / -29C
Climate suitability: Temperate climates
Summer average maximum temperatures: Cool ( 20-24C / 68-75F)
Summer average maximum temperatures: Warm (25-30C / 76-85F)
Other qualities
Disease resistance: Good
Powdery mildew: Very resistant
Cedar apple rust: Very resistant
Fire blight: Some susceptibility
Where to buy trees
The following tree nurseries offer Winesap apple trees for sale:
Where to buy fresh fruit
The following orchards grow Winesap:
United States
Canada
British Columbia

Ontario

Prince Edward Island
References
Cedar-Apple Rust  
Author: Stephen Vann, University of Arkansas, Division of Agriculture (FSA7538)
Rated as resistant - control only needed under high disease pressure.
Apples for the 21st Century
Author: Manhart
Apples of England (1948)
Author: Taylor
Some Antique Apples for Modern Orchards, (2008)
Author: Merwin I.A.