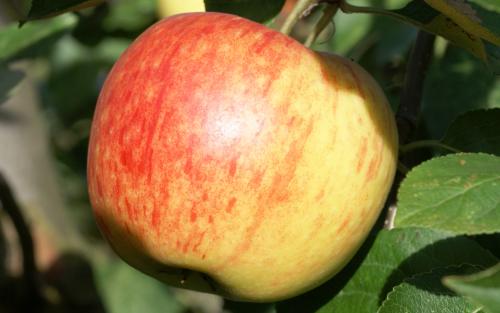 James Grieve is a justifiably popular dual-purpose apple variety, raised in Scotland at the end of the 19th century, the height of the Victorian period of apple development in the UK. James Grieve is a mid-season variety that is picked in early-mid September. At this stage it is pleasantly acidic and refreshing and if it is too sharp for eating it can be used for cooking (cut it into small chunks, it keeps its shape when cooked). After a few weeks the flavour sweetens and becomes quite mild, and it is then an excellent apple to eat in slices along with a cheese course. The flesh is soft, somewhat like a firm pear in texture.

Our photo shows a 'sport' known as Red James Grieve which was discovered in the 1920s. This is a natural genetic mutation of James Grieve - the shape and size are identical to the parent James Grieve but the red flush is more solid. There are a number of sports of James Grieve, a reflection of how widely it has been grown and the commercial interest shown in the variety in the early part of the 20th century. The photo also makes clear that James Grieve is a very handsome apple, and the skin has a slight satin sheen to it.

James Grieve has been used as the basis of a number of newer varieties, some of which have become successful as garden apple trees or in small-scale commercial plantings. One reason why you might want to use James Grieve in a new variety breeding programme is that it invariably passes on its inherent acidity, which can be an excellent way to stiffen the flavour of a new variety whose other parentage is sweet or bland. Varieties such as Greensleeves, Lord Lambourne, Elton Beauty, and Katy all inherit the acid kick from James Grieve which helps make them so refreshing. Lord Lambourne has also in turn proved popular in breeding programmes so James Grieve is one of a relatively small number of varieties which has 'grand-children' - Topaz is probably the most well-known of these. Like James Grieve these are all early to mid-season varieties.

Another important James Grieve characteristic is its juiciness - bite into one and the flesh glistens with juice. This makes it a great apple variety if you want to make your own apple juice - a feature also inherited by Katy.
Interestingly the parentage of James Grieve itself has not been fully established. Cox's Orange Pippin is a possible candidate, as it was a popular apple for amateur breeders at the time (as it still is). James Grieve has a very similar shape, which is a good indication, but it appears to have none of the aromatic sweetness of Cox. This is not necessarily a reason to reject Cox as a parent, since we do not know the other parent, and Ribston Pippin (the likely parent of Cox) has a robust flavour which is not dissimilar to James Grieve. The other possible candidate is Pott's Seedling, a popular commercial cooking apple of the period.

James Grieve apple identification images
All images copyright Orange Pippin unless otherwise stated.
USDA identification images for James Grieve
The identification paintings in the USDA Pomological Watercolor Collection span the years 1886 to 1942.
Citation: U.S. Department of Agriculture Pomological Watercolor Collection. Rare and Special Collections, National Agricultural Library, Beltsville, MD 20705.
Parents and other ancestors of this variety
Offspring of this variety
Visitor reviews
30 Aug 2017 

Margot Henery

WALES, United Kingdom

wonderful apple! Fell in love with it as a child, when our neighbour used to let me have one now & then, so insisted in planting it when first married & moved in here (1981) Struggle to keep the espalier shape my husband created but it's still going strong & am still loving those apples (Margot, Cardiff, margot.henery@gmail.com)

08 Nov 2015 

Aurie Mckay

BERKSHIRE, United Kingdom

Hi Stephen, I have just been helped to identify apple tree in my garden as James Grieve. It has probably been there since 1950's!! I have been away much of intervening time! It has never fruited very well until this year when it was smothered with apples; few last ones still coming down! I think good harvest may be due to my son's pruning two years ago; but not sure. Can you give me some tips for pruning J.G. please. Many thanks, Aurie

13 Jul 2015 

Stephen Horsfall

HERTS, United Kingdom

Lovely apple, good as both an eater and a cooker. My tree is a full-size standard, and must be quite old, as it was already fully grown in 1978, when I moved in to this house. It used to bear biennially, but I seem to have cured it with judicious pruning. Very heavy crop last two years, and it looks like being heavy again this year (2015).

22 Jun 2014 

Gordon

W EST SUSSEX, United Kingdom

I have a James Grieve Apple 3 years old fruits lovely but when the apple is cut open the inside is bruised around the pip area and the apple does not taste very nice

26 Oct 2013 

Steve Irish

HAMPSHIRE, United Kingdom

We 'rescued' a much maligned specimen from B&Q a few years ago. With a touch of TLC and the pollination by our bees we have had to support the branches such has been the crop each year. This year has been the heaviest crop of all with the average apple being some 11 cm in diameter. Harvesting has been late this year - 20 October - and the apples are sweet and flavoursome.

21 Sep 2013 

Laura

ABINGDON, United Kingdom

I have a James Grieve and an Egremont russet. They are good pollinating partners as they both flower quite early. The russet harvests later too, so avoids too much of a glut. However, what a bumper crop I have had from both this year!

08 Mar 2012 

Philip Robinson

DERBYSHIRE, United Kingdom

My second favourite after Fuji. They have a wonderful unique flavour, better than Fuji but I don't like the skins which are a bit waxy and thick. Incredible crisp and crunch, hard even. Its the flavour that draws them apart but they are very expensive - probably the most expensive in the UK.

25 Jul 2011 

Lindacapewell

WEST MIDLANDS, United Kingdom

I have a James Grieve apple tree in my small back garden.I live in the middle of the city and there are no pollinator trees around at all,but this lovely tree never fails to produce lots of big apples.One year we get a good crop,and every second year we get a bumper crop that I sometimes have to thin,I think it does really well considering there are no other apple trees about.

18 Mar 2011 

David

CHESTER, United States

I have recently purchased a James Greive and was wondering where to plant it? I have a west-facing sheltered wall. The southern aspect gets slightly more hours of sunlight than the northern aspect. Does the tree need the maximum amount of sun, or will it tolerate a bit of shade to enable me to use the sunnier part of my wall for other plants?

30 Sep 2010 

Rosemary

PEMBROKESHIRE, United Kingdom

I grow James Grieve in Pembrokeshire and it often gets some scab - but this year has been disease-free and the fruits have been excellent. It makes excellent tarte tatin and very tasty dried apple rings but does not keep.

26 Jul 2010 

Gordon

WEST SUSSEX, United Kingdom

I have a james grieve apple which in its first year of fruiting they looked perfect on the treebut when they where cut open they had gone brown from the core. any comments please.

14 Feb 2010 

J D James

CAERDYDD, United Kingdom

I have found a very useful little site on pruning, if anyone's interested - http://www.gardenaction.co.uk/fruit_veg_diary/fruit_veg_mini_project_september_2d_apple.asp

06 Nov 2009 

J D James

CAERDYDD, United Kingdom

We had some lovely apples (about 20) from our first year harvest - I harvested throughout September and into the beginning of October - I was a bit worried about the wind blowing them off the tree!! I would be grateful for any advice on pruning, as the tree is still a bit "straggly" - should I take out the lower branches, for instance - about a foot or two from the ground? It has reached about six feet high now, but still thin and supported by bamboos.

05 Sep 2009 

Nick M

BACKBARROW, CUMBRIA, United Kingdom

Took two varieties to Acorn Bank, near Temple Sowerby for identification. One was James Grieve. Small tree with southerly aspect. Intertwined with Egremont Russett. We get so many that we juice them at nearby communal pressing day. Lovely drink. Sharp initial taste.

30 Aug 2009 

Chris Hayes

HAMPSHIRE, United Kingdom

Do james grieve apples store well as we are moving house ?

01 Aug 2009 

Brian Waugh

BOLTON, LANCS, United Kingdom

Question! I Have A James Grieve Apple Tree, And Would Like To Know If I Will Need Another Apple Tree For Polination Kind Regards Brian

31 May 2009 

Andrew Lear

PERTH, SCOTLAND, United Kingdom

I have a james grieve trained as an espalier against my garage wall. It is 7 years old and gives me loads of beautiful apples every year. Very reliable. Can be kept into the new year if stored carefully in a cool place.The photo is very misleading, its not the typical one. There is an old one outside the shop at RBG Edinburgh.Lots of flowers thie year, i will need to thin the fruit. The best apple for Scotland!

14 Dec 2008 

Robb Mc Cracken

IDAHO, United States

John, Can you tell me anything about James Grieve's resistance (or lack of resistance) to apple diseases? In particular, does it get scab? Not grown much in USA. I may plant test trees in my commercial orchard. Thanks. --Robb

24 Sep 2008 

Gordon

SALSBURGH SHOTTS LANARKSHIRE, United Kingdom

i have a james grieves at one end of my garden and a orange cox pippin at the outher end, will they complement each outher? The James Grieve has just started to bear fruit this year and so has the Cox although sparse, how do i know when to harvest and what can i do to get the best from my apples as my wife and i can,not eat them all.

13 Aug 2008 

H Sherwood

WORCESTER, United Kingdom

I inheriated a james grieve tree with my house, and have yet to try the apples but i have a bumper load on it, so this website has been good for me to find out what it can be used for.

27 Jul 2008 

M J Green

DEVON, United Kingdom

My Grandfather planted a Grieve during the war, my greatest memories as a two year old was my grandmothe scraping the flesh with a spoon to give to me. I have just planted one last autumn and have wo to eat this year. I am getting very exited about re-living my childhood.

14 Apr 2008 

B Rudlin

ESSEX, ENGLAND, United Kingdom

i have had conflicting comments as to whether James Grieve is self pollinating. Can someone please advise me. Answer: it is partially self-fertile.

05 Apr 2008 

John Cossham

YORK, United Kingdom

This is my favourite apple. We have a good shaped tree in our garden. The apples are early and do not store very well. Wonderful flavour for eating straight from the tree. They also dry well and make a fantastic dried apple ring (I make these on my woodstove) and these store well in an airtight jar.... and really make my muesli lovely!

04 Mar 2008 

Pj Wooldridge

JERSEY CI, United States

So.. J.Grieve needs a pollinator....what is the best? we have a couple of non descript apples close by and a Crab .. q2 how close need the pollinator be? all comments appreciated.

30 Jan 2008 

Mike

SUSSEX, United Kingdom

Does James Grieve need a pollinator? OP: Yes - it is partially self-fertile so a separate pollinator is best.

27 Sep 2007 

Lucy

SCOTLAND, United Kingdom

Thats my great grandads apple

14 Sep 2007 

Steve

HAMPSHIRE, United Kingdom

We inherited two James Grieve when we moved into our house a year or so ago. We have enjoyed two bumper seasons and picked the apples early and late. This year we crushed and pressed about half of them and found that the earlies were slightly dry and produced an aromatic slightly acidic juice that is extremely light and refreshing. We hope the juice freezes well but cannot tell as yet. There is evidence of fire blight on the trees, which will be cut away hard this year after the last of the apples are used. Let's hope the trees are as resistant to disease as you indicate.

12 Sep 2007 

Mary

DEVON, United Kingdom

We inherited this apple which we have just identified. Agree totally. Vey sharp when just ripe but quickly yellows and softens. Have stewed loads to freeze( yes they keep their shape) and eaten loads with cheese. going to try juicing next year.
Tree register
Spring blossom records for this variety
2023 season
2022 season
2020 season
2019 season
2018 season
2017 season
2016 season
2015 season
2014 season
2013 season
2012 season
2011 season
2010 season
2009 season
Record your blossom dates in our Fruit Tree Register - more >>.
Harvest records for this variety
2023 season
2020 season
2018 season
2017 season
2016 season
2015 season
2014 season
2013 season
2012 season
2011 season
2010 season
2009 season
Origins
Species: Malus domestica - Apple
Parentage: Potts Seedling ?
Originates from: Scotland, United Kingdom
Introduced: 1893
UK National Fruit Collection accession: 1974-349
Identification
Awards: RHS AGM (current)
Country of origin: United Kingdom
Period of origin: 1850 - 1899
Fruit colour: Orange flush
Flower colour: White
Leaf colour: Green
Popularity: Best sellers
Annual cycle: Deciduous
Using
Picking season: Mid
Keeping (of fruit): 1-2 months
Flavour quality: Average
Flavour style (apples): Sharper
Cooking result: Keeps shape
Discoloration of fruit: No discoloration (Good for drying)
Cropping: Good
Fruit persistence: Fruit drops when ripe
Food uses: Eating fresh
Food uses: Culinary
Food uses: Juice
Food uses: Hard cider
Food uses: Dual purpose
Picking period: early September
Wildlife: RHS Plants for Pollinators
Growing
Gardening skill: Beginner
Flowering group: 3
Pollinating others: Good
Ploidy: Diploid
Vigour: Average vigour
Precocity: Precocious
Bearing regularity: Regular
Fruit bearing: Spur-bearer
Self-fertility: Partially self-fertile
Climate
Frost resistance of blossom: Good resistance
Frost resistance of blossom: Some resistance
Cold hardiness (USDA): (5) -20F / -29C
Climate suitability: Temperate climates
Summer average maximum temperatures: Cool ( 20-24C / 68-75F)
Cold hardiness (RHS): H6 (to -20C)
Summer average maximum temperatures: Cold (< 20C / 67F)
Other qualities
Disease resistance: Average
Canker: Some resistance
Scab (Apple and Pear): Some susceptibility
Fire blight: Some susceptibility
Where to buy trees
The following tree nurseries offer James Grieve apple trees for sale:
Where to buy fresh fruit
The following orchards grow James Grieve:
United Kingdom
Canada
Australia
References
Apples of England (1948)
Author: Taylor
Fruit Expert
Author: Hessayon