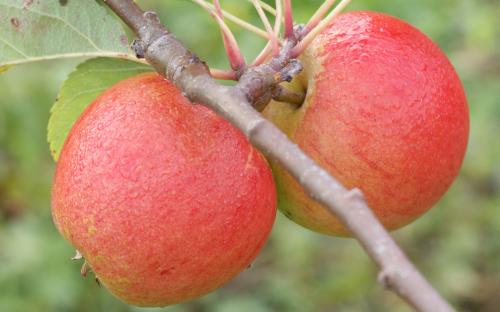 Lord Lambourne was introduced in 1907 and is very much in the tradition of classic English high-quality dessert apples. It has the pleasing uniform shape - round, and not too flattened - and typical orange flush over green, with a hint of russet. On biting into a Lord Lambourne the first thing that strikes you is the juice and acidity. The flesh is creamy-white and quite crisp, and the flavour is pleasantly strong.

It is a fair bet that such a high-quality aromatic apple will have Cox's Orange Pippin somewhere in its ancestry but the link is not certain. The immediate parentage is James Grieve and Worcester Pearmain, and the parentage of James Grieve is not known although Cox is a contender. If so, then the aromatic flavour of Cox is rather more apparent in Lord Lambourne than in James Grieve, although the James Grieve acidity is still prominent.

Lord Lambourne has two siblings which share the same parentage - Katy and Elton Beauty. However Lord Lambourne is the odd one out of the three, since Katy and Elton Beauty both have the sharp zing of James Grieve and the up-front summery strawberry flavours of Worcester Pearmain. Lord Lambourne offers quite a different taste experience, with more depth and subtlety.

Another interesting comparison is with Topaz, a very modern variety and distantly related to Lord Lambourne. Topaz arrives much later in the season but like Lord Lambourne it has some of the classic English aromatic flavour, overlaid with plenty of juicy acidity. Despite being developed nearly a century apart, both these varieties are (arguably) much better apples than their common ancestor James Grieve.

Like many of the James Grieve offspring, Lord Lambourne is an easy apple variety to grow in the garden, and produces good crops. It is also (like Katy) fairly easy to find in the UK at farmers markets, and occasionally in supermarkets.

Lord Lambourne is, along with Ellisons Orange, one of the earliest of the aromatic English-style apples, and whilst it does not have the complexity of the later-arriving varieties it is nonetheless a pleasing apple in its own right.

Lord Lambourne apple identification images
All images copyright Orange Pippin unless otherwise stated.
USDA identification images for Lord Lambourne
The identification paintings in the USDA Pomological Watercolor Collection span the years 1886 to 1942.
Citation: U.S. Department of Agriculture Pomological Watercolor Collection. Rare and Special Collections, National Agricultural Library, Beltsville, MD 20705.
Parents and other ancestors of this variety
Siblings of this variety (same parentage)
Visitor reviews
12 Sep 2023 

David Maxwell

I noted in my own records, several years ago, that this apple is "reminiscent of watermelon". This year it is even more so - sweet and juicy, but very little flavour.

05 Oct 2016 

Dave Liezen

WASHINGTON, United States

Love this apple - it just can't deal with arid conditions well. Must strip it of fruit in order for the li'l tree to grow, which I finally did this season. I must find a friend or family member on the soggy side of Washington state to give it to, so I can still enjoy it some years. Great apple; prodigious blooming and easy-care tree, but for the cracked fruit.

13 Sep 2015 

Dave Liezen

WASHINGTON, United States

This has been a record hot and dry summer. The LL apple on the sunny side of the tree took a beating, two large cracks. Yesterday (Sept. 11) I picked it and checked for sugar level: 29 Brix! I checked twice more to be sure. Quite dry due to the cracks, in contrast to last year, and with surprising complexity. The other apples are fine despite the weather.

13 May 2015 

Dave Liezen

WASHINGTON, United States

This one generates comments, huh? I had the first taste of LL last fall, just three apples on a midget tree. Decided it will never be big enough standing on Bud9, so dug it up and re-planted it by burying the graft union. It should grow to be a compact standard and yield a crop worth waiting for!

01 May 2015 

Edward

NSW, Australia

Great tasting apple. Very similar to Cox's Orange Pippin but earlier by about 3 weeks. Highly recommended. I grow it in Katoomba, NSW, Australia.

15 Nov 2014 

Helen Fieldsend

MARKET RASEN, United Kingdom

My favourite Apple ever,you may remember quarkhill fruit farm back along I was born and brought up there and came to yours on occasion with my dad(les gill) this has always been our family's favourite

17 Sep 2014 

Jessic

LONDON, United Kingdom

Picked mine off a small tree at Wisley and was blown away by the taste - slightly acidic, but a lovely background sweetness too. Crispy and crunchy too. Nice skin. Perfect for kids as not too enormous. When I have a large garden in my next dream home, I'll be planting some Lord Lambournes, I think.

27 Mar 2014 

Patrick Deasey

VIC, Australia

I have this in Mt Macedon, Victoria, Australia. Great variety. Good yearly cropper, not too acidic. keeps better once picked than Cox's. Great smaller apple for kids to eat. One of my top varieties. if I only had room for say 3 trees, this would be one of them.

10 Nov 2012 

Dave Liezen

WASHINGTON, United States

About a month after my last note on this apple, flower buds appeared on the one-year-old LL! Definitely a partial tip bearer; so pinched 'em off after the bloom and it has grown to about 3 feet tall. Have since seen two references implicating fungicides exacerbating cracks in apples. Since I keep leaf litter cleaned up, this should be a minor issue.

10 Sep 2012 

Sue Dutton

KENT, United Kingdom

I have a Lord Lambourne apple tree with about a ton of apples - are they any good for cider making?

05 Mar 2012 

Dave Liezen

WASHINGTON, United States

Bought a bench graft from Greenmantle in CA last year - on Bud9. Li'l guy is doing fine. Am a bit concerned about the comment from CA about dryness and cracking. My climate is rather hot and dry in late summer. Still hopeful.

12 Oct 2011 

Sarah

BC, Canada

Never even heard of this apple until my brother introduced me to it. They grow it at his work for testing, and the excess goes to staff and their families. I love both Granny Smith, and Fuji, but I have now found my favorite! Nice acidic bite, but not too tart. Gets sweeter the longer you leave it out, even cut and peeled. Makes amazingly sweet unsweetened applesauce. Dried - they are like candy. They seems to be a very reliable, and heavy producer. I defiantly am going to have to find, or graft one. I love this apple!

16 Oct 2010 

Mo

CHESHIRE, United Kingdom

Ours is at it's best in October. Sweeter than James G, the flavour develops after picking. Definate Cox taste. Same texture as James G, softer than Kidds Orange, which follows it.

31 Aug 2009 

Kevin Hauser

CALIFORNIA, United States

In our hot, dry climate Lord Lamborne is very productive, but has terrible problems with cracking the last two years. It is on timed drip irrigation and we have no rain through the summer, so I don't think its from uneven watering. Perhaps this is just a reaction to our climate, and if so, I'm sad to have to pull it out.

04 May 2009 

Steve Wilde

ESSEX, United Kingdom

Try Morrisons Supermarket, £4.99 at the moment.

19 Oct 2008 

Timothy Anthony Collins

GREAT DUNMOW, ENGLAND, United Kingdom

I have a bizarre situation at work in White Roding. 4 years ago, I discovered that my employer has a Lord Lambourne apple growing on her grounds. This was because I found its fruit, which I had formally identified. Since that time, we have had no fruit from this tree whatsoever. This may have coincided with the death of a new fruit tree which was planted around the time we discovered the Lord Lambourne tree, but which subsequently perished. Please can you help. Which apple varieties are good pollinators of 'Lord Lambourne'? Which pollination group do they belong to?

13 Oct 2008 

Lyn B

SURREY, United Kingdom

Having a Lord Lambourne apple tree, I agree with tasting notes, excellent eater and they also make very good dessert cooking apples.

30 Sep 2008 

Karim Ahmed

BRIGHTON, SUSSEX, United Kingdom

I just bought some from a green grocer in Shoreham-by-sea. Lovely, acidic, juicy number with a crispy flesh.

28 Sep 2008 

Helen

TEME VALLEY, United Kingdom

I have recently been supplied with this variety of apple by my local organic fruit and vegetable box company, Flights Orchard Organics. They are absolutely delicious. For me, it's just as important to have the right texture as well as taste. Lord Lambourne's are crisp with a sweet/tart flavour. They remind me of Cox's apples and are the perfect eating apple.

21 Jul 2008 

Shirley Nelson

GRESHAM, OR , United States

I first tasted this apple back in 1956 from a very old tree in my mother-in-law's back yard in Stevenson, WA. I was blown away by it's juicy spirit. Sadly, the tree has disappeared with the decades, but it's strong memory lingers.

10 Oct 2007 

Cliff Waddington

SOUTH BUCKS, United Kingdom

lord lambourne (1 tree) is loaded this year. delightful eater - but how does one store the huge surplus ?

08 Oct 2007 

Gaye Barber

BINGLEY, United Kingdom

My father who lives in York has grown a Lord Lambourne apple tree trained along a wall in his garden and the fruit is absolutely delicious! Lots of juice, satisfyingly crisp to bit into and a superb flavour - not at all tart. I'd thoroughly recommend it! (I've never seen it for sale in any supermarket.)

28 Sep 2007 

Michelle Stratford

LEICESTERSHIRE UK, United Kingdom

If Nancy Brown lives near Thurmaston could I be really cheeky and pick one of her apples? I am trying to decide on a variety to invest in and would love to try a Lord Lambourne before committing!

21 Sep 2007 

Nancy Brown

LEICESTERSHIRE UK, United Kingdom

I have a tree in my garden, planted about 18 years ago. I think it is the best tasting apple around.

03 Aug 2007 

Tom

United Kingdom

I just had 2 trees identified as Lord Lambourne. I agree with your tasting notes. They keep nicely but best time to eat is straight from tree Sept (if you can leave them that long).

03 Aug 2007 

Tom

United Kingdom

I thought there might be some Cox in there, and i think your description is right on the nail. A Cox-like flavour plus bite and size of the Granny Smith, is what I`d thought.
Tree register
Spring blossom records for this variety
2018 season
2017 season
2016 season
2015 season
2014 season
2013 season
2012 season
2011 season
2010 season
2009 season
Record your blossom dates in our Fruit Tree Register - more >>.
Harvest records for this variety
2017 season
2016 season
2015 season
2014 season
2013 season
2012 season
2011 season
2009 season
Origins
Species: Malus domestica - Apple
Parentage: James Grieve x Worcester Pearmain
Originates from: England, United Kingdom
Introduced: 1907
UK National Fruit Collection accession: 1979-173
Identification
Awards: RHS AGM (current)
Country of origin: United Kingdom
Period of origin: 1900 - 1949
Fruit colour: Orange flush
Flower colour: Pink - light
Leaf colour: Green
Popularity: Best sellers
Annual cycle: Deciduous
Using
Picking season: Mid
Keeping (of fruit): 2-3 weeks
Flavour quality: Good
Flavour style (apples): Aromatic
Discoloration of fruit: No discoloration (Good for drying)
Cropping: Good
Fruit persistence: Normal ripening
Food uses: Eating fresh
Food uses: Juice
Picking period: mid-September
Wildlife: RHS Plants for Pollinators
Growing
Gardening skill: Beginner
Flowering group: 2
Pollinating others: Average
Ploidy: Diploid
Vigour: Average vigour
Precocity: Precocious
Bearing regularity: Regular
Fruit bearing: Partial tip-bearer
Organic culture: Suitable
Self-fertility: Partially self-fertile
Climate
Frost resistance of blossom: Some resistance
Climate suitability: Temperate climates
Climate suitability: Mild damp climates
Climate suitability: Warm climates
Summer average maximum temperatures: Cool ( 20-24C / 68-75F)
Cold hardiness (RHS): H6 (to -20C)
Summer average maximum temperatures: Cold (< 20C / 67F)
Other qualities
Disease resistance: Average
Scab (Apple and Pear): Very resistant
Canker: Some resistance
Where to buy trees
The following tree nurseries offer Lord Lambourne apple trees for sale:
Where to buy fresh fruit
The following orchards grow Lord Lambourne:
United Kingdom
England - midlands

England - south-east

England - south-west
Canada
References
Apples of England (1948)
Author: Taylor
Fruit Expert
Author: Hessayon