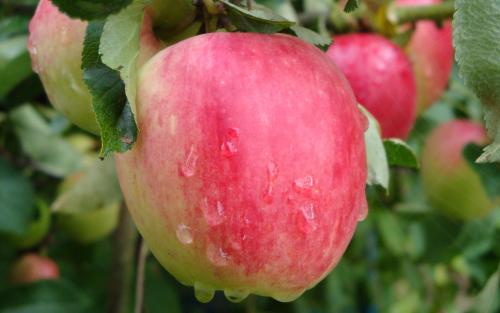 Katy is an attractive medium-sized apple, usually bright red in colour over a light green yellow background. The flesh is a pale cream colour, and on the softer side of crunchy. Katy is usually a very juicy, and when fresh from the tree the juice goes everywhere as you bite into it. It has a fairly mild apple flavour, a bit of refreshing acidity, and in a good year a hint of strawberry. The flavour is perhaps not the greatest, but certainly very pleasant. If you have a surplus (and with Katy you generally do have a surplus), then Katy is an especially good apple for juicing - the juice is a lovely red/orange colour - similar to pink grapefruit juice in colour.
Katy is an easy-going early-season apple. The pretty appearance and juicy flavour mean it is popular with children, and it becomes available just in time for lunch-boxes for the new school term. As well as being easy to eat, it is also one of the easiest apple varieties to grow - very productive, and trouble-free. An extra bonus for gardeners is that Katy produces a lot of blossom over a long-period, so is very useful to aid in pollinating other apple varieties.

Katy originates from Sweden, where it is known as Katya, and as such is well-suited to growing in cool temperate climates. It was developed in 1947 as a cross between James Grieve and Worcester Pearmain and is very much a mixture of these two varieties. Worcester Pearmain is an English early-season variety from the 19th century, which used to be quite widely grown. Its most recognisable trait is a subtle strawberry flavour, and this is also sometimes present in Katy. James Grieve is another early-season variety, and its most notable characteristic is lots and lots of acidic juice. As an early-season variety, Katy is one of the best apple varieties for northern temperate growing areas with shorter growing areas, since it will ripen even in a poor summer.

For an interesting tasting exercise, see if you can find Elton Beauty or Lord Lambourne - like Katy, these are both crosses between James Grieve and Worcester Pearmain.
Katy is available for a few weeks in late August and early September. Like most early varieties it is very refreshing when straight from the tree, but goes soft after a while - best kept in a refrigerator and nice to eat when cool rather than at room temperature. Fortunately the apples keep nicely on the tree and can be picked over a period of about 2-3 weeks.

Although usually regarded as a dessert apple, thanks to its inherent acidity Katy is also a useful culinary apple - try it as the basis of apple crumble or tarte tatin. It breaks down into soft chunks during cooking, with a good sweet/sharp flavour.

In summary, Katy is a really excellent apple for gardeners in temperate climates. It produces an attractive neat tree, very easy to grow, and highly productive, and the fruit can be eaten fresh or juiced or even used for cooking.
Katy apple identification images
All images copyright Orange Pippin unless otherwise stated.
USDA identification images for Katy
The identification paintings in the USDA Pomological Watercolor Collection span the years 1886 to 1942.
Citation: U.S. Department of Agriculture Pomological Watercolor Collection. Rare and Special Collections, National Agricultural Library, Beltsville, MD 20705.
Parents and other ancestors of this variety
Siblings of this variety (same parentage)
See also
Sunrise - Katy and Sunrise ripen at the same time (late August in the UK) yet have completely different parentage
Visitor reviews
21 May 2023 

Patrick

A very pretty tree in its own right - symmetrical, flowers heavily, lightly perfumed blossom and dark foliage. I would recommend this variety where appearance is important. Healthy, seems to be quite disease resistant, apples are tasty and very juicy crunchy flesh. A decent advertisement for apples all round.

10 May 2023 

James Munro

COUNTY MAYO, Ireland

Great producer of crisp fruit,good disease resistance,my only problem is keeping the birds off them.

01 Mar 2022 

Colin French

Warminster, United Kingdom

Attractive fruit with plenty of juice. Crisp.

08 Nov 2019 

Bill Taylor

LANCASHIRE, United Kingdom

Usually good cropper. Very attractive - often wins prizes in our village show! Good flavour especially when flesh has gone pink. Sadly does not keep well.

05 Sep 2018 

Mariska Van Loenen

ABERDEENSHIRE, United Kingdom

North-East Scotland. After the exceptional summer (2018) my 14 yr-old Katya is laden from top to bottom . Made juice on the 5th Sept and it was very good. Sweeter than Discovery. Lovely red juice.

15 Aug 2017 

Bill King

CUMBRIA, United Kingdom

We bought our Katy tree from Orange Pippin last year (2016) to replace a poorly performing Braeburn. I didn't expect too much in its first full season but the bush-trained tree was laden with blossom, which started at the bottom and finished at the top, giving you fruit that ripens over a period of several weeks. We're about halfway through a crop of about 30 apples, from a relatively small, young tree. You'd have to be very fussy not to enjoy the extremely juicy and fragrant flesh of these apples, which are superbly crisp when newly picked and last for several days in the bowl. The strawberry flavour note is certainly there, adding to the very distinctive character of the deep red apple. The Katy variety was recommended for growing in northern climes and this one certainly seems very happy in our Cumbrian garden, with all the wind and rain that goes with it. Overall, we're delighted with our Katy tree, which was superbly packed and presented by Orange Pippin, who I can't recommend more highly. The Braeburn has now become kindling, where it might finally serve a useful purpose!

25 Aug 2013 

Gareth (South Wales)

United Kingdom

Easy to grow and pleasant to eat. Just had a crop of around 60 apples from one tree. Not the most memorable taste but far from bland and is nice to eat. Quite juicy with a nice after-taste.

24 Sep 2012 

Myra Savin

MIDDLESEX, LONDON, United Kingdom

My Katy tree is located in a very urban environment and an over crowded garden in London (traffic and aircrafts), but thrives and every year, gives us a great crop of apples, some enormous in size! We use both as eating and cooking (although very little water required when cooking, otherwise they go very soft.) The taste is best when first picked and we have just finished our crop which was abundant in this year's (2012's) late summer/autumn after a very 'un-sunny' summer. We are about to prune it for the first time in a very long time - so 'fingers crossed' it will bloom again!

30 Sep 2010 

Rosemary

PEMBROKESHIRE, United Kingdom

I love my Katy tree - it looks fantastic all summer laden with loads of bright red little apples! OK the flavour is not fantastic but no early apples are perfect. Does well here in Pembrokeshire. In Somerset you can gety "Katy" cider made from the juice.

14 Oct 2009 

Niamh

IRELAND, Ireland

My favorite apples we've ever grown. The red juice is amazing.

09 Oct 2009 

Mary Macilwraith

WIGTOWN, SW SCOTLAND, United Kingdom

'Katy' is one of our best trees (in this area of relatively high rainfall). It's reliable and - so far - free of disease. We have tried its parent 'James Grieve' with no success (died of canker) and our 'Worcester Permain' has some scab, but happliy 'Katy' seems a lot more resistant. I agree with the description of its flavour and popularity with children; our very young neighbour went straight to the tree and asked to pick one!

26 Aug 2009 

Katie Saxby

WREXHAM, WALES, United Kingdom

We have a small tree in our fairly small back garden against a sunny wall. eating the first ones today : ) They have a delicious flavour and texture i think, lovely colour, juicy, with a lovely undertaste and aftertaste that does taste quite strawberry....perhaps in the future when we have more, the juiced ones sound lovely, but they are so lovely raw, we're enjoying them as they are for now!

07 Apr 2009 

Ian Jones

WORCESTERSHIRE, United Kingdom

We've recently bought a small Katy apple tree (should eventually grow to c. 1.8m high) and we're currently wondering where in our garden we should plant it. Part of our garden is quite open to the sun in all directions, and part of it is more sheltered. We also have a mature plum and cherry tree in the garden (two different trees, not one producing two different fruits, I hasten to add!), and I'm wondering how far away from the other trees our new tree should be planted so that it isn't competing for nutrients from the soil? Is there a recommended minimum distance? These might sound like stupid questions from a non-gardener, but any thoughts would be most welcome!

15 Sep 2008 

Don Simon

BATH, United Kingdom

I inherited this apple trained as an espalier. Crops well and the description above is spot on, especially the bit about it being good for children and ready in time for their school packed lunches. The flavour lets it down, however. It is pleasant enough, but I've definitely tasted better apple varieties.

14 Sep 2008 

Jane Eve

WORCS, United Kingdom

I think this is a brilliant variety. Knocks spots of Discovery for flavour & locally is a good week or so earlier. Good for eating. Juiced is sublime, cooks fine. Sadly it doesn't keep so season is short. Reliably heavy cropper.

11 Oct 2007 

Dan Kissane

Ireland

Very heavy cropper - apple sawfly reduces the number of apples greatly, but even then I still have to thin! Sweet, very juicy, crisp off the tree - the above description is spot on.
Tree register
Spring blossom records for this variety
2022 season
2020 season
2019 season
2018 season
2017 season
2016 season
2015 season
2014 season
2013 season
2012 season
2011 season
2010 season
2009 season
Record your blossom dates in our Fruit Tree Register - more >>.
Harvest records for this variety
2023 season
2018 season
2017 season
2016 season
2015 season
2014 season
2013 season
2012 season
2011 season
2010 season
2009 season
Origins
Species: Malus domestica - Apple
Parentage: James Grieve x Worcester Pearmain
Originates from: Sweden
Introduced: 1947
Developed by: SLU, Balsgard, Sweden
UK National Fruit Collection accession: 1968-035
Identification
Country of origin: Sweden
Period of origin: 1900 - 1949
Fruit colour: Red
Flower colour: White
Leaf colour: Green
Popularity: Best sellers
Annual cycle: Deciduous
Using
Picking season: Early
Keeping (of fruit): 1 week
Flavour quality: Average
Flavour style (apples): Sharper
Discoloration of fruit: Oxidising
Juice style: Sharper
Juice style: Sweet (cider)
Cropping: Heavy
Fruit persistence: Fruit drops when ripe
Food uses: Eating fresh
Food uses: Culinary
Food uses: Juice
Food uses: Hard cider
Picking period: early September
Specific gravity: 1053
Wildlife: RHS Plants for Pollinators
Growing
Gardening skill: Beginner
Flowering group: 3
Pollinating others: Good
Ploidy: Diploid
Vigour: Vigorous
Bearing regularity: Regular
Fruit bearing: Spur-bearer
Organic culture: Suitable
Attractive features: Attractive flowers
Attractive features: Attractive tree / plant
Self-fertility: Not self-fertile
Climate
Frost resistance of blossom: Good resistance
Climate suitability: Temperate climates
Climate suitability: Mild damp climates
Summer average maximum temperatures: Cool ( 20-24C / 68-75F)
Summer average maximum temperatures: Warm (25-30C / 76-85F)
Summer average maximum temperatures: Cold (< 20C / 67F)
Where to buy trees
The following tree nurseries offer Katy apple trees for sale:
Where to buy fresh fruit
The following orchards grow Katy:
United Kingdom
References
Fruit Expert
Author: Hessayon