Sunrise apple
Malus domestica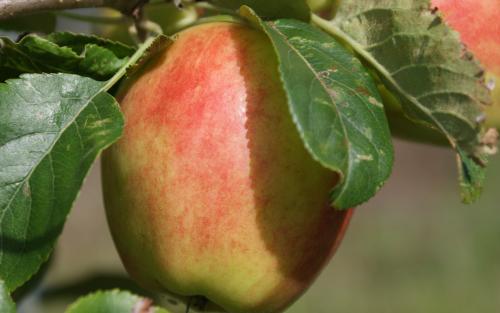 Sunrise is an attractive modern apple variety, developed in the late 20th century at the famous Summerland Research Station in Canada (home of the Spartan apple), and it is one of the best early-season apple varieties. It's easy to guess the parentage of Sunrise: the conical shape and long stalk suggests Golden Delicious, and the strong red unblemished skin colours and bright white flesh suggest McIntosh. However it is not quite that straightforward, because there is another un-named cultivar in the mix. Sunrise, as the name suggests, is an early apple variety - unlike Golden Delicious and McIntosh - so perhaps the other cultivar is responsible for the early ripening of Sunrise.
Confusingly there are actually two different apple varieties called "Sunrise", since the name was first applied to an English variety from the Victorian era which is now little known. The variety described here is the modern Canadian-developed variety, and the one most widely available from tree nurseries and farm shops.
Both Golden Delicious and McIntosh apple varieties tend to be easy apples to grow in the garden - heavy cropping and not much to go wrong. Sunrise is very much in the same vein and is therefore an ideal apple variety for the gardener who wants fresh apples in late August with minimal effort. It is good competition for other popular early varieties such as Katy which ripens at exactly the same time, yet has a completely different parentage (Katy comes from James Grieve and Worcester Pearmain - a far more conventional early variety parentage than Sunrise).
As with all early apple varieties, flavour can be an issue, but Sunrise is undoubtedly one of the best apple varieties in this respect. It has a fairly good sweet/sharp balance, still fairly acidic but a bit sweeter than Katy. For such an early variety the flesh is remarkably crisp, and fairly juicy. It benefits from being picked early in the morning when it has been cooled overnight. It keeps for about a week in the fridge, which is better than most early varieties (and we think it is best served slightly chilled). Another big advantage of Sunrise as an early garden apple variety is that it ripens over quite a long period, so apples can be left on the tree until you are ready to eat them.
Our photo shows a Sunrise apple picked from an espalier tree (MM106 roostock). Since early varieties have so little time to colour-up, growing as an espalier is the best way to get a good colouration, as it exposes the fruit to the sunlight better than a conventional bush tree. Apples that do not get full sunlight will be a very pale green colour, with patches of deep red where the sun catches them.
All in all, if you want an early apple variety to grow in the garden (and who doesn't want fresh apples in August) then you won't go wrong with Sunrise.
Sunrise apple identification images
All images copyright Orange Pippin unless otherwise stated.
USDA identification images for Sunrise
The identification paintings in the USDA Pomological Watercolor Collection span the years 1886 to 1942.
Citation: U.S. Department of Agriculture Pomological Watercolor Collection. Rare and Special Collections, National Agricultural Library, Beltsville, MD 20705.
Parents and other ancestors of this variety
See also
Katy - Katy and Sunrise ripen at the same time (late August in the UK) yet have completely different parentage
Visitor reviews
14 Sep 2022 

David Morris

I grow this as an espalier on a South facing fence in northern Scotland. Planted as a maiden 4 years ago, it is now fruiting on three of the four layers. Large apples, but I do prune out fruits quite drastically, aiming for one every 4 to 6 inches and have over thirty on this 8 foot wide espalier. I just started picking today (September 14th) so not as early as it might be further south, even though we have had quite a sunny and warm summer. Attractive red colouration on the skin, with streaks of pinky red in the flesh. Quite sweet, but lacks the balancing acidity that makes for a really tasty apple, but well worth growing, both for its ornamental qualities in the garden and it's relative earliness.

05 Sep 2022 

Canadian Johnson

Sunrise are a very good apple to eat and I also made apple pies with them. It is too bad the shelf life is so short. ? How long could you extend the life Leaving the fruit on the tree.

03 Jun 2022 

Janice

Just found this yesterday in Akron Ohio dollar 19 a pound the absolute sweetest apple I've ever tried and I've tried at least 20 different ones so far! They only had one left, now I know why lol

10 Sep 2017 

Roy

LONDON, United Kingdom

I have this variety in my back garden in London U.K. Just ate the last one today Sept 8th. As described, nice balance of sweetness and sharpness. The earlier ones End of July only a third red but by mid August 2/3rds Red. I love them. They don't keep well so I pick and eat, or keep on the fridge. No windfalls either!

02 Mar 2017 

Kira

BRITISH COLUMBIA, Canada

Super tasty and crisp. Satisfying to bite into! We grow them in our backyard and they turn red where the sun hits them so they're all beautifully coloured

16 Aug 2014 

Adam

CANADA, Canada

Just picked some up from the Kanata farmer's market. Mildly sweet, incredibly crunchy and crisp. Slight hint of crabapple-like tartness. Appearances vary, roughly 2/3 green with the last 1/4 a blush of red. Would recommend for folks with low sugar tolerances as the sugar content is not too sweet (just right in my opinion).

18 Oct 2013 

Lizzie Chittick

United Kingdom

Awful. tasteless and floury

04 Oct 2012 

M. Reed

TX, United States

Eating one from Canada, bought last week of Sept. from probable August harvest. Already quite mealy, so not a great keeper. Pretty though, and a lovely sweet flavor. Would never guess that Macintosh is anywhere near the family tree. This is just Golden Delicious in fancy dress.

28 Aug 2011 

Glenda

OR, United States

We grow this variety in southern Oregon (Rogue Valley) and it does quite well.

03 Sep 2009 

Jackie

VANCOUVER, BC, Canada

Saw these apples for the first time last week. Given their size, decided to try in a pie. Texture was slightly soft for baking, but overall flavour was good. Mild/sweet flavour balanced well with granny smith in pie. Fantastic (Sweet!) eating apple. Does not keep! After two days, apples are rapidly browning.

02 Dec 2008 

Adam Bigham

Michigan, United States

The pictured fruit shows much more red than the Sunrise apples I've had -- much more yellow background showing, with some blush on a cheek. These are quite good, maybe a slight pear flavor, with crispness and juice. I bought them at an organic foods market, and remember they had Gravenstein at the same time. The Sunrise were imported from Canada, the Gravensteins probably Michigan-grown.

17 Aug 2008 

Anita Betz

SALEM, OR., United States

Ate this variety at roadside fruit stand in Osoyoos, Canada while vacationing 8/13. Very good, just as described!! Picture looked slightly different, more green with just a blush of red, but taste is spot on. Nice sweet/tart balance as mentioned and wonderful crisp bite. I am from the Willamette valley in Oregon which has it's share of fruit orchards, but never heard of this variety. Will it grow this far south? Seems like it would make a good baking apple as well as fresh eating.
Tree register
Spring blossom records for this variety
2013 season
2012 season
2011 season
2010 season
2009 season
Record your blossom dates in our Fruit Tree Register - more >>.
Harvest records for this variety
2013 season
2012 season
2011 season
2010 season
Origins
Species: Malus domestica - Apple
Parentage: McIntosh x Golden Delicious x un-named cultivar
Originates from: Canada
Introduced: 1990s
Developed by: Summerland Research Station
UK National Fruit Collection accession: 1999-032
Identification
Country of origin: Canada
Period of origin: 1950 - 1999
Fruit colour: Orange / Red
Flower colour: White
Leaf colour: Green
Annual cycle: Deciduous
Developer: Summerland Research Station (PARC)
Using
Picking season: Early
Picking season: Mid
Keeping (of fruit): 1 week
Flavour quality: Good
Flavour style (apples): Sweet/Sharp
Discoloration of fruit: Slightly oxidising (browns slowly)
Cropping: Heavy
Fruit persistence: Ripens over a period
Food uses: Eating fresh
Food uses: Juice
Picking period: late August
Picking period: early September
Wildlife: RHS Plants for Pollinators
Growing
Gardening skill: Beginner
Flowering group: 2
Pollinating others: Average
Ploidy: Diploid
Vigour: Average vigour
Bearing regularity: Regular
Fruit bearing: Spur-bearer
Self-fertility: Not self-fertile
Climate
Summer average maximum temperatures: Cool ( 20-24C / 68-75F)
Summer average maximum temperatures: Warm (25-30C / 76-85F)
Summer average maximum temperatures: Cold (< 20C / 67F)
Other qualities
Disease resistance: Average
Where to buy trees
The following tree nurseries offer Sunrise apple trees for sale:
Where to buy fresh fruit
The following orchards grow Sunrise:
United States
United Kingdom
Canada