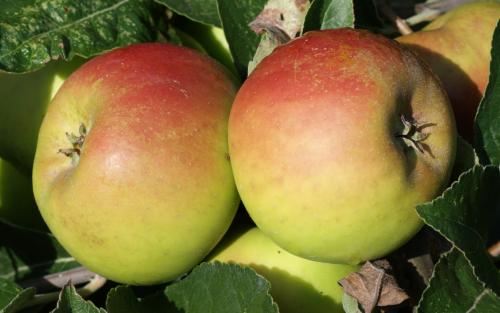 Roxbury Russet is generally recognised to be the oldest apple variety which originated in North America, and its history can be traced back to the colonial era. It is very probably a seedling of an apple variety brought over by early settlers from Europe.
One of the most fascinating aspects of the development of apples in North America is that very few of the original European varieties adapted to the climate. Hence most of the apple varieties that became popular as the United States spread westward were grown from seedlings (often of European varieties at first) which had proven more suited to the local conditions and thus been propagated further - this is one of the useful consequences of the fact that apples do not grow true from seed. Roxbury Russet also has some resistance to cedar apple rust and fireblight, which are prevalent in some of the eastern states.
Roxbury Russet is in most respects typical of that group of apples known as russets. Although it has some tartness it is like all russets a fundamentally sweet apple. It is also a fairly good keeper, an important attribute before the advent of modern storage methods. Visually the extent of russeting can vary considerably, in some seasons and on some trees it can be extensive, whilst in other situations there may be very little.
Although the parentage of Roxbury Russet is unknown, it is possible that it shares some common ancestor with Ashmead's Kernel - although Roxbury Russet predates Ashmead's Kernel by about a century and the latter was raised in England not the United States. However Ashmead's Kernel has a slightly odd flavor which is in some ways reminscent of Roxbury Russet. As well as the traditional green/yellow russet both Roxbury Russet and Ashmead's Kernel can exhibit some reddening.
Roxbury Russet apple identification images
All images copyright Orange Pippin unless otherwise stated.
USDA identification images for Roxbury Russet
The identification paintings in the USDA Pomological Watercolor Collection span the years 1886 to 1942.
Citation: U.S. Department of Agriculture Pomological Watercolor Collection. Rare and Special Collections, National Agricultural Library, Beltsville, MD 20705.
Visitor reviews
10 May 2022 

Dca

PA, United States

excited to try this one, so far a vigorous grower/performer. I grafted a scion into an existing Liberty Apple tree, which is an absolute rockstar! Got blooms on the Ticket this year, grafted about 2 years ago.

25 Oct 2015 

Carter Wilkie

MASSACHUSETTS, United States

Sometimes the worst looking apple in the fruit bowl is the one that tastes the best. If consumers would choose apples with their taste buds, this variety would be a contender for best seller due to its cidery, sugary sweetness. Hard to keep in storage as long as promised without shrinking in on itself, even in Roslindale (part of what was at one time the colonial town of Roxbury) - Carter Wilkie, Boston

02 Dec 2014 

Carl On Cape Cod

WEST BARNSTABLE, United States

Roxbury russet is an excellent apple; imagine a slightly faded golden russet. The same spiceyness is present, just not as intensely. Texture is good, crunchy but not a tooth breaker. Some day I'll find out if they really can be kept as long as is claimed, but I'll need to have a larger supply before I'll be able to keep from eating them all before the experiment ends.

19 Oct 2014 

Paul Gerrish

MA, United States

2 trees on M7 just planted Spring 2014. After cutting to about 3 feet at planting they have grown nicely to just over 6 feet this season.

05 Oct 2014 

Suli Angeni

WA., United States

Russets were one of my favorite apples the other being cox's orange Pippins. I grew up in England but I don't know what varieties we had. I now live in Washington. What would you recommend that will grow well in western Wa? Will these varieties cross pollinate? Are they keepers? When should they be planted? It has been many many years since I was in England but I still remember the flavors. Thank you. Suli Angeni.

18 Oct 2013 

Mike Robinson

MA, United States

I was raised in West Roxbury and spent a few weeks looking for this variety this year. I founf the apple's flesh to be sweet and dense, and the skin slightly bitter and rough. Aftertaste has a touch of honey. Quite satisfying!

09 Nov 2012 

M. Reed

TX, United States

Flesh is not crisp, but the flavor is--bright and clean. Sweet but with some tart. If you left a Granny Smith on the tree and let it mellow, it might taste like this. Pleasant old heirloom variety.
Tree register
Spring blossom records for this variety
2016 season
2014 season
2013 season
2012 season
2011 season
Record your blossom dates in our Fruit Tree Register - more >>.
Harvest records for this variety
2016 season
2015 season
2012 season
2011 season
Origins
Species: Malus domestica - Apple
Parentage: Unknown, probably European variety
Originates from: Massachusetts, United States
Introduced: Early 17th century
UK National Fruit Collection accession: 1952-111
Identification
Country of origin: United States
Period of origin: 1600 - 1649
Fruit colour: Russet
Flower colour: Pink - light
Leaf colour: Green
Popularity: Best sellers
Annual cycle: Deciduous
Using
Picking season: Late
Keeping (of fruit): 3 months or more
Flavour quality: Good
Flavour style (apples): Sweeter
Discoloration of fruit: Very oxidising (browns quickly)
Cropping: Good
Fruit persistence: Normal ripening
Food uses: Eating fresh
Food uses: Culinary
Food uses: Juice
Food uses: Hard cider
Picking period: mid-October
Wildlife: RHS Plants for Pollinators
Growing
Gardening skill: Average
Flowering group: 4
Pollinating others: Poor
Ploidy: Triploid
Vigour: Vigorous
Bearing regularity: Regular
Fruit bearing: Partial tip-bearer
Self-fertility: Not self-fertile
Climate
Cold hardiness (USDA): (4) -30F / -34C
Climate suitability: Temperate climates
Summer average maximum temperatures: Cool ( 20-24C / 68-75F)
Summer average maximum temperatures: Warm (25-30C / 76-85F)
Other qualities
Disease resistance: Average
Scab (Apple and Pear): Very resistant
Fire blight: Very resistant
Cedar apple rust: Very resistant
Where to buy trees
The following tree nurseries offer Roxbury Russet apple trees for sale:
Where to buy fresh fruit
The following orchards grow Roxbury Russet:
United States
Canada