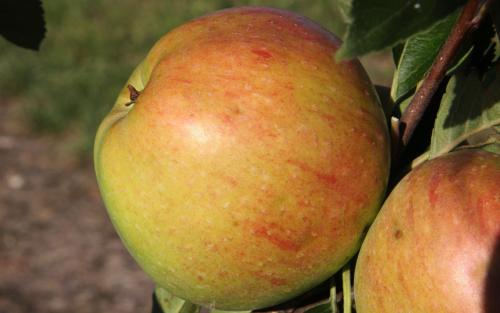 Topaz is a modern disease-resistant apple variety from the Czech Republic, distantly related to James Grieve. It always does well in taste tests, especially if you like a sharper-tasting apple.

Topaz is a medium or medium-large apple, although the size can vary. The skin colour is yellow, almost completely overlaid with red and crimson flush. The flesh is crisp and cream-coloured.

Like many disease-resistant varieties, Topaz has an interesting parentage. It is a cross between Vanda and Rubin, both developed in the Czech Republic in the latter part of the 20th century. Rubin is in turn a cross between Lord Lambourne and Golden Delicious, whilst one of the parents of Vanda is also Lord Lambourne. Not surprisingly therefore Topaz is reminiscent of Lord Lambourne, and its grandfather James Grieve, although it is much more crunchy and crisp than James Grieve.
Also like Lord Lambourne and James Grieve, Topaz is a good apple for the garden, being fairly easy and reliable to grow. The main horticultural problem is that the fruit size can be on the small side, so a good session thinning the fruitlets at the end of May is usually called for.

If you like the juicy sharpness of James Grieve or Lord Lambourne, but want something more crisp then Topaz is a great choice. Fans of Granny Smith may also like it.
Sometimes marketed as Crimson® Topaz.
Topaz apple identification images
All images copyright Orange Pippin unless otherwise stated.
USDA identification images for Topaz
The identification paintings in the USDA Pomological Watercolor Collection span the years 1886 to 1942.
Citation: U.S. Department of Agriculture Pomological Watercolor Collection. Rare and Special Collections, National Agricultural Library, Beltsville, MD 20705.
Parents and other ancestors of this variety
Offspring of this variety
See also
Rajka - Rajka and Topaz were both developed at the Institute of Experimental Botany, Czech Republic
Visitor reviews
25 Mar 2019 

Sammy Combs

GEORGIA, United States

It's the best apple in my garden

16 Mar 2017 

Sam Paechter

WEST YORKSHIRE, United Kingdom

I grow the Red Topaz variety of this apple, also, I'm told, marketed as Evita. It's my favourite apple, with a very complex, almost blackcurrant flavour. I've been grafting it onto other trees so I can have more! I got the original scions from a farm in the south of England, but it grows well here in the north.

15 Oct 2016 

Patricia Birch

BC, Canada

Crisp and tangy when bought from the UBC Apple festival, in mid Oct. Taste lingers nicely on the tongue.

25 Sep 2016 

Charles Werner

BERN, Switzerland

We have 3 dwarf Topaz trees in our garden in different locations here in Switzerland. They are all prolific bearers. One has a bushy habit and the other two require supports. Fruit is excellent, tart and sweet. I just keep them on the trees and they are good until November.

19 Oct 2015 

Lr

MI, United States

This apple is absolutely superb! The taste is rather complex; tangy, spicy, and a little sweet, with a crisp bite and nice juiciness. Topaz may be my new favorite.

27 Sep 2015 

Jenny

OHIO, United States

WOW. Just tried this variety for the first time. Picked from Branstool Orchard in Utica OH on Sept 26th. What a delightful little apple!! Crisp and complex. Every bite is different. Tart, Sweet, Spicy - It's all there. Nothing boring about this variety! In my opinion they're the perfect size. I like a small apple you can eat as a quick snack. I wouldn't mind working a little longer to prepare enough for a pie either. I'm quite interested to see what that will taste like! My kids adored them. Munched on them all throughout the orchard as we picked other varieties. Definitely a new favorite!

29 Apr 2015 

Phil

STAFFORD, United Kingdom

Sainsburys are marketing Hereford Topaz organic apples in April. I must say they taste superb. One or two are going a bit wooly but on the whole they could be straight off the tree. English apples in April would have been impossible a few years ago! Cox went off sale in Jan and Gala in March, this is English apples of course and these were as good as off the tree if not better for storage.

24 Apr 2015 

Amy Sprik

MI, United States

I just bought some at the end of April in a Family Fare store in Michigan. Love the subtle tartness. The red topaz is a nice eating apple.

18 Jan 2012 

Vojtech Vana

ZATEC, Czech Republic

Excellent taste. Red variety of Topaz exists now.

30 Nov 2011 

Lara

Switzerland

Very satisfying flavor and consistency. Excellent

28 Apr 2010 

Dave Liezen

WASHINGTON, United States

Alex, I see you wrote asking about this in February, and I find your plea 27th April. It may be too late to order for this season, but Adams County Nursery carries Topaz. By your phone # you must live in the States and therefore could order from this company. (OrangePippin.com is based in the UK; I don't believe you or I could order trees from overseas, for instance, Keepers Nursery.)

22 Feb 2010 

Alex

NEW JERSEY, United States

Hi, Could anyone send me several pieces of Topaz scion wood? I will pay for it and shipping. Please! I've been looking for it on the internet and this is the single topic where it was found. It is needed for my dad. He's going crazy about this Topaz for a long time. My email is alexrudniy@gmail.com cell 646-684-5876 Thank you.

09 Nov 2009 

Robin

APPLE COUNTRY, NY, United States

Tasted my first Topaz yesterday. One of our local growers just had their first harvest this year. I was impressed. This apple is tasty and crisp with a nice tartness. I did not think that it was as tart as a Granny Smith, so if you are looking for a very tart apple, this might not be for you, but for those that like semi-tart this would be an excellent choice.

15 Sep 2009 

Margot

Switzerland

I bought and planted my "Topaz" tree last autumn...The tree was an absolute delight in spring, with very healthy looking leaves and blossom..Apples appeared soon afterwards but then disaster struck. I awoke one morning to find my beloved little tree had been infected with "fire blight"...It`s still hanging on in there, (It`s now September) and did`nt drop any of it`s nine apples..:-) I watered it everyday after noticing the attack and gave it an occasional feed. I`m now hoping that next year it will come back as the healthy little tree I first bought..

04 Dec 2008 

T.M.Boer

IJSSELSTEIN , Netherlands

I can tell you this is one of the best apples I know. This tree is now 6 years in my garden. i get plenty of apples every year, and all that without spraying

23 Oct 2007 

Jon Clements

MA, United States

Adams County Nursery has sold Topaz trees. Just fruiting this variety, I am impressed -- one of the best scab-resistant apples I have seen, and I have seen a lot of them!

09 Oct 2007 

Gary Kaszas

MAINE, United States

Do you know where I can get scion wood for the topaz apple in the USA?
Tree register
Spring blossom records for this variety
2017 season
2014 season
2013 season
2012 season
2009 season
Record your blossom dates in our Fruit Tree Register - more >>.
Harvest records for this variety
2017 season
2016 season
2014 season
2013 season
2012 season
2010 season
2009 season
Origins
Species: Malus domestica - Apple
Parentage: Vanda x Rubin
Originates from: Czech Republic
Introduced: 1990s
Developed by: Dr. Jaroslav Tupy, Institute of Experimental Botany
UK National Fruit Collection accession: 1948-737
Identification
Awards: RHS AGM (current)
Country of origin: Czech Republic
Period of origin: 1950 - 1999
Fruit colour: Orange / Red
Fruit colour: Orange flush
Flower colour: Pink - light
Annual cycle: Deciduous
Using
Picking season: Late
Keeping (of fruit): 1-2 months
Flavour quality: Good
Flavour style (apples): Sharper
Discoloration of fruit: No discoloration (Good for drying)
Juice style: Sharper
Cropping: Heavy
Fruit persistence: Persistent
Food uses: Eating fresh
Picking period: mid-October
Wildlife: RHS Plants for Pollinators
Growing
Gardening skill: Beginner
Flowering group: 3
Pollinating others: Average
Ploidy: Diploid
Vigour: Slightly large
Precocity: Precocious
Bearing regularity: Regular
Growth habit: Upright
Fruit bearing: Spur-bearer
Self-fertility: Not self-fertile
Climate
Climate suitability: Temperate climates
Climate suitability: Mild damp climates
Summer average maximum temperatures: Cool ( 20-24C / 68-75F)
Summer average maximum temperatures: Warm (25-30C / 76-85F)
Cold hardiness (RHS): H6 (to -20C)
Other qualities
Disease resistance: Good
Scab (Apple and Pear): Very resistant
Powdery mildew: Some resistance
Where to buy trees
The following tree nurseries offer Topaz apple trees for sale:
Where to buy fresh fruit
The following orchards grow Topaz:
United States
Netherlands
Switzerland