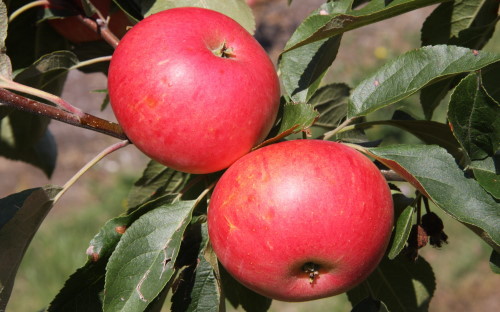 Discovery is one of the most popular English early apples. It is grown commercially on a small scale in the UK, because unlike almost all other early apple varieties it has a reasonable shelf-life - perhaps a week or so. It is quite widely available in the UK in late August and early September.

Discovery is a bit like Beaujolais Noveau - its appeal is entirely down to being fresh and new. Neither does the flavour stand much comparison with later season varieties. However, it is a change from imported apples when it comes into season, and nice when served slightly chilled from the fridge. As you might expect, the flavour is acidic rather than sweet and has little depth to it. Interestingly, just like Beaujolais, Discovery can have a hint of strawberry flavour, although this is very variable. The colours are a fresh yellow-green, usually with dark red patches where the sun has caught it.

Discovery is a very important apple for commercial growers and supermarkets in the UK because it allows them to start marketing the new English apple season, and get consumers primed to buy English apples again. However there has been increasing debate within the industry about what many insiders see as a poor-quality apple, and concern that consumers may be turned-off English apples at the start of the season if the flavour does not match expectations. The problem is that the shelf-life is very short, so if the crop is not picked at exactly the right time it will be either under-ripe or past its best - in this respect it is more like a soft fruit than an apple. As it stands the UK industry has to rely on Discovery at this time of the year but if an alternative early-season variety could be found it is likely that Discovery would rapidly fall out of favour as a commercial apple variety.

Discovery is often thought of as an old variety, but was found in the late 1940s by a fruit farm worker in Langham, Essex, who planted some pips of Worcester Pearmain in his garden. Discovery is therefore a seedling of Worcester Pearmain, a 19th century early-season apple variety which lends its attractive red finish. Worcester Pearmain is probably the source of the strawberry flavour, which is also found in some of its other offspring including Katy, which is similar in appearance to Discovery but has a bit more depth of flavour and arrives slightly later in the season. Scrumptious, a modern early variety, is also closely related.
An interesting characteristic of Discovery is that the red skin colour can occasionally bleed slightly into the flesh. There are some sports where this red-fleshed characteristic is more pronounced.

Discovery is a good apple tree for the garden, being fairly easy to grow. Having your own tree also means that you can enjoy the apples at their best, which is often not the case with shop-bought examples.
Discovery apple identification images
All images copyright Orange Pippin unless otherwise stated.
USDA identification images for Discovery
The identification paintings in the USDA Pomological Watercolor Collection span the years 1886 to 1942.
Citation: U.S. Department of Agriculture Pomological Watercolor Collection. Rare and Special Collections, National Agricultural Library, Beltsville, MD 20705.
Parents and other ancestors of this variety
Offspring of this variety
Sports of this variety
Sports are natural genetic mutations of the original variety.
Visitor reviews
06 Aug 2023 

Pdando

Very popular with birds and wasps before fully ripe. This is a big disadvantage because it tastes best picked ripe from the tree.

05 Aug 2023 

James Munro

COUNTY MAYO, Ireland

Great producer of fine fruit, lovely colour and taste. Nice red tinge just under the skin, has a hint of strawberry on a good year.

02 Aug 2023 

James Munro

COUNTY MAYO, Ireland

Great producer of fine fruit, lovely colour and taste. Nice red tinge just under the skin, has a hint of strawberry on a good year.

21 May 2023 

Patrick

Proven to be extremely susceptible to canker in my location so recently removed and won't grow again. That said: a very good looking and tasty apple fresh from the tree but pointless buying in the shops if and when you see them as the flavour drops off very quickly

21 Aug 2022 

Susan

One of my absolute favourite apples, would love to know if their is an orchard I could go and pick my own as have difficulty getting these yearly.

23 Jun 2021 

Paul

LONDON, United Kingdom

I don't know where you had a discovery apple, but the review of them is nothing like real life. They are always crisp and full of flavour.

08 Nov 2020 

Howard Self

CHESHIRE, United Kingdom

I strongly disagree with the assessment of this apple in the Description. It has an excellent flavour and is very popular with all the family. It has established well with us (half standard on MM106) and produces a good crop each year even though we are at 920 feet above sea level and on an exposed westerly facing site.

18 Aug 2020 

Apple Eater

KERRY, Ireland

Like many reviewers I also disagree with the lacklustre assessment in the review. I find them to be crisp, juicy, super sweet with a nice 'Apply' taste. The kids and I look forward to them ripening each year. Maybe the reviewer sampled some unripe or old ones.

15 Aug 2020 

Mirjam Brady

ABERDEEN, United Kingdom

Just had one to mark the start of British Apple Season - what a fantastic apple! The flavour is similar to the wild strawberries that are out in Scotland at the moment. The aroma takes me right back to my childhood when apples tasted like apples!

12 Aug 2020 

Cath Hopkins

DEVON, United Kingdom

Perhaps I'm in the minority, but I couldn't disagree more with this fairly scathing assessment of Discovery apples (and I feel sufficiently strongly about it to say so). I love everything about them - appearance, smell, taste, texture - except the fact that their presence in the shops is so fleeting. The physical embodiment of Keats' To Autumn. :-)

27 Aug 2019 

Jane

United Kingdom

Riverford (an organic online delivery service where you can buy various organic produce from UK farms and elsewhere) is currently offering Discovery apples among its choices of fruit. There is a minimum order. Go to riverford.co.uk for more info. I'm not able to rate them as I haven't tried these apples recently.

24 Aug 2019 

Tim Coates

CONWY COUNTY, United Kingdom

I am trying to find any shop that sells British apples. Does anyone know where i can get discovery apples that are ready now.

23 Aug 2019 

Samantha

LONDON, United Kingdom

Picked up a bag of six in the supermarket yesterday. Very juicy and crisp, slightly sharp. Just right for a summer's day. I can imagine it would be a good juicing or user apple.

06 Oct 2018 

Iain

ABERDEEN, United Kingdom

Discovery apples are usually wonderful. Occasionally I buy some which seem too hard and lacking in flavour and I wonder if these are ones which have not been properly ripened.

24 Oct 2017 

Mark

PLEASE SELECT REGION, STATE OR PROBINGS, United Kingdom

I adore Discovery apples. It's a landmark date in the year when they appear, and the only consolation when they disappear is that Worcesters can just about tide one over till the Coxes appear. I strongly disagree that they taste better chilled - nearly all fruit tastes better at room temperature. And Discoveries are best when they've gone a bit soft, and perhaps look a bit battered. Heaven!

02 Apr 2014 

Tony Bacon

MERSEYSIDE, United Kingdom

I purchased one , it was half price from a garden centre, had a desent crop, everyone who tasted the apples remarked how beautiful tasting and aroma they where, so I went back and paid full price and bought another

31 Jan 2014 

Annette

WEST MIDLANDS, United Kingdom

My favourite apple ever. I cry when they first appear in the supermarkets around August/September then cry again when they are gone about a month later.

19 Feb 2012 

jonewer

SURREY, United Kingdom

When these hit the shelves pick up a bag of imported apples and give them a good sniff. Dont smell of much do they? Now pick up a bag of discos and fill your face with the heady aroma of a real English apple! Theres simply no comparison. I would buy these on their smell alone. I disagree that the flavour is poor and would rate these as an order of magnitude better than Worcester, Fiesta/Red Pippin, any imported or vinous apple and beaten only by Cox and Egremont Russet. A fine apple by commercial standards.

20 Jan 2012 

Chris

WEST YORKSHIRE, United Kingdom

I married one of the grandaughters of the late George Dummer the founder of the discovery apple and has far as I am aware the very first tree is still alive and bearing fruits in the garden in Langham.

09 Nov 2011 

Jenny

CHICHESTER, United Kingdom

We have this apple tree, it's still relatively young, but bears hundreds of fruits, and is absolutely delicious! Our tree gets a lot of sun, which must be why it's skin is always almost completely red and flesh pink at least half-way through the apple - something this articles says is supposedly not the norm..? By far and away my favourite apple, although I have to say I've never seen it in my supermarket, but there's nothing getter than eating an apple just picked from the tree anyway, in my opinion. :)

14 Sep 2010 

Mariska Van Loenen

ABERDEENSHIRE, United Kingdom

I found this apple during a recent break in a community garden in Lingfield, Surrey. There were lots of apples underneath the tree (end August). They taste very well. I also have this variety up North in Aberdeen, but here they are not yet ripe. The tree in the North is still young and only this year started cropping. I am hoping they will taste just as good as the ones from the South of England.

01 Sep 2010 

Ken

BERKSHIRE, United Kingdom

Discovery Apples do make an interesting Cider, its rather light and airy, and very clear, serve it ice cold, its gorgeous. I used a Champagne yeast and its still, not carbonated. I manage to fill 5 demi jars. It does have a kick!!

30 Aug 2010 

Ellen Graves

FIFE, United Kingdom

Our Discovery tree is so prolific it's now threatening to become a horizontal tree. For an early apple I think it's delicious, and it does indeed taste much better from the tree than from the supermarket (not always the case). Getting apples to bear prolific, ripe fruit up here isn't easy, so I love it. We eat it raw, cook it, peel and slice and put in the freezer and use as cooking apple all winter. It works very well that way as it's so juicy, just use less sugar when cooking.

26 Aug 2010 

Mike

United Kingdom

Discovery 'an apple with poor flavour' - nonsense. It is one of the best flavoured of all apples and I eagerly await them each year. Crisp, juicy, tangy and a nice acid finish.

14 Jul 2010 

Dafydd Wynne-Jones

CANNOCK, NEAR LICHEIDL, United Kingdom

Contrary to some comments, I consider discovery to be my favourite apple., and would be most disappointed if it disappeared from the shelves of supermarkets. The taste is tangy, the flesh crisp and white, flushed with reddy orange. I even wrote a poem to the discovery! How mad is that lol. I do agree it is not nice when over ripe. but I am look forward to a few weeks time, when hopefully I can pick up a bag or two of discovery. Maybe I need to enioy a bigger range of British apples? I should add I normally only buy British apples when available. Only buying overseas when no British eaters are in the store. I also have three apples trees (one Discovery) in my garden, brought from Morrisons supermarkets.

10 Apr 2010 

N. Buck

CAMBRIDGESHIRE, United Kingdom

Don't worry too much about Discovery's part-tip-bearing habit. Many apple varieties are part-tip bearing. Spurs on apple trees take a few years to develop; they only usually develop from former leaf buds that went dormant and are located on 2-3 year old wood. Tip-buds are at the end of a young shoot from the previous season and don't usually form on older wood. Therefore, young trees will not have many spurs, since they won't have much 2-3 year old wood. In time, a part-tip-bearer should still produce adequate numbers of spurs on which to carry fruit.

15 Mar 2010 

Janet Brown

ANGUS, United Kingdom

I hadn't realised it was a tip bearer when I planted it next a fence and started to train it as an espalier. Why don't they say whether apple trees are tip r spur bearers on the labels? It is good as an early eater fresh off the tree but I find the wasps love it too.

19 Feb 2010 

Nigel Deacon

United Kingdom

Discovery is often red-fleshed, especially in dull years. It is the parent of Hugh Ermen's famous red-fleshed apple 'Red Devil'.

04 Jan 2010 

Nancy Burnham

WEST YORKSHIRE, United Kingdom

Do you know that the discovery apple makes fantastic pie's and crumbles. Peel, core and chop into 4-8 pieces, place in a plastic bowl, microwave until just soft, do not add sugar they don't need any at all. They also don't need water, as they cook in their own juice. Save any juice you have, this is so nice to drink once it has been chilled.You can also use it to make apple jelly, that is just yummy.My grandchildren like it when i put it in lolly moulds and make them iced lollies.If you freeze your cooked apple be sure to strain off the liquid before using them.Do not try to cook them in a pan on the stove it just turns to mush, and remember NO SUGAR OR WATER. I have just last year managed to get my second discovery tree, it took ages to find.I only hope it grows as well as the other, i would'nt go back to any other apple because for me the discovery has it all. All i need now is to get me a press so i can try my hand at cider.Happy cooking x

10 Oct 2009 

Mike

WORCESTERSHIRE, United Kingdom

I have just been told that the wonderful pink juice that I have pressed from some donated apples comes from the Discovery variety. We think that the juice tastes better than the apples; the apples themselves don't seem to have a great deal of flavour and develop a "woolly" texture very quickly after picking. We have also made some of the juice into cider, which is fermenting as I write this. It will be interesting to see whether it too is pink! (It's in the dark to stop light bleaching the colour.)

02 Sep 2009 

Martyn Jones

NEAR BEVERLEY, EAST YORKSHIRE, United Kingdom

As with all fruits this year the two trees in my garden were laden with apples, and many were ready for picking by mid August. I also agree with previous comments about the flavour - they are a sweet and very refreshing apple. Pity they dont keep!

21 Aug 2009 

George Fuller

DORSET U.K., United Kingdom

Definately best eaten very soon after being picked. Crops well on my cordon bush(M 26}. As to flavour not, in my opinion, to be ranked with Ashmeads Kernel, Cox, Ribston Pippin etc. but crisp and refreshing and, with Laxton' Epicure, on of the better early apples.

17 Aug 2009 

Maria

NORTH YORKS, United Kingdom

Ours are just starting, very heavily laden this year - the geese adore the little ones and misshapes. We can keep them a few weeks in a cool barn, but definitely best sun warmed from the tree. The best apple we grow.

16 Aug 2009 

Angie Muldowney

HAMPSHIRE, United Kingdom

Yesterday (15th August) was spent picking bucket-loads of these apples from our tree in the garden. They are SO tasty and moreish and I love the way the red skin bleeds all the way into the apple - so different to anything in the shops!

07 Aug 2009 

Katie

LONDON, United Kingdom

I also disagree with the comment on flavour. Discovery is my favourite apple and I chomp down so many in August and September. It's a lovely fresh, crisp taste with the sweetness running through the pink flesh. Absolutely delicious and we found Discoveries on Wednesday (August 5th) in Sainsbury's so I shall be getting my five-a-day (5 discoveries) from now until the end of their little season.

07 Aug 2009 

Lyall

CAMBRIDGE, United Kingdom

First sighting of the new season's 'Discovery' apples in Cambridge market this morning. My fave variety!

08 Feb 2009 

James Wheatley

SUDBURY SUFFOLK, United Kingdom

I have grown this apple on a light soil for twenty years. Reliable cropper, varies with different summers. When it is good it is great but short season, short keeping. Best off the tree on a hot summers day!

04 Oct 2008 

Steve Gronkowski

SCOTLAND, United Kingdom

Ive had Discovery apples for many years now and i think they are the juiciest and best tasting apples that I have tasted. I have had the tree for at least 25 years,is this to long ar has it life yet?

24 Sep 2008 

Nigel

CAMBRIDGESHIRE, United Kingdom

I disagree with the comments regarding lack of flavour. We grow a variety of dessert apples and in our opinion, our Discovery produces apples of excellent, complex flavour when eaten straight form the tree. We consider that the flavour is superior to almost any apple that we have tasted. We have been so impressed, that our Discovery bush has been joined by a young half-standard Discovery tree, for even heavier crops. We live in a warm, low-rainfall area (not far from where Discovery originated), and we suspect that the warm temperatures and lower water content of the Discovery apples we grow here somehow enhances the flavour enormously - a bit like D'Arcy Spice (another local apple variety) which requires a warm and dry summer for it's finest flavour. Shop-bought Discovery apples are completely different to our home-grown one's - the shop one's being larger, juicier, sharper, lacking the red juice and rather flavourless. Discovery's good disease resistance (mildew and scab) also makes it suitable for avoiding the use of many sprays.

08 Sep 2008 

C&Vc

JERSEY, CHANNEL ISLANDS, United Kingdom

We inherited two of these trees when we bought our present house three years agom they are gorgeous apples and very versatile.

08 Sep 2008 

Ren

DEVON, United Kingdom

I must disagree with your tasting notes. It's a perfect little apple with just the right degree of tartness, wonderful aroma, skin which isn't too tough and a nice size. Having access to supermarket apples only, I hunt for it in preference to other available varieties. And another point: not all consumers want large apples and sweet apples - commercial growers take note!

07 Sep 2008 

Richard Mockett

SOUTH DOWNS, United Kingdom

We have an amazingly prolific Discovery tree. The short life of the fruit once picked means that we always have a problem with what to do with so much fruit. This season we have found the answer - it makes the most wondeful PINK apple juice! If you have one of these trees then get hold of a cider press and try it! You will be so delighted with the result - and it is so healthy!!

02 Sep 2008 

Elise

LONDON, United Kingdom

Bought packets from Asda and Morrisons in the last week and the Morrisons ones were a bit stunted, but still good when very fresh. The ones in Asda were far bigger and juicier. I need a sweet, crunchy, slighty acidic apple or I can't eat them at all and this one is great if eaten very quickly. I would disgree that it doesn't have depth - the very fresh ones have all sorts of things going on. They do go past their best very quickly though (still, most supermarket apples these days are terrible from the start).

20 Jul 2008 

Djajanto

JAKARTA INDONESIA, Indonesia

Hi....yes I like apple juice..good for us....... Best Regards

20 Jul 2008 

Steve

HOCKLEY, United Kingdom

Some years back a man called stan jarvis (local historian) used to present history tales on essex radio,and ime sure he said the farmer discovered this thought to be extinct apple plant in rochford essex .I only picked up on it because i used to live there .Can anyone varify this .

03 Aug 2007 

Tom

United Kingdom

I would agree with your tasting notes, but would just like to add that if eaten fresh off the tree the Discovery will be tasted at its best. I used to work on an apple farm in Essex in the 70's,and had my fill of 'fresh' discovery's. The apple farm was in the village of Langham which I think was the place where the apple was Discovered,in a lady's front garden.
Tree register
Spring blossom records for this variety
2023 season
2022 season
2018 season
2017 season
2016 season
2015 season
2014 season
2013 season
2012 season
2011 season
2010 season
2009 season
Record your blossom dates in our Fruit Tree Register - more >>.
Harvest records for this variety
2023 season
2022 season
2017 season
2016 season
2015 season
2014 season
2013 season
2012 season
2011 season
2010 season
2009 season
Origins
Species: Malus domestica - Apple
Parentage: Seedling of Worcester Pearmain
Originates from: United Kingdom
UK National Fruit Collection accession: 1973-189
Some historical details taken with kind permission from 'The New Book of Apples' by Joan Morgan and Alison Richards , illustrated by Elisabeth Dowle, published by Ebury Press, 2002.
Identification
Awards: RHS AGM (current)
Country of origin: United Kingdom
Period of origin: 1900 - 1949
Fruit colour: Red
Flower colour: White
Leaf colour: Green
Popularity: Best sellers
Annual cycle: Deciduous
Alleles: 10
Alleles: 24
Using
Picking season: Early
Keeping (of fruit): 1 week
Flavour quality: Average
Flavour style (apples): Sweet/Sharp
Discoloration of fruit: Slightly oxidising (browns slowly)
Cropping: Good
Fruit persistence: Normal ripening
Food uses: Eating fresh
Food uses: Juice
Picking period: mid-August
Wildlife: RHS Plants for Pollinators
Growing
Gardening skill: Beginner
Flowering group: 3
Pollinating others: Average
Ploidy: Diploid
Vigour: Average vigour
Bearing regularity: Regular
Fruit bearing: Partial tip-bearer
Organic culture: Suitable
Self-fertility: Not self-fertile
Climate
Frost resistance of blossom: Good resistance
Cold hardiness (USDA): (5) -20F / -29C
Climate suitability: Temperate climates
Climate suitability: Mild damp climates
Summer average maximum temperatures: Cool ( 20-24C / 68-75F)
Summer average maximum temperatures: Warm (25-30C / 76-85F)
Summer average maximum temperatures: Hot (>30C / 86F)
Cold hardiness (RHS): H6 (to -20C)
Summer average maximum temperatures: Cold (< 20C / 67F)
Other qualities
Disease resistance: Good
Scab (Apple and Pear): Very resistant
Canker: Some resistance
Where to buy trees
The following tree nurseries offer Discovery apple trees for sale:
Where to buy fresh fruit
The following orchards grow Discovery:
United States
United Kingdom
Canada
Australia
References
Fruit Expert
Author: Hessayon