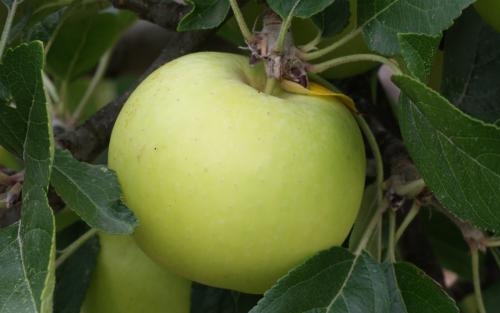 A wonderfully attractive crisp and refreshing apple with a smooth yellow/green skin.
Limelight is a modern English apple variety, developed in Kent by Hugh Ermen. It is an improved 'Greensleeves' type and is ready for picking in September.
Although Hugh Ermen's apples are usually developed with the amateur gardener in mind, Limelight has increasingly been catching the attention of small English growers, who appreciate its easy management characteristics.
Limelight apple identification images
All images copyright Orange Pippin unless otherwise stated.
USDA identification images for Limelight
The identification paintings in the USDA Pomological Watercolor Collection span the years 1886 to 1942.
Citation: U.S. Department of Agriculture Pomological Watercolor Collection. Rare and Special Collections, National Agricultural Library, Beltsville, MD 20705.
Parents and other ancestors of this variety
Visitor reviews
12 Dec 2017 

Graham

DUNDEE, United Kingdom

I inherited a tree of these in Dundee, scotland. Don't have much experience with home grown apples, but to me these taste somewhere between a Granny Smith and a golden delicious in terms of sweetness/sourness. Good flavour but nothing particularly interesting. Nice, dense texture. Juicy. And they are large. Bigger than any apple I see in supermarkets here except for Bramley's. In summary, tasty apple that I enjoyed eating off the tree but nothing special to write home about. Grew with no fuss in an area that is quite cold.

15 Oct 2016 

Carol Andrew

United Kingdom

Our tree has grown well in Scotland , it produces a lot of small apples but they develop spots, bitter pip perhaps? I have applied lime this year and have some clean fruit. There is a large sycamore nearby ,will that starve the apple tree of food, water?

19 Oct 2015 

Robert Caldicott

United Kingdom

Bought two espaliered Limelight, and very pleased with them. Abundant yield of crunchy, juicy, sweet apples. Very good.

28 Oct 2014 

Tahir

United Kingdom

Limelight is definitely one of our favourites, rich flavour, crisp and refreshing. Flavour fades in storage though

31 Jul 2010 

N. Buck

CAMBRIDGESHIRE, United Kingdom

Moira................ Lack of fruits on your tree could have been due to................ 1 - poor pollination due to not enough bees, or perhaps bad weather that grounded the bees................. 2 - lack of a suitable pollinator tree nearby (a different variety flowering at the same time)................ 3 - perhaps the blossom was damaged by the unusually late frosts that we had this year................. 4 - trees sometimes don't fruit well until they've laid down a good root system, which can take a few years, depending on your growing conditions and the variety.

28 Jul 2010 

Moira Harper

WORCESTERSHIRE, United Kingdom

I purchased an espallier limelight apple tree this year, which had loads of blossom, and then shows no sign of producing any apples. I am wondering what I should have done differently. Have kept it well watered through this very dry summer!!!

29 Jun 2010 

Dave Liezen

WASHINGTON, United States

Lyn Jones: I have been looking at one of the parent cultivars of Limelight, Greensleeves, in part because it is reputed to have a long bloom time. Have you kept track of the length of bloom for your (admittedly young) Limelight tree in 2010? Also, how do you find the flavor? Hugh Ermen has developed quite a reputation for creating Herefordshire Russet and Scruptious, therefore this cultivar piques my interest. BTW, the tree with longest bloom time in my yard has been Ashmead's Kernel: 19 days, overlapping the blooms of most of my trees. This will be the first year in which I may taste its fruit. It seems to be unknown in eastern WA.
Tree register
Spring blossom records for this variety
2014 season
2013 season
2011 season
2009 season
Record your blossom dates in our Fruit Tree Register - more >>.
Harvest records for this variety
2013 season
2009 season
September  2009  - tree owned by Lyn in Cambridge, United Kingdom
Origins
Species: Malus domestica - Apple
Parentage: Discovery and Greensleaves
Originates from: England, United Kingdom
Introduced: Hugh Ermen, 1980s
Identification
Awards: RHS AGM (current)
Country of origin: United Kingdom
Period of origin: 1950 - 1999
Fruit colour: Green / Yellow
Flower colour: White
Leaf colour: Green
Popularity: Best sellers
Annual cycle: Deciduous
Using
Picking season: Mid
Keeping (of fruit): 2-3 weeks
Flavour quality: Good
Flavour style (apples): Sharper
Discoloration of fruit: Oxidising
Cropping: Heavy
Fruit persistence: Normal ripening
Food uses: Eating fresh
Food uses: Juice
Picking period: mid-September
Wildlife: RHS Plants for Pollinators
Growing
Gardening skill: Beginner
Flowering group: 3
Pollinating others: Average
Ploidy: Diploid
Vigour: Weak growing
Bearing regularity: Regular
Fruit bearing: Spur-bearer
Self-fertility: Not self-fertile
Climate
Climate suitability: Temperate climates
Summer average maximum temperatures: Cool ( 20-24C / 68-75F)
Cold hardiness (RHS): H6 (to -20C)
Summer average maximum temperatures: Cold (< 20C / 67F)
Other qualities
Disease resistance: Good
Scab (Apple and Pear): Some susceptibility
Where to buy trees
The following tree nurseries offer Limelight apple trees for sale:
Where to buy fresh fruit
The following orchards grow Limelight:
United Kingdom