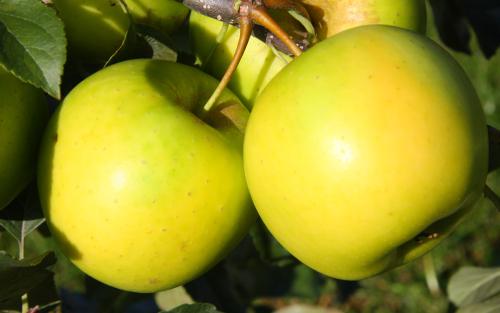 This apple can be picked in mid-September but will happily stay on the tree into October so you can eat it fresh from the tree for at least a month. This, along with its good cropping, make it a really excellent variety to grow in the garden.

In theory Greensleeves marries the sweet flavour of its Golden Delicious parent balanced by the acidity of its other parent, James Grieve. It can be hard and sharp early in the season but mellows later, but it never quite achieves what the parentage suggests it should.

As the photo shows, Greensleeves is actually a lovely golden yellow colour if you leave it on the tree into October.
Greensleeves apple identification images
All images copyright Orange Pippin unless otherwise stated.
USDA identification images for Greensleeves
The identification paintings in the USDA Pomological Watercolor Collection span the years 1886 to 1942.
Citation: U.S. Department of Agriculture Pomological Watercolor Collection. Rare and Special Collections, National Agricultural Library, Beltsville, MD 20705.
Parents and other ancestors of this variety
See also
Redsleeves - Redsleeves and Greensleeves were both developed at East Malling Research station (although not related).
Visitor reviews
25 Sep 2015 

d Morris

HEREFORDSHIRE, United Kingdom

Grew this as a " step over". Magnificent in blossom and excellent fruit set, requiring heavy thinning in June/July. Many fruits split in July ( possible consequence of dry months followed by heavy rain, although other varieties nearby have not split). Many of fruits have blemished skins. Still not really ripe last week in September. Rather disappointed by performance of this variety so far, especially as this county is one of best in UK for growing apples.

03 Oct 2010 

Ann Fleming

OXON, United Kingdom

I was looking to buy a new eating apple for the garden and tasted several varieties at the garden centre. I would not have thought of this variety but one taste and I was hooked! A lovely firm apple that is sweet but with a hint of sharpness. I await the fruit from my own tree with eager anticipation.

12 Oct 2008 

Richard Pearce

LERRYN,LOSTWITHIEL,CORNWALL, United Kingdom

Today 12/10/08 my two boys Matthew and Jack (8 and 4) tasted three varieties in Jacks Orchard (i Planted 34 trees in 2003 to mark Jacks birth ) Discovery, Ashmeads Kernal and Greensleeves and we all voted this apple the best - Sweet juicy and crisp- a real winner. The boys take a real interest in their apples and are lovely to watch tasting - some got spat out as too sour but this was a real winner for them. hope this is of use to you if you have children.

30 Sep 2008 

Chris Mathews

LONDON, United Kingdom

A friend gives me several pounds of Greensleeves each year from his garden, and I find they go golden beutifully in the fruit bowl. To my taste they fully live up to their parentage, in texture, juice and flavour, provided you find mellow varieties satisfying. It isn't sensational, but it is luscious, exceptionally pleasant and has most of what's missing from Golden Delicious. It's hardly worth bothering to take the small core out, as there's nothing woody there.
Tree register
Spring blossom records for this variety
2022 season
2018 season
2016 season
2015 season
2014 season
2013 season
2012 season
2011 season
2010 season
Record your blossom dates in our Fruit Tree Register - more >>.
Harvest records for this variety
2015 season
2014 season
2013 season
2012 season
2010 season
Origins
Species: Malus domestica - Apple
Parentage: Golden Delicious and James Grieve
Originates from: Kent, England, United Kingdom
Introduced: 1966
Developed by: East Malling Research Station
UK National Fruit Collection accession: 1980-077
Some historical details taken with kind permission from 'The New Book of Apples' by Joan Morgan and Alison Richards , illustrated by Elisabeth Dowle, published by Ebury Press, 2002.
Identification
Awards: RHS AGM (current)
Country of origin: United Kingdom
Period of origin: 1950 - 1999
Fruit colour: Green
Flower colour: White
Leaf colour: Green
Popularity: Best sellers
Annual cycle: Deciduous
Using
Picking season: Mid
Keeping (of fruit): 1 week
Flavour quality: Average
Flavour style (apples): Sweet/Sharp
Discoloration of fruit: Oxidising
Cropping: Heavy
Fruit persistence: Normal ripening
Food uses: Eating fresh
Food uses: Juice
Picking period: mid-September
Wildlife: RHS Plants for Pollinators
Growing
Gardening skill: Beginner
Flowering group: 2
Pollinating others: Good
Pollinating others: Average
Vigour: Average vigour
Precocity: Precocious
Bearing regularity: Regular
Fruit bearing: Spur-bearer
Organic culture: Suitable
Attractive features: Attractive flowers
Attractive features: Attractive fruit
Self-fertility: Partially self-fertile
Climate
Frost resistance of blossom: Good resistance
Climate suitability: Temperate climates
Summer average maximum temperatures: Cool ( 20-24C / 68-75F)
Cold hardiness (RHS): H6 (to -20C)
Summer average maximum temperatures: Cold (< 20C / 67F)
Where to buy trees
The following tree nurseries offer Greensleeves apple trees for sale:
Where to buy fresh fruit
The following orchards grow Greensleeves:
United States
United Kingdom
Canada
British Columbia

Nova Scotia

Ontario
References
Fruit Expert
Author: Hessayon