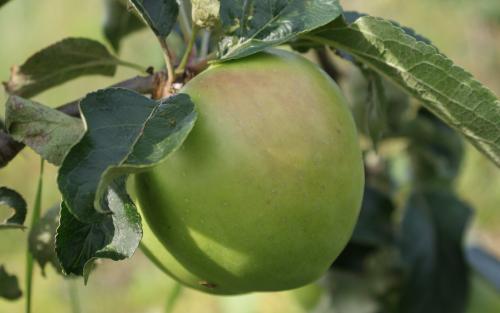 England is the only country where a major distinction is made between cooking and dessert apples, but these days only one variety remains to maintain the tradition of English cooking apples - the famous Bramley apple. However before the supermarket era the choice was wider, with a whole range of culinary or cooking apple varieties grown, each with their own characteristics and season. Chief amongst the early cooking apples is Grenadier, which ripens by mid-August in the UK.
Not much is known of the origins of Grenadier, but it was discovered during the mid-19th century in England and was quite widely grown by the end of the century, although it is no longer grown commercially.

Two reasons probably account for Grenadier's fall from favour. Firstly, like all early apple varieties it does not store particularly well, a serious drawback for modern distribution methods. Secondly, it is not the most attractive of apples - it is a lumpen green, often with a pronounced ribbed effect. However, this ugliness is transformed in the pot, where it easily cooks down to cream-coloured puree with a superb apple flavour. Grenadier is also a good base for apple jam.

Grenadier is also quite an easy apple tree to grow in the garden, being reliable, resistant to the common apple diseases, and not likely to grow as vigorously as a Bramley. Growing your own is also the easiest way to get over its poor keeping qualities, as you can pick it over a number of weeks.

So if you want to make a light English-style apple pie for a summer picnic then Grenadier is exactly what you need.
Grenadier apple identification images
All images copyright Orange Pippin unless otherwise stated.
USDA identification images for Grenadier
The identification paintings in the USDA Pomological Watercolor Collection span the years 1886 to 1942.
Citation: U.S. Department of Agriculture Pomological Watercolor Collection. Rare and Special Collections, National Agricultural Library, Beltsville, MD 20705.
Visitor reviews
08 Sep 2022 

Jane.Freeman

Grenadier is superior to Bramley for cooking and delicious for eating if you like a slightly tart apple. many grow to over 1lb in weight. Why don't more growers sell these trees. We have a Bramley and Grenadier I much prefer the Grenadier for all my apple cooking.

06 Sep 2020 

Frances Phasey

WORCESTERSHIRE, United Kingdom

I didn't have quite enough Grenadiers when cooking the last of this years crop so added an early Bramley. This was the first time i had compared the two directly. The heady scent of the Grenadier really shone through - much the better apple. I'll show this tree more respect in future! And free up freezer space at the beginning of August - they really have to be used straight from the tree.

24 Jun 2018 

Ukfraser

United Kingdom

Pretty sure we have one. We peel and core and section after picking and then freeze so can use throughout the year in crumble, Apple plat and devised red cabbage. As others have said early picker and fabulous taste.

29 Sep 2016 

Rosemary R-Young

KENT, United Kingdom

Moved into my new house in February and have just found out (from the huge ripening apples and help from Brogdales identification service) that I have a Grenadier . What a lovely cooking apple. Puree, crumble and pie so far. Good flavour cooked and raw . Very different to a Bramley which I also love.

11 May 2014 

Colin Richards

DEVON, United Kingdom

Almost an eater when ripe.Possibly easiest tree to grow i have (out of 20)Always crops well,growth is manageable,always disease free,brilliant starter apple.Apple pie & sauce from early August in UK.Commend without hesitation

10 Apr 2011 

Mike

Co. Meath, Ireland

There is a Grenadier in our garden since the 1880s (four generations of apple tarts, stewed apples.... and 'free' apples for neighbouring children); 9 ft high - produces more than we can use, is 'pruned' by clippers or loppers every second year (more or less)..any tips for the next 130 years ?

14 Oct 2009 

Erskine Guinness

WILTSHIRE, United Kingdom

I have a 40 ft Grenadier tree and have just made 5 gallons of cider, all from the one tree

31 Jul 2009 

Paul F Darlington

LANCS, United Kingdom

Restricted non vigorous growth when well cropped. Splendid apple for small gardens. I find it very reliable and keen to fruit.

13 Dec 2008 

Roger De Vere

SOUTH HAMPSHIRE, United Kingdom

We have had a Grenadier apple tree for over 20 years now and it has always been a good cropper. The glory is we get (sometimes) apples at the end of July and we can pick them until early September. Its only a small tree but we get plenty of apples for our needs and some left over for friends and neighbours.This means we then benefit by neighbours receprocating in September and October with Bramleys etc. So we have 'fresh' apples deep into November and December.

19 Oct 2008 

Richard Pepper

SHROPSHIRE, United Kingdom

We have an old Grenadier at the end of our garden that produces fruit every year, with every other year being a real bumper crop that we struggle to keep up with! As it doesn't keep too long we get peeling, freeze it up, and enjoy fantastic crumbles and purees all through the winter.

06 Oct 2008 

June

WARWICKSHIRE, United Kingdom

Have a tree (70 years old) which we have been trying to identify - this sounds like it. In our opinion beats the Bramley hands down! Does anyone have a picture so we could compare and does anyone know of a nursery still selling this variety?

14 Sep 2008 

Steve

LIVERPOOL, United Kingdom

We have two of these in our garden in South Liverpool and they will generally fruit every year. Like Vivien in Bristol 2008 has been a great crop. Superb apple for all sorts of uses!

17 Aug 2008 

Vivien

BRISTOL, United Kingdom

We love our Grenadier apples - our small tree does not produce fruit every year but when it does, the flavour and cooking properties are second to none. This year (2008) has seen a wonderful crop.

07 Oct 2007 

Phil Bird

ABERDEENSHIRE, United Kingdom

Grows reasonably well here in Eastern Scotland. Almost an eater when really ripe. , but makes great pies also.
Tree register
Spring blossom records for this variety
2022 season
2018 season
2016 season
2014 season
2013 season
2010 season
2009 season
Record your blossom dates in our Fruit Tree Register - more >>.
Harvest records for this variety
2014 season
2013 season
2012 season
2011 season
2010 season
2009 season
Origins
Species: Malus domestica - Apple
Originates from: Buckinghamshire, England, United Kingdom
Introduced: 1800
UK National Fruit Collection accession: 1974-347
Identification
Awards: RHS AGM (current)
Country of origin: United Kingdom
Period of origin: 1800 - 1849
Flower colour: Pink - light
Leaf colour: Green
Popularity: Best sellers
Annual cycle: Deciduous
Using
Picking season: Early
Keeping (of fruit): 1 week
Flavour quality: Good
Flavour style (apples): Sharper
Cooking result: Puree
Discoloration of fruit: Oxidising
Cropping: Heavy
Fruit persistence: Normal ripening
Food uses: Culinary
Food uses: Juice
Food uses: Traditional cooker
Picking period: mid-August
Wildlife: RHS Plants for Pollinators
Growing
Gardening skill: Beginner
Flowering group: 3
Pollinating others: Good
Ploidy: Diploid
Vigour: Average vigour
Bearing regularity: Regular
Fruit bearing: Partial tip-bearer
Self-fertility: Partially self-fertile
Climate
Frost resistance of blossom: Some resistance
Climate suitability: Temperate climates
Climate suitability: Mild damp climates
Summer average maximum temperatures: Cool ( 20-24C / 68-75F)
Summer average maximum temperatures: Warm (25-30C / 76-85F)
Cold hardiness (RHS): H6 (to -20C)
Summer average maximum temperatures: Cold (< 20C / 67F)
Where to buy trees
The following tree nurseries offer Grenadier apple trees for sale:
Where to buy fresh fruit
The following orchards grow Grenadier:
United Kingdom
England - midlands

England - south-east

England - south-west
References
Apples of England (1948)
Author: Taylor
Fruit Expert
Author: Hessayon