Herefordshire Russet apple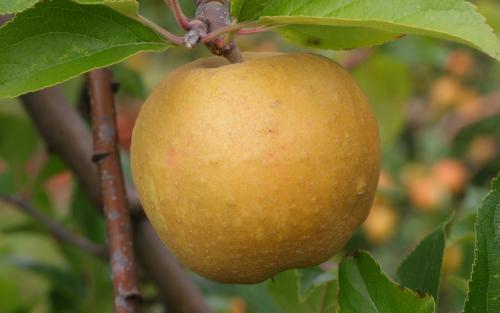 Herefordshire Russet is a new English russet apple variety, developed by apple breeder Hugh Ermen.
When first released it was thought to be a cross between Cox and Idared, but genetic testing by the Frank P. Matthews nursery which Hugh Ermen worked with subsequently found it was Cox and Golden Delicious. This makes it a close relative of Rubinette, another Cox x Golden Delicious cross.
Both Cox and Golden Delicious have a slight tendency to russeting, so it is perhaps not surprising that some of their offspring should exhibit this characteristic.
As you might expect from this combination, the flavor is extremely good.
Herefordshire Russet apple identification images
All images copyright Orange Pippin unless otherwise stated.
USDA identification images for Herefordshire Russet
The identification paintings in the USDA Pomological Watercolor Collection span the years 1886 to 1942.
Citation: U.S. Department of Agriculture Pomological Watercolor Collection. Rare and Special Collections, National Agricultural Library, Beltsville, MD 20705.
Parents and other ancestors of this variety
Visitor reviews
31 Aug 2016 

Ray

EAST SUSSEX, United Kingdom

I grafted a piece onto a Bramley and it is always full of fruit and grows very strongly,superb apples.

15 Sep 2013 

James

DERBYSHIRE, United Kingdom

My tree is now 5 years old and is becoming a prolific cropper. The skin on these apples doesn't seep to be as tough as the Egremont Russet.

19 Aug 2013 

John Kersey

HERTS., United Kingdom

Have grown this variety for 5 years on M9 and found it to be a very weak grower. Kidds Orange Red on M27 was previously on the same site and that proved to have ample vigour.

16 Sep 2012 

Bob Slee

SURREY, United Kingdom

Bumper crop from 5 year old tree in 2012 when other varietals failed to do well. This is a beautifully flavoured apple with definite Cox overtones

28 Jul 2009 

Dick Dunkley

ELY, CAMBS, United Kingdom

Have had this for two years from a maiden. It is highly susepatable to greenfly and the likes, resulting in a deformed tree. I will persevere with it for one more season and if there is no improvement, it will have to go.

21 Oct 2008 

deadbird

SURREY, United Kingdom

exquisite flavour rather like pitmaston pineapple in my colleagues opinion looking forward to more next year

08 Oct 2008 

Linda Gwinnett

ASPULL NR WIGAN LANCASHIRE ENGLAND, United Kingdom

Cannot find a stockist of russett apples anywhere in my area can you help
Tree register
Spring blossom records for this variety
2018 season
2017 season
2016 season
2015 season
2014 season
2013 season
2012 season
2011 season
2010 season
Record your blossom dates in our Fruit Tree Register - more >>.
Harvest records for this variety
2018 season
2017 season
2016 season
2015 season
Origins
Species: Malus domestica - Apple
Parentage: Cox x Golden Delicious
Originates from: England, United Kingdom
Introduced: 2000
Developed by: Hugh Ermen
UK National Fruit Collection accession: 1994-017
Identification
Country of origin: United Kingdom
Period of origin: 2000
Fruit colour: Russet
Flower colour: Pink - light
Leaf colour: Green
Popularity: Best sellers
Annual cycle: Deciduous
Using
Picking season: Late
Keeping (of fruit): 1-2 months
Flavour quality: Very good
Flavour style (apples): Sweeter
Discoloration of fruit: Oxidising
Cropping: Good
Fruit persistence: Normal ripening
Food uses: Eating fresh
Picking period: mid-October
Wildlife: RHS Plants for Pollinators
Growing
Gardening skill: Beginner
Flowering group: 3
Pollinating others: Average
Ploidy: Diploid
Vigour: Weak growing
Bearing regularity: Regular
Fruit bearing: Spur-bearer
Self-fertility: Not self-fertile
Climate
Climate suitability: Temperate climates
Summer average maximum temperatures: Cool ( 20-24C / 68-75F)
Other qualities
Disease resistance: Average
Where to buy trees
The following tree nurseries offer Herefordshire Russet apple trees for sale:
Where to buy fresh fruit
The following orchards grow Herefordshire Russet:
United Kingdom