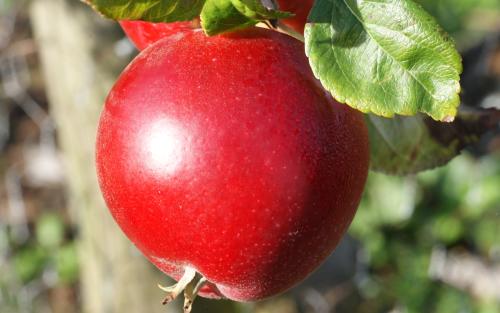 Red Devil is a mid-season apple, notable for its distinctive red flesh.
The flesh is white as with most apples, but stained with red which grows inwards from the skin. This is a characteristic sometimes seen in in its parent, Discovery, but much more obvious in Red Devil. It is currently probably the best flavoured apple with a red-flesh - although there are several other apple varieties which have a far more pronounced red-flesh than Red Devil, they are generally of very poor flavour.
Red Devil is a popular garden apple variety in the UK, often grown for its attractive pink-coloured juice.
Red Devil apple identification images
All images copyright Orange Pippin unless otherwise stated.
USDA identification images for Red Devil
The identification paintings in the USDA Pomological Watercolor Collection span the years 1886 to 1942.
Citation: U.S. Department of Agriculture Pomological Watercolor Collection. Rare and Special Collections, National Agricultural Library, Beltsville, MD 20705.
Parents and other ancestors of this variety
Visitor reviews
30 Sep 2018 

Pauline Lewis

STAFFS, United Kingdom

We brought our red devil tree in 2001 several of my neighbours have apple trees too but ours always produces a heavy crop. I counted over 400 last year & similar this year. The smaller apples we give to a neighbour who makes cider. We make a few crumbles with any mid size or damaged ones. We give lots to neighbours too they either eat them or if damaged make crumble or pie. All my neighbours love apple picking time.

26 Sep 2010 

Dan Kissane

Ireland

I have one tree of this variety. It bears heavy crops of fine, large apples which are generally pest and disease free, though (as stated above) it is rather troubled by earwigs. Apple sawfly does all necessary crop-thinning, and the few scab-marked specimens and windfalls are all welcome additions to the cider bucket! It's a great seller in the local organic market, although, personally, I find the sweet, strawberry-like flavour not really to my taste.

13 Sep 2010 

N. Buck

CAMBRIDGESHIRE, United Kingdom

Red Devil resembles a sweeter, more intensely flavoured, slightly deeper red, larger-sized, Discovery apple. When fully ripe, Red Devil fruits become even darker red than the pictures above show. The flesh can be slightly red-stained, but the staining is not usually as extensive as many promoters of this apple would have you believe. The juice is indeed pink. Red Devil inherits most of Discovery's good characteristics - particularly disease resistance - but also inherits some of Discovery's tendency to attack by pests (earwigs and maggots), which can sometimes damage a significant portion of the crop. Unfortunately, pest attack seems to be common on many mid-season, highly coloured and highly flavoured "eating" varieties, so Red Devil is not unique in being attacked by pests.
Tree register
Spring blossom records for this variety
2022 season
2021 season
2020 season
2018 season
2016 season
2015 season
2014 season
2013 season
2012 season
2011 season
2010 season
2009 season
Record your blossom dates in our Fruit Tree Register - more >>.
Harvest records for this variety
2021 season
2020 season
2016 season
2015 season
2012 season
2011 season
2010 season
2009 season
Origins
Species: Malus domestica - Apple
Parentage: Discovery x Kent
Originates from: England, United Kingdom
Introduced: 1975
Developed by: Hugh Ermen, a UK apple enthusiast
UK National Fruit Collection accession: 1999-070
Identification
Country of origin: United Kingdom
Period of origin: 1950 - 1999
Flower colour: White
Flower colour: Pink - light
Leaf colour: Green
Popularity: Best sellers
Annual cycle: Deciduous
Flesh colour: Pink / Red 

Light pink flushed.
Using
Picking season: Mid
Keeping (of fruit): 2-3 weeks
Flavour quality: Average
Flavour style (apples): Sweeter
Discoloration of fruit: Oxidising
Vitamin C content: Low
Cropping: Heavy
Fruit persistence: Normal ripening
Food uses: Eating fresh
Food uses: Juice 

Light pink juice

Juice colour: Pale red
Picking period: mid-September
Wildlife: RHS Plants for Pollinators
Growing
Gardening skill: Beginner
Flowering group: 3
Pollinating others: Average
Ploidy: Diploid
Vigour: Average vigour
Precocity: Precocious
Bearing regularity: Regular
Fruit bearing: Spur-bearer
Organic culture: Suitable
Self-fertility: Self-fertile
Climate
Climate suitability: Temperate climates
Climate suitability: Mild damp climates
Summer average maximum temperatures: Cool ( 20-24C / 68-75F)
Summer average maximum temperatures: Cold (< 20C / 67F)
Other qualities
Disease resistance: Good
Scab (Apple and Pear): Some resistance
Bitter pit: Some susceptibility
Where to buy trees
The following tree nurseries offer Red Devil apple trees for sale:
Where to buy fresh fruit
The following orchards grow Red Devil:
United Kingdom