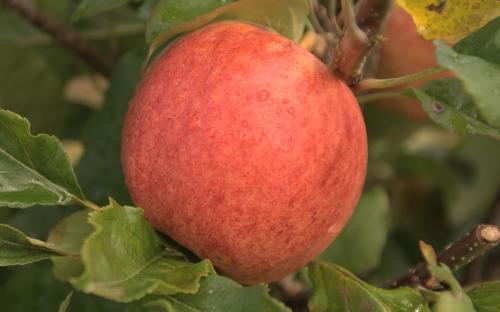 A red-coloured sport of Falstaff, a popular garden apple tree.
Red Falstaff apple identification images
All images copyright Orange Pippin unless otherwise stated.
USDA identification images for Red Falstaff
The identification paintings in the USDA Pomological Watercolor Collection span the years 1886 to 1942.
Citation: U.S. Department of Agriculture Pomological Watercolor Collection. Rare and Special Collections, National Agricultural Library, Beltsville, MD 20705.
Sport
This variety is a sport (natural genetic mutation) of: Falstaff
Parents and other ancestors of this variety
Visitor reviews
14 Dec 2016 

Colindun

ROSS & CROMARTY, United Kingdom

I planted a Red Falstaff on my allotment back in 2012, and frankly wasn't really expecting great things of it. I planted an Eggremont Russet and a Sunset at the same time, and the Falstaff had been recommended as a hardy, reliable tree which I thought might be a good alternative to my others which I expected to be prone to bi-annual cropping. The fact that the Falstaff is a combination of James Grieve and a Golden Delicious didn't really recommend it, but I thought I'd give it a try anyway. In the end the tree has turned out to be excellent. I removed all fruit during its first two years to encourage growth, but in 2015 let it fruit with some judicious thinning. 2015 was not a good summer, but despite that it did very well and I had a nice crop of about 12 apples which were crisp and sharp and very refreshing. A very nice apple indeed, and my wife prefers this to the more Cox-like apples from the Sunset. This year, with the summer being a bit warmer and longer than last year (though still not as it should be), the Falstaff produce a bumper crop of 30 apples on its 2m height, after I had thinned it twice earlier in the year. Again, the apples are very nice indeed. I generally prefer a more Cox-like apple, but these add a nice variation to what we have available. Storage has so far been OK, though I've noticed that the skins become a little sticky after a few weeks in store. I'd recommend this as a good, reliable and tasty apple to grow.

23 Sep 2013 

Steve

DEVON, United Kingdom

Agree with the tasting rating and I do have problems with scab on this apple
Tree register
Spring blossom records for this variety
2021 season
2017 season
2016 season
2015 season
2014 season
2013 season
2012 season
2011 season
2010 season
2009 season
Record your blossom dates in our Fruit Tree Register - more >>.
Harvest records for this variety
2017 season
2016 season
2013 season
2011 season
2010 season
2009 season
Origins
Species: Malus domestica - Apple
Parentage: James Grieve x Golden Delicious
Originates from: Norfolk, England, United Kingdom
Introduced: 1983
UK National Fruit Collection accession: 1998-019
Identification
Awards: RHS AGM (current)
Country of origin: United Kingdom
Period of origin: 1950 - 1999
Fruit colour: Red
Flower colour: Pink - light
Leaf colour: Green
Popularity: Best sellers
Annual cycle: Deciduous
Using
Picking season: Late
Keeping (of fruit): 1-2 months
Flavour quality: Good
Flavour style (apples): Sweet/Sharp
Discoloration of fruit: Oxidising
Cropping: Heavy
Fruit persistence: Normal ripening
Food uses: Eating fresh
Food uses: Juice
Picking period: late September
Wildlife: RHS Plants for Pollinators
Growing
Gardening skill: Beginner
Flowering group: 3
Pollinating others: Average
Ploidy: Diploid
Vigour: Average vigour
Bearing regularity: Regular
Fruit bearing: Spur-bearer
Attractive features: Attractive flowers
Self-fertility: Self-fertile
Climate
Frost resistance of blossom: Good resistance
Climate suitability: Temperate climates
Summer average maximum temperatures: Cool ( 20-24C / 68-75F)
Cold hardiness (RHS): H6 (to -20C)
Other qualities
Disease resistance: Average
Scab (Apple and Pear): Some susceptibility
Where to buy trees
The following tree nurseries offer Red Falstaff apple trees for sale:
Where to buy fresh fruit
The following orchards grow Red Falstaff:
United Kingdom