Duchess of Oldenburg apple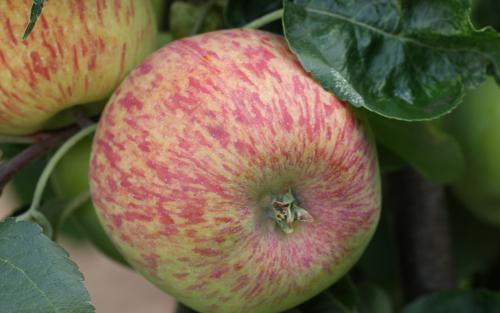 Duchess of Oldenburg is a very attractive early-season apple, originating from Russia in the early 18th century. It is primarily used as a cooking apple.
Although never really a commercial variety, it was quite widely grown across northern Europe in the 19th century. It was imported to the USA in 1835 by the Massachusetts Horticultural Society, and its excellent cold hardiness made it a popular variety in the northern states.
From the 1920s Duchess of Oldenburg became an early mainstay of the University of Minnesota's (UMN) long-running and well-respected cold-hardy apple breeding program. The true extent of its role was not apparent because of errors in written records of parentage, but recent DNA testing by Luby, Howard, Tillman and Bedford at UMN, found that Duchess of Oldenburg was present in the ancestry of almost every apple variety ever developed at UMN.
Duchess of Oldenburg apple identification images
All images copyright Orange Pippin unless otherwise stated.
USDA identification images for Duchess of Oldenburg
The identification paintings in the USDA Pomological Watercolor Collection span the years 1886 to 1942.
Citation: U.S. Department of Agriculture Pomological Watercolor Collection. Rare and Special Collections, National Agricultural Library, Beltsville, MD 20705.
Offspring of this variety
Visitor reviews
16 Apr 2021 

Tony

NEW YORK, United States

Great for cooking, not fresh eating. Extremely tart, with very little sweetness, and little juice. A soft, very early apple that only keeps a few weeks in cold storage, or literally just a few days at room temp. They are like no other apple I've ever tried, and have been growing them for 15 years. Tree is hearty, and has large crops every year. I disagree with others on a few points, as there might possibly be differences between individual trees, but there is no way these can be eaten fresh. They are simply too tart with very little sweetness, and soft texture. They are fantastic for drying, baking, and pies/sauces. The apple is soft, and mealy a day or two after ripe, and some report that they turn to mush in a pie, but I have had the opposite experience. Even though they are soft, they retain their shape and definition quite well in a pie, and their tart flavor profile in this usage is stunning. They are highly recommended, as long as you careful picking them within the right harvest window.

07 Jun 2019 

Steven Holman

MI, United States

I have 2 Duchess trees in my home orchard..This is one apple that if picked before it is ripe wouldn't be good for fresh eating..Allow it to fully ripen before fresh eating..Large apples every year on my trees..Good for fresh eating and excellent for cooking..

05 Aug 2014 

Drew

BRITISH COLUMBIA, Canada

Our tree is quite old - our guess is it is at least 80+ years old. It produces upwards of 600+ pounds in a good year and 300+ pounds in a dry Summer. The apples are excellent for eating and apple sauce, as they break down too readily in pies.

06 Aug 2013 

Stephanie

United States

We harvested 7-10 bushels of Duchess. I would use one word to describe the apple: Tart. I usually like tart apples, but Duchess is simply too tart.

17 Jun 2012 

Charley

WA, SPOKANE COUNTY, United States

This is a good keeper in cold storage. Ours was good for cooking up until March this year 2012. When I use it for pie or apple crisp I like to add a little lime juice for tartness. Overall mild sweet taste.
Tree register
New Zealand
Giles in HAMILTON, WAIKATO
Spring blossom records for this variety
2014 season
15th May  2014  - tree owned by Thomas in Cottage Grove, United States
2012 season
9th May  2012  - tree owned by James in Estacada, United States
Record your blossom dates in our Fruit Tree Register - more >>.
Harvest records for this variety
Origins
Species: Malus domestica - Apple
Originates from: Russia
Introduced: 18th century
UK National Fruit Collection accession: 1957-190
We are grateful to Brogdale Farm - home of the UK National Fruit Collection - for providing samples of this variety.
Some historical details taken with kind permission from 'The New Book of Apples' by Joan Morgan and Alison Richards , illustrated by Elisabeth Dowle, published by Ebury Press, 2002.
Identification
Country of origin: Russia
Period of origin: 1750 - 1799
Flower colour: White
Leaf colour: Green
Popularity: Rarely grown
Annual cycle: Deciduous
Using
Picking season: Early
Keeping (of fruit): 1 week
Flavour quality: Good
Flavour style (apples): Sharper
Cooking result: Puree
Discoloration of fruit: Oxidising
Juice style: Sharper
Cropping: Heavy
Fruit persistence: Normal ripening
Food uses: Culinary
Food uses: Traditional cooker
Picking period: mid-August
Wildlife: RHS Plants for Pollinators
Growing
Gardening skill: Beginner
Flowering group: 2
Pollinating others: Average
Ploidy: Diploid
Vigour: Average vigour
Precocity: Precocious
Bearing regularity: Regular
Fruit bearing: Spur-bearer
Attractive features: Attractive fruit
Self-fertility: Not self-fertile
Climate
Frost resistance of blossom: Good resistance
Cold hardiness (USDA): (3) -40F / -40C
Climate suitability: Temperate climates
Cold-hardiness: Cold-hardy
Summer average maximum temperatures: Cool ( 20-24C / 68-75F)
Summer average maximum temperatures: Warm (25-30C / 76-85F)
Summer average maximum temperatures: Cold (< 20C / 67F)
Other qualities
Disease resistance: Good
Scab (Apple and Pear): Some resistance
Powdery mildew: Some resistance
Cedar apple rust: Some resistance
Fire blight: Some susceptibility
Where to buy trees
The following tree nurseries offer Duchess of Oldenburg apple trees for sale:
Where to buy fresh fruit
The following orchards grow Duchess of Oldenburg:
United States
Canada
References
Apples of England (1948)
Author: Taylor