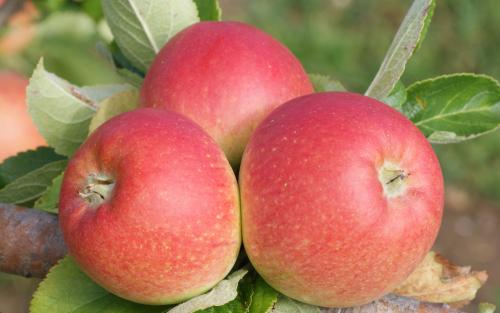 Alkmene was raised in Germany in the 1930s. It is sometimes also known as Early Windsor.
The flavour is quite strong and has the Cox tanginess, but is noticeably juicier. Some tasters have compared the flavour to a Granny Smith. The flesh is cream-coloured and quite dense; biting into one of these gives teeth and gums a good work-out !
It ripens a bit earlier than Cox - around early September. It has much more strength and body than most early varieties.
If you like a strong, tart apple, early in the season, then give this a try.
Alkmene apple identification images
All images copyright Orange Pippin unless otherwise stated.
USDA identification images for Alkmene
The identification paintings in the USDA Pomological Watercolor Collection span the years 1886 to 1942.
Citation: U.S. Department of Agriculture Pomological Watercolor Collection. Rare and Special Collections, National Agricultural Library, Beltsville, MD 20705.
Parents and other ancestors of this variety
Sports of this variety
Sports are natural genetic mutations of the original variety.
Visitor reviews
09 Oct 2012 

Darren

KENT, United Kingdom

Sainsbury is stocking Kentish early Windsors. Well done sainsburys ! Lovely taste good size medium to large, crisp dense, sweet to tart and some red to russeted examples some more tart. Makes a change after a summer of endless imported jazz examples generally experienced !

30 Nov 2011 

Lara

Switzerland

Hi, Most of the apple varieties listed here are impossible to find for me. Would one be so nice to send me one Alkmene, if I provide my address? It would be a dream for me if I could taste some of the apple listed on this site. thanks indeed

13 Oct 2010 

Gunnar Svensson

HELSINGBORG, Sweden

Alkmene is one of the best apples I know of when I lived in Germany this was the firtst class apple because of it´s rich flavor.

21 Sep 2010 

Will King

LONDON, United Kingdom

Bags of 6 on special purchase for £1 in the Tesco Metro on Cheapside in The City (London). Grown in Kent, really tasty - one of the best apples I've ever had.

13 May 2009 

G.W.Fuller

BROADSTONE.DORSET, United Kingdom

An excellent dessert apple which crops regularly and well on my cordon plant(M26}. The qualities of Cox without the problems. Highly recommended.

30 Oct 2008 

M Brown

OXFORDSHIRE, United Kingdom

A PURCHASED THIS APPLE FOR THE FIRST TIME THIS SEPTEMBER FROM WAITROSE AND IS AS GOOD AS A COXES ORANGE PIPPIN

30 Aug 2008 

Susan Kemp

PATRINGTON, EAST YORKSHIRE, United Kingdom

We inherited a lovely apple tree when w bought our house, though we have never identified the variety. After a bumper crop this year many people are asking us anout it. Having looked through various sites I have a feeling it could be Alkemene. However, our is eating now (too early?) It has lovely crisp flesh with pink flashes. Can anyone help please?

19 Feb 2008 

Graham Duncan

GALLEYWOOD ESSEX, United Kingdom

Have enjoyed this apple for many years excellent sharp refreshing flavour the only drawback being that it does not store well. Grown locally at Lathcoats Farm.
Tree register
Spring blossom records for this variety
2022 season
2018 season
2017 season
2014 season
2013 season
2012 season
Record your blossom dates in our Fruit Tree Register - more >>.
Harvest records for this variety
Origins
Species: Malus domestica - Apple
Parentage: Cox's Orange Pippin x Oldenburg
Originates from: Germany
Introduced: 1930
Developed by: Kaiser Wilhelm Institute
UK National Fruit Collection accession: 1972-026
Identification
Awards: RHS AGM (current)
Country of origin: Germany
Period of origin: 1900 - 1949
Fruit colour: Orange / Red
Leaf colour: Green
Annual cycle: Deciduous
Alleles: 5
Alleles: 22
Using
Picking season: Mid
Keeping (of fruit): 2-3 weeks
Flavour quality: Good
Flavour style (apples): Aromatic
Discoloration of fruit: Oxidising
Cropping: Heavy
Fruit persistence: Normal ripening
Food uses: Eating fresh
Picking period: mid-September
Wildlife: RHS Plants for Pollinators
Growing
Gardening skill: Beginner
Flowering group: 2
Vigour: Average vigour
Fruit bearing: Spur-bearer
Organic culture: Suitable
Self-fertility: Self-fertile
Climate
Frost resistance of blossom: Susceptible
Cold hardiness (USDA): (5) -20F / -29C
Cold hardiness (USDA): (6) -10F / -23C
Cold hardiness (USDA): (7) 0F / -18C
Cold hardiness (USDA): (8) 10F / -12C
Climate suitability: Temperate climates
Summer average maximum temperatures: Cool ( 20-24C / 68-75F)
Summer average maximum temperatures: Warm (25-30C / 76-85F)
Cold hardiness (RHS): H6 (to -20C)
Summer average maximum temperatures: Cold (< 20C / 67F)
Other qualities
Disease resistance: Good
Scab (Apple and Pear): Very resistant
Where to buy trees
The following tree nurseries offer Alkmene apple trees for sale:
Where to buy fresh fruit
The following orchards grow Alkmene:
United States
United Kingdom
Canada