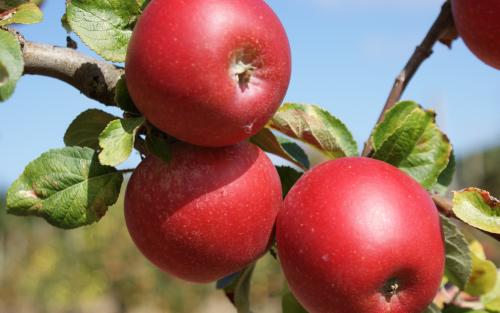 This is a red sport (mutation) of Alkmene, and noticeably redder and less Cox-like in appearance than Alkmene, although the characteristic Cox russet striping can be faintly discerned. It is grown commercially on a small-scale in the UK.
Alkmene is sometimes known as Early Windsor, hence the name of this redder sport, Red Windsor. However to further confuse matters, the marketing organisation behind this variety organised a UK-wide schools competition to come up with a new name - and "Sweet Lilibet" was chosen. This is therefore the name you are most likely to see it under in supermarkets, where it appears towards the end of September.
Red Windsor apple identification images
All images copyright Orange Pippin unless otherwise stated.
USDA identification images for Red Windsor
The identification paintings in the USDA Pomological Watercolor Collection span the years 1886 to 1942.
Citation: U.S. Department of Agriculture Pomological Watercolor Collection. Rare and Special Collections, National Agricultural Library, Beltsville, MD 20705.
Sport
This variety is a sport (natural genetic mutation) of: Alkmene
Parents and other ancestors of this variety
Visitor reviews
04 Oct 2017 

r

UK, United Kingdom

Planted tree three years ago in small London garden and delighted with it; delicious apple, clean & abundant fruits, nice to eat straight off tree or stew, and I bet would also make excellent pies and juice. Very pretty in blossom and in fruit so a decorative as well as useful tree. Recommended/supplied by Keepers Nursery UK - a really good call!

30 Aug 2014 

Luke88

WEST YORKSHIRE, United Kingdom

really nice apple crisp,juicy, less aromatic than a cox orange abit more acidic more juicy yummy makes really nice juice too

23 Mar 2011 

Simon

LONDON, United Kingdom

I picked some up at my local farmers market - best apple I've eaten in years. Really made me realise what I was missing at the supermarket.

06 Oct 2010 

Holly

United Kingdom

A very refreshing, clean-tasting and tangy apple; aspects of the cox apple in there but far more refreshing and less dense.

15 Oct 2008 

Keith Robinson

RUNCORN, CHESHIRE, United Kingdom

I have a preference for English apples, in particular Russet and Cox varieties so the Red Windsor is a welcome addition Purchased from local Asda but like most English varieties. suspect it will only have a short season

04 Oct 2008 

Marcus Jones

LOUTH, LINCOLNSHIRE, United Kingdom

I planted this dwarf tree in a large pot in April 2008, and have just picked my first crop of 20 apples from it in mid October. I first took a sample test of it in September, but it was very sharp then and obviously not ripe then. I find the fruit very firm, very refreshing (although still a little sharp for my sweet-tooth), and very juicy. Constant rains this year may have induced it to bear quite large fruits, but it was also watered well throughtout the whole period too. I hope to locate a sweeter apple for the future, but can use these as an all purpose baking apple for both Tarte-Tatin or apple pie.

01 Oct 2008 

Brian Turbefield

CHICHESTER,WEST SUSSEX. U.K., United Kingdom

Could easily pass as a Cox. Nearest thing yet I think.Slightly sharper.Excellent apple.Purchased October in Waitrose,grown in Kent. I will try to get a tree for my new orchard.
Tree register
Spring blossom records for this variety
2014 season
2013 season
2012 season
2011 season
2010 season
2009 season
Record your blossom dates in our Fruit Tree Register - more >>.
Harvest records for this variety
2013 season
2011 season
2010 season
2009 season
Origins
Species: Malus domestica - Apple
Parentage: Sport of Alkmene
Originates from: United Kingdom
Introduced: 1985
UK National Fruit Collection accession: 2000-115
Identification
Awards: RHS AGM (current)
Country of origin: United Kingdom
Period of origin: 1950 - 1999
Fruit colour: Red
Flower colour: White
Leaf colour: Green
Popularity: Best sellers
Annual cycle: Deciduous
Alleles: 5
Alleles: 22
Using
Picking season: Mid
Keeping (of fruit): 1 week
Flavour quality: Good
Flavour style (apples): Aromatic
Discoloration of fruit: Oxidising
Cropping: Heavy
Fruit persistence: Normal ripening
Food uses: Eating fresh
Picking period: mid-September
Wildlife: RHS Plants for Pollinators
Growing
Gardening skill: Beginner
Flowering group: 2
Pollinating others: Average
Ploidy: Diploid
Vigour: Average vigour
Bearing regularity: Regular
Fruit bearing: Spur-bearer
Organic culture: Suitable
Self-fertility: Self-fertile
Climate
Frost resistance of blossom: Susceptible
Climate suitability: Temperate climates
Climate suitability: Mild damp climates
Summer average maximum temperatures: Cool ( 20-24C / 68-75F)
Cold hardiness (RHS): H6 (to -20C)
Summer average maximum temperatures: Cold (< 20C / 67F)
Other qualities
Disease resistance: Good
Scab (Apple and Pear): Very resistant
Where to buy trees
The following tree nurseries offer Red Windsor apple trees for sale:
Where to buy fresh fruit
The following orchards grow Red Windsor:
United Kingdom