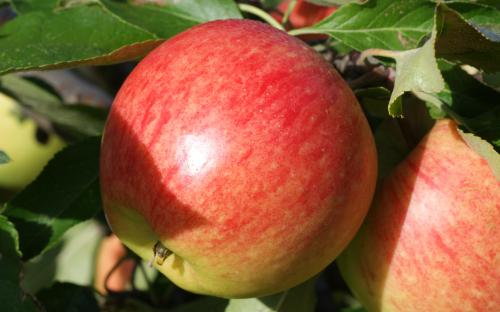 In apple terms Falstaff is brand-new - it was developed in Kent in the 1980s. For modern growers appearance is of great importance, and there is no doubt that Falstaff is a very attractive apple, reasonably large in size and with a lovely red flush over a golden yellow background.

Falstaff is another variation on a familiar modern theme - growers attempting to improve on Golden Delicious. Whilst Falstaff probably owes its size and yellow background colour to Golden Delicious, when it comes to flavour it really takes after its other parent - James Grieve, a juicy and pleasantly acidic apple which arose in Scotland in the 1890s.
There is also a red sport - Red Falstaff - which has identical characteristics apart from the colour which is a more attractive and pronounced shade of red.

Falstaff is crunchy and juicy straight from the tree, with light cream coloured flesh. It mellows and softens somewhat as it ages, but remains juicy. The flavour lacks the complexity of the Victorian apples, but is nevertheless a very well-balanced combination of sweetness - from Golden Delicious - and acidity - from James Grieve. We tend to find that the James Grieve parentage probably has the greater impact on Falstaff's flavour, and it is pleasingly sharp when picked from the tree (which is actually the best way to enjoy it). There is something in the flavour for fans of the older classic English style as well - it is quite likely that one of its grandparents is Cox's Orange Pippin.

Like many James Grieve offspring, this is also a good apple for making your own apple juice.
As a variety for the garden Falstaff and Red Falstaff are amongst the best. The quantity and quality of apples produced is matched only by the lack of effort required - even the most hopeless gardener should be successful with this variety. It does have a slight susceptibility to scab, but this is rarely a problem. In our experience this is also an apple which almost everyone really enjoys, from the conoisseur to those who profess not to like apples - it does everything you expect an apple to do.
Falstaff apple identification images
All images copyright Orange Pippin unless otherwise stated.
USDA identification images for Falstaff
The identification paintings in the USDA Pomological Watercolor Collection span the years 1886 to 1942.
Citation: U.S. Department of Agriculture Pomological Watercolor Collection. Rare and Special Collections, National Agricultural Library, Beltsville, MD 20705.
Parents and other ancestors of this variety
Sports of this variety
Sports are natural genetic mutations of the original variety.
Visitor reviews
12 Oct 2011 

Emelie Buckner

ESSEX, United Kingdom

have had a Falstaff apple tree about 16 years. Very prolific crop this year.Your tasting notes are very accurate. This year the coddling moth attacked the fruit. I have blanched and stored the peeled apples in the freezer for pies etc. Next year I wll put up a trap for the coddling moth at the end of the garden. Hopefully The result should be a bumper perfect crop.

16 Jun 2011 

Ian Mortimer

ESSEX, United Kingdom

We bought a Red Falstaff last May and had a reasonable crop of large and very tasty apples in September. This year it has gone quite mad and is in danger of pulling itself over, it has so many apples. It's my first go at apples and is a real delight.

07 Oct 2010 

Wendy Earl

CORNWALL, United Kingdom

I have a 5 year old Red Falstaff sold to me as a dessert/cider apple. Reliable heavy cropper. albeit late - just ripe now early October - of most attractive, tasty red fruit. Has anyone made cider from it? What are the keeping qualities (outside the fridge)?

19 Nov 2008 

Peter Mcfadden

CONWY VALLEY, NORTH WALES, United Kingdom

I planted a Falstaff six years ago in 2002. It produced a terrific crop in 2007 and 2008, lovely flavour, very juicy. It's one of the best of my 20 apple trees. I keep eight hives of bees near the orchard and the bees and the fruit go very well together. Fruit growing is becoming very popular in the Conwy Valley.

09 Nov 2007 

Mike Mcphun

NORTHUMBERLAND, United Kingdom

We have a 4 year old tree bought as "Red Falstaff", and the ripe fruit is identical to the above illustration. However we find that the apples are very late to ripen in this area. Picked in mid October they are too sour for dessert, but delicious cooked. Left on the tree longer, in past years they have been attacked by scab. This year we had 6 good specimens left ripening on the tree, but last week they disappeared overnight!

17 Oct 2007 

Gabriel Levine

TORQUAY, United Kingdom

You state that Falstaff has the same parentage as Greensleeves (G/Del x J/Grieve). Yet it looks & tastes quite different. Have you got the parentage right? Falstaff is a new apple to me, 1st seen & tasted last Sunday. However this was labelled Red Falstaff. Is this the same as Falstaff?

15 Oct 2007 

Sally Bail

SOMERSET, United Kingdom

Your tasting notes are spot on. Falstaff is a lovely apple. In reply to Jean Swinton, don't pick Falstaff too early. Early October is about right. Store in a 'fridge if you can, it keeps best if kept really cold.

10 Sep 2007 

Jean Swinton

CLACTON-ON-SEA, United Kingdom

We have a small Falstaff in our garden. When is the best time to pick the apples. Last year we left it too late we think. They are a lovely apple.
Tree register
Spring blossom records for this variety
2021 season
2020 season
2019 season
2018 season
2017 season
2016 season
2015 season
2014 season
2013 season
2012 season
2011 season
2010 season
2009 season
Record your blossom dates in our Fruit Tree Register - more >>.
Harvest records for this variety
2022 season
2021 season
2020 season
2019 season
2018 season
2017 season
2016 season
2015 season
2014 season
2013 season
2012 season
2011 season
2010 season
2009 season
Origins
Species: Malus domestica - Apple
Parentage: James Grieve x Golden Delicious
Originates from: England, United Kingdom
Introduced: 1965
Developed by: East Malling Research
UK National Fruit Collection accession: 1972-184
Identification
Country of origin: United Kingdom
Period of origin: 1950 - 1999
Fruit colour: Red
Flower colour: Pink - light
Leaf colour: Green
Popularity: Best sellers
Annual cycle: Deciduous
Awards: RHS AGM (former)
Using
Picking season: Late
Keeping (of fruit): 1-2 months
Flavour quality: Good
Flavour style (apples): Sweet/Sharp
Discoloration of fruit: Oxidising
Cropping: Heavy
Fruit persistence: Normal ripening
Food uses: Eating fresh
Food uses: Juice
Wildlife: RHS Plants for Pollinators
Growing
Gardening skill: Beginner
Flowering group: 3
Pollinating others: Average
Ploidy: Diploid
Vigour: Average vigour
Bearing regularity: Regular
Fruit bearing: Spur-bearer
Attractive features: Attractive flowers
Self-fertility: Self-fertile
Climate
Frost resistance of blossom: Good resistance
Climate suitability: Temperate climates
Summer average maximum temperatures: Cool ( 20-24C / 68-75F)
Cold hardiness (RHS): H6 (to -20C)
Other qualities
Disease resistance: Average
Scab (Apple and Pear): Some susceptibility
Where to buy fresh fruit
No orchards have registered as growing this variety. If you grow this and want to register please go to our Orchard Registration form.