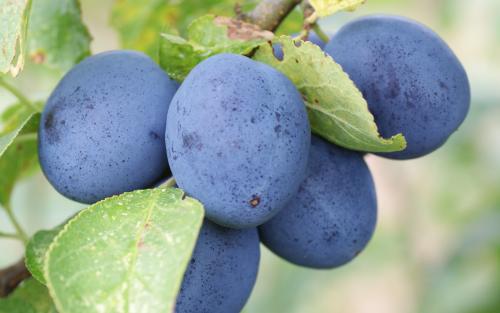 Czar is a large dark black/purple early-season plum, with good astringency and useful for culinary purposes. It can also be eaten fresh if you leave it to get fully ripe. The blossom is a notable characteristic, being unusually large for a plum.
The Victorian fruit enthusiast and author Robert Hogg was sent some samples in August 1874 by the growers, Rivers of Sawbridgeworth. This was the year of its first fruiting. Hogg subsequently rated it as an "excellent plum". Rivers named it Czar in honour of the Czar of Russia, who visited England that year.
Czar soon become a popular garden plum in English gardens, being easy and reliable to grow (thanks in part to blossom which has some frost resistance), and producing good crops. Although the flavour is not necessarily the best, it is one of the earliest culinary plums in the season. The tree can also grow in partial shade and is hardy enough to tolerate north-facing situations.
Czar plum identification images
All images copyright Orange Pippin unless otherwise stated.
USDA identification images for Czar
The identification paintings in the USDA Pomological Watercolor Collection span the years 1886 to 1942.
Citation: U.S. Department of Agriculture Pomological Watercolor Collection. Rare and Special Collections, National Agricultural Library, Beltsville, MD 20705.
Parents and other ancestors of this variety
Visitor reviews
19 Jun 2018 

Weshayden

CHESHIRE, United Kingdom

Very prolific cropping plum. Easily maintainable tree with self fertile habit and good disease resistance. Flavour of fruit is good when plums are allowed to ripen properly but they do not keep well in my experience. Good dehydrated for storage and makes nice jams and chutneys. The wine made from this variety was ok but loses taste so is best blended.
Tree register
Spring blossom records for this variety
2020 season
16th April  2020  - tree owned by James in Glynn, Ireland
2012 season
21st April  2012  - tree owned by Nickkk in Oldham, United Kingdom
13th April  2012  - tree owned by Peter in Eye, United Kingdom
Record your blossom dates in our Fruit Tree Register - more >>.
Harvest records for this variety
Origins
Species: Prunus domestica - European plum
Parentage: Prince Englebert fertilised by Rivers' Early Prolific
Originates from: United Kingdom
Introduced: 1874
Developed by: Rivers of Sawbridgeworth
Identification
Awards: RHS AGM (current)
Country of origin: United Kingdom
Period of origin: 1850 - 1899
Fruit colour: Blue - dark
Flower colour: White
Leaf colour: Green
Popularity: Best sellers
Annual cycle: Deciduous
Using
Picking season: Mid
Keeping (of fruit): 1 week
Flavour quality: Average
Cropping: Heavy
Fruit persistence: Normal ripening
Food uses: Eating fresh
Food uses: Culinary
Food uses: Dual purpose
Picking period: late July
Wildlife: RHS Plants for Pollinators
Growing
Gardening skill: Beginner
Flowering group: 3
Pollinating others: Average
Vigour: Average vigour
Bearing regularity: Regular
Organic culture: Suitable
Attractive features: Attractive fruit
Attractive features: Attractive tree / plant
Self-fertility: Self-fertile
Climate
Frost resistance of blossom: Good resistance
Climate suitability: Temperate climates
Climate suitability: Mild damp climates
Summer average maximum temperatures: Cool ( 20-24C / 68-75F)
Summer average maximum temperatures: Warm (25-30C / 76-85F)
Cold hardiness (RHS): H6 (to -20C)
Summer average maximum temperatures: Cold (< 20C / 67F)
Other qualities
Disease resistance: Good
Brown rot: Some resistance
Silverleaf: Some susceptibility
Where to buy trees
The following tree nurseries offer Czar plum trees for sale:
Where to buy fresh fruit
The following orchards grow Czar:
United Kingdom
England - midlands

England - south-east

England - south-west
References
Fruit Expert
Author: Hessayon