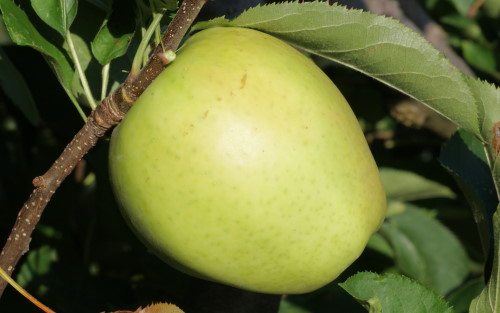 Known as Mutsu in its native Japan and in the USA, Crispin looks like a large Golden Delicious and indeed one of its parents is Golden Delicious so it has that lovely sweet honeyed flavour.

It cooks superbly too and the women picking them in our local orchard used to call them 'oven busters' - take a big one home and bake it and you have a feast for two - and you don't need many for a deep apple pie.

Crispin is one of a small number of varieties which really is dual purpose - being both pleasant as a dessert apple (albeit too large for 1 person) and versatile in the kitchen.
Mutsu apple identification images
All images copyright Orange Pippin unless otherwise stated.
USDA identification images for Mutsu
The identification paintings in the USDA Pomological Watercolor Collection span the years 1886 to 1942.
Citation: U.S. Department of Agriculture Pomological Watercolor Collection. Rare and Special Collections, National Agricultural Library, Beltsville, MD 20705.
Parents and other ancestors of this variety
Siblings of this variety (same parentage)
See also
Visitor reviews
10 Apr 2022 

Mark

CA, United States

One of my favorites. Wish it were as fertile as my Annas! Growing this in hot Los Angeles county it took 8 years before it bloomed, and no fruit yet because pollinators don't overlap at the same time. Trying hand pollination and grafting pollinators onto it, but no luck yet. This year can manually pollinate with Reverend Morgan.

01 Nov 2020 

George Young

MASS, United States

My new favorite apple over McCoun and Macs. Just bought a large bag from orchard near my camp on Lake Ontario upstate New York and wow had never heard of them before. My friends at work all love them too so I know it's not just me. Can't wait for apple pie and cooked w pork loin recipe I found. Oh yeah apple sauce and dried slices too.

26 Aug 2018 

Denise Bourgault

NH, United States

We bought our home 3 yrs ago (NH), and there was a huge apple tree in the back yard. The previous owners said it was a Granny Smith - but the apples were much larger and a creamy yellow green and just before harvest some carried a soft blush.. Unlike the G.S. apples these were delicious and sweeter. I finally found out today after taking time to research. they are indeed the Matsu or Crispin. Odd shaped not all are alike, most are large though. This tree is huge and incredible! No other apple tree on the lot. I Love it. Makes delicious pies and apple crisp. Lots of little surface pits and imperfections though, but doesn't affect the taste. We need to get better at treating the tree.

04 Apr 2018 

Jacqueline

ONTARIO, Canada

This is my all-time favourite apple. The texture is firm and crisp and the flavour divine - reminiscent of the candy necklaces we'd get as children. You can't go wrong with this apple although it seems to be scarcer now in southwestern Ontario.

01 Mar 2018 

Dale Chapman

CONNECTICUT, United States

I buy Mutsu in February and March from CA storage, at Buell's Orchard in Eastford, CT. After they sit for a week on the table they sweeten and I like them. We keep some in the refrigerator for my wife and others who like a more tart apple. Either way they are firm.

24 Dec 2016 

Pdp

MA, United States

This is my sister's and my favorite apple. Beyond the sweetness, it has a subtle refreshing flavor that is better than anything else we have had.

31 Aug 2016 

Marianne

WNC, United States

This is a very sweet Apple. If you like your apples sweet, this is a great one to try. It's also larger and rounder than a Golden from my experience. My favorite way to use it: It makes the best thin sliced Apple snacking chips. I slice them thin with a mandolin slicer and dehydrate them. A bushel shrinks down fast but yummy snacking chips which disappear fast too!

01 Nov 2015 

Brandon

Canada

I bit in to my first Crispin today after a shopping spree at a local friend's biodynamic orchard. There was a lot going on in his packed warehouse and all he mentioned amidst the bustle was 'those Japanese ones' over there. I was intrigued and brought a few home. When I tried one today it looked so much like a Granny Smith I was fully braced for a little whiplash so the surprise of crisp and light sweetness was truly delightful. My mouth is watering just thinking about it. (I dug in to a Google search to identify this baby. Landed here. What a great little site this Orange Pippin is.) Now I think I will have to go back for some more. These ones are in BC, Canada, just north of Washington state, the land of apples. I noticed a little spot or rust throughout. Possibly due to cool climate or organic farming methods.

11 Oct 2015 

Carole

MARYLAND, United States

Went looking ( too late) for Honey Crisp...found this, almost by accident, at a local farm market in Mt. Airy, Maryland. Delicious! Crisp, a touch tart but sweet enough for eating. If I have any left, I will try them for cooking, but they are going fast!

28 Aug 2015 

Tom Ingersoll

MA, United States

My favorite apple of all time.

11 May 2014 

Colin Richards

DEVON, United Kingdom

Crisp & tart,ideal for my tastebuds.Being a triploid they are huge apples,but climate in Western GB not ideal,as scab prone.Wonderful dual purpose apple,up there with Grenadier if sprayed regularly

18 Nov 2013 

Cathy

MA, United States

I have recently become a fan of the Honeycrisp apple and found these at a local farm. They have a slightly different texture than the Honeycrisp but are crisp, sweet and juicy. Fantastic sliced with some natural peanut or almond butter.

16 Oct 2013 

Nick Foose

Slovakia

this apple is quite the delight; an explosion of flavors in my mouth. it fulfilled its dual purpose of just the right amount of crispy and sweetness. it satisfied all my snacking needs!

26 Jan 2013 

Ed

WASHINGTON, United States

I found this to be a very sweet apple -too sweet for me for eating. However, it was a pleasant apple to eat, and I am growing one for use as a cider base.

07 Jan 2013 

Bo and Brent

NY, United States

Bo - Slightly milder and mealier than its relative the Golden Delicious Brent- A tart firm apple. Its quite large so one apple is very filling

26 Oct 2012 

Cyria

PENNSYLVANIA, United States

The absolute best apple! So sweet and crispy. Hard to find though. LOVE it!

24 Aug 2012 

George Shyavitz

CA, United States

My all time favorite eating apple. Nice solid crunch! Can by them near by, at Gopher Glen in San Luis Obispo.

04 Apr 2012 

Robert King

DEVON, United Kingdom

A truly delicious apple have grown for over 10 years.Can sufer from bitter pit. Eat fresh or cooked

11 Oct 2011 

Kris

MD, United States

In response to Whit about where to find Mutsu apples in Maryland: Larriland Farms which also has many other varieties.

22 May 2011 

Ginger

AR, United States

I just bought and planted a baby Crispin apple tree but it already has maybe a dozen apples on it. I have an old apple tree that was here when we moved here and hoped that it would work for pollination. Must the Mutsu have a pollinator? Is there any special fertilizer needed or pruning? Thanks so much!

14 Jan 2011 

Linda Quick

NJ, United States

Discovered this apple this year. LOVE IT! Sweet, juicy, even better than an Empire.

16 Dec 2010 

Jackie

FL / BAY, United States

We visited Northern GA and tried this Mercier Orchard/store in Blue Ridge GA... wow, this has a wonderful flavor. We had them fried for breakfast and they held up so well during the process. My new favorite apple!!!

02 Nov 2010 

Ron Williams

ONTARIO/CANADA, Canada

This is an excellent apple despite its appearance. Although, I have to agree that north america lacks an apple that compares to the flavour of an English Cox's Orange Pippin. I would add that this apple makes superb apple sauce and dries extremely well without going an unpleasant brown color like so many other apples. After drying its sweetness intensifies and is irresistible as a snack food.

27 Oct 2010 

Vincent Sterne

CA, United States

We're making hard cider with this varietal. Should be yummy. Does anyone know anything about the "Indu variety"?

06 Oct 2010 

Dave

WASHINGTON, United States

I have one Mutsu tree in my orchard. Fruits are indeed very big, however, they lack the intense flavors of Fuji, Jonaprince, and Honeycrisp. They are bagged in Japan and develop a pink hue - beautiful apple. And the taste was better too. I live in Eastern Washington. Perhaps the climate of Japan and the Eastern U.S. produces a better apple.

05 Oct 2010 

Jason

United States

Just picked some of these from an Orchard in Mass... I went from a Granny Smith lover to a Mutsu Lover in one bite. Perfect mid afternoon snack to hold you over untill dinner. Nice large apple with a crisp bite.

17 Sep 2010 

Joann

MS, United States

Either baked or not, with ice cream or cheddar cheese, this is the perfect apple. I cannot find them at home in MS, but buy them by the bag load on visits to TN

08 Sep 2010 

Bruce

NJ, United States

I first found or had this apple on the North Fork of Long Island, NY. about 12 years ago. It is late ripening - early October and it is usually a 'huge' apple -- a meal in itself for one person. Love to sit and slice pieces off -- and a wonderful taste/flavor. I like it better cool/cold. One of my most favorite !! You must try !

12 Jul 2010 

Whit

MD, United States

This is by far my favorite apple. I think the description missed that it's a cross between a golden delicious and an Indu apple. Anyone know where to get this apple in MD? I used to get them in Talbot county, but can't find them anywhere near Baltimore.

07 Jun 2010 

Norman

HEREFORDSHIRE, United Kingdom

Mutsu is delicious. If anything, it has a better taste than the Golden Delicious I buy from the same fruit farm (heavy loam soil). A slight red cheek develops on some apples. I would rate it one of the top 10 or 15.

16 Nov 2009 

Dave

ALEXANDRIA, VA, United States

I love these. The texture is the most distinctive feature -- like a honeycomb of tiny little juice-filled cells, so that it is very juicy but still firm and crisp and doesn't go to mush when you bake it.

09 Nov 2009 

Tom

NORT GEORGIA, US, United States

A freind told me about these wonderful apple and I bought a peck at the orchards in n. GA Wonderful eating, sharp at first but a sweet finish. I cut one last noght into pie slices and pan cooked them in butter, brown sugar and cimmamon then served hot over french vanilla ice cream ooohhhhhhh so good.

05 Nov 2009 

Tes

TORONTO, ONTARIO, Canada

Wow from the comments and the description, it sounds like a really delicious apple. Although it doesn't look stunning, an apple smelling like flowers sure is something.

01 Nov 2009 

Roy Persaud

WOODHAVEN, QUEENS NEW YORK, United States

I just love the taste and crisp texture of this apple. Huge in size, have to eat one in two days. Gave it to friends just to taste and they love it. Honestly, I will eat it daily if it was to be readily available in the market.

26 Oct 2009 

Gabby Frisch

HURON,OH, United States

I haven't tried the apple yet, but it looks good!

18 Oct 2009 

Todd

United States

The ones that are grown in Gilmer County Georgia are HUGE and are soooooo sweet. Gilmer Coutny, GA is the apple capital and are known to have some of the best apples anywhere!!

22 Jan 2009 

Justin

TORONTO, Canada

Matsus and Galas are something to look forward to in winter. Crisp, light, and bright. Matsus don't look so great on the outside but a bite into a nice cool one and you'll be hooked. They're great with a small slice of parmesan cheese.

24 Nov 2008 

Julie

LANCASTER, PA, United States

This is my husband's favorite apple, and one of mine as well. They smells like flowers, and they have an amazing taste

17 Jan 2008 

Lynnie

BRISTOL, United Kingdom

This is my favourite apple, sweet, and crisp with a delicate flavour.

05 Aug 2007 

Tom

United Kingdom

A crisp refershing apple and much more appetising than it looks. However, it lacks the fullness of flavour of Cox and Braeburn.
Tree register
Spring blossom records for this variety
2019 season
2014 season
2013 season
2012 season
2010 season
2009 season
Record your blossom dates in our Fruit Tree Register - more >>.
Harvest records for this variety
2019 season
2016 season
2013 season
2012 season
2009 season
Origins
Species: Malus domestica - Apple
Parentage: Golden Delicious
Originates from: Japan
Introduced: 1930
UK National Fruit Collection accession: 1977-140
Identification
Country of origin: Japan
Period of origin: 1900 - 1949
Fruit colour: Green
Flower colour: White
Leaf colour: Green
Popularity: Under-rated
Annual cycle: Deciduous
Using
Picking season: Late
Keeping (of fruit): 3 months or more
Flavour quality: Very good
Flavour style (apples): Sweet/Sharp
Cooking result: Keeps shape
Discoloration of fruit: Oxidising
Cropping: Good
Fruit persistence: Normal ripening
Food uses: Eating fresh
Food uses: Culinary
Food uses: Juice
Food uses: Dual purpose
Picking period: mid-October
Wildlife: RHS Plants for Pollinators
Growing
Gardening skill: Average
Flowering group: 3
Pollinating others: Poor
Ploidy: Triploid
Vigour: Vigorous
Bearing regularity: Biennial tendency
Fruit bearing: Spur-bearer
Self-fertility: Not self-fertile
Climate
Cold hardiness (USDA): (5) -20F / -29C
Chill requirement: Low-chill
Climate suitability: Temperate climates
Climate suitability: Warm climates
Summer average maximum temperatures: Cool ( 20-24C / 68-75F)
Summer average maximum temperatures: Warm (25-30C / 76-85F)
Summer average maximum temperatures: Hot (>30C / 86F)
Other qualities
Disease resistance: Poor
Powdery mildew: Some resistance
Scab (Apple and Pear): Some susceptibility
Fire blight: Some susceptibility
Cedar apple rust: Some susceptibility
Where to buy trees
The following tree nurseries offer Mutsu apple trees for sale:
Where to buy fresh fruit
The following orchards grow Mutsu:
United States
United Kingdom
England - midlands

England - south-east
Canada
British Columbia

Nova Scotia

Ontario
References
Cedar-Apple Rust  
Author: Stephen Vann, University of Arkansas, Division of Agriculture (FSA7538)
Rated as susceptible - control usually needed where CAR is prevalent.
Apples for the 21st Century
Author: Manhart
Fruit Expert
Author: Hessayon