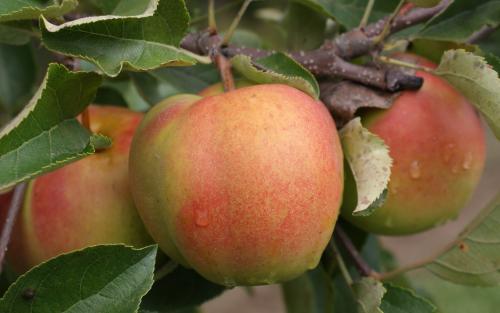 Same parentage as Mutsu (Crispin). Large. Yellow with red-orange blush. Sweeter with less acid than Mutsu (not necessarily preferable), but excellent flavor.
Shizuka apple identification images
All images copyright Orange Pippin unless otherwise stated.
USDA identification images for Shizuka
The identification paintings in the USDA Pomological Watercolor Collection span the years 1886 to 1942.
Citation: U.S. Department of Agriculture Pomological Watercolor Collection. Rare and Special Collections, National Agricultural Library, Beltsville, MD 20705.
Parents and other ancestors of this variety
See also
Visitor reviews
19 Mar 2019 

Olivia

NY, United States

Along with Mutsu and Gold Rush, this is my favorite apple variety. Tend to be huge, at least where we buy them.

15 Nov 2018 

Naomi Taylor

United States

Just discovered this variety of apples, and it is absolutely my new favorite. Why aren't they sold in grocery stores?

06 Oct 2017 

Bev Rindler

MI, United States

Tried this for the first time - both fresh eating, and for applesauce. Delicious! I love a firm apple! We don't add sugar to applesauce and these have just the right sweetness by themselves! I'm sold!!

17 Mar 2016 

Christine

SUFFOLK COUNTY, NY, United States

I tried this for the first time last Autumn at Harbes Farm in Riverhead. The flavor was totally unique to me with no acidity but not overly sweet with a velvety texture. This was a favorite for our family and we'll definitely return to get more this year. We got 6 huge 4" diameter apples for $8 which is a bargain compared to supermarket apples.

20 Oct 2015 

Jenn

MASSACHUSETTS, United States

Went apple picking at Smolak Farms in Massachusetts and spotted a row of what I thought were Golden Delicious. Finally came across the sign that said they were Shizuka which I'd never heard of. They were just as delicious as the Goldens and I'd definitely pick them again.

12 Oct 2015 

Jim Deluca

IL, United States

This is one of the juiciest and sweetest apple I have ever tried. Perfectly crisp.

29 Sep 2012 

Janet

MD, United States

We tried this apple for the first time today at a farmer's market. My husband & I both enjoyed it! The farmer gave us a whole apple for a sample and we ended up buying a 1/4 peck!

12 Sep 2012 

Iris Tower

NY, United States

we have a couple of rows of Shizuka - they always get good flavor reviews.

20 Oct 2011 

Elle

United States

I tried this for the first time today and like John said, it's one of the best apple varieties I've ever tasted! I usually go for red apples, specifically Galas, but this definitely gives them a run for their money!

17 Oct 2011 

John Davis

TINLEY PARK, United States

We recently went apple picking and the farm had some of this variety. Since none of us had heard of it before, of course we had to try them. They were some of the best apples any of us have every had. Why you never see these in the stores surprises me.
Origins
Species: Malus domestica - Apple
Parentage: Golden Delicious x Indo
Originates from: Japan
Identification
Country of origin: Japan
Period of origin: 1900 - 1949
Fruit colour: Green / Yellow
Annual cycle: Deciduous
Flesh colour: White
Fruit size: Large
Fruit shape: Conical
Using
Picking season: Late
Keeping (of fruit): 1-2 months
Flavour quality: Very good
Flavour style (apples): Sweeter
Cooking result: Textured puree
Juice style: Sweeter
Cropping: Heavy
Food uses: Eating fresh
Food uses: Juice
Picking month: October
Picking period: early October
Wildlife: RHS Plants for Pollinators
Growing
Gardening skill: Average
Flowering group: 3
Pollinating others: Poor
Ploidy: Triploid
Vigour: Slightly large
Bearing regularity: Biennial tendency
Fruit bearing: Spur-bearer
Self-fertility: Not self-fertile
Climate
Climate suitability: Temperate climates
Climate suitability: Mild damp climates
Climate suitability: Warm climates
Cold-hardiness: Cold-hardy
Summer average maximum temperatures: Cool ( 20-24C / 68-75F)
Summer average maximum temperatures: Warm (25-30C / 76-85F)
Other qualities
Disease resistance: Poor
Powdery mildew: Some resistance
Scab (Apple and Pear): Some susceptibility
Fire blight: Some susceptibility
Cedar apple rust: Some susceptibility
Where to buy trees
The following tree nurseries offer Shizuka apple trees for sale:
Where to buy fresh fruit
The following orchards grow Shizuka:
United States
Canada