Winesap apple
Winesap is a well-known American heirloom apple, and was a major commercial variety in Virginia during the 19th century. Its origins are unknown but it probably dates back to the 18th century. It has all the qualities needed for commercial production - it is a regular heavy cropping tree with very little biennial tendency, and the apples can be kept in natural cold storage for a good 3 months or more. It can be eaten fresh but is primarily a culinary apple, also popular for juice/cider production.
Commercially Winesap was eclipsed during the 20th century by varieties such as Red Delicious, and to some extent by one of its own offspring Stayman (Stayman's Winesap) which has many of Winesap's qualities but a sweeter flavor. However it remains a respected and popular garden apple tree, with the additional advantage of having blossom that is unusually red by apple standards.
Last updated 18 Mar 2012.
Often known as Virginia Winesap, a tart small apple, and like many US heirloom varieties, keeps well in store.
Origins
Species: Malus domestica
Parentage: Unknown
Originates from: Eastern states, United States
Introduced: 1800s
Orange Pippin Cultivar ID: 120300
Using
Good for eating fresh
Good for cooking
Good for juice
Cooking result: Textured puree
Flavour quality: Very good
Flavour style: Aromatic
Ripening period: Late season 

Late September in southern states

Use / keeping: 3 months or more
Growing
Cropping: Good
Flowering period: Mid season
Flowering group: 3
Fertility: Self-sterile
Triploid: Yes
Poor pollinator: Yes 

Winesap pollen will not pollinate any other apple variety.

Vigour: Average growth
Gardening skill: Average
Precocity: Slow to start bearing
Fruit bearing: Spur-bearer
Attractive blossom
General disease resistance: Good
Climate
Suitable for temperate climates
Tolerates cold winters
Disease resistance
Mildew  - Very resistant
Cedar apple rust  - Very resistant
Fireblight  - Some susceptibility
Relationships to other varieties
Offspring of this variety:
King David - Probable parent (or Arkansas Black, one of its offspring)
References and further reading
Cedar-Apple Rust  
Author: Stephen Vann, University of Arkansas, Division of Agriculture (FSA7538)
Rated as resistant - control only needed under high disease pressure.
Winesap identification photos from official fruit collections
UK National Fruit Collection
©Crown Copyright
more >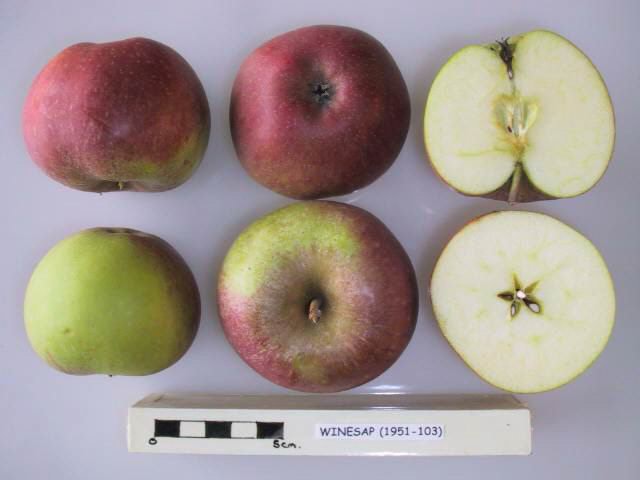 Winesap identification photos from website visitors
Fruit tree register
Do you have a tree of this variety in your garden or orchard? If so please register the details here and contribute to our international register of fruit trees.
The following Winesap trees have been registered - click the name to view more details of each tree.
You can also view these trees on a map.
United States
United Kingdom
Canada
New Zealand
Latest Spring blossom records for this variety
2013 season
20th May  2013  - tree owned by Richard in YORK, United Kingdom
9th May  2013  - tree owned by Alison in HADLEY, United States
2012 season
8th May  2012  - tree owned by Judy in PINERIDGE, United States
2009 season
18th April  2009  - tree owned by Ted in Portland, United States
Record your blossom dates in our Fruit Tree Register - more >>.
Latest harvest records for this variety
2013 season
2012 season
October  2012  - tree owned by Judy in PINERIDGE, United States
1st week August  2012  - tree owned by J. in DANVILLE, United States
1st week August  2012  - tree owned by J. in DANVILLE, United States
2009 season
2nd week October  2009  - tree owned by Ted in Portland, United States
Where to buy apple trees
The following fruit tree nurseries offer Winesap apple trees for sale:
Where to buy apples
United Statesmap >