Winston apple
This apple started life as Winter King but in 1944 it was renamed Winston.
It is a high quality, late-keeping apple with creamy- white flesh, firm, juicy and a little sharp but mellowing to be sweet and aromatic.
Whilst Winston has many of the flavour characteristics of Cox's Orange Pippin, its horticultural characteristics - fortunately - take after its other parent, Worcester Pearmain. Hence it is resistant to most diseases, easy to grow, and crops reliably.
Last updated 27 Jan 2013.
A Cox-style apple, easy to grow.
Origins
Species: Malus domestica
Parentage: Cox's Orange Pippin and Worcester Pearmain
Originates from: Berkshire, England, United Kingdom
Introduced: 1900
Orange Pippin Cultivar ID: 106200
Identification
Bultitude apple group: 7. Flushed / striped, some russeting, sweet
Growing
Flowering period: Mid-Late season
Flowering group: 4
Fertility: Self-fertile
Triploid: No
Vigour: Slightly small
Other qualities
RHS Award of Garden Merit 

1993
Relationships to other varieties
Parents and other ancestors of this variety:
Winston identification photos from official fruit collections
ARS GRIN
©Copyright

UK National Fruit Collection
©Crown Copyright
more >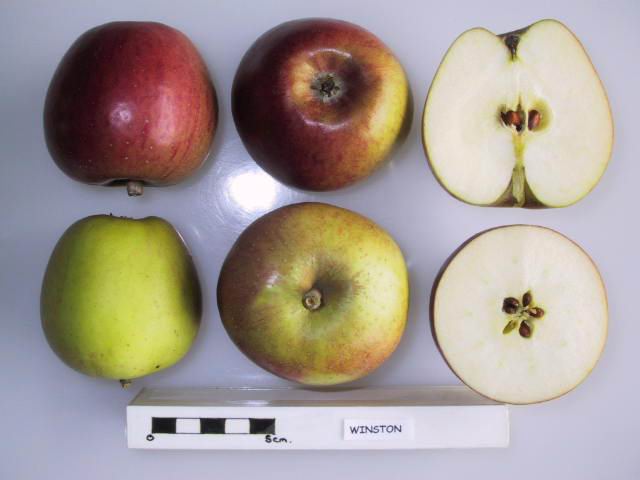 Winston identification photos from website visitors
Fruit tree register
Do you have a tree of this variety in your garden or orchard? If so please register the details here and contribute to our international register of fruit trees.
The following Winston trees have been registered - click the name to view more details of each tree.
You can also view these trees on a map.
United Kingdom
Ireland
Netherlands
Latest Spring blossom records for this variety
2010 season
20th May  2010  - tree owned by Maureen in Eyemouth, United Kingdom
7th May  2010  - tree owned by Stuart in Newbury, United Kingdom
4th May  2010  - tree owned by N. in CAMBRIDGE, United Kingdom
2009 season
25th April  2009  - tree owned by N. in CAMBRIDGE, United Kingdom
Record your blossom dates in our Fruit Tree Register - more >>.
Latest harvest records for this variety
2010 season
August  2010  - tree owned by Hazel in CHEADLE HULME, United Kingdom
2009 season
October  2009  - tree owned by N. in CAMBRIDGE, United Kingdom
Where to buy apple trees
The following fruit tree nurseries offer Winston apple trees for sale:
Keepers Nursery
United Kingdom  More >>
Where to buy apples
United Kingdommap >