Worcester Pearmain apple
Worcester Pearmain is an early season English apple, originating from Worcester in the 1870s.

Worcester Pearmain has been a relatively popular apple from the start, and is still grown commercially on a small scale in England. The apples come into season a few weeks after Discovery, and it is relatively easy to find for a short period in mid-September in supermarkets and farmers markets.

Worcester Pearmain's main claim to fame is the strawberry flavour, although the intensity of this is quite variable. As with any early variety, the flavour is very dependent on the weather during the short period that the apples ripen. The parentage of Worcester Pearmain is unknown but a likely candidate is Devonshire Quarrenden - which also has the strawberry flavour.

Although it cannot be regarded as being in the first rank of apple varieties, Worcester Pearmain has been used as the basis for a surprisingly large number of breeding programmes. The early ripening period and the strawberry flavour are the main reasons for this, with growers hoping to introduce this dimension into new varieties. The intense red/crimson flush is another commercially valuable characteristic. It has to be said that many of these varieties are a considerable improvement over Worcester Pearmain. Discovery is perhaps the most well-known, but Elton Beauty, Katy, Jester, and Lord Lambourne all inherit the strawberry flavour to some extent.

Worcester Pearmain makes a good apple tree for the garden, and the flavour really benefits if the apples are left on the tree as long as possible. However, some of its offspring are also good varieties for the garden - Katy for example.
Last updated 01 Dec 2012.
A popular early-season English apple, sometimes with a strawberry flavour. Often used in breeding programmes to develop other early varieties.
Origins
Species: Malus domestica
Parentage: Possibly a seedling of Devonshire Quarrenden
Originates from: England, United Kingdom
Introduced: 1870s
Orange Pippin Cultivar ID: 114300
Some historical details taken with kind permission from 'The New Book of Apples' by Joan Morgan and Alison Richards , illustrated by Elisabeth Dowle, published by Ebury Press, 2002.
Identification
Bultitude apple group: 6. Red flushed, smooth, sweet
Using
Good for eating fresh
Flavour quality: Good
Flavour style: Sweeter
Ripening period: Early-Mid season
Use / keeping: 1 week
Growing
Cropping: Heavy
Flowering group: 3
Fertility: Partially self-fertile
Triploid: No
Vigour: Slightly small
Gardening skill: Very easy
Fruit bearing: Tip-bearer
Attractive blossom
General disease resistance: Average
Climate
Suitable for temperate climates
Blossom frost-resistance: Good resistance
Suitable for N. England?: Yes
Other qualities
RHS Award of Garden Merit 

1993
Relationships to other varieties
Parents and other ancestors of this variety:
Offspring of this variety:
See also:
Worcester Pearmain identification photos from official fruit collections
ARS GRIN
©Copyright

UK National Fruit Collection
©Crown Copyright
more >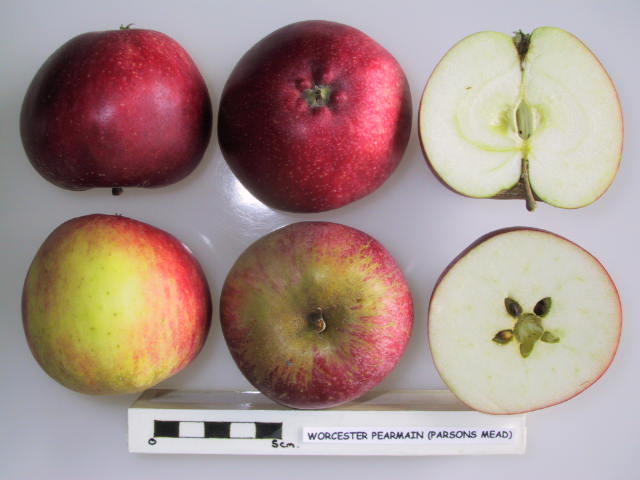 Worcester Pearmain identification photos from website visitors
Worcester Pearmain colours (same apple, different sides)

Copyright: F. Leach


Fruit tree register
Do you have a tree of this variety in your garden or orchard? If so please register the details here and contribute to our international register of fruit trees.
The following Worcester Pearmain trees have been registered - click the name to view more details of each tree.
You can also view these trees on a map.
United States
United Kingdom
Australia
New Zealand
Latest Spring blossom records for this variety
2013 season
7th May  2013  - tree owned by Simon in WORCESTER, United Kingdom
2012 season
14th May  2012  - tree owned by David in , United Kingdom
2011 season
21st April  2011  - tree owned by David in SLEAFORD, United Kingdom
15th April  2011  - tree owned by Frank in PEACEHAVEN, United Kingdom
2010 season
2009 season
29th April  2009  - tree owned by N. in Cambridge, United Kingdom
27th April  2009  - tree owned by Frank in PEACEHAVEN, United Kingdom
18th April  2009  - tree owned by N. in CAMBRIDGE, United Kingdom
Record your blossom dates in our Fruit Tree Register - more >>.
Latest harvest records for this variety
2013 season
2012 season
2011 season
2010 season
2nd week September  2010  - tree owned by Frank in PEACEHAVEN, United Kingdom
2nd week September  2010  - tree owned by Anthony in ABERDEEN, United Kingdom
2009 season
Where to buy apple trees
The following fruit tree nurseries offer Worcester Pearmain apple trees for sale:
Where to buy apples
United Kingdommap >
England - midlandsmap >

England - south-eastmap >

England - south-westmap >