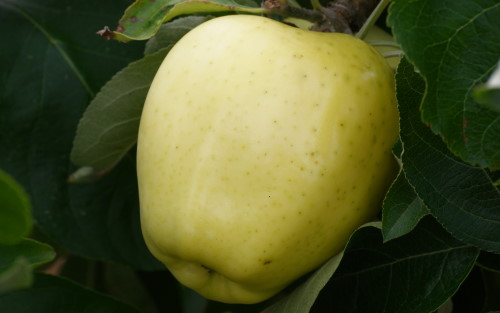 Yellow Transparent is a large early-season culinary apple, originating from Russia and quite widespread in Europe and North America. The tree is very winter-hardy.
In Europe this variety is usually known as White Transparent, and in some areas is called the Glass apple (on account of its slightly translucent skin).
Also known as
Saint Jean
Transparente Blanche
White Transparent
Yellow Transparent apple identification images
All images copyright Orange Pippin unless otherwise stated.
USDA identification images for Yellow Transparent
The identification paintings in the USDA Pomological Watercolor Collection span the years 1886 to 1942.
Citation: U.S. Department of Agriculture Pomological Watercolor Collection. Rare and Special Collections, National Agricultural Library, Beltsville, MD 20705.
Sports of this variety
Sports are natural genetic mutations of the original variety.
Visitor reviews
22 Sep 2023 

Jake Sigg

In Montana in the 1930s and 40s, it was first (by days) apple to ripen. 'Tart' as a description is misleading because we never ate it in unripe state. One day it was unripe, the next day edible, third day it was becoming translucent and inedible. We ate voraciously when there were ripe ones, and made pie and apple sauce.

20 Jul 2023 

Leonard Stechly

Leave the skin on when making a pie Just made 12 and froze them

09 Sep 2017 

Kathy Toner

MI, United States

My family has always enjoyed Yellow Transparent apples as pies and as frozen applesauce. I don't care for them as fresh eating apples, as it is difficult to find the right ripeness. I have to beat the squirrels to the apples, so I begin picking them before they are quite ready, but when mixed with riper apples in pies or sauce they are perfect. The apples do not keep at all, so I put them in the refrigerator immediately after picking. The sauce is so delicious, I don't care for any other kind. They ripen mid-to late-July here in the thumb of Michigan.

17 Feb 2017 

Donna Anders

OH, United States

The best apple for making applesauce. Little or no sugar needed. Once you've had applesauce from these apples it's hard to go back to applesauce in a jar.

23 Apr 2016 

Fred Hawkshaw

BC, Canada

Easy to grow hardy Apple. Most comments are correct- timing when best to pick to eat is important but these apples outshine all other species for applesauce! Making applesauce today has been made very simple with the tomato paste/applesauce machines available.

28 Feb 2016 

Robert Crandall

MICHIGAN, United States

We have 4 of these trees. They are a great apple since they are ready to pick in late June. They are not the best tasting but certainly the earliest. They do make great apple sauce and we are going to can some this year. They are slightly bland compared to the later ripening varieties but I guess there is a trade-off.

14 Sep 2015 

Helen Moore

MAINE, United States

I grew up with yellow transparent apples, and really want some now. It's been about 35 yrs since I've had one. Please can I buy some?

21 Aug 2015 

Rick

VERMONT, United States

I bought a piece of land in northern vermont near where I grew up with two mature yellow transparent trees, maybe 80? years old. What a blessing! They bear well every year. The first couple years I had no idea when to anticipate that crucial point of perfect ripeness. It passes so quickly, about August 20 up here in the tundra this year. I have begun to lay tarps below to cusion the drop and minimize bruising. So worth it! Also, I collect the drops twice a day- right to the fridge. The first two weeks seem to be mostly wormy apples, but once they are shed... Mine are absolutely ambrosial when still lightly? firm- give the mushy ones to the chickens!! Mine will have a small green patch around the stem and at that point the flesh is nearly white (before yellow). The yet green apples are perhaps missing half the wow. These apples dropped at the end of its harvest (fresh!) are just fantastic. The tree holds on to them just until they are perfect. If you watch them like a hawk, you will have some truly amazing eats. So good!! In the fridge, mine keep for a while. Yum!!

13 Feb 2015 

Edward

NSW, Australia

Had our first crop this year - 10 apples on just a small tree planted 3 years ago. Found it difficult to judge when the apples are ripe. A little too early and the apples are rather sour, a little later the apples are soft and mealy. They certainly would be fine for making apple sauce and baking, but I didn't enjoy eating them fresh.

17 Jan 2015 

Carroll Cate

TN, United States

The Yellow Transparent is the one apple tree in the yard when I grew up. Mother liked them dried and we always had apple sauce. A little brown sugar and nothing else for cooking these down. It defines apple sauce for me and I have never found its equal

03 Sep 2014 

Jim Dickie

NB, Canada

I have a roughly 100 year old Yellow Transparent tree in my backyard that was left to grow untended for several decades. Two years ago I pruned it back to pretty much a stump, and this year it produced one large, prefect, blemish-free apple. I picked it three days ago, and already today it is completely soft and mealy (inedible). If you are going to eat it, do it right off the tree.

13 Jul 2013 

Leslie Johnson

KS/SHAWNEE, United States

I just picked my first Yellow Transparent of the season today, July 13, 2013. It's pretty bitter. I should have left it on the tree a few more days, apparently. I'll make apple crisp with it and its siblings, when I pick them.

26 Aug 2012 

Dan

NC, United States

The best sauce apple I've ever tried. Good with peeling on, better with it off. at the season when it is available there is no other apple available, so it is prized as an eating apple as well, and remarkable when fully ripe for having almost transparent flesh. I know this apple only in Nova Scotia, and it certainly doesn't ship or store well. Watch it like a hawk as it ripens or the crows will consume your share as well as their own. Deer and voles love it too

29 Jan 2012 

Krystal

OR, United States

These are my favorite apples. I have a small tree in my yard that produces a large amount of apples. They get soft when they are ripe, but still have a great flavor. If you eat them while they are still green & firm they taste similar to a granny smith apple. Great apple for eating, apple sauce & pies.

20 Nov 2011 

Frank Thornburgh

CALIFORNIA, United States

In the late 1940's through the 1950's this variety was grown along with about a dozen others by our neighbor in Indiana. Since it was the first variety to come on about June-July my brother and I anticipated its arrival. We often ate it way before it was ripe even when the size of a dime. We also preferred to eat it before it turned yellow and softer. Our mother baked pies with it when mature but still green and made apple sauce with it when full yellow. Big green ones were good to throw at each other.

03 Sep 2011 

Lynn Broaddus

WI, United States

I just made apple butter from this variety and it is splendid. Family loves it. I wouldn't select this for eating as it is a bit soft. Didn't travel well, which is probably why you never see it for sale. We found them at various orchards in Bayfield WI at the end of August - just beginning to come in.
Tree register
Spring blossom records for this variety
2020 season
2018 season
2016 season
2015 season
2014 season
2013 season
2012 season
2011 season
Record your blossom dates in our Fruit Tree Register - more >>.
Harvest records for this variety
2014 season
2013 season
2012 season
2011 season
Origins
Species: Malus domestica - Apple
Originates from: Russia
Introduced: Before 1870
UK National Fruit Collection accession: 2000-096
Identification
Country of origin: Russia
Period of origin: 1800 - 1849
Popularity: Rarely grown
Annual cycle: Deciduous
Using
Picking season: Very early
Keeping (of fruit): 1 week
Flavour quality: Average
Flavour style (apples): Sweet/Sharp
Cooking result: Puree
Cropping: Good
Food uses: Eating fresh
Food uses: Culinary
Food uses: Traditional cooker
Food uses: Dual purpose
Picking period: mid-July
Wildlife: RHS Plants for Pollinators
Growing
Gardening skill: Beginner
Flowering group: 2
Pollinating others: Poor
Ploidy: Diploid
Vigour: Slightly large
Precocity: Precocious
Bearing regularity: Biennial tendency
Fruit bearing: Spur-bearer
Organic culture: Suitable
Self-fertility: Partially self-fertile
Climate
Cold hardiness (USDA): (3) -40F / -40C
Climate suitability: Temperate climates
Summer average maximum temperatures: Cool ( 20-24C / 68-75F)
Summer average maximum temperatures: Warm (25-30C / 76-85F)
Summer average maximum temperatures: Cold (< 20C / 67F)
Other qualities
Disease resistance: Average
Scab (Apple and Pear): Some resistance
Cedar apple rust: Some resistance
Canker: Some susceptibility
Powdery mildew: Some susceptibility
Fire blight: Very susceptible
Where to buy trees
The following tree nurseries offer Yellow Transparent apple trees for sale:
Where to buy fresh fruit
The following orchards grow Yellow Transparent:
United States
Connecticut

Idaho

Illinois

Indiana

Iowa

Kansas

Maine

Maryland

Massachusetts

Michigan

Montana

New York

Ohio

Oregon

Pennsylvania

Virginia

Washington

Wisconsin
Canada
British Columbia

New Brunswick

Ontario
References
Cedar-Apple Rust  
Author: Stephen Vann, University of Arkansas, Division of Agriculture (FSA7538)
Rated as resistant - control only needed under high disease pressure.
Apples of England (1948)
Author: Taylor
As White Transparent