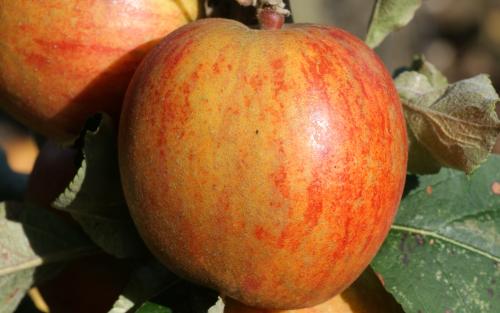 Also known as the Glory of York, this is the most famous variety from the English county of Yorkshire. Ribston Pippin is a strong-tasting 'aromatic' apple, very popular in Victorian times. The flavour is at its best a month or so after picking, and it can also be used for culinary purposes and for its sweet/sharp juice.
Although a good apple in its own right, the key interest in Ribston Pippin is that it is almost certainly the parent of the world-renowned Cox's Orange Pippin. It has a stronger more robust flavour than its offspring but is arguably less-refined. This robustness can be seen in some of the offspring of Cox's Orange Pippin such as Suntan.
Ribston Pippin gets its name from Ribston Hall in Yorkshire where it was first grown in the 18th century. Given the reverence with which Cox's Orange Pippin was held in late Victorian times, it is not surprising that the Victorian author and pomologist Hogg went to some lengths to trace the ancestry of Ribston Pippin. He found it listed in the well-known Brompton Park Nursery in 1785, but only a handful were being sold per year - however by the 1840s this same nursery was selling 2,500 Ribston Pippin trees. This suggests that the true origins of Ribston Pippin lie back in the early 18th century. Hogg discovered that in 1688 some apple pips were brought from Rouen in France and planted in the grounds of Ribston Hall, and he concluded that one of these pips was the source of a very old Ribston Pipin tree known to be still standing in 1810.
This would make Ribston Pippin contemporary with, and perhaps in some way related to another well-flavoured 18th century variety Margil, which also had links to France. It also suggests the nice irony that England's greatest apple was probably descended from a French variety.
In our opinion, comparing the two apples side by side, the hallmarks of Cox's Orange Pippin are certainly present in the flavour of Ribston Pippin, but more as a signpost of greatness to come - Ribston Pippin is a good apple, but not a great one.
Ribston Pippin apple identification images
All images copyright Orange Pippin unless otherwise stated.
USDA identification images for Ribston Pippin
The identification paintings in the USDA Pomological Watercolor Collection span the years 1886 to 1942.
Citation: U.S. Department of Agriculture Pomological Watercolor Collection. Rare and Special Collections, National Agricultural Library, Beltsville, MD 20705.
Parents and other ancestors of this variety
Margil (parent) - See https://research.reading.ac.uk/research-blog/heritage-apples-the-parentage-of-coxs-orange-pippin/
Offspring of this variety
See also
Cox's Orange Pippin - Ribston Pippin was long considered a parent of Cox's Orange Pippin but recent genetic tests have disproved this.
Visitor reviews
13 Oct 2018 

Francesca

EAST SUSSEX, United Kingdom

Ribston Apples are mentioned in Thomas Hardy's Return of the Native book 2, chapter 2. They are referred to as being stored in the loft underneath ferns and are being eaten at Christmas

02 Oct 2017 

Ken Parkes

CUMBRIA, United Kingdom

My wife grafted this four years ago on the recommendation of a friend who has 150 trees on their farm and says it is the customer favourite. The tree was allowed to grow nine apples this year and we have just shared one after dinner. I found it had a strong lemon flavour, quite delicious. It has been a bad year for us sun-wise but I rate it with Laxton Fortune this season.

04 Nov 2016 

Paul Chambers

YORKSHIRE, United Kingdom

A God of an apple. For me, it improves a week or two after picking.

24 Oct 2015 

Carter Wilkie

MASSACHUSETTS, United States

Well balanced sweetness and acidity, without the more complex, layered flavour of Cox Orange Pippin. Pretty orange skin is easy to chew. Will not stay crisp for long once off the tree.

15 Oct 2014 

Monique Reed

TEXAS, United States

I want to go back to the 1700's just so I can eat one every day from then until now...

26 Sep 2014 

Dan Kissane

Ireland

I grow over seventy varieties of apple, but this one is my personal favourite. I have only one tree (planted two more last winter) and although I sell all my other apples, I never sell these - I keep them all and eat them myself! It's a magnificent apple, superior (in my opinion) to its much lauded (and rightly so) descendent. Dan, Co Kerry, Ireland

06 Oct 2013 

Nevil Pearce

NORTH YORKSHIRE, United Kingdom

One of my favourites. Aromatic juicy fruit. Best eaten straight from the tree, but will keep until Christmas. I have 3 trees on MM111 rootstock which produce heavy crops in most years. Then it is a Yorkshire variety and I do live near York.

12 Sep 2010 

Gray

WARKWICKSHIRE, United Kingdom

Does not produce many apples but of good flavour photo - http://www.gb-online.co.uk/plant_centre1/photos/apple-ribston-pippin.jpg

16 May 2009 

Nynke Zijlstra

FRIESLAND, Netherlands

Hallo Jan, ik kan je aan een Ribston-pippin helpen als je wilt, neem je even contact met me op?

05 Nov 2008 

Margaret James (Grasby)

PORTSMOUTH PO3 6BN, United Kingdom

I was born 1931 at the lodge of Ribston Park,a village called Walshford and i have had a ribston tree for many years until i moves,the history of ribston hall amzes me because i always thought that major dents family had lived there for hundreds of years,this not being so.

17 Oct 2008 

Nigel Goldstraw

GREAT SHEFFORD, BERKS. U.K., United Kingdom

This is just about the tastiest apple you will ever find, in fact after a Ribston Pippin very few apple varieties wil satisfy ever again. Next year (2009) I hope to produce a flagon or two of cider from a 'secret' tree.

29 Sep 2008 

Ayamo

GERMANY, Germany

@ Jan van Hoek, every good specialised fruit tree nursery can make you a young tree (e.g. taking a twig of your Ribston an put it on a new root). Or they already have some, Ribston can still be bought although I only know German sources. I would ask the nursery as well which root type they offer (trees get a different size then). Regards.

28 Sep 2008 

Jan Van Hoek

OVERIJSSEL, Netherlands

Since 3 years we live at a former farmhouse with a small orchard. There is a splendid appletree with a plenty of well tasted apples. Now we know it is a Ribston Pippin. The tree is more than 60 years old. We try to get a young one from this tree. Is that possible? Who Knows more about it?

30 Jan 2008 

Ian Blair

LEEDS, United Kingdom

ribston pippin is named after ribston hall (near knaresborough)were in 1688 ,sir henry goodricke planted 3 pips sent to him from rouen in normandy.2 died but from the 3rd came all the ribston trees in england it contains the highest vitamin c content of any apple

01 Nov 2007 

Gill Warden

ENGLAND, United Kingdom

This variety is also mentioned in the classic 'A month in the country 'by J.l.Carr- a gem of a book don't know about the apple!

18 Oct 2007 

Jack Conner

CASTRO VALLEY, CA, United States

A favourite in my little orchard. This is the only apple mentioned by name, I believe, in Wyss's fantasy "The Swiss Family Robinson". The family finds a tree in the hold of that miraculous ship.
Tree register
Spring blossom records for this variety
2023 season
2022 season
2018 season
2017 season
2016 season
2015 season
2014 season
2013 season
2012 season
2011 season
2010 season
2009 season
Record your blossom dates in our Fruit Tree Register - more >>.
Harvest records for this variety
2018 season
2017 season
2016 season
2015 season
2014 season
2013 season
2012 season
2010 season
2009 season
Origins
Species: Malus domestica - Apple
Parentage: Unknown
Originates from: Ribston Hall, Yorkshire, England, United Kingdom
Introduced: Early 18th century
UK National Fruit Collection accession: 1973-142
Identification
Awards: RHS AGM (current)
Country of origin: United Kingdom
Period of origin: 1700 - 1749
Fruit colour: Orange flush
Leaf colour: Green
Popularity: Best sellers
Annual cycle: Deciduous
Using
Picking season: Late
Keeping (of fruit): 1-2 months
Flavour quality: Good
Flavour style (apples): Aromatic
Discoloration of fruit: Very oxidising (browns quickly)
Vitamin C content: Medium
Cropping: Good
Fruit persistence: Normal ripening
Food uses: Eating fresh
Food uses: Culinary
Picking period: mid-September
Wildlife: RHS Plants for Pollinators
Growing
Gardening skill: Average
Flowering group: 3
Pollinating others: Poor
Ploidy: Triploid
Vigour: Average vigour
Bearing regularity: Regular
Fruit bearing: Spur-bearer
Organic culture: Suitable
Attractive features: Attractive fruit
Longevity: Long-lived
Self-fertility: Not self-fertile
Climate
Climate suitability: Temperate climates
Climate suitability: Mild damp climates
Summer average maximum temperatures: Cool ( 20-24C / 68-75F)
Summer average maximum temperatures: Warm (25-30C / 76-85F)
Cold hardiness (RHS): H6 (to -20C)
Other qualities
Disease resistance: Average
Where to buy trees
The following tree nurseries offer Ribston Pippin apple trees for sale:
Where to buy fresh fruit
The following orchards grow Ribston Pippin:
United States
United Kingdom
Canada
References
Apples of England (1948)
Author: Taylor
Fruit Expert
Author: Hessayon