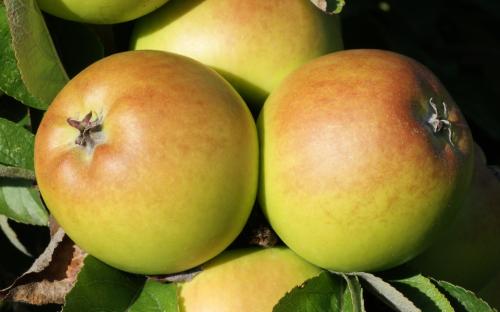 Sturmer Pippin was an important English apple in the Victorian period, esteemed because of its excellent keeping qualities. Rated by the Victorian writer Hogg as "of first-rate excellence".
Visually Sturmer Pippin is not a particularly exciting prospect, it is basically an unattractive green apple, often flushed with red and quite prone to russeting. The flavour when picked straight from the tree is robust and sharp, and really not that pleasant ... but with a promise of things to come - because this apple's real talent is that it matures and sweetens in store. Most authors agree that it is not even worth trying to eat until February, and at its best probably around March - clearly a very useful attribute at a time when refrigerated storage was not available.
Sturmer Pippin is also a historically interesting apple, because it was taken by settlers to Australia in the 19th century as its keeping qualities make it a useful apple for exporting. This puts it at the right time and place to be an ancestor of Granny Smith, Australia's famous long-keeping green apple - although there is no evidence of any link.
Sturmer Pippin apple identification images
All images copyright Orange Pippin unless otherwise stated.
USDA identification images for Sturmer Pippin
The identification paintings in the USDA Pomological Watercolor Collection span the years 1886 to 1942.
Citation: U.S. Department of Agriculture Pomological Watercolor Collection. Rare and Special Collections, National Agricultural Library, Beltsville, MD 20705.
Parents and other ancestors of this variety
Offspring of this variety
Visitor reviews
18 Feb 2023 

Margaret Clare Buchanan

My Dad used to get them in February in Canterbury, Aotearoa,then keep them until March for eating and bottling.

13 Dec 2018 

BeN62

Eclimeux, France

Je l'ai découvert chez un petit pépiniériste du nord de la France sous le nom de "Verdane" , arbre greffé sur M106 qui produit chaque année en quantité avec une qualité irréprochable, jusqu'au mois de mars si stockée dans les bonnes conditions ! une très bonne pomme de garde que je recommande!

28 Sep 2016 

Dave Liezen

WASHINGTON, United States

This is now the fifth leaf since I made the graft onto Geneva 30 root stock. Last year Sturmer produced its debut fruit and they were hit by cork -hottest & driest summer on record by a long shot! This season is more typical. I found one fruit loose on a branch and cut it open today: no insect damage (covered with nylon footie;) 8 nearly black seeds; flavor surprisingly good and 13 Brix! It's a go!

11 Oct 2015 

Peter j

HERTFORDSHIRE, United Kingdom

In the UK it needs to be picked as late as possible (late October at the earliest, and well into November if not threatened by frost before then) if it is to keep well without shrivelling. My tree, although not very vigorous, crops well with good sized fruit, which most years keeps well until April or even later. It retains a good flavour, though is not very juicy. It has the drawback of being virtually inedible straight off the tree, and I would say it is not really ideal for eating until around February. My other late-keeping variety, Winston, has the merit of being pleasant to eat straight from the tree in late September or October.

12 Sep 2014 

David

United Kingdom

Haven't seen a Sturmer in the shops for years. It used to be possible to buy New Zealand fruit but not any more. From what I remember, an excellent tart but richly flavoured apple. I'd love to try one again.

18 Apr 2013 

Allan Ashworth

OTAGO, New Zealand

I have become interested in old apple varieties as my curiosity was aroused some years ago as I had notced that wild apple trees in this country hardly ever suffer from the problems that home grown apples suffer from, to that end I have found small wild trees growing ( some from rootstock)and transplanted them to our home garden where they are now fruiting and exhibiting the same pest free characteristics as the original parent trees. One of the trees is a Sturmer Pippin and the other is a Bel de Boscoop both quite old by our countrys history. The flavour and relative pest free characteristics of these fruits fascinate me and I will continue to search for more. Thank you for your website where I have been able to verify the Sturmer variety.

14 Feb 2013 

Dave Liezen

WASHINGTON, United States

This looks like a candidate for growing in eastern Washington state, so I grafted it onto Geneva 30 last season. It is described as doing well in dry conditions; that we have here! Will check in, a few years from now, to report on the fruit.

11 Jun 2011 

Georgina Reidy

VICTORIA, Australia

This year was the best harvest we have had from our Sturmer Apple. Probably because we had so much Spring rain (will need to water it when rain not so plentiful). Now June 11th and well into winter. Have had several hard frosts but last night was a humdinger, thick frost still lying in the shadows, even though it is a warm cloudless day. Have picked some of the Sturmer apples and they are really sound, no frost damage, but still not entirely sweet (bit sharp), but easily edible. Have just tried cooking one, and found to my delight that, unlike many other apples they do not dissolve but hold their shape. Perfect for apples pies etc. Will leave them on the tree for a while longer but those I have picked I will keep for a few months and try them to see if they have sweetened up. So far - A most impressive apple. PS If they last a long time it will cut down on how many apples I will need to bottle !!

23 Mar 2011 

Brook Webb

VIC, Australia

first time i have heard of this apple brought this as a heritage apple. march still very sour to eat but quite firm hope they improve in sweetness if not they will make good cooking apples sturmer pippin

30 Jul 2010 

Tim Dee

United Kingdom

We have picked ours from the tree in January where it has remained sweet and firm. Definitely not one to pick and eat early.
Tree register
Spring blossom records for this variety
2017 season
2016 season
2015 season
2014 season
2013 season
2011 season
2010 season
Record your blossom dates in our Fruit Tree Register - more >>.
Harvest records for this variety
2015 season
2014 season
2013 season
2010 season
Origins
Species: Malus domestica - Apple
Parentage: Ribston Pippin x Nonpareil
Originates from: Sturmer, near Haverhill, Suffolk, England, United Kingdom
Introduced: 1800s
Developed by: Mr Dillistone
UK National Fruit Collection accession: 2000-091
Some historical details taken with kind permission from 'The New Book of Apples' by Joan Morgan and Alison Richards , illustrated by Elisabeth Dowle, published by Ebury Press, 2002.
Identification
Country of origin: United Kingdom
Period of origin: 1800 - 1849
Fruit colour: Orange flush
Flower colour: Pink - light
Leaf colour: Green
Popularity: Under-rated
Annual cycle: Deciduous
Using
Picking season: Late
Keeping (of fruit): 3 months or more
Flavour quality: Good
Flavour style (apples): Sharper
Discoloration of fruit: Slightly oxidising (browns slowly)
Vitamin C content: Medium
Cropping: Good
Fruit persistence: Persistent
Food uses: Eating fresh
Food uses: Juice
Picking period: mid-October
Wildlife: RHS Plants for Pollinators
Growing
Gardening skill: Average
Flowering group: 3
Pollinating others: Average
Ploidy: Diploid
Vigour: Average vigour
Bearing regularity: Regular
Fruit bearing: Spur-bearer
Attractive features: Attractive flowers
Self-fertility: Partially self-fertile
Climate
Climate suitability: Temperate climates
Climate suitability: Warm climates
Summer average maximum temperatures: Cool ( 20-24C / 68-75F)
Summer average maximum temperatures: Warm (25-30C / 76-85F)
Where to buy trees
The following tree nurseries offer Sturmer Pippin apple trees for sale:
Cummins Nursery
United States  More >>
Where to buy fresh fruit
The following orchards grow Sturmer Pippin:
United Kingdom
References
Apples for the 21st Century
Author: Manhart
Listed as Sturmer
Apples of England (1948)
Author: Taylor
Fruit Expert
Author: Hessayon