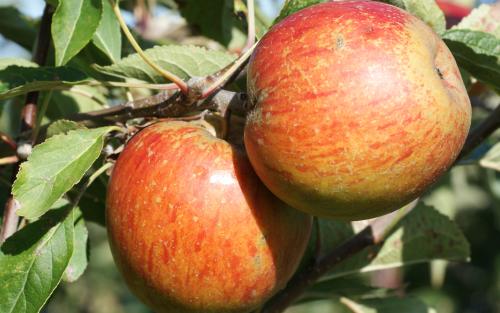 Margil is amongst the oldest of dessert apple varieties grown in England. Robert Hogg, writing in his book 'The Fruit Manual' in 1884 claims that Margil is:
"One of the finest dessert apples, a rival of the Ribston Pippin, excelling it in juiciness, and being of a better size for dessert."

Although its origins are unknown Hogg reports evidence of cultivation at Brompton Park Nursery in the 1750s. He also suggests that the variety is French in origin, partly from its name, and partly because one of the partners in the Brompton Park Nursery had previously worked in the gardens at Versailles. This makes Margil one of a select band of apple varieties with a documented history going back more than 250 years.

Margil is a fairly small apple, with an attractive flushed appearance, and a strong, clean, well-balanced flavour which puts it very much in the mainstream of Cox-style apples. Only the tendency to russetting might be held against it. Although separated by at least 200 years, Margil is quite similar in flavour to Braeburn, and has no trouble holding its own against modern varieties.
Margil is quite easy to grow, and is a particularly good choice if you have a mild temperate maritime climate. It is a popular variety in south-west Scotland and the English Lake District.

We speculated here, in a previous version of this page, that Margil was remarkably similar to Cox's Orange Pippin - the flattened shape, flushed russet tones, and tremendous depth of flavour all suggested that somewhere there must be a common ancestor. Since then genetic testing has confirmed that Margil is indeed one of the parents of Cox's Orange Pippin.
Although it has many excellent characteristics, Margil has faded from view, and is now almost impossible to obtain. However the variety is still available from specialist apple tree nurseries, so this is the best way to experience Margil - and to try a taste straight from the 18th century.
Margil apple identification images
All images copyright Orange Pippin unless otherwise stated.
USDA identification images for Margil
The identification paintings in the USDA Pomological Watercolor Collection span the years 1886 to 1942.
Citation: U.S. Department of Agriculture Pomological Watercolor Collection. Rare and Special Collections, National Agricultural Library, Beltsville, MD 20705.
Offspring of this variety
Ribston Pippin - See https://research.reading.ac.uk/research-blog/heritage-apples-the-parentage-of-coxs-orange-pippin/
Visitor reviews
18 Sep 2018 

David

WA, United States

Got a sample of this from Scott Farm, VT last January. Great flavor despite travelling across the country and too much time at room temperature. Worth seeking and growing.

27 Oct 2013 

Sophie Rowe

CAMBRIDGE, United Kingdom

I have inherited a Margil tree in my allotment, and have just today had the variety identified at the Botanic Garden in Cambridge. I have enjoyed the apples very much for some years - they are small but have a lovely aromatic and sweet taste, and are not at all woolly as some Cox apples can be. I wondered if they were Cox, and that the reason they tasted better than a bought Cox was that they were fresh off my tree - so it is a lovely surprise to find they are actually such an old variety. The tree itself is very ancient and propped up with a stake - I will try to keep it going as long as I can!

27 Nov 2011 

Paul Collins

WILTSHIRE, United States

I have a single Margil tree grown on dwarfing stock as a rather haphazard sort of cordon! It grows near a South facing wall with shade of other trees to the East. It gives apples of a fine delicate flavour with an excellent crisp, juicy texture. It is, however a pig to grow as it has been plagued by bacterial canker and looked to be producing an excellent crop this year until canker struck and prevented any apples from maturing. I love this little tree but it fails to repay such feelings!!

31 Oct 2009 

Michelle Krell Kydd

NEW YORK, NY, United States

Took my first bite of a Margil today, (prompted by Edward A. Bunyard's "The Anatomy of Dessert" and morning luck at the farmer's market). This Margil was thoroughly russetted, so the expectation of something bosc pear-like in flavor was met. What was unexpected and quite pleasant were notes of pineapple mingled with apple. The Margil is a delightful apple worth seeking out.

05 Nov 2008 

Nicholas Reed

DERVAIG, ISLE OF MULL, United Kingdom

I grow Margil in the walled garden here on the Isle of Mull. Whereas there is no way a Cox will perform this far north, Margil produces heavily, and with a truly wonderful flavour. The shape here is more elongated that above, almost lemon shaped in appearance. Being a tip-bearer, cautious pruning to establish a sensible sized fruit producing tree takes a little care, but well repays the effort. We produce trees for sale from our own stock.l
Tree register
Spring blossom records for this variety
2020 season
21st April  2020  - tree owned by Jerry in Point Reyes Station, United States
2014 season
1st May  2014  - tree owned by Lawrence in Mayfield, United Kingdom
2012 season
2nd May  2012  - tree owned by Alan in Newport-On-Tay, United Kingdom
Record your blossom dates in our Fruit Tree Register - more >>.
Origins
Species: Malus domestica - Apple
Parentage: Unknown
Originates from: France
Introduced: 1750s
UK National Fruit Collection accession: 1984-011
Identification
Country of origin: France
Period of origin: 1750 - 1799
Fruit colour: Orange flush
Flower colour: Pink - light
Leaf colour: Green
Popularity: Rarely grown
Annual cycle: Deciduous
Using
Picking season: Late
Keeping (of fruit): 1-2 months
Flavour quality: Very good
Flavour style (apples): Aromatic
Discoloration of fruit: Oxidising
Vitamin C content: Low
Cropping: Good
Fruit persistence: Normal ripening
Food uses: Eating fresh
Food uses: Juice
Picking period: early October
Wildlife: RHS Plants for Pollinators
Growing
Gardening skill: Average
Flowering group: 3
Pollinating others: Average
Ploidy: Diploid
Vigour: Average vigour
Bearing regularity: Regular
Fruit bearing: Spur-bearer
Self-fertility: Not self-fertile
Climate
Climate suitability: Temperate climates
Climate suitability: Mild damp climates
Summer average maximum temperatures: Cool ( 20-24C / 68-75F)
Other qualities
Disease resistance: Average
Scab (Apple and Pear): Some resistance
Canker: Some susceptibility
Where to buy trees
The following tree nurseries offer Margil apple trees for sale:
Where to buy fresh fruit
The following orchards grow Margil:
United States
United Kingdom
Canada