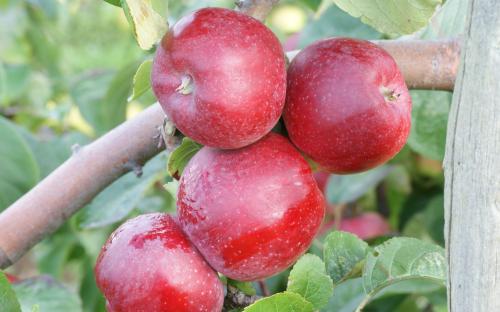 Liberty was developed at the famous Geneva Research Station in the 1960s. It is derived from Macoun, and is very much a McIntosh-style apple, with red skin and juicy flesh. The flavor is well balanced, perhaps sharper than many of the Mac-related varieties but still with the characteristic vinous note. Its other parent is an un-named research variety derived from Malus floribunda, from which it inherits resistance to scab.
It is grown quite widely in the eastern US, and is being promoted as a good variety for the backyard grower.
There is some evidence that Liberty is a triploid variety, with 3 sets of chromosomes instead of the usual 2 - or perhaps a partial triploid. However it does not possess many of the typical features seen in triploid varieties (such as large size and vigour).
Liberty apple identification images
All images copyright Orange Pippin unless otherwise stated.
USDA identification images for Liberty
The identification paintings in the USDA Pomological Watercolor Collection span the years 1886 to 1942.
Citation: U.S. Department of Agriculture Pomological Watercolor Collection. Rare and Special Collections, National Agricultural Library, Beltsville, MD 20705.
Visitor reviews
01 Feb 2021 

Bob

WA, United States

My experience with liberty is very good. A fine tasting prolific all around apple. It is immune to scab in our wet disease prone region. Very heavy annual bearer that can break branches under the load. Thin for better fruit size. I do several pickings starting when they lift easily from the spur. They are good then but at their best after they mellow for a month in cold ventilated storage. At this time I have these for desert and also make some of the best pies you will ever eat. I don't find them to be a magnet for worms more or less than any other smooth skinned apple.

20 Oct 2019 

Linda

ON, Canada

A very tasty apple (slightly tart). The MacIntosh, growing next it and planted at the same time, has slightly better flavour and bore a lot more fruit several years sooner than the Liberty. This year the Liberty has come into its own with larger apples which are very prolific and disease-free :).

24 Jul 2019 

Marisa Lanning

WA, United States

My go-to back yard apple tree. I have planted several at every home we have owned. They do very well in the Pacific Northwest. Always prolific, reliable and scab resistant. I have found them to be a dual purpose apple, excellent flavour eaten raw (I like a slightly tangy apple, it's not overly sweet) but also makes a great pie or tart. Doesn't need much sugar. Not the best juicer for cider though. Highly recommend.

14 Oct 2018 

Jakim Pepin

QUEBEC, Canada

I went to the orchard today and I finally had an occasion to taste the Liberty apple. I had heard about its great disease resistance and regular heavy crops, but I had to figure it out for myself about the quality of that apple. WoW !! This is an awesome Mac apple. Full, round and intense vinous flavour. Very fruity. Lots of juice. Not as crunchy as Empire but more than Mac Intosh. For fresh eating, among, the 8 Mac style apples I know, Liberty is my favorite.

03 Oct 2018 

Bobbie

OR, United States

We have a tiny bush-like Liberty that's 8 years old and about 4 feet high. Got lots of tasty, good looking, firm, smallish fruit this year!

12 Sep 2018 

Suzanne

OR, United States

My liberty is loaded with fruit this year. Many have little worm holes, but I'm not sure what I can do about it and I don't treat it with anything. Has anyone dried them? If so, how were they and any tips?

05 Sep 2018 

Carolyn

BRIT. COLUMBIA, Canada

George, It sounds like you may have bitter pit in your Liberty apples, caused by a calcium deficiency. Some apple varieties seem to require more calcium for fruit production than others. Try a calcium foliar spray a couple of times (or milk diluted 1:10) next season after the fruit sets.

04 Sep 2018 

Deeanna Weed

IOWA, United States

The tree itself is disease resistant and bears heavily at a young age, but you still have to spray the fruit for the usual insect pests, especially apple maggot. To gauge ripeness, check the seeds of the occasional apple that drops. Seeds will turn dark brown as the fruit gets close to being ripe. As you get closer to picking time, check the flavor of a small slice as well. In northeastern Iowa, I have been picking the fruit around the first week of October. The apples have a nice sweet-tart flavor and crisp texture if picked at the peak of ripeness, but aren't nearly so flavorful and crisp if picked a little early or a little late. And don't expect the flavor to improve in storage. Keep the fruit refrigerated for best quality during storage. Liberty apples are not long keepers -- it's best to use them in applesauce, fresh eating, etc. within a few weeks of picking.

06 Oct 2017 

George Tozier

MAINE, United States

year after year there is discolored spots through the apple, all through each one. My Mac is next to this Liberty. I sprayed twice. the discolored spots are so bad I can't use the fruit. what is wrong ?

16 Sep 2017 

C.Shortt

MO, United States

We got our first small crop on 3 year old tree. I am impressed at how delicious they taste. They are wonderfully free of diseases. Only caveat is that they aren't recommended for pies. May try them anyway!

12 Aug 2017 

Laura

NY, United States

I love my little tree. I got a gala and a liberty at the same time. My liberty never needs spraying, looks amazing, grows fast and tastes great! I have so many apples in a good year (some years are no good for apples in NY). My gala always looks like it's on the verge of death. Each season it starts out great, but gets diseased quickly. I haven't figured out how to help it, despite trying various sprays. This year, (year 5) the tree still isn't very tall (half the size of the liberty) and has the most apples ever. There are about 15. They taste great, but 15 apples seems a little pathetic.

06 Oct 2016 

Stephen Large

United Kingdom

Found the Liberty apple in an orchard on Anderson Island WA whilst on holiday from the UK. By far the best apple I have ever tasted and am desperately trying to source a supplier of a Liberty apple tree in the UK.

05 Oct 2016 

Dave Liezen

WASHINGTON, United States

Supposedly this is a vigorous tree, but it is very small on M26 after 8 years. (This is prime ground for M26, with other apples doing well on it here.) A coddling moth magnet, Liberty drew the moths away from the other apple trees in my yard. It is hard to wrap each fruitlet early enough. Must clean up leaves in fall or I find scab strikes on lower branches - both leaves and fruit. Must be picked before fully ripe or the apples lose condition in storage after 5 weeks. I sold mine to make room for another apple with more historical interest and less media hype.

08 Nov 2015 

Jocelyn Sladen

VA, United States

Makes beautiful pink applesauce because of the skin and flesh color if you include the skin. The insect and disease resistance is a plus in my organic orchard. Planted in 1983 on supposedly M7A Rootstock but it's pretty big for that.

02 Dec 2014 

Carl On Cape Cod

WEST BARNSTABLE, United States

Liberty is clearly of the fameuse/snow and Macintosh lineage with a strong 'vinous' flavor, but more crunch than either of those. To my taste, it is better balanced than a macoun which I find to be a bit too sweet.

11 Feb 2014 

Jack

NEW YORK, United States

This is probably the most easily cared for tree that I have. It is a prolific producer of decent sized, tastey fruit. They are a great all around appple and keep fairly well when refridgerated after picking. They also make great cider and pie.

19 Nov 2013 

Holly Boyajian

WA STATE, KING COUNTY, United States

Delicious and juicy only if picked at exactly the right time (second week of October). After that they become mushy and split in the rain even though still hanging on the tree. Before that they are hard and tart. Disappointed.

23 Sep 2013 

Bill Mckee

OREGON, United States

Just harvested 9/21/13 and these are very delicious, juicy, and in "high demand". The almost purple color, and full blush, make a beautiful site in the orchard. Be sure to thin the apples starts early on to maximize size, number, and health of the final crop!

24 Apr 2013 

P. Seburn

NW VA, United States

Great tasting apples on a disease resistant, grower friendly tree (I have one on M.26). Beautiful deep red and you can taste the Macoun heritage in them. Prolific.

16 Oct 2012 

Quentin Groom

Belgium

A spotless, good looking apple of a good size and from a healthy tree. Ripe in early October, but soon going a bit soft for my tastes. Not an exceptional flavor, but still worth having.

26 Nov 2011 

David M. Taylor

WI, United States

This is a great Mac-style apple. Use it just like Macs, for fresh eating, sauce, and pies. Also is said to make great cider, although I haven't tried that yet. Seems a little better keeper than other Mac varieties as well -- mine are a little soft but still okay in late November, and I think will last to late December if I don't sauce them all sooner.

05 Oct 2011 

Joezwack

MN/RAMSEY, United States

This is the second year for my dwarf and it produced 15 apples in 2011. It has a tendency to drop apples. I was unsure as to when to pick but read that Oct. 5th was the time in central NY. I picked mine on Oct. 4th.

19 Jan 2011 

John Trivits

DELAWARE/SUSSEX, United States

We have a small orchard (175 trees) about 22 of our trees are Liberty and everyone loves them. The only thing is that they do not all ripen at once. They are very firm and juicy with a tart flavor. We use them in our cider blend, we use them for applesauce and fresh eating.

15 Oct 2010 

Dave Liezen

WASHINGTON, United States

I have picked Liberty in a local orchard and kept the fruit three months in common storage. They got a bit soft, but the flavor remained excellent. Fall of '10 I picked a first crop from my little tree out back: superb! The tree puts its strength into fruit and will grow slowly unless you strip it each year for several years. Worth the wait, as this is the best in the McIntosh group for flavor I've found - without ever finding Macoun in prime condition, yet.
Tree register
Spring blossom records for this variety
2020 season
2019 season
2017 season
2016 season
2015 season
2014 season
2013 season
2012 season
2011 season
2010 season
2009 season
Record your blossom dates in our Fruit Tree Register - more >>.
Harvest records for this variety
2020 season
2018 season
2017 season
2016 season
2015 season
2013 season
2012 season
2011 season
2010 season
Origins
Species: Malus domestica - Apple
Parentage: Macoun
Originates from: United States
Introduced: 1978
Developed by: New York State Agricultural Experiment Station
UK National Fruit Collection accession: 1984-076
We are grateful to Brogdale Farm - home of the UK National Fruit Collection - for providing samples of this variety.
Identification
Country of origin: United States
Period of origin: 1950 - 1999
Fruit colour: Crimson
Leaf colour: Green
Popularity: Best sellers
Annual cycle: Deciduous
Alleles: 3
Alleles: 5
Alleles: 10
Using
Picking season: Late
Keeping (of fruit): 1-2 months
Flavour quality: Very good
Flavour style (apples): Vinous
Discoloration of fruit: Very oxidising (browns quickly)
Cropping: Heavy
Fruit persistence: Normal ripening
Food uses: Eating fresh
Food uses: Juice
Picking period: mid-September
Wildlife: RHS Plants for Pollinators
Growing
Gardening skill: Beginner
Flowering group: 2
Pollinating others: Average
Pollinating others: Poor
Ploidy: Diploid
Vigour: Vigorous
Bearing regularity: Regular
Fruit bearing: Spur-bearer
Organic culture: Suitable
Self-fertility: Not self-fertile
Climate
Cold hardiness (USDA): (4) -30F / -34C
Climate suitability: Temperate climates
Summer average maximum temperatures: Cool ( 20-24C / 68-75F)
Summer average maximum temperatures: Warm (25-30C / 76-85F)
Summer average maximum temperatures: Hot (>30C / 86F)
Other qualities
Disease resistance: Good
Scab (Apple and Pear): Very resistant
Cedar apple rust: Very resistant
Powdery mildew: Some resistance
Fire blight: Some resistance
Where to buy trees
The following tree nurseries offer Liberty apple trees for sale:
Where to buy fresh fruit
The following orchards grow Liberty:
United States
Arkansas

Colorado

Connecticut

Georgia

Illinois

Indiana

Iowa

Kentucky

Maine

Massachusetts

Michigan

Minnesota

Missouri

New Hampshire

New Jersey

New Mexico

New York

Ohio

Oklahoma

Oregon

Pennsylvania

Rhode Island

South Carolina

South Dakota

Tennessee

Vermont

Washington

Wisconsin
Canada
References
Cedar-Apple Rust  
Author: Stephen Vann, University of Arkansas, Division of Agriculture (FSA7538)
Rated as very resistant - no control needed against CAR.
Apples for the 21st Century
Author: Manhart