Jonagold apple
Jonagold is high quality American apple, developed in the 1940s. As its name suggests, this is a cross between a Jonathan and a Golden Delicious. It is quite widely grown, and unusually for a Golden Delicious cross, is not limited to the warm apple regions, although it is not often found in the UK.

Jonagold is a large apple, and makes a substantial snack. If you are struggling to eat your 5 portions of fruit and veg per day, this can help! The large size is a good clue that this is a triploid apple variety, with 3 sets of genes. As a result it is a poor pollinator of other apple varieties, and needs two different nearby compatible pollinating apple varieties. Golden Delicious is well-known as a good pollinator of other apple varieties, but cannot pollinate Jonagold.

The colouring is yellow of Golden Delicious, with large flushes of red. This is a crisp apple to bite into, with gleaming white flesh. The flavour is sweet but with a lot of balancing acidity - a very pleasant apple.

Jonagold's other parent, Jonathan, is an old American variety which was discovered in the 1820s.

In the UK Jonagold sometimes appears in supermarkets in the spring packaged as "value" apples, often from Holland, and at a very low price. We are trying to find out more about these apples, but it seems that they are mainly "second" quality apples which are nearing the end of their storage life and are surplus to other uses.
Jonagold is widely-grown by commercial growers, and there are a number of more highly-coloured sports. Jonagored is probably the most widely known of these. Others include: Decosta, Primo, Rubinstar, Red Jonaprince.
Last updated 03 Apr 2011.
A very popular commercial variety, with a good flavour. Inherits many of the good qualities of its parents Jonathan and Golden Delicious.
Origins
Species: Malus domestica
Parentage: Golden Delicious x Jonathan
Originates from: Geneva, New York, United States
Introduced: 1943
Developed by: New York State Agricultural Experiment Station
Orange Pippin Cultivar ID: 103300
Identification
Bultitude apple group: 6. Red flushed, smooth, sweet
Using
Good for eating fresh
Good for cooking
Good for juice
Good for hard cider
Flavour quality: Very good
Flavour style: Sweet/Sharp
Ripening period: Late season
Use / keeping: 1-2 months
Growing
Cropping: Heavy
Flowering period: Late season
Flowering group: 5
Fertility: Self-sterile
Triploid: Yes
Poor pollinator: Yes
Vigour: Large
Gardening skill: Average
General disease resistance: Poor
Climate
Suitable for warm climates
Suitable for temperate climates
Tolerates cold winters
Suitable for NW. Scotland?: No
Other qualities
RHS Award of Garden Merit 

1993
Disease resistance
Bacterial canker 

Pseudomonas syringae

  - Some susceptibility
Scab  - Some susceptibility
Fireblight  - Some susceptibility
Cedar apple rust  - Some susceptibility
Relationships to other varieties
Parents and other ancestors of this variety:
Offspring of this variety:
References and further reading
Cedar-Apple Rust  
Author: Stephen Vann, University of Arkansas, Division of Agriculture (FSA7538)
Rated as susceptible - control usually needed where CAR is prevalent.
Jonagold identification photos from official fruit collections
UK National Fruit Collection
©Crown Copyright
more >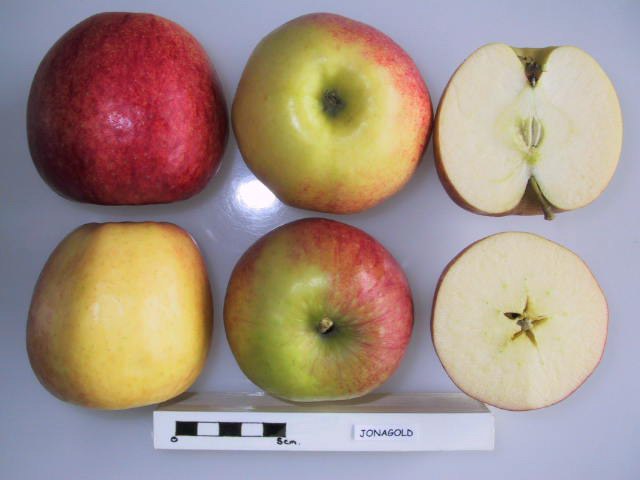 Jonagold identification photos from website visitors
Jonagold


Fruit tree register
Do you have a tree of this variety in your garden or orchard? If so please register the details here and contribute to our international register of fruit trees.
The following Jonagold trees have been registered - click the name to view more details of each tree.
You can also view these trees on a map.
United States
United Kingdom
Hungary
Ireland
Netherlands
Canada
Australia
New Zealand
Poland
Latest Spring blossom records for this variety
2013 season
30th April  2013  - tree owned by Florian in Brush Prairie, United States
2012 season
2011 season
May  2011  - tree owned by v in LUCKNOW, Canada
25th April  2011  - tree owned by Barbara in GT. YARMOUTH, United Kingdom
21st April  2011  - tree owned by Karel in alem, Netherlands
2009 season
4th April  2009  - tree owned by Mrs Tri in Redditch, United Kingdom
Record your blossom dates in our Fruit Tree Register - more >>.
Latest harvest records for this variety
2013 season
3rd week March  2013  - tree owned by Katrina in NELSON, New Zealand
2012 season
1st week November  2012  - tree owned by James in ESTACADA, United States
1st week October  2012  - tree owned by Steve in FERNDALE, United States
1st week October  2012  - tree owned by Lloyd in BEAVERTON, United States
2011 season
1st week October  2011  - tree owned by v in LUCKNOW, Canada
2009 season
2nd week September  2009  - tree owned by Mrs Tri in Redditch, United Kingdom
Where to buy apple trees
The following fruit tree nurseries offer Jonagold apple trees for sale:
Where to buy apples
United Statesmap >
United Kingdommap >
England - south-eastmap >

England - south-westmap >
Netherlands map >
Switzerlandmap >