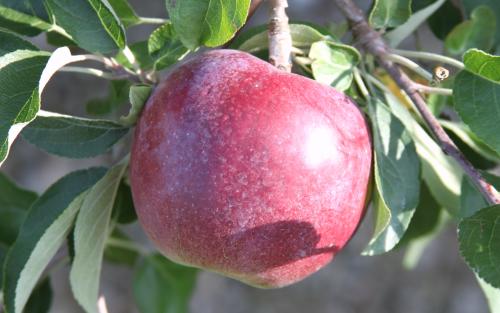 Fruit is medium in size and slightly conic in shape with a rich aromatic flavor. Apples are 70-80% red with excellent eating quality.
Also known as
William's Pride apple identification images
All images copyright Orange Pippin unless otherwise stated.
USDA identification images for William's Pride
The identification paintings in the USDA Pomological Watercolor Collection span the years 1886 to 1942.
Citation: U.S. Department of Agriculture Pomological Watercolor Collection. Rare and Special Collections, National Agricultural Library, Beltsville, MD 20705.
Parents and other ancestors of this variety
Visitor reviews
08 Jun 2022 

Khushal Chand Chauhan

Is this apple variety known as William's favourite? I have this variety in my orchard, since the 1970s.

18 Aug 2019 

Richard Sedlock

OHIO, United States

I inherited a dozen WP trees when we moved to west-central OR in 2010, and have planted more since then. Pretty undemanding trees in terms of maintenance, and good producers. I find the flavors of this crisp early-season apple very attractive? . I get butterscotch hints along with a pleasant array of varied fruit flavors. This apple is meant for eating fresh; it doesn't keep well, does OK in cider, and isn't particularly suited for cooking. But it excels at its job: early-season fresh eating.

07 Aug 2019 

David Hudson

ILLINOIS, United States

One of my favorite early apples and one of the first really good apples for eating out of hand. Doesn't keep long, but great right off the tree. I'm not sure how these would do for commercial growers, but for a backyard orchard like mine, this is a very nice tree. The fruit is sweet and slightly spicy when it's at its best. My kids could snack on these little apples all day long.

11 Sep 2017 

Georgia Pedicini

NEW MEXICO, United States

I grew this in the mountains of New Mexico. I bought it because it is an early apple, and the growing season in the mountains is iffy. It was definitely a biennial, alternating really heavy and really sparse crops - although if its normal heavy year was disrupted due to weather, the next "light" year would be a bit heavier. Blossom clusters were heavy (5-7 buds), most of which would set. Between tree aborts and my pruning, I'd aim for 1-3 apples per cluster, and most ended up medium size with a few large. If I didn't prune, it would try to keep about 4 per cluster, and they'd all be pretty small, so I can see this being a problem in an orchard. As a dwarf in a home garden, it wasn't too hard to keep up with. We thought it was a lovely eating apple, sweet but not too sweet, and aromatic. The flesh usually had red blushes, which I don't see mentioned anywhere, which made it very attractive on a platter of sliced fruit. Decent for applesauce; mixed results on drying (which may have been technique as much as anything); but I agree, it was too dry for pie (also prefer tart apples for pie).

14 Jan 2016 

Brendan Smith

CA, United States

I have a small orchard here in coastal Northern California, cool summers, Sandy loam soil. This area is famous for growing Gravenstein apples. We have some problems here with scab otherwise apples grow quite well. I planted Williams pride which I purchased from Raintree nursery about five years ago with high hopes. Growth was quite rapid on a nicely shaped spreading tree. The tree is quite precocious with apples appearing year two. They are quite large and a beautiful deep red color, and there are lots of them. Sad to say I'm not all that crazy about the flavor. It's probably a lot to ask for real earliness and great flavor But oh well. The apples have a reasonably firm texture and lovely white flash but are quite bland. Maybe it's the temperate climate, here who knows. Any other opinions on this Apple would be appreciated. I planted it because it's early and very disease resistant, and in fact it is completely scab free.

14 Jan 2016 

Brendan Smith

CA, United States

I have a small orchard here in coastal Northern California, 16 trees all different varieties. Sandy loam soil cool summers, some problems with scab

23 Sep 2011 

Sharon Dwinnell-Smith

WASHINGTON, KING, United States

I have grown this tree on small root stock for 10 years with great success. Usually the fruits are medium sized. This year due to our wet cold spring and early summer we had very little fruit. After a period of warm weather we just harvested apples from this tree that were double in size. They make excellent apples sauce. They were a little dry for pies. Interestingly the flavor for eating out of hand wasn't as sweet this year. This apple does not keep well for very long. It is a very well-behaved tree for a small garden area in full sun and well irrigated.

31 Aug 2011 

P. Seburn

NW VA, United States

Got fruit on this tree first time this year, beautiful deep purple/red apples with fantastic fall apple flavor - in July.
Tree register
Australia
Hayden in Winslow, VICTORIA, AUSTRALIA
Spring blossom records for this variety
2022 season
2021 season
2020 season
2019 season
2018 season
2017 season
2016 season
2015 season
2014 season
2013 season
2012 season
2010 season
Record your blossom dates in our Fruit Tree Register - more >>.
Harvest records for this variety
2022 season
2021 season
2020 season
2019 season
2018 season
2017 season
2015 season
2014 season
2013 season
2012 season
2011 season
2009 season
Origins
Species: Malus domestica - Apple
Parentage: PRI 1018-101 x NJ 50
Originates from: United States
Introduced: 1988
Developed by: PRI (Purdue, Rutgers, Illinois Co Op)
Identification
Annual cycle: Deciduous
Flowering duration: Long
Fruit size: Large
Fruit shape: Conical
Using
Picking season: Very early
Keeping (of fruit): 1-3 days
Flavour quality: Good
Flavour style (apples): Sharper
Cropping: Good
Fruit persistence: Ripens over a period
Food uses: Eating fresh
Food uses: Juice
Picking month: July
Picking period: early August
Wildlife: RHS Plants for Pollinators
Growing
Gardening skill: Average
Flowering group: 2
Pollinating others: Good
Ploidy: Diploid
Vigour: Slightly large
Bearing regularity: Biennial tendency
Fruit bearing: Spur-bearer
Organic culture: Suitable
Self-fertility: Not self-fertile
Growth habit: Upright-spreading / Vase
Climate
Climate suitability: Temperate climates
Climate suitability: Mild damp climates
Cold-hardiness: Cold-hardy
Summer average maximum temperatures: Cool ( 20-24C / 68-75F)
Summer average maximum temperatures: Warm (25-30C / 76-85F)
Summer average maximum temperatures: Hot (>30C / 86F)
Other qualities
Disease resistance: Good
Scab (Apple and Pear): Very resistant
Fire blight: Very resistant
Cedar apple rust: Very resistant
Powdery mildew: Some resistance
Where to buy trees
The following tree nurseries offer William's Pride apple trees for sale:
Where to buy fresh fruit
The following orchards grow William's Pride:
United States
Canada
References
Cedar-Apple Rust  
Author: Stephen Vann, University of Arkansas, Division of Agriculture (FSA7538)
Rated as susceptible - control usually needed where CAR is prevalent.