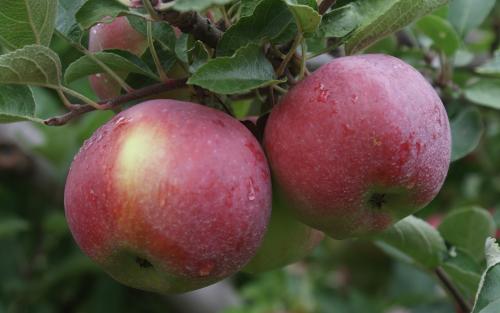 In North America deep red apples have always been popular, and Empire is a typical example of this style of apple. The colour is an intense marroon-red, overlying a light green background, and for children in particular it shouts out "eat me".

Empire was developed at Cornell University in New York state, USA in the 1940s, and its parents are classic old North American varieties - Delicious and McIntosh. These are both shiny red apples. It is an ideal lunch-box apple, not least because it does not bruise easily.
Empire is a sweet apple with a crisp texture and bright white flesh. Although Empire can be stored for a short period, it is best when eaten straight from the tree. It has the characteristic and unusual McIntosh flavor, often described in apple textbooks as "vinous". Perhaps the best way to describe it is like a hint of melon or pineapple or elderflower.
Red Delicious dominates American apple production, but most of that production takes place in Washington State on the west coast. The natural home of Empire is the north-eastern United States - where McIntosh and its offspring such as Cortland are also most at home. Empire accounts for about 60% of the apple exports of New York State, but nationally accounts for only about 2% of American apple production - along with Idared and Jonathan. That still puts it in the top 10 American apples though, but also shows how localised the production is. Empire has all the qualities growers look for, easy maintenance, strong well-shaped trees, attractive apples, and heavy crops - no biennial bearing here!

The McIntosh style of apple is not especially well-known in the UK, although both Empire and its close cousin Spartan are sometimes available in UK supermarkets, and Spartan is a popular and successful garden apple variety in the UK
Empire apple identification images
All images copyright Orange Pippin unless otherwise stated.
USDA identification images for Empire
The identification paintings in the USDA Pomological Watercolor Collection span the years 1886 to 1942.
Citation: U.S. Department of Agriculture Pomological Watercolor Collection. Rare and Special Collections, National Agricultural Library, Beltsville, MD 20705.
Offspring of this variety
Siblings of this variety (same parentage)
Spartan - Spartan and Empire are half-brothers
Visitor reviews
22 Nov 2022 

Danielle

The Empire and the McIntosh apples are the only two variety of apples I'm not allergic to so I'm a huge fan and agree with the tasting notes. They're sold in my local grocery store a few months of the year.

21 Feb 2021 

Helen Kershaw

MERSEYSIDE, United Kingdom

Hands down my favourite apple variety. It's unfortunate that it's difficult to find in shops in the UK. I've just stumbled upon some in a butcher's shop, of all places, after an absence of several years. Firm and crunchy, the sweetness is not as overpowering as the near ubiquitous Pink Lady. I wish I had the extra land area to try growing this myself. My daughter has just discovered this apple for herself and has become as firm a fan of it as I have

22 Oct 2020 

Brian Wheaten

WISCONSIN, United States

I think that the toughest thing to do is compare apples to each other based upon what you buy in the store alone. It is our fall tradition to go apple picking here in Wisconsin and it allows you to sample them as fresh as they get when pulled off the tree. My wife and I enjoy a sweet / tart flavor profile so when we start picking in August we target a variety called Zestar, September we target Macintosh, and October it is Empire (admittedly I did grow up in western NY so maybe that plays a part in bringing back childhood memories but it is generally the last "good" apple of the year). We have yet to taste a variety from all neighboring trees growing at that time that can match them (including Honeycrisp which we find to be just OK but almost too sweet). Bear in mind these are my findings from maybe a dozen local orchards and I am ALWAYS searching for the next champions - I have had pink ladies relatively fresh in the store and those aren't a bad apple either IMO. Lastly - there IS a phenomenon where some varieties get better after picking but I haven't wasted time on those since I need immediate gratification at the orchard - not a "wait for it" excuse. Remember to keep your apples in a fridge / in a plastic or they will degrade quite quickly otherwise.

17 Aug 2019 

Annie

PETERBOROUGH, United States

My total favourites. I so miss them when out if seasob

18 Sep 2018 

David

WA, United States

Better by far than either of its parents: McIntosh x R. Delicious. This produces well in the dry heat of eastern Washington, and also makes a superior cider base.

18 Aug 2018 

Sue

United States

I've loved the sweet and sour crisp taste of the Empire for years. I moved to California after college and missed the NY apples. Then one day I stumbled onto the Empire at a farmers market. I was hooked and my dad reminded me that it was from NY. Of course! Since they were hard to find in stores and markets I found a tree to plant and it thrives in the CA Bay Area valley summer heat. The sizes vary and my kids like the smaller ones. I share with my neighbors and they also find it's sweet, sour crisp flavors a welcomed change from the normal market brands.

28 Dec 2017 

Robert

NJ, United States

Although mostly outclassed by many modern varieties today, The Empire variety Still has a unique flavor that makes it distinguishable to me from all other varieties I have had when it is in perfect form. It can get mealy though and is far from perfect.

19 Dec 2017 

Will Spence

WILTSHIRE, United Kingdom

Exactly what you would expect from Red Delicious x MacIntosh; extremely crisp with a juicy-sweet vinous flavour. Empire has no flavour intensity or complexity whatsoever. It saddens me to think that this is some people's favourite apple.

03 Nov 2015 

Erin Branch

UTAH, United States

Very dark red skin and somewhat squat appearance makes this apple look almost like an oversized plum more than an apple. Many of the reviews say they don't bruise easily, but I had a hard time finding one in the store that wasn't bruised. They do sound hollow to the touch and when cutting into them. The aroma, texture (mealy), and thick skin is very similar to Red Delicious, which for me is a turn off. However, its flavor is more complex and interesting, if not a touch tart, than a red delicious, and is slow to brown, giving it some redeeming qualities. Not enough to secure a spot amongst my favorites though.

29 Dec 2014 

Peter l

KY, United States

I was born in London, Ont and was moved to Louisville when I was 8yrs old. I was searching the local supermarket to find an alternative to the crisp blandness of the Delicious apple when I came across Empire. When I first bit into one I was transported 50yrs into my grandmothers fruit cellar where I ate apples as a child and she made her wonderful apple pies. I hadn't had an Empire since then till now but the flavor was unforgettable. Though they may sound hollow and mealy they are always crisp and juicy. Probably because of that thick skin. My favorite apple

20 Nov 2014 

Michael

ESSEX, United Kingdom

I love Empire apples but unable to find any shops that sell them anymore.why?.

06 Oct 2014 

Dan

ONTARIO, Canada

Empires are one of my favourite varities because they taste quite a bit like a Mac when eaten fresh, but bake better than a Mac (producing better texture). If you want an apple that can play both roles, the Empire is a good choice.

19 Aug 2014 

Bee s

WORCS, United Kingdom

Nothing else compares! I, too, am addicted to the crunchy, sweet taste. When I mange to find them in season, no one else in the house is allowed to eat my stash. I didn't realise there were others out there like me who had the 'Empire Addiction'. I can't find anything else that compares.

22 Jul 2014 

Haeley

NEW YORK, United States

Dont ask me how I made it to 25 year old, living in apple country in NEW YORK where Empires originated, without trying them. I suppose I had overlooked them before thinking they were past their prime; on the tree they look dull and are a very dark almost burgundy/purple color. I went apple picking with my husband 6 years ago and I got curious and picked one, once I shined it up a little it was a beautiful deep red. Once I took a bite I was hooked and I packed the rest of our bags with them. They are a great balance of sweet and tart and they are very crisp. I find eating them warm better than chilled. I havent found the ones in the store to measure up, they arent as flavorful and tend to be more mealy and soft which I dont like in an apple. I am considering getting us our own tree, these are definitely one of my top 5 favorite varieties.

11 Feb 2014 

Jack

NEW YORK, United States

By far my favorite apple. I have 2 trees that are consistent bearers. They are great keepers and will remain fresh in my garage refrigerator through winter until spring. They are a bit suceptible to apple scab, but will do well if you plant them where there is good wind circulation, sunlight and you maintain a regular spraying program.

21 Oct 2013 

Linda Randall

BC, Canada

I just bought a house and discovered two small Empire apple trees in the back yard. They are heavy with fruit and much to my delight when I bit into the first one I picked. Juicy, sweet and crunchy, excellent flavour ! A great addition to my early season Duchess. I am elated to have these trees.

22 Jan 2013 

Bo and Brent

NY, United States

Bo- This apple is soft all over. A sweet red flavor and a flesh soft and mealy enough for children's fresh teeth. Mash 'em yourself for home-made baby-food!

09 Sep 2012 

Susan

UT, United States

By far my favorite, sweet-tart and crunchy. an all around good apple...I just wish the Western varieties of apples were even remotely as good a NY apples.

09 Sep 2012 

Susan

UT, United States

I have lived in the West for 6 years and I still have not way to get my NY apple fix, specifically my EMPIRE apple fix. The apples in UT are mostly from WA state and for the most part are flavorless (even the apples from local UT orchards are bland...why bother??).

23 Jan 2012 

Albany Appleguy

United States

Veriy similar to a mac, skin is a bit thick for me

07 Nov 2011 

Brentley Jacobs

OREGON, United States

I tried the empire apple while in the orchard at UCSC where there are 100 different apple tree varieties. Its taste was distinctively gratifying, crunchy, and a good balance of sugars and acids. I am ordering four for my own orchard.

03 Jul 2011 

Jic

SURREY, United Kingdom

A beautiful, crisp, juicy, sour-sweet apple with firm flesh that stores very well. Examples grown in New York state are the best. Ones from British Columbia are inferior in both taste and appearance, but still very good apples.

18 Feb 2011 

Betty j

BRITISH COLUMBIA, Canada

Empires are our favourite apple and we can't usually find them here on the Island. We came from Ontario where they were easier to get. Now I'm looking for tree stock so I can grow my own.

08 Feb 2011 

Karin Holloway

LONDON, United Kingdom

I love Empire apples so much that I have to eat at least 2 a day to be happy! It's February and they're really sweet and crispy and juicy right now. I get them at Morrisons and was looking online to find if they are anywhere else, cheaper. An apple that fits into the palm of my hand costs about 40p, which is more than half a dollar. Crazy!

04 Mar 2010 

Ben Hammond

APPLE COUNTY, United Kingdom

A slender apple, very shiny to look at and gives a consistent crunch. The pure white inners are not only visualy pleasing, but they are full of flavour too, an over all good apple

03 Dec 2009 

Alastair

LONDON, United Kingdom

I am concluding that this apple may not do so well in the UK in a less than good summer. I like the acidity, juiciness and the crunch, but the sweetness that many US posters mention is very often missing. It would be best described as watery. I will reserve judgement until I have tasted one from the UK from a great summer.

13 Nov 2009 

Jon Morgan

YORKSHIRE, United Kingdom

Empires are grown mainly in the US and Canada but there are some grown in the UK and Benelux. The only problem is that they are available from Late October to April / May (depending on the season).

02 Nov 2009 

Niamh

IRELAND, Ireland

While I love the taste and the crunch of this apple, I do not like the skin for some reason.

12 Oct 2009 

Anita

VANCOUVER ISLAND, Canada

I have to agree with every positive review of the Empire variety. We are fortunate to have a backyard supply. The tree was here when we moved in 25 yrs ago and until now we did not have a name for it--just called it "sort of like a Spartan" :-) Thanks to a friend who referred me to your great website, we now have the name for this queen of apples. Thank you!

25 Sep 2009 

Michael Morrison

LAS CRUCES, NM, United States

I tried this variety for the first time last year while looking for a good drying apple. Of 10 varieties that I dried, Empire retained it's flavor best, with a pleasant texture. I will be drying more this year, you can be sure!

19 Apr 2009 

Suzie

CORFE MULLEN, DORSET ENGLAND, United Kingdom

Empire are without doubt the best apples I have ever eaten, but are only available for a short time here in the UK (Tesco is the only place I can find them!) BUT, does anyone have any suggestions for alternatives which come a close second when Empire are not available?

17 Apr 2009 

Tony Stephens

SOUTHAMPTON UK, United Kingdom

yes a superb apple. Waitrose and Sainsbury's often sell them where I live.

31 Mar 2009 

Mike

UK (BARROW-IN-FURNESS), United Kingdom

I used to buy apples every week, usually buying on price and looks. I first tasted Empire Apples last year when I bought some from Tesco, they were by far the best apples I have ever eaten. After a few weeks our local Tesco seemed to stop stocking them so I stopped buying apples because no other apple compares. Fortunately Tesco have now (March 2009) started stocking them again so they are back on the weekly shopping list.

19 Mar 2009 

Jana

HERTFORDSHIRE, United Kingdom

empire apples are sold in borehamwood tesco, in hertfordshire. they surely are one of the best apples there are.

08 Mar 2009 

Justin Taylor

PRESTON, LANCASHIRE, United Kingdom

Saw these for the first time at Sainsburys. They might be stocking them soon.

03 Mar 2009 

Lauren

EXETER, United Kingdom

I love empire apples. They'e so crunchy & sweet & tangy, clearly the best apples there are! BUT I can't find them anywhere! Last year I was able to buy them is ASDA while they are in season but this year I never saw any anywhere. Help! If anyone knows where I can buy some in England, or online, I'd love you to let me know! Lauren yourethevoice@hotmail.co.uk

21 Nov 2008 

Ken

DEVON, United Kingdom

can you please help a novice I would like to have a orchard and have enough room for 15 trees,i would like maiden trees on a m106 root stock but as im in Devon the trees must be disease resistant ,if possible could you recommend 10 eaters for me please

19 Nov 2008 

A Samba

LONDON, United Kingdom

I would like to add "The empire apples are friendly if you suffering some sort of alergy, myself Empire apples are the only apples i can eat without alergy reaction. again does anybody knows why they are not in the UK market????

12 Oct 2008 

Christina

UK LONDON, United Kingdom

i dont know what to do, the supermarkets no longer sell these amazing apples, i formed a habit of 4-6 a day! i am at a loss and no other apple measures up :( hence me going to great lengths to find them, sigh.

03 Oct 2008 

Grace

United States

where is this u-pick empire apples in julian? what is it called? thanks!

21 Sep 2008 

Ann Kim

SAN DIEGO, CA, United States

I just visited Julian, CA where there is a U-Pick apple orchard with Empire apples. The Empires were the best of the varieties they had. On the branch in the sun, they actually look more purple, but once you rub off the natural dust, they were as pictured. Very sweet, crunchy, and easy to eat more than one. In the orchard at ambient temperature, you don't really notice the tartness, but once refrigerated and cold, the tartness comes out.

01 Jul 2008 

Candy & Sheila

NORTHAMPTON UK, United Kingdom

We love Empire apples and cannot get enough of them (literary) none of the supermarkets are selling them at present.

30 May 2008 

Brad Davis

ONTARIO, Canada

As a child, I grew up in a part of the country where apple orchards were plentiful, and many varieties were readily available. However, it has been only recently that I have gotten hooked on empire apples. Their firm, crisp texture and pleasantly sweet flavour make them a satisfying snack...everytime!

20 May 2008 

Julia Hayes

CRAWLEY, WEST SUSSEX, United Kingdom

I was always an avid Granny Smith eater, the sharper the better, but my tastebuds have now changed and I am hooked on Empire Apples which are beautifully crisp and sweet, unfortunately I have been unable to buy any these past two weeks in any of my local large supermarkets, I must ask and find out why!!

20 May 2008 

Gary

ENGLAND, United Kingdom

The empire apple is a tasteless, hard apple whose parts add up to far more than the sum. McIntosh and Red delicious are among the fruitiest, juiciest apples apples around, and it is annoying that the hybrid is so poor.

30 Apr 2008 

Jim

United Kingdom

Unfortunately, having tried this variety of apple (bought from Tesco), I found them completely tasteless and did not enjoy them at :-(

25 Apr 2008 

Steven Dewhurst

United States

I bought some Empire apples for the first time about 3 weeks ago and have bought them evey time I have been shopping since. They are delicious, crisp (they give that appealing crunch sound everytime you bite a wedge off) and juicy. I'd day they are definitely my favourite apple but then I am a relative newcomer. I have only recently started buying different varieties in order to compare them but I am now hooked, thanks mainly to this site. People at work think I'm a bit mad but I managed to ween one person off her Red Delicious the other day with the help of the far superior Empire!

14 Apr 2008 

Gen

NORTHAMPTON, United Kingdom

Empires are the best apples ever! They're so crisp and sweet..I'm addicted I eat 3/4 a day.

12 Feb 2008 

M. Reed

COLLEGE STATION, TX, U.S., United States

My favorite out-of-hand apple, having supplanted the Macintosh. Sadly, only available here in the fall.

08 Feb 2008 

John T.

COLORADO, United States

Empire, in my opinion, is far and away the best apple for fresh eating. It used to be in good supply in grocery stores in North Carolina when I lived there, but disappeared three or four years ago. Now, here in Colorado, the produce managers that I have queried have never even heard of it!

23 Jan 2008 

Alison S.

BOURNEMOUTH, United Kingdom

They are in the supermarkets at the moment. Tesco is best. but they frequently sell out cos they are so popular.

11 Jan 2008 

Sally Crane

LONDON, United Kingdom

my husband loves empire apples but i just cant find them anywhere, do you have any clues

20 Oct 2007 

Lucinda Baran

VIRGINIA, United States

I LOVE Empire apples but am having a hard time finding them in the eastern part of VA. Do you know any reasons why? I used to be able to find them here.
Tree register
Spring blossom records for this variety
2019 season
2017 season
2016 season
2013 season
2012 season
2011 season
Record your blossom dates in our Fruit Tree Register - more >>.
Harvest records for this variety
2017 season
2016 season
2012 season
2011 season
2010 season
2009 season
Origins
Species: Malus domestica - Apple
Parentage: McIntosh x Delicious
Originates from: United States
Introduced: 1945
Developed by: New York State Agricultural Experiment Station, Geneva
UK National Fruit Collection accession: 1962-041
Identification
Country of origin: United States
Period of origin: 1900 - 1949
Fruit colour: Crimson
Flower colour: Pink - light
Leaf colour: Green
Annual cycle: Deciduous
Using
Picking season: Late
Keeping (of fruit): 2-3 weeks
Flavour quality: Very good
Flavour style (apples): Vinous
Discoloration of fruit: No discoloration (Good for drying)
Cropping: Heavy
Fruit persistence: Normal ripening
Food uses: Eating fresh
Food uses: Juice
Picking period: early October
Wildlife: RHS Plants for Pollinators
Growing
Gardening skill: Beginner
Flowering group: 3
Pollinating others: Average
Ploidy: Diploid
Vigour: Average vigour
Bearing regularity: Regular
Fruit bearing: Spur-bearer
Self-fertility: Partially self-fertile
Climate
Cold hardiness (USDA): (4) -30F / -34C
Climate suitability: Temperate climates
Climate suitability: Warm climates
Summer average maximum temperatures: Cool ( 20-24C / 68-75F)
Summer average maximum temperatures: Warm (25-30C / 76-85F)
Other qualities
Powdery mildew: Some resistance
Fire blight: Some resistance
Cedar apple rust: Some resistance
Scab (Apple and Pear): Some susceptibility
Where to buy trees
The following tree nurseries offer Empire apple trees for sale:
Where to buy fresh fruit
The following orchards grow Empire:
United States
California

Colorado

Connecticut

Delaware

Georgia

Idaho

Illinois

Indiana

Iowa

Kansas

Kentucky

Maine

Massachusetts

Michigan

Minnesota

Missouri

Montana

Nebraska

New Hampshire

New Jersey

New York

North Carolina

Ohio

Oregon

Pennsylvania

Rhode Island

South Dakota

Utah

Vermont

Virginia

Washington

West Virginia

Wisconsin
Canada
References
Cedar-Apple Rust  
Author: Stephen Vann, University of Arkansas, Division of Agriculture (FSA7538)
Rated as resistant - control only needed under high disease pressure.
Apples for the 21st Century
Author: Manhart