Spartan apple
Spartan is a small sweet apple, and a great favourite with children. It is very much a "McIntosh" style apple, bright crimson skin and whiter-than-white flesh. We leave ours on the tree as long as possible, until they are crimson all over, as this allows the flavour to develop. Straight from the tree the flesh is very crisp and juicy, but it softens a bit within a week or so of picking - although remaining juicy. This is also a good variety for juicing - the juice colour is not especially remarkable but the flavour is sweet and pleasant. Spartan is an excellent garden apple, being easy to grow, resistant to scab, fairly resistant to mildew, and it crops very reliably - and by growing your own you can enjoy Spartan at its best, straight from the tree. However it can be prone to canker in wetter regions.

Spartan is a historically interesting apple, being an early example of a variety developed in a formal scientific breeding programme in Canada. It was raised at the Canadian Apple Research Station in Summerland, British Columbia, in the 1920s, and the mother variety is McIntosh (of course). There is some uncertainty over the pollen parent, it is usually thought to be Newtown Pippin.
Spartan is also one of the few North American apple varieties that can be grown successfully throughout the UK, where it has long been a popular garden apple variety.
If you only have space for one of the McIntosh-style apple varieties in your garden orchard, Spartan is a good choice - straight from the tree on a cold autumn morning, the vinous sugar-rush is hard to beat!
Last updated 27 Jan 2013.
Attractive, crunchy, sweet, easy to grow, and with the characteristic delicate wine-like "vinous" flavor of the McIntosh family of apples.
Origins
Species: Malus domestica
Parentage: McIntosh x Newtown Pippin (?)
Originates from: Canada
Introduced: 1926
Developed by: R. C. Palmer, Summerland Research Station, BC
Orange Pippin Cultivar ID: 105800
Identification
Fruit colour: Red 

Becomes purple / maroon when fully ripe.

Flesh colour: White
Fruit size: Small
Bultitude apple group: 6. Red flushed, smooth, sweet
Using
Good for eating fresh
Good for juice
Flavour quality: Good
Flavour style: Sweeter
Ripening period: Late season
Use / keeping: 1 week
Vitamin C content: Low
Growing
Cropping: Heavy
Flowering group: 3
Fertility: Partially self-fertile 

Effectively self-fertile, but crops better with a polllinator.

Triploid: No
Good pollinator: Yes
Vigour: Average growth
Gardening skill: Very easy
General disease resistance: Average
Climate
Suitable for warm climates
Suitable for temperate climates
Blossom frost-resistance: Good resistance
Suitable for N. England?: Yes
Disease resistance
Bitter pit  - Very resistant
Mildew  - Some resistance
Fireblight  - Some resistance
Cedar apple rust  - Some resistance
Bacterial canker 

Pseudomonas syringae

  - Some susceptibility
Scab  - Some susceptibility
Relationships to other varieties
Parents and other ancestors of this variety:
Siblings of this variety (same parentage):
Empire - Spartan and Empire are half-brothers
References and further reading
Cedar-Apple Rust  
Author: Stephen Vann, University of Arkansas, Division of Agriculture (FSA7538)
Rated as resistant - control only needed under high disease pressure.
Spartan identification photos from official fruit collections
UK National Fruit Collection
©Crown Copyright
more >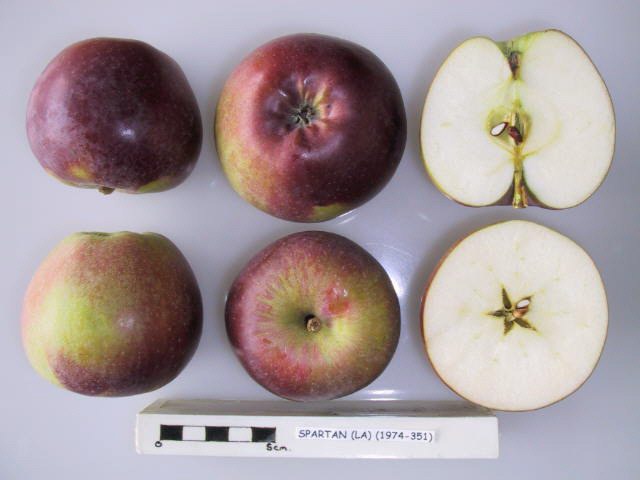 Spartan identification photos from website visitors
Spartan apples - just picked, late October 2008


Fruit tree register
Do you have a tree of this variety in your garden or orchard? If so please register the details here and contribute to our international register of fruit trees.
The following Spartan trees have been registered - click the name to view more details of each tree.
You can also view these trees on a map.
United States
United Kingdom
Australia
Jenny in MELBOURNE, VICTORIA,
New Zealand
Switzerland
Poland
Latest Spring blossom records for this variety
2013 season
30th April  2013  - tree owned by Florian in Brush Prairie, United States
2012 season
12th May  2012  - tree owned by Fruittaart in LYNNWOOD, United States
6th May  2012  - tree owned by Florian in Brush Prairie, United States
26th April  2012  - tree owned by Peter in EYE, United Kingdom
2011 season
2010 season
2009 season
Record your blossom dates in our Fruit Tree Register - more >>.
Latest harvest records for this variety
2013 season
4th week April  2013  - tree owned by Katrina in NELSON, New Zealand
2012 season
2011 season
3rd week October  2011  - tree owned by Tara in Bremerton, United States
4th week September  2011  - tree owned by Colin in , United Kingdom
2010 season
2nd week October  2010  - tree owned by Colin in , United Kingdom
3rd week September  2010  - tree owned by James in York, United Kingdom
2nd week September  2010  - tree owned by Christopher in LYDD, United Kingdom
2009 season
Where to buy apple trees
The following fruit tree nurseries offer Spartan apple trees for sale:
Where to buy apples
United Statesmap >
United Kingdommap >
England - midlandsmap >

England - south-eastmap >

England - south-westmap >