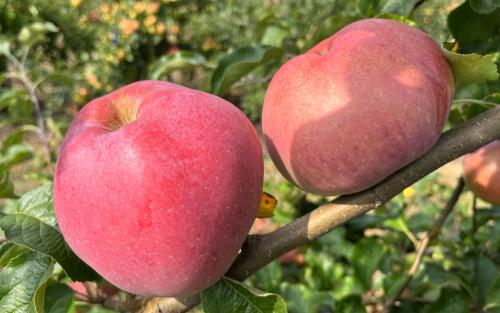 A well-known American cooking apple, notable for its large size. Wolf River is mainly used for cooking, and it keeps its shape when cooked. It is fairly sweet and doesn't need much sugar added.
Wolf River has a very high natural resistance to the disease apple scab, and good resistance to fireblight and mildew. It is also very cold hardy, making it a good choice for growing in the northern part of North America.
Wolf River apple identification images
All images copyright Orange Pippin unless otherwise stated.
USDA identification images for Wolf River
The identification paintings in the USDA Pomological Watercolor Collection span the years 1886 to 1942.
Citation: U.S. Department of Agriculture Pomological Watercolor Collection. Rare and Special Collections, National Agricultural Library, Beltsville, MD 20705.
Visitor reviews
07 Jun 2019 

Steven Holman

MI, United States

I planted 4 wolf river trees in my home orchard..These are decent apples for fresh eating, but they are excellent pie apples..Apples are very large and get a lot of their size later in the growing season. One thing people should remember about many varieties of apples, if you pick them too early, they may not taste quite right..That is true about the wolf river apple..let them mature fully before trying to eat them fresh off the tree..A great apple for anyone who is thinking about planting apple trees

17 Oct 2018 

Janet

WI, United States

I have a wolf river tree for almost 10 years. And yes so far the apples have been spongy, dry , tasteless. Except for this year. We had an abundance of rain here in Wisconsin and an early frost. I had one yesterday and WOW. JUICY , mildly tart, greatTexture, and huge!' Well worth the wait. Best year yet for production!! Branches broke from the weight.

03 Oct 2018 

Roger Smith

PA, Australia

the only good thing my dad had to say about wolf river apple was it looked good and people would buy them

30 Aug 2018 

Ed

PENNSYLVANIA, United States

Agree that the Wolf River is a prized cooking apple. In 1977 when we bought our house, we acquired an old apple orchard that was planted in 1925. Of the 7 or 8 different apple varieties planted we always favored the apples from the one tree that nobody could identify. For 30 years we baked apple pies, crisps, etc. and made buckets of delicious pink applesauce. Sadly that tree has been dying for a few years and left us no choice but to find someone/anyone to identify the apple variety. We mailed an apple to Adams County Nursery in Pennsylvania who not only identified it but also sold us a mail order tree. Two years after planting it we were walking through a Walmart and were surprised to see a Wolf River apple tree buried among the sea of fruit trees for sale. Of course, we just had to buy it. The trees are producing now — although not yet fully mature — and we happily enjoyed an apple crisp with ice cream tonight.

09 Oct 2017 

Priscilla

MN, United States

I don't find Wolf River apples to be sweet - they're not extremely acidic or sour, but I wouldn't call them sweet. They have a very clean, fresh flavor, which I think carries through when they're cooked. They produce a lot of juice in pies, where their flavor intensifies and their mild tartness is heightened. Fairly tasty raw, but really terrific when cooked.

04 Oct 2017 

Lori Anderson

OREGON, United States

I bought these to dehydrate due to their huge size. They dry quickly due to low moisture. When you eat a dried slice, it dissolves into apple sauce. What a treat!

28 Aug 2017 

Brent

WI, United States

I planted a Wolf River four years ago along with around seven other different other varieties. That winter was the coldest I can remember so all the other trees died the following summer. But the wolf river survived just fine. This year the tree had ten large apples on it, so I have been pretty excited about trying one. My daughter and I noticed that one had fallen off the tree on August 27. (Did not freeze yet) So we brought it in the house to try it. Was very disappointed with the taste and texture, very dry and bland with strange almost sponge like texture. I'm hoping the apples will taste better after a frost or if used for cooking.

06 Sep 2016 

Kathryn Earl

IDAHO MOUNTAINS, United States

I planted a Wolf River tree six years ago and picked the first apples this year. Darn. It hasn't frosted yet, so they don't taste very good. Will still enjoy in cooking and do better next year. Love this site. Thank you.

02 Sep 2015 

Debra

WI., United States

what's up with these apples, they are so dry and tasteless its like trying to eat cork board! I'am thinking of pulling out the tree.

25 Jul 2015 

Tina Brownson

WISCONSIN, United States

Theses are the best eating and baking apples ever! We have 10 varieties of apple trees and these are by far the best apples I have ever grown!

26 May 2015 

Karen Tribbett

MAINE, United States

I just moved to an old farm in Maine and was told more than once that I have some Wolf River apple trees out in an orchard! I can't wait to find out which trees they are. This has been a great blog site to understand more about this tree. TY

27 Sep 2014 

Jon

CT, United States

When I was growing up in Wisconsin my dad worked at an apple orchard that had a few Wolf River trees. I remember that I took a huge one to school and gave it to my teacher.

09 Oct 2013 

b Goad

United States

This is one of the best eating ("out of hand") and cooking apples. It is crispy and tart with enough sweetness.

18 Sep 2013 

Jeanette r

WI,FLORENCE, United States

OURS HAS HUGE BEAUTIFUL APPLES BUT NOT QUITE AS TASTY YET,,MAYBE AFTER SECOND FROST

26 Aug 2013 

Aaron Klockzien

WCONSINIS, United States

I remember back in the 1940's a nabor bob gruaman dad had wolf river applestrees on his farm to feed the cows & we use to eat them all the time and bring home for pies ect in 1970 i built my home & planted wolf river apples red & green two verities .They are still producing very good & I added two more . I sell a lot of them . some to the schools for cooking classes up to 100 mles away every year I also have 25 other varities growing that I sell in front of my home. U can get the trees from Jung seed company.

16 Jan 2013 

Madeline Holland

MICHIGAN, United States

When I was a kid (I'm 70 now) we had a wolf river apple tree in our front yard. It was one of about 3 apple trees. We did not farm, so we never sprayed the trees for rose chafers. The other apple trees had fruit that was so wormy and stunted that it was inedible. The wolf river apples, however, did not seem to be affected by the rose chafers and the fruit was very large. One thing, though. If the fruit fell to the ground it would rot almost immediately. We used to go out in the morning and pick up the fruit that had fallen since the day before. My mother would core them and slice them and dip the slices in pancake batter and fry them. They were delicious.

12 Dec 2012 

Paul Schwabe

WI, United States

I grew up with a large standard sized Wolf River tree in our yard. It produced some of the largest apples I have ever seen. The biggest was almost enough for a pie! The flesh is somewhat dry, primarily for cooking only.

23 Oct 2012 

Judy Miller

CA, United States

We have two Wolf River apple trees on our property. They usually produce the largest apple we have ever seen. They are not very good fresh eating but worth growing for they are delicious cooked in various dishes. It is a beautiful tree also. The better of the two trees is right next to our parking lot thus gets all the attention from visitors.

11 Sep 2012 

Luke Schissel

MS, United States

We had one tree of this type on the south side of our apple orchard. I will be in the Winneshiek county area latter on this month and will try to locate this tree as I know precisely where it was. I am more than convinced that the tree I have in mind was a Wolf River.

21 Oct 2011 

Paul Bulas

ONTARIO, Canada

Found Wolf River for the first time at the St. Jacobs Farmers' Market north of Kitchener-Waterloo. I found the apples to have a tart, subtle flavour; definitely something "old style" about the taste. They are attractive apples. I juiced some to add to my cider blend.

30 Sep 2011 

Maija

ONTARIO, Canada

These awesome apples are getting harder to find. Many years ago I did an experiment with three apples (Spy, Cortland, Wolf River). I made three pies, exactly the same, but each with a different apple. I took these three pies to a dinner party. I told everyone that they HAD to have a slice of each, even if that slice was a smidgen. Only I knew which pie was which. All eleven people at that dinner chose the Wolf River pie, hands down! Amazing, eh?! I just called to order a bushel where I have always gotten them, and discovered they can no longer get them! The farmer that had them had cleared them out to plant something else! That's bordering on sinful!

23 Jan 2011 

Debra

BRITISH COLUMBIA, Canada

Debra ~ Seameadows Farm/BC. We very much enjoy the wolf river apple after having tasted it fresh picked at the annual Salt Spring Island apple festival held late Aug/early Sept. The pies made locally are also available (and although a bit high in cost, the money go to local charity). wow! They are certainly a variety I would endorse, however not sure if they require a freeze prior to good taste as we really don't have a good freeze here annually, at least not before harvest.

22 Oct 2010 

Teri Davis

MASS, United States

I was told this apple needs to be hit by a frost before it gets its full flavor..an Old Farmer told me that it was considered a "Frost Apple" This would explain the blah flavor ....some people think the apple is tasteless...they eat it before the frost!

19 Sep 2010 

Mary

MONTANA, United States

I bought them at a local supermarket when I lived in Michigan, I thought they were awsome and delicious. They were the biggest apples I ever saw and good pie apples too. I would like to get ahold of a twig or two to graft on my apple tree to carrie on their legecy.

23 May 2010 

Gordon Reid

ONTARIO, Canada

I happened to be recalling my youth and how we used to climb this large apple tree in a cow pasture very close to my home in Madoc Ontario, and eat these incredibly large apples. This routine would repeat itself many times over the days of my youth. We snacked on these giants many times.....sometimes not by choice, as the cattle would chase us up the tree. I can recall my friends mother calling them Wolf River apples. The tree is located on the edge of town, in Madoc Ontario where I grew up. I will make a point of going to the site again to check on this tree, now that I know they live to such an old age. Gordon Reid Campbellford, Ontario

20 Apr 2010 

Hamlin Grange

ONTARIO, Canada

We have two Wolf River apple trees that are more than 100 years old. Every other year we get an abundant amount of fruit. Almost too much! Of course I make pies with them (they are wonderful frozen and uncooked...just pop them in the oven). My wife makes apple and mint jellies with them. Outstanding!! Would love to know how to do a graft of the trees before they are gone forever.

29 Mar 2010 

R

MICH, United States

you need to buy a grafted wolf river tree to get wolf river apples. try jungs, or henry field's, or google others. this apple is rather blah for my taste, but if you add lemon, it helps.

29 Mar 2010 

R

MICH, United States

there are a lot of catalogs that carry wolf river. origin in wolf river, wis. your seeds may grow into something good, it will take years to know. do not expect to get wolf river apples from the seeds tho. you have to graft to do that, or buy a grafted tree. some people like wolf river, they are big, but rather blah for my taste. add cinnamon, sugar and lemon and they can come out decent. try jungs, or henry field catalogs, or google for them.

20 Mar 2010 

Jeremy Strickland

ID, United States

I recently acquired some Wolf river apple seeds from my grandfathers tree. His tree is in Washington state on the west side of the mountains. He says that about every other year the tree is packed, the year before last it produced 40 boxes worth of apples. His largest apple to date was 8" in diameter and 24" around, I am trying to grow some seeds he sent me to see if they will grow here in Idaho and was wondering if anyone has any suggestions. I'm using a small store bought green house just to get the seeds to sprout. My biggest problem is that none of the nurseries around here have even heard of the Wolf river apples, nor have they ever heard of an apple that grows that big. Thank you for any suggestions you might have.

12 Dec 2009 

Mary Good

SEARSMONT, WALDO, MAINE, United States

I remember a wild Wolf River apple tree years ago in Searsmont. I am planning on planting some apple trees and wondered if that was really a type of apple or just a local name. They made the best pies. So glad to have found this.

09 Oct 2009 

Kathy Gibbs

ARGONNE, WI, United States

We have a very old Wolf River in our front yard. It still bears beautiful big apples that make wonderful pies and sauce. I would like tofind a location to buy a new tree to start in the event this one should die. We have many varieties of apple trees on the farm but love this old one that started it all.

07 Oct 2009 

Jean

SIMCOE COUNTY, ONT., Canada

Wolf River are my favourites for pie. They hold their shape better after cooking than any other variety I've tried. They are so big they won't fit in my apple peeler, corer and I have to peel most of them by hand. My hand is not big enough to hold many of them and it gets all cramped up, LOL, small price to pay for these wonderful fruit. They are NOT good to eat out of hand, tasting unlike any other apple I've eaten and having a solid, mealy texture. They are hard to find.

05 Oct 2009 

Teresa

EWEN, MI, United States

I have a wolf river apple tree, planted about 6 years ago. This year it is full of big beautiful apples...with absolutely no taste, either sweet or tart. Do they need time to develope flavor? At this point I am very disappointed in them.

29 Sep 2009 

Kelly Tardani

GRAND HAVEN, MI, United States

I love the Wolf River apple, VERY LARGE, 1-2 make a very nice pie. I counted, 30 to a 1/2 bushel. I make sauce, pie, crisp with them. Wonderful apple!! Got them off Maple Island Road in Muskegon County.

27 Sep 2009 

Ron

EAU CLAIRE, WI, United States

I planted a Wolf River apple tree 5 years ago originally intending it to be ornamental, but now its big and beautiful and I would like it to bear. Can someone tell me how well does a flowering crab tree do as a pollinator and how close or far away should it be planted?

13 Sep 2009 

Melissa

LAFAYETTE COUNTY, WISCONSIN, United States

My Wolf River variety bore substantial fruit for the first time this year. (It's seven years old, but has not received the best of care) The apples are as big as a supermarket variety, good for eating out of hand. They are not mealy, and have a nice dry, meady taste.

04 Jun 2009 

Nancy Wilson

ONTARIO, Canada

I've never had a tree of this variety, but I used to buy these at Stouffeville farm market, years ago.....they're delicious for sauce......sauce is tart & has a slightly "bitter" flavour(maybe the word "bitter" sounds bad, but, I dont know how else to describe it.....I guess it's like with beer, where a bit of bitterness is actually delicious). Not so good fresh IMO....& yes, they're a BIG apple, about the same as Spy's , the ones I've bought, anyway.

17 May 2009 

Don Wheeler

TAMWORTH ONTARIO, Canada

So did I. I estimate the tree to be 80 to 100 yrs old. Still flowering but apples not too big. Told that 1 apple could make 1 pie by my grandmother.

01 Feb 2009 

Jane Paul

KINGSTON, ONTARIO, Canada

We had a Wolf River applie tree in our backyard when I was growing up. Mum made pies with the apples (and applesauce with the windfalls). The apples held their shape and were delicious, sweet-tart.
Tree register
Spring blossom records for this variety
2019 season
2018 season
2015 season
2014 season
2012 season
2011 season
2010 season
2009 season
Record your blossom dates in our Fruit Tree Register - more >>.
Harvest records for this variety
2018 season
2017 season
2015 season
2012 season
2011 season
2010 season
2009 season
Origins
Species: Malus domestica - Apple
Parentage: Alexander seedling?
Originates from: Wolf River, Wisconsin, United States
Introduced: 1870s
UK National Fruit Collection accession: 1943-005
We are grateful to Brogdale Farm - home of the UK National Fruit Collection - for providing samples of this variety.
Identification
Country of origin: United States
Period of origin: 1850 - 1899
Flower colour: White
Leaf colour: Green
Popularity: Best sellers
Annual cycle: Deciduous
Using
Picking season: Late
Keeping (of fruit): 3 months or more
Flavour quality: Good
Flavour style (apples): Sweeter
Cooking result: Keeps shape
Discoloration of fruit: Slightly oxidising (browns slowly)
Cropping: Heavy
Fruit persistence: Normal ripening
Food uses: Culinary
Food uses: Juice
Food uses: Traditional cooker
Picking period: mid-September
Wildlife: RHS Plants for Pollinators
Growing
Gardening skill: Beginner
Flowering group: 3
Pollinating others: Average
Ploidy: Diploid
Vigour: Vigorous
Precocity: Slow to start bearing
Bearing regularity: Regular
Fruit bearing: Spur-bearer
Organic culture: Suitable
Self-fertility: Not self-fertile
Climate
Cold hardiness (USDA): (3) -40F / -40C
Climate suitability: Temperate climates
Summer average maximum temperatures: Cool ( 20-24C / 68-75F)
Summer average maximum temperatures: Warm (25-30C / 76-85F)
Other qualities
Disease resistance: Good
Scab (Apple and Pear): Very resistant
Powdery mildew: Very resistant
Canker: Some resistance
Cedar apple rust: Some resistance
Fire blight: Some susceptibility
Where to buy trees
The following tree nurseries offer Wolf River apple trees for sale:
Where to buy fresh fruit
The following orchards grow Wolf River:
United States
Canada
British Columbia

Nova Scotia