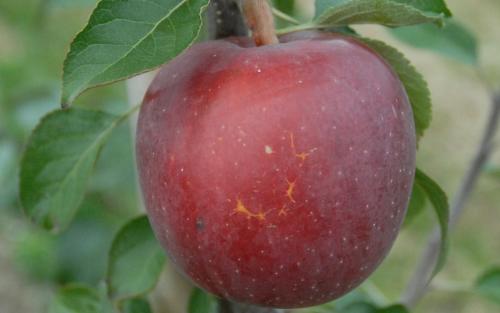 Enterprise is a good example of a modern apple developed specifically for disease resistance. Its parentage is complex, and involved cross-breeding a large number of varieties including McIntosh, Golden Delicious, and Rome Beauty - as well as the ubiquitous crab apple Malus floribunda, a well-known source of a gene for scab-resistance. It is probably closest to McIntosh in overall appearance, although this is not a "Mac" style apple and it does not have the vinous flavor associated with Macs.
The apples are a glossy red color, ripening in late October. They can be stored for 3-6 months in a domestic fridge. The skin is quite thick and tough - which helps resist insects and infections. Whilst Enterprise is good for eating fresh, it is perhaps even better as a cooking apple where its tart flavor can be used to advantage.
Being easy to grow and with versatile uses, Enterprise has rapidly established itself as a popular garden apple variety. Its good disease resistance makes it an excellent choice for growers who favor an organic or (better still) a no-spray regime
More details about this variety are available on the joint Purdue University / Rutgers University / University of Illinois website - click here.
Enterprise apple identification images
All images copyright Orange Pippin unless otherwise stated.
USDA identification images for Enterprise
The identification paintings in the USDA Pomological Watercolor Collection span the years 1886 to 1942.
Citation: U.S. Department of Agriculture Pomological Watercolor Collection. Rare and Special Collections, National Agricultural Library, Beltsville, MD 20705.
Parents and other ancestors of this variety
Offspring of this variety
Visitor reviews
16 Apr 2023 

Sarah Macdonald

Have not had the pleasure of trying the apples from this variety but have had zero disease problems with it so far. One on a rootstock from Grandpa's orchard has been less than vigorous but a second one I grafted myself onto a seedling has grown really well. Can't wait to try the apples from this variety. For Ken Meter, apples and cross naturally all the time. No genetic engineering was used to create this variety.

09 Feb 2023 

Ken Meter

From this description it appears that genetic modification has been used to insert crabapple genetics into the Enterprise variety. If so, how can these apples, or Cosmic Crisp derived from Enterprise, be labelled as "organic"?

20 Nov 2022 

Jeff Kanters

Need to know the flowering period for this apple in order to be able to ensure can cross pollinate with apples that flower around that same time. Not found listed at all.

16 Dec 2014 

Steven

MAINE, United States

A top U-Pick apple: great baking and storing qualities, great flavor, hangs very well, a long one-month harvest window. However, contrary to the literature, the leaves at least are not particularly resistant to the Cedar Apple Rust in our area. That said, it is one of the easiest apples to grow.

28 Sep 2014 

Jon

CT, United States

I ate some of these today and enjoyed the sweet flavor. The apples were large and very red.

26 Jan 2013 

Ed

WASHINGTON, United States

I really enjoyed eating this apple. Nice balance of sweet and tart. Large apple, and thick skinned.

22 Sep 2012 

Janice Emmons

ILLINOIS, United States

This is a great apple. I have had a semi-dwarf tree that has borne for over ten years and it never fails me. Apples look great and taste great and keep for at least six months. It has had apples when no one elses trees have had any.

05 May 2012 

Jay &Amp; Sandy Gray

VIRGINIA, BEDFORD, United States

I just moved to Virginia last year. The tree was here. Needed pruning bad. I lightened it substantially in February. A lot of blooms early because of the warm weather. Does anyone think this will be an early harvest. The apples are already the size of a cherry tomato Any advice? A lot of apples the tree is very mature 22 feet high 20 feet across. J.

16 Oct 2011 

Ray

NY, United States

My 3 year old Enterprise tree bore it's first apple this year. A single apple. I had read several reviews of Enterprise that rated it's taste as average to good with thick skin. I was pleasantly surprised. Quite tasty and fairly tangy. It was quite red, but probably could have stood on the tree a bit longer. The skin is thick, similar to Mutsu. Very firm and crunchy. Very easy to grow so far and very disease resistant although aphids seem to prefer it over other apples.

15 Feb 2011 

Karen In Wa

WA, United States

This is an outstanding apple! I have 1 tree that is over 10 years old and it reliably produces every year, even when all the rest of the trees have no apples (2010 summer). We don't spray or treat our trees with anything, just pruning. All other trees we have get scab except Enterprise. Apples keep until Thanksgiving and Christmas and are excellent for cooking pies. Skin gets progressively more wax in storage. They are "ok" for fresh eating, not bad, just not fantastic. Highly recommended for ease of growing and beautiful apples that keep!
Tree register
Spring blossom records for this variety
2022 season
2021 season
2020 season
2019 season
2018 season
2017 season
2015 season
2014 season
2013 season
2012 season
2011 season
Record your blossom dates in our Fruit Tree Register - more >>.
Harvest records for this variety
2018 season
2017 season
2015 season
2013 season
2012 season
2011 season
2010 season
Origins
Species: Malus domestica - Apple
Originates from: United States
Introduced: 1994
Developed by: Joint breeding programme of Indiana, Illinois, and New Jersey Agricultural Experiment Stations.
Identification
Country of origin: United States
Period of origin: 1950 - 1999
Fruit colour: Crimson
Leaf colour: Green
Popularity: Best sellers
Annual cycle: Deciduous
Using
Picking season: Very late
Keeping (of fruit): 3 months or more
Flavour quality: Good
Flavour style (apples): Sweet/Sharp
Discoloration of fruit: Very oxidising (browns quickly)
Cropping: Good
Fruit persistence: Normal ripening
Food uses: Eating fresh
Food uses: Culinary
Picking period: late October
Wildlife: RHS Plants for Pollinators
Growing
Gardening skill: Beginner
Flowering group: 4
Pollinating others: Average
Ploidy: Diploid
Vigour: Vigorous
Bearing regularity: Regular
Fruit bearing: Spur-bearer
Organic culture: Suitable
Self-fertility: Not self-fertile
Climate
Cold hardiness (USDA): (4) -30F / -34C
Climate suitability: Temperate climates
Climate suitability: Warm climates
Summer average maximum temperatures: Cool ( 20-24C / 68-75F)
Summer average maximum temperatures: Warm (25-30C / 76-85F)
Other qualities
Disease resistance: Good
Scab (Apple and Pear): Very resistant
Fire blight: Very resistant
Powdery mildew: Some resistance
Cedar apple rust: Some resistance
Where to buy trees
The following tree nurseries offer Enterprise apple trees for sale:
Where to buy fresh fruit
The following orchards grow Enterprise:
United States
Alabama

Arizona

Arkansas

Connecticut

Georgia

Illinois

Indiana

Iowa

Kentucky

Maine

Massachusetts

Michigan

Missouri

Nebraska

New Hampshire

Ohio

Oklahoma

Pennsylvania

Virginia

Wisconsin
References
Cedar-Apple Rust  
Author: Stephen Vann, University of Arkansas, Division of Agriculture (FSA7538)
Rated as very resistant - no control needed against CAR.