Zestar!
®

apple

Malus domestica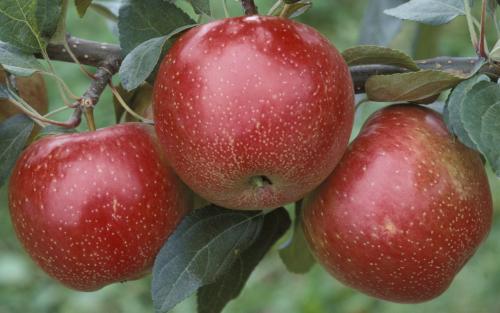 Zestar! is a early season apple that comes from the University of Minnesota breeding program (trademarked, USPP#11367). It is a good solid early apple, with a sweet-tart taste and a hint of brown sugar flavoring. The apple is medium in size, round, with red cover over 60-75% of the skin depending on sun exposure, and yellow undercolor. The flesh is white with a crisp texture, and while a nice texture for cooking the apple does tend to brown fairly quickly.
For an early season apple the taste is very good, and it also has a good shelf-life of a couple months. It is one of the parents of the new popular US variety, Sweetango.
Zestar! was developed for cold-hardiness, and performs best in cool climates. It is hardy down to zone 4.
Zestar! apple identification images
All images copyright Orange Pippin unless otherwise stated.
USDA identification images for Zestar!
The identification paintings in the USDA Pomological Watercolor Collection span the years 1886 to 1942.
Citation: U.S. Department of Agriculture Pomological Watercolor Collection. Rare and Special Collections, National Agricultural Library, Beltsville, MD 20705.
Parents and other ancestors of this variety
Offspring of this variety
Visitor reviews
10 Sep 2018 

Khashline@Gmail.Com

NY, United States

Tried my first ever Zestar! today and what a treat it was. The flavor was super sweet and with just a hint of tart mixed in. Flesh was more flavorful then I was expecting with this apple. I planted 5 of these this past spring on B9 and I'm really excited about trying one fresh off the tree in the next couple of years. Highly recommend this apple.

06 Nov 2016 

Christopher Herbst

CA / HUMBOLDT COUNTY, United States

This is one of my favorite early apples I'm growing in my trial orchard in coastal NW California. Sweet and rich flavored with nice crunch and texture.

29 Aug 2016 

Guy Maddox

ILLINOIS, United States

Bought at Edward's Apple Orchard Northern Illinois. Excellent Taste with sharp sweet taste. Highly recommend.

09 Sep 2015 

Marsha Bailey

ONTARIO, Canada

I first purchased zestars at a local farmers' market last year and loved them. This year's apples are even better. Lots of tartness with a touch of brown sugar and a good crunch. I eat alot of apples and this year's zestars are amongst my favourites.

02 Sep 2014 

Renate s

NEW JERSEY, United States

Zestar is tart/sweet juicy. The crisp but not hard texture is just perfect. Purchased these in Delaware County NY 08/31/14. One of the first early apples available at the co-op. Wonderful.

21 Oct 2013 

Brent

MN, United States

Kurt - If you just bought it and ate it (close to the date of your review), the fruit was likely picked upwards of 6 weeks ago. The mealiness you experienced was probably a result of bad shipping or storage. A properly stored Zestar will never be mealy. Zestar doesn't have the highest flavor intensity, but it should have been tart with a good sweetness.

15 Oct 2013 

Kurt

MN, United States

Wow from the comments I've been reading, Byerly's must have had them mislabeled. But, I don't think so. It was a pretty apple from the outside, one bite...it was mealy, lacked flavor...I wouldn't even think of cooking with them. I think the UofM needs to go back to the drawing board!

27 Sep 2013 

Rita

MINNESOTA, United States

I bet this apple will be great for use in baking were you want an apple that is crisp and tart, yet still has a sweetness to it. No hint of the brown sugar taste that was in the describtion, however reminds me of the candy "Sweet-Tarts".

11 Sep 2012 

Greg

WI, United States

Purchased these recently (9/6/12) , hadn't seen them before. These are EXCEPTIONAL! Sweet & tart, juicy, crisp...what more could one want in an apple?

08 Sep 2012 

Anna

VA, United States

I usually won't eat apples from the grocery store (preferring "real" apples from the fruit stand), but Zestar made the cut. It's tart and nearly as full-bodied in flavor as Winesap, but with a crispness that keeps my husband happy. Top notch!

03 Sep 2012 

Isaiah

OREGON, United States

Very fragrant, sweet-tangy, crisp, light apple with floral tones. I also did not detect brown sugar taste, but it did remind me of some kind of candy - not sure what kind!

27 Aug 2012 

Tracy

VERMONT, United States

We just discovered this apple at our local orchard. We love the taste, sweet yet with some tartness. I am a diehard Cortland fan, but Zestar will definately be my early season apple.

30 Sep 2011 

David M. Taylor

WI, United States

This is one of the very best newer apples out there. Very crunchy and juicy, and much more smackingly tart than sweet, with just a very pleasant appley flavor. (I also do NOT detect any "brown sugar" flavor at all.) I would guess this should be a great apple for cooking and cider making as well as fresh eating -- very versatile! Can't wait to make some cider of this one!!

19 Sep 2011 

Matt

WISCONSIN, United States

"Zest" is the word. If you like an apple to open your eyes and slap your taste buds than this is the apple for you. It is crisp with sweetness to balance the zing. Keeps well for an early apple.

31 Aug 2011 

Zman

MA, United States

A very tasty apple, a very nice sweet-tart combo. Supposedly it tastes of brown sugar, but I do not detect that. It is crisp and the skin is delicious as well as the fruit. Will definetly buy it again.
Tree register
Spring blossom records for this variety
2022 season
2019 season
2016 season
2015 season
2014 season
2013 season
2012 season
Record your blossom dates in our Fruit Tree Register - more >>.
Harvest records for this variety
2022 season
2018 season
2017 season
2016 season
2015 season
2014 season
2013 season
Origins
Species: Malus domestica - Apple
Parentage: State Fair x MN 1691
Originates from: Minnesota, United States
Introduced: 1999
Developed by: University of Minnesota
Identification
Country of origin: United States
Period of origin: 1950 - 1999
Fruit colour: Green / Red
Flower colour: White
Leaf colour: Green
Annual cycle: Deciduous
Developer: University of Minnesota
Using
Picking season: Early
Keeping (of fruit): 2-3 weeks
Flavour quality: Good
Flavour style (apples): Sweet/Sharp
Cropping: Good
Food uses: Eating fresh
Picking period: late August
Wildlife: RHS Plants for Pollinators
Growing
Gardening skill: Average
Flowering group: 1
Pollinating others: Average
Ploidy: Diploid
Vigour: Average vigour
Precocity: Precocious
Growth habit: Upright
Fruit bearing: Spur-bearer
Self-fertility: Not self-fertile
Climate
Cold hardiness (USDA): (4) -30F / -34C
Climate suitability: Temperate climates
Summer average maximum temperatures: Cool ( 20-24C / 68-75F)
Summer average maximum temperatures: Warm (25-30C / 76-85F)
Summer average maximum temperatures: Cold (< 20C / 67F)
Other qualities
Disease resistance: Average
Powdery mildew: Some resistance
Fire blight: Some resistance
Cedar apple rust: Some resistance
Scab (Apple and Pear): Very susceptible
Where to buy trees
The following tree nurseries offer Zestar! apple trees for sale:
Where to buy fresh fruit
The following orchards grow Zestar!:
United States
Canada