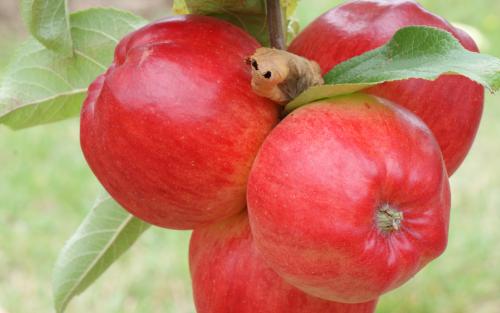 A disease resistant summer apple developed by PRI. The scab resistance comes from the incorporation of Malus floribunda, a crab apple.
Redfree apple identification images
All images copyright Orange Pippin unless otherwise stated.
USDA identification images for Redfree
The identification paintings in the USDA Pomological Watercolor Collection span the years 1886 to 1942.
Citation: U.S. Department of Agriculture Pomological Watercolor Collection. Rare and Special Collections, National Agricultural Library, Beltsville, MD 20705.
Parents and other ancestors of this variety
Offspring of this variety
Visitor reviews
05 Sep 2018 

Adam

ME, United States

One of the worst apples I've tried, and I eat at least one apple a day. Soft and flavorless. Maybe I got a bad batch, but will avoid in the future.

24 Oct 2017 

Don

MICHIGAN, United States

Picked mid August, ate some and made apple sauce . Enjoyed, good flavor and texture. Would recommend Redfree to others. Extremely low maintenance tree

21 Jul 2017 

Jim

PA, United States

July 21 and our Redfree apples are ready--crisp and juicy and just the right size for a snack. Many more than we'll be able to eat. My wife is going to dry some, and I'm thinking about getting out the cider press. I don't know what kind of cider they will produce, but I won't know unless I try.

23 Jun 2016 

Gil Schieber

WASHINGTON, United States

I agree with the above. W.P is a better apple, but if you like the snaping texture of crisp (which it holds for a week or so) then this is fresh eating mild apple. Most importantly for me is the Scab resistance.

20 Sep 2011 

Matt

WISCONSIN, United States

Redfree are nice early season eating apples. The flavor is balanced sweet with a bit of zing but very mild over all. The best feature of these apples are their outstanding texture when eaten out of hand. Redfree apples are a simple refreshing treat that has built disease resistance. I prefer William's Pride to Redfree. W.P. is also an early dessert-quality apple with disease resistance but seems to have something more to the flavor than just sweet. I say try both!
Tree register
Spring blossom records for this variety
2012 season
June  2012  - tree owned by Patsy in Mont-Tremblant, Canada
April  2012  - tree owned by Steve in Ferndale, United States
Record your blossom dates in our Fruit Tree Register - more >>.
Harvest records for this variety
Origins
Species: Malus domestica - Apple
Parentage: Raritan x PRI 1018-101
Originates from: United States
Introduced: 1981
Developed by: PRI (Purdue, Rutgers, Illinois Co Op)
UK National Fruit Collection accession: 1983-052
Identification
Country of origin: United States
Period of origin: 1950 - 1999
Fruit colour: Red
Leaf colour: Green
Annual cycle: Deciduous
Using
Picking season: Early
Keeping (of fruit): 2-3 weeks
Flavour quality: Good
Flavour style (apples): Sweet/Sharp
Discoloration of fruit: No discoloration (Good for drying)
Cropping: Good
Fruit persistence: Normal ripening
Food uses: Eating fresh
Picking period: early September
Wildlife: RHS Plants for Pollinators
Growing
Gardening skill: Beginner
Flowering group: 3
Pollinating others: Good
Ploidy: Diploid
Vigour: Average vigour
Bearing regularity: Regular
Fruit bearing: Spur-bearer
Organic culture: Suitable
Self-fertility: Not self-fertile
Climate
Cold hardiness (USDA): (4) -30F / -34C
Climate suitability: Temperate climates
Climate suitability: Warm climates
Summer average maximum temperatures: Cool ( 20-24C / 68-75F)
Summer average maximum temperatures: Warm (25-30C / 76-85F)
Other qualities
Disease resistance: Good
Scab (Apple and Pear): Very resistant
Cedar apple rust: Very resistant
Powdery mildew: Some resistance
Fire blight: Some resistance
Where to buy trees
The following tree nurseries offer Redfree apple trees for sale:
Where to buy fresh fruit
The following orchards grow Redfree:
United States
Canada
References
Cedar-Apple Rust  
Author: Stephen Vann, University of Arkansas, Division of Agriculture (FSA7538)
Rated as very resistant - no control needed against CAR.