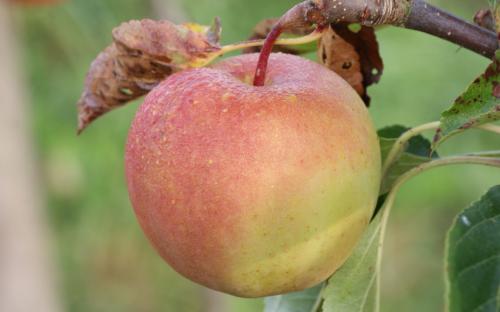 GoldRush is an attractive smooth-skinned modern dessert apple, specifically developed for scab-resistance. The flavour is good, typical of Golden Delicious but with a bit more acidity. As a relatively new variety there is not much experience yet, but it appears to be good at most of the things Golden Delicious is good at, including keeping well and with excellent juice.
The variety is derived from Golden Delicious as the seed parent, with crosses from several other research varieties including Winesap, Melrose, Rome Beauty and Malus floribunda - the latter being a well-known source of the Vf scab-resistant gene.
More details of the scientific programme that led to GoldRush can be found at the Purdue University website: http://www.hort.purdue.edu/newcrop/pri/coop38-3.html. GoldRush is sometimes known by its programme reference Coop38.
GoldRush makes a good garden apple variety - heavy-cropping, good disease-resistance, winter-hardy, and almost foolproof to grow. Its one drawback is susceptibility to Cedar Apple Rust (CAR).
GoldRush apple identification images
All images copyright Orange Pippin unless otherwise stated.
USDA identification images for GoldRush
The identification paintings in the USDA Pomological Watercolor Collection span the years 1886 to 1942.
Citation: U.S. Department of Agriculture Pomological Watercolor Collection. Rare and Special Collections, National Agricultural Library, Beltsville, MD 20705.
Parents and other ancestors of this variety
Visitor reviews
14 Dec 2019 

Matthew Foertsch

KENTUCKY, United States

This apple is incredible. My new favorite apple. I tried it by chance and had to go on a hunt talking to people to find out what it was. The hunt was so worth it because i now have a full basket of them! Tart but sweet at the same time with a decent amount of acidity is the flavor. You will not regret buying these. Soooo much better than red delicious or golden delicious it's ridiculous

01 Oct 2019 

Christophe

PA, United States

My favorite snacking apple. It is very dense and crunchy, and has a very bold taste which is both tart and sweet. Size wise, it's is not too small, and not too big. Finally, it remains available (and crunchy!) throughout winter and even into Spring in Pennsylvania, USA.

18 Dec 2018 

BeN62

Eclimeux, France

découvert chez un petit pépiniériste du Nord de la France, celle ci présente l'avantage de pouvoir se consommer sur l'arbre tout l'hiver! elle n'en sera que meilleure puisque qu'elle sera moins acide ! l'arbre est de bonne vigueur , de type IV de fructification, la pomme peut présenter des points rouges qui sont une forme de résistance à la tavelure. en revanche à tendance à se friper dès le mois de février dans les caisses même si bien conservée.

13 Dec 2018 

Tom Watson

NEW YORK, United States

Great apple for eating and an exceptional Apple for Pies and Crisp

17 Apr 2018 

Bill Beckett

LONDON, United Kingdom

I found a Farm shop here in the UK that had some of these apples for sale. Now its 16th April and was suprised to see an apple available so late. Its a wonderful tasting Apple very tart and sweet.

17 Apr 2018 

j t Miles

MASSACHUSETTS, United States

I agree that it is a great apple. I find it to be a little small (thinning doesn't help much), and the apple is not especially attractive. It wrinkles in storage like Golden Delicious, so I plan to start storing in plastic bags.

24 Dec 2016 

R. Pickard

LOUISIANA, United States

Just tried this apple from a Gift box from Cummins Nursery, Wow, what flavor! Love the sweetness with just enough acid to blend. My favorite apple so far!

09 Nov 2016 

Don

United States

Found at fruit stand here in Central VA. Delicious apple, crisp and flavorful. Reasonably priced at 1.29 per pound.

06 Oct 2016 

Nikolas Marosfalvy

VA - VIRGINIA, United States

A PA based apple grower at my local farmer's market has been selling these the past few years. Probably the best apple I've ever had. Wonderful flavor.

25 Nov 2013 

sallygodard@earthlink.net

Oregon, United States

Our first crop of Gold Rush was just picked at the end of November here in Oregon. It's already a favorite! Both tart and sweet, with a pleasing late season crunch. Wish we had enough of them to make cider -- time to plant a couple more trees of this variety.

26 Dec 2012 

Annee Borthwick

NY, United States

Have an urban garden and am looking at those apples that please me and who's color will not be irresistible to the passerby

08 Nov 2012 

M. Reed

TX, United States

Why on earth would you eat a Golden Delicious when you could eat one of these?! Tried a small one from an organic farm in Kansas in early November. Juicy, crisp, and intensely sweet, balanced nicely by acid.

25 Jun 2012 

Kirk

OREGON, UNITED STATES, United States

We pick this apple in early November and put it in bags in a detached and unheated garage (that doesn't get too far below freezing). The apples finish ripening off the tree (in our garage) in December and January. We don't bother eating them until January after the flavor develops. The apples are excellent until we run out of them in May. Even when the outside gets wrinkled in later storage, the inside is still juicy and intensely flavorful. Even the wrinkled skin is nice to eat because it's not waxy. We're going to plant more of these trees.

08 Jun 2012 

Kim Barson

VA, United States

These are the tastiest apples I have ever tried! The local Farmers Market had samples and I am hooked. It is almost summer and these apples still have terrific flavor. I am wondering if the flavor is still this good so long after harvest, when they are fresh, would the flavor be too intense?

15 Feb 2012 

Ray

NY, United States

An excellent apple and an excellent tree for home orchard. Very easy to grow. You will need to spray for cedar rust if you have cedars nearby and they are prone to late summer diseases (Sooty blotch and flyspec) if the weather is wet. Wonderful tasting after storage for 6 weeks or more and stores exceptionally well. Makes one of the best pies I've ever tasted.

16 Jan 2011 

P. Seburn

NW VA, United States

A wonderful apple in VA, intense flavor and very firm dense flesh that keeps forever. My two young trees seem to be very disease resistant and manageable. Nice deep green waxy foliage like many of the more disease resistant cultivars.

01 Dec 2010 

Ted

PENNSYLVANIA, United States

Goldrush apples are great here in eastern PA. They are by far the favorite apple of our family. The trees bear young and heavily. A real winner in a backyard orchard.

28 Nov 2010 

Pat Lyon

DODDOGNE, France

this is an amazing apple that we buy by the crate from a local apple farm. Where can we buy some young trees of our own here in France?

13 Nov 2010 

Stemy Mynhier

SC, United States

Tried this apple at Century Farms Orchards in NC. It is now one of my new favorite apples. It is nice crisp apple and is very sweet with a very rich, complex flavor.

12 Oct 2010 

Bettina Bruss

BRUSSELS, Belgium

Where can I buy a gold rush apple tree in Belgium?
Tree register
Spring blossom records for this variety
2022 season
2020 season
2019 season
2018 season
2017 season
2014 season
2013 season
2012 season
2011 season
2010 season
Record your blossom dates in our Fruit Tree Register - more >>.
Harvest records for this variety
2020 season
2019 season
2018 season
2017 season
2016 season
2015 season
2011 season
Origins
Species: Malus domestica - Apple
Parentage: Seed parent is Golden Delicious
Originates from: Purdue Research Farm, West Lafayette, Indiana, USA, United States
Introduced: 1990s
Developed by: Joint breeding programme of Indiana, Illinois, and New Jersey Agricultural Experiment Stations.
Identification
Country of origin: United States
Period of origin: 1950 - 1999
Fruit colour: Yellow / Orange
Leaf colour: Green
Popularity: Best sellers
Annual cycle: Deciduous
Alleles: 2
Alleles: 28
Using
Picking season: Very late
Keeping (of fruit): 3 months or more 

Will store for 6 months in domestic fridge

Flavour quality: Very good
Flavour style (apples): Sweeter 

Some sharpness when picked, mellows in storage

Discoloration of fruit: Slightly oxidising (browns slowly)
Cropping: Heavy
Fruit persistence: Persistent
Food uses: Eating fresh
Food uses: Culinary
Food uses: Hard cider
Picking period: mid-November
Wildlife: RHS Plants for Pollinators
Growing
Gardening skill: Beginner
Flowering group: 4
Pollinating others: Average
Ploidy: Diploid
Vigour: Average vigour 

Naturally suited to central-leader training

Bearing regularity: Biennial tendency
Fruit bearing: Spur-bearer
Organic culture: Suitable
Self-fertility: Not self-fertile
Feathers on maiden: Rarely has feathers (whip)
Climate
Cold hardiness (USDA): (5) -20F / -29C
Climate suitability: Temperate climates
Climate suitability: Warm climates
Summer average maximum temperatures: Cool ( 20-24C / 68-75F)
Summer average maximum temperatures: Warm (25-30C / 76-85F)
Summer average maximum temperatures: Hot (>30C / 86F)
Other qualities
Disease resistance: Good
Scab (Apple and Pear): Very resistant
Powdery mildew: Very resistant
Fire blight: Some resistance
Cedar apple rust: Some susceptibility
Where to buy trees
The following tree nurseries offer GoldRush apple trees for sale:
Where to buy fresh fruit
The following orchards grow GoldRush:
United States
Canada
References
Cedar-Apple Rust  
Author: Stephen Vann, University of Arkansas, Division of Agriculture (FSA7538)
Rated as highly susceptible - control always needed where CAR is prevalent.
Apples for the 21st Century
Author: Manhart
Some Antique Apples for Modern Orchards, (2008)
Author: Merwin I.A.