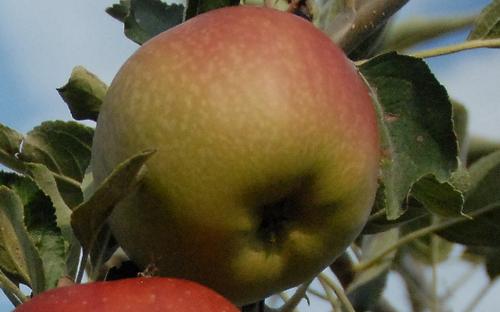 This highly respected American apple variety is named after the settlement of Esopus, Ulster County, New York, where it was found towards the end of the 18th century. It was rumoured to be Thomas Jefferson's favourite apple. It was widely planted in the USA in the 19th century and used for both dessert and culinary purposes, but subsequently fell out of fashion although it remains a popular variety for gardeners and trees are available from many US nurseries. The apples have an excellent flavor, which improves with storage.
Whilst American apple enthusiasts often seek out European (and especially English) heritage varieties, there is unfortunately little interest in American heritage varieties in Europe. It's apparent from the comments we get from visitors to this website that American and European tastes in apples are quite different, with Europeans apparently prefering slightly more complex flavours. However, if there was ever an American variety that should appeal to European tastes, it must be Spitzenberg. The flavour is truly aromatic and matches the complexity of the English aromatic apples. The flesh is a buttery dense yellow, and there is a rich sharpness which is often characteristic of high quality dessert apples. Eating a Spitzenberg is a thoroughly enjoyable experience. In terms of supermarket varieties, the closest match is probably Jazz, which also has similar dense flesh and rich sharp flavours.
It's unfortunate that some of the best flavoured apples are also the least reliable to grow (think Cox's Orange Pippin). Spitzenberg also falls into this category. One of our listed suppliers, Cummins Nursery, rates Spitzenberg as "susceptible to about all the common diseases". It is also relatively difficult to get hold of trees of this variety in Europe, although specialist suppliers may be able to graft to order. To make matters even worse, like many American varieties Spitzenberg needs good levels of sunshine and ripens quite late in the season - so northern European gardeners will need to find a sheltered south-facing wall for best results. However the effort is probably worth it, since Spitzenberg is a superb eating apple.
We are grateful to the Defra UK National Fruit Collection for tasting samples of this apple variety.
Esopus Spitzenburg apple identification images
All images copyright Orange Pippin unless otherwise stated.
USDA identification images for Esopus Spitzenburg
The identification paintings in the USDA Pomological Watercolor Collection span the years 1886 to 1942.
Citation: U.S. Department of Agriculture Pomological Watercolor Collection. Rare and Special Collections, National Agricultural Library, Beltsville, MD 20705.
Offspring of this variety
Visitor reviews
19 Aug 2023 

Marilyn Pomeroy

Would love some advice on the best time to pick Should the apples reach a rosy color before you pick them? I mostly use mine for pies and apple butter. .

11 Dec 2022 

James Lyon

I worked at a fruit stand in Oregon in my teens and the spitzenberg apple was the best I don't know where to get them in oregon

10 Apr 2019 

Alan Lagnado

SOUTH AUSTRALIA, Australia

I have had good crops for a couple of years now, ripening in early-mid April here. Left on the tree for long enough they acquire a lovely aromatic burst when first crunched and colour up to a beautiful rich red. I've found the tree a little unruly but have had no problems with any diseases or infestations. In fact the tree is very strong and healthy on MM102 rootstock. Definitely one of the stand outs in my home orchard.

26 Oct 2015 

Ashley O'Shea

NJ, United States

I have a Spitzenberg tree in my backyard, which produced a huge crop of apples this season. Although the apples are not very atheistically pleasing (which is probably why you do not often see them in stores), they are tart, juicy and quite delicious. They also keep for quite a long time after they have been picked. We have never treated our tree, as we garden organically, and have never had a problem with any disease, mites, scab, etc. (fingers crossed that we shall not in the future.) This tree is such a joy to have as part of our yard.

23 Apr 2014 

Joseph

CA, United States

I have grown the Spitz apple in my back yard for 40 years. I live in Sonoma County California and have never had any problems with it or any other varieties that I grow. It is a small apple but bears well and one of the best for pies. The flavor is to die for as long as the coddling moth does not infest the fruit. I use traps to attract the male moths which somewhat controls this problem. I would not be without this variety in my orchard.

11 Mar 2014 

Will Carpenter

INDIANA, United States

My favorite orchard, Spencer's Orchard in Upland Indiana carries the Esopus Spitzenberg. It is a phenomenal apple in taste, aroma, texture. I would grow it myself but this article is scaring me off.

26 Jan 2013 

Ed

WASHINGTON, United States

Beautiful, crisp, juicy, and complex flavor. Slightly tart, but not overpowering. Enjoyable to eat.

12 Nov 2012 

M. Reed

TX, United States

Just tried a small organic Spitz from Kansas. Bright, clean, refreshing flavor. Nice balance of acid and sweetness. Darned good apple!

28 Sep 2012 

Scott Peterson

MA, United States

i have newtown pippin which is ugly crunchy and have tried to grow esopus spitz. i have something that was supposed to be delbard, but does not look anything like it it looks like belle de boskoop, yl/brn russetted very large. anyones guess?

13 Oct 2011 

Jean Fritz

IN, United States

I grow this apple in my heirloom orchard. It ripens in late October in central Indiana, and I love to use it for cooking and juicing. When it is on the tree, it is one of the ugliest apples I've seen - it colors to a rusty orange - and it is prone to scab and fungal problems. The flavor of the fruit is exceptional, however, and my tree has been a very dependable producer for over 15 years.

20 Sep 2011 

Phil Bean

CA/ SONOMA, United States

I obtained a bare-root standard Spitzenberg tree from the local Sonoma Antique Apple Nursery and planted it in the back yard in 1994. I performed minor tree surgery to rid it of borers a few times during about the first three years. More recently I have observed a few abnormal growths on or near the trunk (with a surface texture resembling broccoli), but I am not aware the 17-year-old tree has been affected by any of the diseases to which Spitzenberg is reported to be "highly susceptible." The tree now has a spread close to 30 feet and I can count on it to produce several hundreds of pound of apples from September through October. The crop is very "organic" -- riddled with worms -- presumably because I never seem to spray enough or pursue alternative measures to control white fly. Despite pestilence, I have been thoroughly spoiled by the Spitzenberg's exraordinary taste and must warn these apples can kill any interest whatsoever in most common store-bought varieties. The effect may be sudden and irreversible.

19 Sep 2011 

Wendy Watson

CA, United States

I discovered this apple by accident. Organically grown, locally, at the Sebastopol Whole foods. I made an apple pie with them that was out of this world. I believe these are my new favorite apple. What a happy discovery!

28 Jan 2011 

Grace

CA, United States

I was curious about the Spitz after a strong rec from the (Philo) Apple Farm stand at the SF Ferry Plaza Sat market. They didn't have any to sell that day, but I managed to find them at Berkeley Bowl for a spell (right around Thanksgiving - Xmas). I peeled and sliced one and put it on some pastry crust, sprinkled a bit of sugar on it and baked it. The slices retain their shape but become wonderfully tender (not mushy). Outstanding flavor! I am completely smitten. Now they're gone from the Bowl but I'm hoarding a bag in my fridge. I hope people are right about how well it stores. I went to a fruit tree talk by a BA master gardener, and she also heaped praise on this fine apple. Now I can think of no other. . .

28 Oct 2010 

Jill

OR, United States

I grow this in my back yard. It fits all the descriptions above. I was wondering about this 60 year old tree. Can it be cloned? It's true about how it's a poor resister of disease, susceptible to sun burn, but it's large apples are good. All the wildlife flock to my yard to peck them and gleaners were especially keen to take home a lot. Leave them alone for 3 weeks after you pick in Oct before they're ready and they're sweeter that way good for several months.

01 Mar 2010 

Dean Failor

LINCOLN,OREGON, United States

I obtained a Spitzenberg as the result of a grafting exercise in Master Gardners Class some years ago. It took about five years to mature to producing size in the Maritime climate I live in. (1/2 mile inland from the Pacific on the Central Oregon Coast) Even lacking cold hours this little tree produces great fruit.

11 Nov 2009 

Andrew Bell

CAMBRIDGE, IOWA, United States

Spitz makes the best applesauce in the world. It isn't hard to grow for me, but it doesn't bear heavily. It has taken a long time for them to come on after planting. The trees look spindly, but the fruit keeps well.

09 Nov 2009 

Joel

United States

@ Mary from Boston The article mentions the difficulty in growing this apple: "It's unfortunate that some of the best flavoured apples are also the least reliable to grow (think Cox's Orange Pippin). Spitzenberg also falls into this category. One of our listed suppliers, Cummins Nursery, rates Spitzenberg as "susceptible to about all the common diseases"." I buy this apple from a farmer's market here in Seattle. It's wonderful. I hate the mild, mushy crap that is often sold in supermarkets. Spitzenberg is a great one.

23 Oct 2009 

Mary

BOSTON, United States

Funny how the above mentioned people think this is the apple that should appeal to European tastes. Why? Because it does not mention that this is a VERY TOUGH VARIETY TO GROW UNLESS YOU ARE AN EXPERT GARDENER. According to a man I know who owns an orchard (not far from where Jefferson once lived I might add) Spitz is a pain in the butt to grow for the inexperienced because it is very sensitive. It MUST have water. It MUST be cared for 24/7. It is susceptible to diseases if not looked after carefully and it WILL die if you do not follow everything to the letter. As for the remark made above about Americans not liking so-called complex flavors, I say bah humbug. Personally I think the cowboys and farmers of old had it right the first time: "if my horse spits out the apple because it ain't got no juice or sweetness, I ain't eatin' it; if he nickers for more or tries to make juice foam on his lips, its time to holler for Ma and tell her we have a winner!"

23 Oct 2009 

Bill Snotherly

North Carolina, United States

I have purchased both a Spitzenburg and Newtown Pippin from Trees of Antiquity - from California. You might want to list them on the right. http://www.treesofantiquity.com/

06 Oct 2009 

Will

OAKLAND, CA, United States

I just bought a Spitzenberg apple at the Ferry Building farmer's market in San Francisco. The vendor said he grows about six east coast heirloom-type varieties in Sonoma County (Northern Calif), which tends to be very sunny.

19 Sep 2009 

Jacqueline

OREGON, United States

We grow these apples. Pears are our cash crop. However, the apples are our jewels!

31 Aug 2009 

Holly Ivey

ANAHEIM, ORANGE COUNTY/CALIFORNIA, United States

I am an apple fanatic. For years I loved the tangy Pink Ladies until I discovered the Jazz variety sold at only one of the chain grocery stores (for a reasonable price). Now, any other variety is held up to the tart, complex crispness of jazz. The above noted similarities of the Jazz Apple to Spitzenburg's piques my curiosity. I have never seen these at the stores or farmer's market, nor have I ever heard of them until recent mention in the one page article in the past Sunday's Parade. Is there any source for this variety on the West Coast?
Tree register
Spring blossom records for this variety
2020 season
2019 season
2017 season
2016 season
2015 season
2014 season
2013 season
2012 season
2011 season
Record your blossom dates in our Fruit Tree Register - more >>.
Harvest records for this variety
2020 season
2019 season
2017 season
2013 season
2011 season
Origins
Species: Malus domestica - Apple
Parentage: Unknown
Originates from: Esopus, New York, United States
Introduced: Early 1800s
UK National Fruit Collection accession: 1950-033
Some historical details taken with kind permission from 'The New Book of Apples' by Joan Morgan and Alison Richards , illustrated by Elisabeth Dowle, published by Ebury Press, 2002.
Identification
Country of origin: United States
Period of origin: 1800 - 1849
Fruit colour: Orange / Red
Leaf colour: Green
Popularity: Best sellers
Annual cycle: Deciduous
Awards: Slow Food - Ark of Taste
Using
Picking season: Late
Keeping (of fruit): 3 months or more
Flavour quality: Exceptional
Flavour style (apples): Aromatic
Discoloration of fruit: No discoloration (Good for drying)
Cropping: Heavy
Fruit persistence: Normal ripening
Food uses: Eating fresh
Food uses: Culinary
Food uses: Juice
Picking period: early October
Wildlife: RHS Plants for Pollinators
Growing
Gardening skill: Experienced
Flowering group: 4
Pollinating others: Average
Ploidy: Diploid
Vigour: Average vigour
Bearing regularity: Biennial tendency
Fruit bearing: Spur-bearer
Self-fertility: Not self-fertile
Climate
Cold hardiness (USDA): (4) -30F / -34C
Climate suitability: Temperate climates
Climate suitability: Warm climates
Summer average maximum temperatures: Cool ( 20-24C / 68-75F)
Summer average maximum temperatures: Warm (25-30C / 76-85F)
Summer average maximum temperatures: Hot (>30C / 86F)
Other qualities
Disease resistance: Poor
Cedar apple rust: Some susceptibility
Canker: Very susceptible
Scab (Apple and Pear): Very susceptible
Fire blight: Very susceptible
Where to buy trees
The following tree nurseries offer Esopus Spitzenburg apple trees for sale:
Where to buy fresh fruit
The following orchards grow Esopus Spitzenburg:
United States
California

Colorado

Connecticut

Georgia

Iowa

Kansas

Kentucky

Maine

Massachusetts

Michigan

Minnesota

Montana

New Hampshire

New Mexico

New York

North Carolina

Oregon

Pennsylvania

Washington

Wisconsin
Canada
British Columbia

Prince Edward Island
Australia