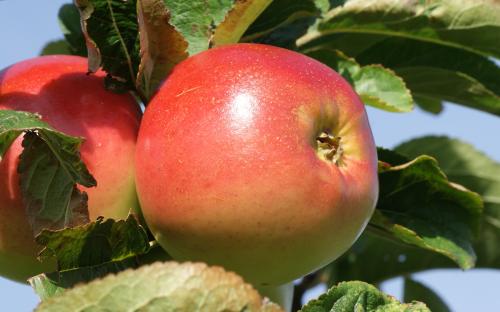 Named for the alleged banana-like flavour.
Winter Banana apple identification images
All images copyright Orange Pippin unless otherwise stated.
USDA identification images for Winter Banana
The identification paintings in the USDA Pomological Watercolor Collection span the years 1886 to 1942.
Citation: U.S. Department of Agriculture Pomological Watercolor Collection. Rare and Special Collections, National Agricultural Library, Beltsville, MD 20705.
Visitor reviews
18 Oct 2020 

Robin Drake

VA, United States

I grew up with what I believe were Winter Banana apples at the back of one of the 3 orchards on our property in Wayne Country, NY. My brother and I would wait until after freezing weather, pick up the windfalls, peel the skin off them with our teeth, and then scrape what was essentially apple sherbet into our mouths!

21 Aug 2020 

Connie Barnett

OREGON, United States

I grew up with a Winter Banana tree in our front yard. The apples are delicious and will keep all winter in cold storage. We always made the Waldorf Salad for Thanksgiving and Christmas using them. The salad doesn't taste right w/o them. The tree is still producing at about 100 years old, but I no longer live there.

07 Aug 2020 

Mike Bergstrom

WA, United States

Sorry to add a rather negative opinion, but growing up in Tukwila, WA in the 1960s we had many apple trees of different varieties on our property. One was the winter banana, which I would describe as having a mild banana flavor, but harsh and dry. My mother occasionally used them for applesauce, but that couldn't compare to the applesauce she made from the yellow transparent or gravenstein apples. She also tried pie, no luck. Personally, I would not search this one out. There are so many other and better varieties around now.

15 Sep 2019 

Rena Pennock Johnson

MT, United States

Yes! Banana flavor! Crisp, good eating. Will be grafting one into my orchard.

18 Nov 2014 

Doug Paine

VERMONT, United States

Just got some of these from Scott Farm in Vermont. They definitely have a subtle banana flavor and aroma. Scott Farm does a fantastic job growing and marketing heirloom varieties. These apples were free of blemishes and rust.

28 Jul 2013 

Jamie Boyd

OH, United States

The house we moved into when I was a child had two of these trees, which produced a bumper crop of delicious apples yearly until fifteen years later when they were taken out by a lightning storm. No banana flavor/smell, but very sweet, dense flesh, light pineapple tones, PERFECT for apple pies and eating fresh, in my opinon. Stores great in the freezer, and if you keep them in cooler temps they store for four to five months easy. I will be planting two if I can find them - wonderful apple.

07 Apr 2013 

Dan Chadwick

WASHINGTON/SPOKANE, United States

winter banana is named for the color and the ridges running up the sides, that resemble those on a banana. Late ripening, and a very orderly growth habit, requires little pruning.

26 Jan 2013 

Ed

WASHINGTON, United States

I was pleasantly surprised by this apple: pretty fair for eating. I didn't get any banana overtones which is fine with me as I can't stand bananas!

05 Oct 2011 

Julia

MAINE, United States

These are the best apples. The flavor--weather they taste like bananas or not--is fabulous. They're big, they're great for fresh eating or cooking, and they keep if kept cold. Love them. My neighbor has a beautiful old tree and I hope to add one to my orchard this year.

22 Sep 2011 

Ann Clements

PENNSYLVANIA, United States

Rauchtown, PA has the winter banana apple ... if were close

24 Jul 2011 

Mike

Pennsylvania (south-central), United States

As a child living in Massachusetts, I remember my family would pack up and head off to apple orchards during the colder months of the year. One time we ended up at this apple orchard in New Hampshire and I tried an apple I never heard of. It was named "Winter Banana: but I do not remember it tasting like banana. To me it was more like pineapple and was a favorite of mine (only found this one time). I would be interested in knowing if it is available within a 100 mile radius of S. PA (near York, PA). Maybe I will grow it if I have room after my 2012 order is planted. Thanks!

21 Jan 2011 

Sarah

United States

You can find Winter Banana Apples (for shipment within the continental US only) at www.starkbros.com

21 Jan 2011 

Christine Gonzales

NM, United States

where can I buy a winter banana apple tree?

28 Oct 2010 

Ben Gariglio

:PA, United States

Where can I purchase a Winter Banana Tree?

24 Sep 2010 

Sue

United States

I have worked at an apple orchard for many years, I always thought it was a "ficticious" name for an apple that is used here for pollinating only.

14 Sep 2010 

Sherry Tyger

PA, United States

I've been eating this apple since I was a child. I don't know where the banana comes from , maybe the color? They keep till spring if refrigerated. My very favorite!

15 May 2010 

Nigel Deacon

United Kingdom

Certain pear varieties can be grafted onto this. Apple-and-pear trees were available at one time from Deacon's nursery, i.o.w.

17 Aug 2009 

Larry Saltzman

CALIFORNIA, United States

I find winter banana to be a much better cooking than eating apple. The flesh is very dense. I think it is one of the most beautiful apples in our orchard, but not the best eating apple.

06 May 2009 

Lauri Allen

CANAAN, NH, United States

I have tasted this tree in the 60's and 70's till the tree had been taken down. It was very old. We had 4 different types of apple trees. Our family house had been built in 1790, and there was an orchard with over 500 apple trees just above our house during that same time period. It truly tasted like a banana, and was yellow in color. I wish to taste one once again.

14 Nov 2008 

Keith Park

WOODSIDE, CA., United States

This is one of my favorite apples in our orchard, for its sweetness and unique flavor. Although I wouldn't necessarily peg the flavor as "banana" these apples do have an aromatic perfume that is unlike most others. I have been rehabilitating several 80 year old trees of this cultivar after decades of neglect, and they are beginning to bear nicely on renewed fruit spurs. The fruit itself is very attractive, a warm yellow color with red blemishes on one side. Crisp and never mealy, this is an apple to eat right off the tree! Perhaps the connotation of 'Banana' also comes from its yellowish color?
Tree register
Spring blossom records for this variety
2020 season
2019 season
2018 season
2017 season
2016 season
2015 season
2014 season
2013 season
2012 season
2011 season
2010 season
2009 season
Record your blossom dates in our Fruit Tree Register - more >>.
Harvest records for this variety
2020 season
2019 season
2018 season
2017 season
2015 season
2014 season
2013 season
2012 season
2011 season
2009 season
Origins
Species: Malus domestica - Apple
Parentage: Unknown
Originates from: Indiana, United States
Introduced: 1870s
UK National Fruit Collection accession: 1921-094
We are grateful to Brogdale Farm - home of the UK National Fruit Collection - for providing samples of this variety.
Identification
Country of origin: United States
Period of origin: 1850 - 1899
Leaf colour: Green
Annual cycle: Deciduous
Alleles: 3
Alleles: 5
Using
Picking season: Very late
Keeping (of fruit): 1-2 months
Flavour quality: Good
Flavour style (apples): Sweeter
Vitamin C content: Medium
Cropping: Good
Food uses: Eating fresh
Food uses: Juice
Food uses: Hard cider
Picking period: late October
Wildlife: RHS Plants for Pollinators
Growing
Gardening skill: Average
Flowering group: 4
Pollinating others: Good
Ploidy: Diploid
Vigour: Slightly large
Precocity: Precocious
Bearing regularity: Regular
Fruit bearing: Spur-bearer
Self-fertility: Not self-fertile
Climate
Cold hardiness (USDA): (5) -20F / -29C
Chill requirement: Low-chill 

300-400 hours

Climate suitability: Warm climates
Summer average maximum temperatures: Cool ( 20-24C / 68-75F)
Summer average maximum temperatures: Warm (25-30C / 76-85F)
Other qualities
Disease resistance: Average
Cedar apple rust: Very susceptible
Where to buy trees
The following tree nurseries offer Winter Banana apple trees for sale:
Where to buy fresh fruit
The following orchards grow Winter Banana:
United States
United Kingdom
Canada
References
Cedar-Apple Rust  
Author: Stephen Vann, University of Arkansas, Division of Agriculture (FSA7538)
Rated as highly susceptible - control always needed where CAR is prevalent.
Apples of England (1948)
Author: Taylor
Some Antique Apples for Modern Orchards, (2008)
Author: Merwin I.A.