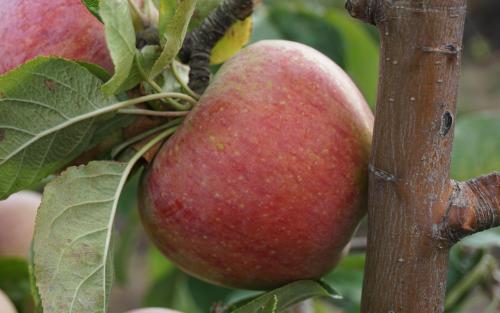 Highly esteemed culinary apple. Large pale yellow-green fruit, deepening to orange-yellow with short stripes of bright red and some russet patches. Good acid-sweet flavor, cooks to a froth.
Peasgood's Nonsuch apple identification images
All images copyright Orange Pippin unless otherwise stated.
USDA identification images for Peasgood's Nonsuch
The identification paintings in the USDA Pomological Watercolor Collection span the years 1886 to 1942.
Citation: U.S. Department of Agriculture Pomological Watercolor Collection. Rare and Special Collections, National Agricultural Library, Beltsville, MD 20705.
Parents and other ancestors of this variety
Offspring of this variety
Visitor reviews
10 Sep 2023 

Bill

Huge, good for juicing, when ripe is an excellent dessert apple though too big for individual serving. Cooks to sweet fluff (no sugar needed if ripe)

10 Apr 2020 

Tim Dutton

UPPER HUTT, New Zealand

We have a dozen of these on dwarf rootstock and all but one produce a heavy crop of big apples every year. Biggest to date weighed 964 gms, or a little over 2 lbs! Average is over half that. Very tasty and sweet enough to eat as an eater, but so big you need to share it with others. Lovely baked, one apple between 2 people. Dries very well in a dehydrator and we stew and freeze large volumes every year so I have some for breakfast 365 days of the year.

31 Jul 2017 

Debbie Forster

TAUPO, New Zealand

We have just bought a baby Peasgood, so cant wait for it grow and produce some beautiful apples

15 May 2017 

Anna

BC, Canada

We have a tree in our small orchard. It produces a large crop. This is primarily a cooking apple, and turns to a froth as it cooks. Wonderful for "baked apples". It was developed in Lincolnshire, England, by my Great-grandmother. So I feel privileged to have this tree. I have pictures of the original apples that were sent to the Royal Horticulture Soc, when the apples were first shown and named.

21 Jan 2017 

Max Sullivan

SOUTH CANTERBURY, New Zealand

I live in the tiny town of Makikihi in New Zealand and have three fully Matured Trees on my property. Great crop this year, but I am allergic to Apples! Any buyers??

28 May 2016 

Tony Baker

MARLNOROUGH, New Zealand

very fresh, crisp, juicy apple. Relatively bug free and hangs on tree until late in the season. Fruit is just the right size for children, easy to espalier.

19 Feb 2016 

Ingrid Philpott

NORTH OTAGO, New Zealand

Have just had a tree of Peasgood's Nonsuch identified in our garden. Absolutely delighted to find such an old species. Just needs pruning and hopefully that will mean better crop next season.

08 Mar 2015 

Incredible Edible Wakefield

WEST YORKSHIRE, United Kingdom

Found a tree growing in the old DVLA test centre car park three years ago and have grafted a number of rootstocks since. My wife laughed when I said it was the nicest Apple I'd ever tasted but I've lost count of the number of people who have agreed with me since.
Tree register
Spring blossom records for this variety
2017 season
2013 season
2012 season
2011 season
2010 season
2009 season
Record your blossom dates in our Fruit Tree Register - more >>.
Harvest records for this variety
2016 season
2014 season
2013 season
2012 season
2011 season
2009 season
Origins
Species: Malus domestica - Apple
Parentage: Catshead seedling
Originates from: Stamford, Lincolnshire, England, United Kingdom
Introduced: 1858
Developed by: Mrs Peasgood
UK National Fruit Collection accession: 2000-075
Identification
Awards: RHS AGM (current)
Country of origin: United Kingdom
Period of origin: 1850 - 1899
Flower colour: Pink - light
Leaf colour: Green
Popularity: Rarely grown
Annual cycle: Deciduous
Using
Picking season: Mid
Keeping (of fruit): 2-3 weeks
Flavour quality: Very good
Flavour style (apples): Sharper
Cropping: Good
Food uses: Culinary
Food uses: Juice
Food uses: Traditional cooker
Food uses: Dual purpose
Picking period: mid-September
Wildlife: RHS Plants for Pollinators
Growing
Gardening skill: Beginner
Flowering group: 3
Pollinating others: Average
Ploidy: Diploid
Vigour: Average vigour
Bearing regularity: Regular
Fruit bearing: Spur-bearer
Attractive features: Attractive fruit
Self-fertility: Partially self-fertile
Climate
Frost resistance of blossom: Susceptible
Climate suitability: Temperate climates
Climate suitability: Mild damp climates
Summer average maximum temperatures: Cool ( 20-24C / 68-75F)
Cold hardiness (RHS): H6 (to -20C)
Summer average maximum temperatures: Cold (< 20C / 67F)
Other qualities
Disease resistance: Average
Scab (Apple and Pear): Some resistance
Canker: Some susceptibility
Where to buy trees
The following tree nurseries offer Peasgood's Nonsuch apple trees for sale:
Where to buy fresh fruit
The following orchards grow Peasgood's Nonsuch:
United Kingdom
England - midlands

England - north
References
Apples of England (1948)
Author: Taylor