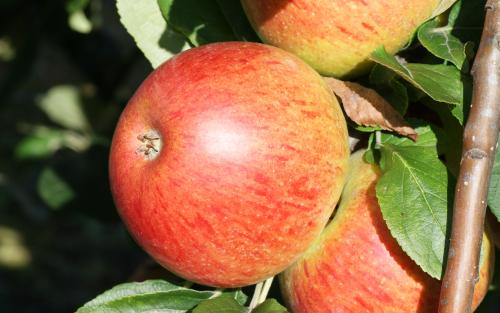 Charles Ross is a classic English late-Victorian apple, nearly always described as "handsome".
It is a cross between Cox's Orange Pippin, and an older English cooking apple called Peasgood Nonsuch. The result is a versatile apple, which looks like a large Cox's Orange Pippin, with the characteristic red-orange streaks, but sometimes with a more yellow background.
The flesh is juicy but quite light, becoming almost powdery as it matures. The flavour is very sweet, but not bland - it has some of the aromatic qualities of Cox's Orange Pippin and is reminscent of pears.
Charles Ross can be used as a dessert variety. The flavour is quite sharp in September but sweetens if you keep it. It is also a useful cooking variety. When fresh from the tree the flesh does not entirely breakdown into a puree, so it is ideal if you like apple pies with chunky apple pieces. Being quite large and juicy it is also a good variety for making your own fresh apple juice.
Charles Ross apple identification images
All images copyright Orange Pippin unless otherwise stated.
USDA identification images for Charles Ross
The identification paintings in the USDA Pomological Watercolor Collection span the years 1886 to 1942.
Citation: U.S. Department of Agriculture Pomological Watercolor Collection. Rare and Special Collections, National Agricultural Library, Beltsville, MD 20705.
Parents and other ancestors of this variety
Offspring of this variety
Visitor reviews
15 Nov 2023 

Malcolm Smith

Grown it 40+ years at more than 300 feet in East Ayrshire. Despite very little attending our pruning has been a super apple with a huge crop most years, though it does miss the occasional year, like last year. May have been frost but I think it just needed a rest after a huge crop in 2021 and great again this year.

10 Oct 2023 

Howard Morphy

that description of it is perfect. I baked some from an old orchard in Somerset where the owner though he remembered the name, Charles Ross! And the apple has precisely the characteristc you describe - it needs longer cooking than a Brambley, expands beautifully but maintains a firmer texture, and it is slightly more richly flavoured.

14 Apr 2023 

Sheila Jones

i think charles ross may be a pollinator for my brambley seedling, subject to more research

02 Nov 2022 

m Jordan

I haven't seen this apple for many years,can you still get it

03 Apr 2022 

Andy Artingstall

WEST SUSSEX, United Kingdom

I have a couple of these Apple trees and have prolific harvests. I have used uneaten fruits to make cider for several tears now which is delicious. It is also great for cooking with - mixed with a Bramley it makes great apple pies.

25 Oct 2020 

Billy Auger

SHROPSHIRE, United Kingdom

Very nice apple, top worked about 20 Discovery with them about 3 years ago. Prolific crop this year, that I should have thinned more but about 100kg of useful apples. Going to top work around 15 Fiesta with them next March

27 Jun 2020 

Vanessa Allen

DEVON, United Kingdom

Have had a tree in the garden for years. Biggest apple so far weighed nearly a pound. Make apple pies, apple crumbles, apple sauce and freeze them. Cut it back last year but looks like going to have a good crop this year.

27 May 2020 

Carolyn Gordon

SOMERSET, United Kingdom

We have a massive Charles Ross in our field. Planted around 1885. It still produces lots of wonderful apples, the longer they are on the tree the more beautiful they become, big and red! Love them , and we intend to plant a couple more later this year !

27 Sep 2018 

Caroline

STAFFORDSHIRE, United Kingdom

We planted our Charles Ross about 12 years ago and crops have always been excellent and massive this year. We pick them all around early September keeping/storing the perfects as eaters and cooking and freezing the rest in batches. Love eating as fresh and we are always impressed with the size of some of them.... " whoppers" indeed!

04 Sep 2017 

Liz Smith

DERBY, United Kingdom

My Charles Ross apple tree is on dwarf root stock and lives in a half barrel. Yesterday I entered the apples in my local produce show as a desert Apple. It won first prize in it's class and went on to win best fruit in show. I purchased the tree because my son is called Charles Ross and I am delighted with the tasty apples

04 Oct 2016 

n Bailey

CAMBRIDGESHIRE (CAM), United Kingdom

Counter to some of the comments below this apple is a good keeper. After a bumper harvest (+ following excellent growing season) I kept eating them until March and they only got better with age. Fabulous apple. However, I agree they are very susceptible to rotting while still young and won't keep in such conditions.

09 Nov 2013 

Alexh

LONDON, United Kingdom

When I was a 10yr-old boarding school boy long ago I took a box of new-picked Charles Ross back in late September - good then - after a month the remnants were superb.

08 Oct 2013 

Larry Harrison

EAST YORKSHIRE, United Kingdom

Exceptional apple. As well as being a superb dual purpose cooker/eater, makes a distinctive 'West Coast' cider - pale, straw colour, low tannin but brisk, fruity flavour. Best to use a champagne yeast.

18 Aug 2011 

Nick Griffin

CHESHIRE, United Kingdom

My tree is about six years old now and it has at last produced approx 50 fruit, some real whoppers. Last year I had about 15 and they did not taste that brilliant. Still not quite sure when to pick them.

01 Oct 2010 

Neil

United Kingdom

In answer to the Q about cider, yes they do make very nice cider and apple wine. I usually make about 30 bottles a year. I would suggest about 1-1.5lb's of sugar per gallon.

26 Sep 2010 

Rory

HERTS., United Kingdom

I am so pleased to find out the name of the apples on our 102 year old tree (at least I think it's that old). Have lived here for 21 years and have always wondered which variety it is. Just tasting one now ( in late September): firm white flesh, creamy green skin with red blush. It is slightly tart, crisp but also sweet. We get masses of apples every year but usually leave them for the birds to feed on all winter. Some years the tree is bent over with the weight of the apples. They do rot on the tree as mentioned by others here. The tree is curved and pruned to the same shape, a very good feature outside the kitchen window where lots of birds visit it and the seed feeder. Perhaps I will start eating them myself now.

09 Sep 2010 

Derek Covacic

G LONDON, United Kingdom

Our tree, inherited with our house, is at least 75 years old and still produces excellent crops. It is a beautiful fruit for apple pies or a ready to eat apple.

05 Sep 2010 

Grant Jukes

NORFOLK, United Kingdom

Does anyone know if Charles Ross amkes good cider

14 Aug 2010 

David Stuart

TYNE AND WEAR, United Kingdom

Don't know whether Margaret Brown of Berwickshire (September 2009) now knows that Charles Ross are self-fertilising as the website says. I planted ours about three years ago, nothing until this year, large good healthy fruit in small quantity which is just as well as the tree is still immature and could't support the weight of any more. Have had to support the fruit bearing branches.

12 Mar 2010 

Matt Gardner

BRISTOL, United Kingdom

hi, i brought mine from woolworths 2 years ago, we got a bit of fruit last year (about 10 apples off a very small tree) all were a good size and we should get more this time round. the apples are lovely with pork and very good cooking apples, we didnt keep and to try for eating. previous poster asked about growing tips? i planted mine in very heavy clay in South Glous. no trouble at all.

08 Oct 2009 

James

YORK, United Kingdom

Charles Ross is a mid-season semi-fertile pollinator (Group C from A-E) and so crops better if grown in the company of another pollinator from B, C or D. http://www.ashridgetrees.co.uk/Apple-Tree-Pollination

22 Sep 2009 

Margaret Brown

BERWICKSHIRE, United Kingdom

We have just been given a Charles Ross apple tree as a present to celebrate our 50th wedding anniversary. can anyone tell me if I have to get another apple tree to grown with it or will it not require Pollination.

09 Sep 2009 

Franv

LANCASHIRE, United Kingdom

I've just bought a Charles Ross fom Daleside Nurseries Nr Harrogate as it's about at the same latitude and height above sea level. It's still in it's pot and will be planted out within the next week or so. Does anyone have any tips for afterplanting care? Cheers. Fran.

03 Sep 2009 

Alan Smith

NR SWINDON, United Kingdom

I planted mine 35 years ago. I've had enormous crops on a regular basis. They cook or eat but not for very long before they become woody. I freeze enough for winter and save a few large boxes full to throw out for the birds in hard winter weather

18 Aug 2009 

Kim

EAST SHEEN, LONDON, United Kingdom

We have a Charles Ross tree in our allotment (in SW London) which we purchased from Brogdales around 7 years ago. Every year without fail the crop has been fantastic (including the first year). The apples this year are huge and exceptionally juicy. We have it paired with another apple tree - also purchased from Brogdales which is a perfect pollination partner (unfortunately not sure what it is but it is another fantastic cooker).

21 Jun 2009 

James

United Kingdom

17 May 2009 

Lincoln

CROUCH, KENT, United Kingdom

I grew up in a garden in North Kent where there were many now rare varieties of apples. I always thought that Charles Ross was one of the best. I would like to grow one as a fan against a stone wall. Does anyone know if this is wise or possible?

13 Nov 2008 

Ned

BIRMINGHAM, United States

I too have got mine from Sainsburys. Who'd have thought a major supermarket chain would come up trumps with unusual varieties? I got Early Windsor from there too.

10 Nov 2008 

Darren

KENT, United Kingdom

First time I've come across Charles Ross and what a great find. Large fruit, firm distinctive bite/flesh, and a pleasant taste. Found them hidden away under a dessert apple range in Sainsburys in poly bags.

19 Oct 2008 

Gaby Bassett

GILLINGHAM, KENT, United Kingdom

My apple tree was already elderly when I moved into my house in 1991. I never knew what variety it was but enjoyed the fruit a lot. I took an apple to Brogdale Farm Apple Festival and it was identified as Charles Ross. I fully agree with others' comments that the fruit rots if left on the tree, but it makes wonderful apple sauce and is a delicious eater.

19 Oct 2008 

Carole Leith

KENT, United Kingdom

Have discovered today via Brogdale that the lovely apples in our garden, that remain from an old orchard, are Charles Ross. I ate one too soon in August - they are best in September. They are on clay and date from at least 1910. We have other old fruit trees including the Victorian Annie Elizabeth - a very fine and red cooking apple.

15 Oct 2008 

Tom Gregory

MIDDLESEX, United Kingdom

Our Charles Ross was planted by an Uncle to commemorate the birth of my sister in 1926!! It still fruits magnificently every year .. alas the fruit was so plentiful last year - the weight split a large branch from the main trunk...but it struggled manfully this year...although the fruit was not so large. Blue-tits have nested for the past ten years in a hole in the trunk....New branches have appeared about two feet from the ground at the base of the trunk....so it doesn't appear to have given up the ghost yet! A remarkable tree!

06 Oct 2008 

Peter J Moss

LUDLOW, SHROPSHIRE, United Kingdom

Our Charles Ross is about 20yrs old, bought from Frank Mathews nursery at Tenbury. Is planted with 6 other varieties and fruits very well with minimum pruning and NO DISEASE problems.Good for home juicing.

03 Oct 2008 

Lin Marsh

PETERBOROUGH, CAMBS, United Kingdom

I grew up in a house in Buckhurst Hill, Essex, where we had a large untidy Charles Ross apple tree. The apples were delicious to eat, both straight from the tree, or stewed. I still keep in touch with our next door neighbour, and am fairly sure the tree is still in our old garden. Since I am now 65 years old, that would make it a pretty old tree.! I can check quite easily if it still exists.

24 Sep 2008 

Ralph And Rose

HEREFORDSHIRE, United Kingdom

We found the above comments very helpful in identifying our one apple tree. We have lived here for 17 years without knowing what it is, until last weekend when we found some at a local "apple viewing" event. The comments above about not keeping and rotting on the tree if left unpicked confirmed our discovery. We did not realise Charles Ross is an eater, we must always have tried it too soon. Thanks to all!

16 Sep 2008 

Basil Tinkler

PITMINSTER, TAUNTON,SOMERSET, United Kingdom

I have a charles ross tree. It is full of apples almost every year. Some grow very large. They eat from mid-sept. when they are firm juicy slightly tart and delicious. In oct they sweeten and become softer. By nov. they are past their best. They do not keep. never tried cooking with them. In late sept. and early oct they are the best eating apple I have tasted and they look good too, like a large Cox in colour

03 Sep 2008 

Norma

IRELAND, Ireland

I have 2 Charles Ross Apple Trees. I planted them 2 years ago, no fruit appeared last year, however there is quite a promising crop now. Unfortunately the leaves of the tree appear withered with a type of rust on them. What is this and how can I rectify the problem?

03 Aug 2008 

Jacqueline Mckenzie

KINGSTON UPON THAMES, United Kingdom

The most delicious of eating apples, they do not keep welland are hard to come by, I asked my greengrocer to obtain some but he said he had not seen them in the market for years. Every year I go to Wisleys fruit sale in hope but have never been lucky enough to find them - well worth planting.

15 Jul 2008 

Lorna

BRADFORD, United Kingdom

Duskin farm make 'charles ross' apple juice, am just about to order some from Lembas food co-op based on the comments on this page :-)

11 May 2008 

Roger Stephens

CHESTER, ENGLAND, United Kingdom

My late father once told me that, on one of his cycling trips before the war, he stopped at a farm and bought some apples which turned out to be the most delicious he had ever tasted. So good, in fact that he went back to ask what variety they were. "Charles Ross", he was told. He took note of the name, but, despite many enquiries, never came across them again. I myself have never seen them on sale, and would love to taste one before I die.

09 Nov 2007 

Michael Smith

FLINTSHIRE, United Kingdom

Am I alone in finding Charles Ross apples being widely sold as 'Cox' apples; with the latter being almost unavailable. Is this a new commercial fraud? OP: That seems a bit unlikely, as Charles Ross are not that common!

12 Oct 2007 

Jo Lickorish

BEDFORDSHIRE, United Kingdom

I have a Charles Ross apple tree which is approx six years old but so far we have not had much success with it fruiting. This year a few apples grew to maturing but are very mealy and dry to eat,not crisp and juicy at all as I would have expected. Is there anything I can do to improve things or should I take it out and start again.

05 Oct 2007 

Gerald Oberman

BRIGHTON, ENGLAND, United Kingdom

I grow this apple on a tree about 33 years old. It is absolutely delicious and fruits every year. The apples can be huge, so I no longer thin them out; that way the apples are a better size. The apples should be picked from the tree, otherwise they start to rot before they fall. Once picked, they need to be eaten within days or they start to decay. A beautiful apple!

03 Aug 2007 

Tom

United Kingdom

I have tasted this fruit which I think is just delicious. It is a crisp apple with a marked orange flavour and white flesh.

03 Aug 2007 

Tom

United Kingdom

I am moving house this week and will dearly miss the old Charles Ross apple tree that was already mature in my garden when I moved in over 16years ago. It has given me many years of wonderful apples which are wonderful to cook with, tasty and versatile. It's a shame the apples don't really keep well unless they are refrigerated. Though it does sometimes have a completely 'blank' year or one when it doesn't give big apples, the other years have more than made up for it with the tree struggling to cope with the number and size of apples.
Tree register
Spring blossom records for this variety
2022 season
2016 season
2015 season
2014 season
2013 season
2012 season
2011 season
2010 season
2009 season
Record your blossom dates in our Fruit Tree Register - more >>.
Harvest records for this variety
2018 season
2015 season
2014 season
2012 season
2011 season
2010 season
2009 season
Origins
Species: Malus domestica - Apple
Parentage: Cox x Peasgood Nonsuch
Originates from: England, United Kingdom
Introduced: 1890
UK National Fruit Collection accession: 1979-156
Identification
Awards: RHS AGM (current)
Country of origin: United Kingdom
Period of origin: 1850 - 1899
Fruit colour: Orange / Red
Leaf colour: Green
Popularity: Best sellers
Annual cycle: Deciduous
Using
Picking season: Mid
Keeping (of fruit): 1-2 months
Flavour quality: Average
Flavour style (apples): Sweeter
Cooking result: Keeps shape
Discoloration of fruit: No discoloration (Good for drying)
Cropping: Good
Fruit persistence: Normal ripening
Food uses: Eating fresh
Food uses: Culinary
Food uses: Dual purpose
Picking period: mid-September
Wildlife: RHS Plants for Pollinators
Growing
Gardening skill: Beginner
Flowering group: 3
Pollinating others: Average
Ploidy: Diploid
Vigour: Average vigour
Bearing regularity: Regular
Fruit bearing: Spur-bearer
Attractive features: Attractive fruit
Self-fertility: Not self-fertile
Climate
Frost resistance of blossom: Susceptible
Climate suitability: Temperate climates
Climate suitability: Mild damp climates
Summer average maximum temperatures: Cool ( 20-24C / 68-75F)
Cold hardiness (RHS): H6 (to -20C)
Summer average maximum temperatures: Cold (< 20C / 67F)
Other qualities
Disease resistance: Good
Scab (Apple and Pear): Very resistant
Where to buy trees
The following tree nurseries offer Charles Ross apple trees for sale:
Where to buy fresh fruit
The following orchards grow Charles Ross:
United Kingdom
England - midlands

England - north

England - south-east

England - south-west
References
Apples of England (1948)
Author: Taylor
Fruit Expert
Author: Hessayon