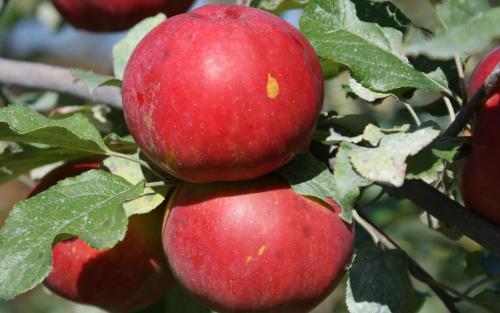 Novaspy is a further development of the "Nova" series of apples from Agriculture and Agri-Food Canada based in Nova Scotia. As the name suggests it has Northern Spy in its ancestry.
Novaspy apple identification images
All images copyright Orange Pippin unless otherwise stated.
USDA identification images for Novaspy
The identification paintings in the USDA Pomological Watercolor Collection span the years 1886 to 1942.
Citation: U.S. Department of Agriculture Pomological Watercolor Collection. Rare and Special Collections, National Agricultural Library, Beltsville, MD 20705.
Parents and other ancestors of this variety
Visitor reviews
12 Oct 2022 

Lori Griffin

Sadly disappointed. Anyone fami,iar with the tart snap of a Northern Spy will find this variety to be a very poor substitute. Just a fail on every level.

05 Nov 2019 

Tina

MT, United States

I LOVE this apple variety. I purchased a semi-dwarf bare root from Gurney's in 2005. It bore a crop of small apples in the second year after planting. It has produced a HUGE crop of medium-sized bright red round and spritely-sweet apples very late in the season (ripe and ready the last week of October consistently) each year. It is a 10 foot tall tree, the spread is 9 feet, with arching healthy strong branches that nearly touch the ground when loaded with apples! A strikingly beautiful form all year, the blooms come on the same time as a Ranetka crab Appletree across the yard in my zone 4 (ish) orchard. Early May. Sometimes hard freezes of 10 degrees F or snow can cover the blooms and yet I still get a great crop! The apples are so rich, especially when baked or dried, and store in the fridge until at least August. An amazing variety! Since it has survived and produced so well for me I am putting in more trees this spring of the Nova Spy, and also some Northern and Prairie Spy apples, as I had good luck with them also, though never got a crop due to cows and deer loving to eat the trees. The deer and horses will pass up Honeycrisp, Zestar!, any of the crabapple trees, in favor of the branches of the little Spy trees. Go figure!! I have to guard the Nova Spy closely, and I might add the deer do all of the pruning work.

22 Mar 2016 

Jean

NEW HAMPSHIRE, United States

The magic marker words were unclear or I probably wouldn't have bought them as I was seeking Northern Spy. It was very disappointing to bite into it and find instead of the fresh, clean, sprightly flavor I expected a cloying heavy flavor that reminded me of a Delicious apple. The texture is also, although not mealy exactly, softer. I will be sure to avoid this variety in the future. The apples came from Champlain Orchards in Shoreham, Vermont, and I got them at the Hanover Co-op store in Lebanon, New Hampshire. My husband had the same reaction to these apples. We have a Northern Spy tree, but we do not store them over the winter and I am very happy when I can ind them in a store. The Co-op has had real Northern Spys, which I think were from Poverty Lane Orchard in Lebanon, New Hampshire, so I guess I was hopeful that these were the same. Alas, not so. It doesn't taste bad, it just tastes too much like so many others, and there is nothing like a real heirloom spy. I like many kinds of apples: Golden russet and Ashamed kernel, the bright tiny Wickson, Winesap, Spitzenberg, the macoun-macintosh-courtland family in season (not so good after storage), to name a few. And Baldwins, thankfully now showing up occasionally in my neighborhood after too many years of absence.
Origins
Species: Malus domestica - Apple
Parentage: Nova EasyGro x (Northern Spy x Golden Delicious)
Originates from: Nova Scotia, Canada
Introduced: 1986
Developed by: Agriculture and Agri-Food Canada, Kentville, Nova Scotia
Identification
Country of origin: Canada
Period of origin: 1950 - 1999
Fruit colour: Orange / Red
Annual cycle: Deciduous
Fruit size: Large
Using
Picking season: Late
Keeping (of fruit): 3 months or more
Flavour quality: Good
Flavour style (apples): Sharper
Cropping: Good
Food uses: Eating fresh
Food uses: Culinary
Food uses: Juice
Picking month: October
Picking period: early October
Wildlife: RHS Plants for Pollinators
Growing
Gardening skill: Average
Flowering group: 3
Ploidy: Diploid
Vigour: Average vigour
Precocity: Precocious
Bearing regularity: Regular
Fruit bearing: Partial tip-bearer
Organic culture: Suitable
Self-fertility: Not self-fertile
Climate
Cold hardiness (USDA): (4) -30F / -34C
Climate suitability: Temperate climates
Climate suitability: Mild damp climates
Cold-hardiness: Cold-hardy
Summer average maximum temperatures: Cool ( 20-24C / 68-75F)
Summer average maximum temperatures: Warm (25-30C / 76-85F)
Other qualities
Disease resistance: Good
Fire blight: Very resistant
Scab (Apple and Pear): Some resistance
Where to buy trees
The following tree nurseries offer Novaspy apple trees for sale:
Where to buy fresh fruit
The following orchards grow Novaspy:
United States
Canada
References