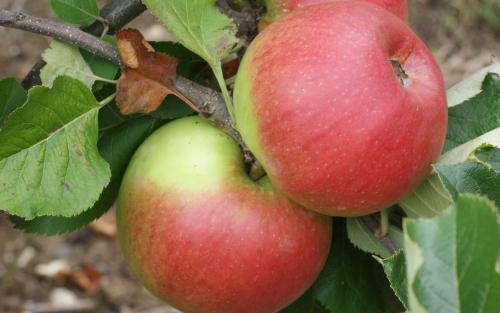 Unlike other apple-growing nations, the English have always liked to grow apple varieties specifically for culinary purposes. These "cookers" are typically large, acidic apples with good keeping qualities. Newton Wonder is typical of this style of apple - very large, with a sharp acidic flavour, which cooks down to a puree. The apples also store very well. It complements that other famous English cooker - Bramley - very well, having a slightly sweeter flavour.
The original Newton Wonder tree was found as a seedling growing out of the thatched roof of a pub in King's Newton, Derbyshire, England, in the 1870s - presumably the result of a pip dropped by a bird. It was transplanted to the garden, where the value of the large cooking apples was quickly realised. It was subsequently propagated by a local nursery, and has become a popular garden apple variety in the UK.
Newton Wonder apple identification images
All images copyright Orange Pippin unless otherwise stated.
USDA identification images for Newton Wonder
The identification paintings in the USDA Pomological Watercolor Collection span the years 1886 to 1942.
Citation: U.S. Department of Agriculture Pomological Watercolor Collection. Rare and Special Collections, National Agricultural Library, Beltsville, MD 20705.
Parents and other ancestors of this variety
Offspring of this variety
Visitor reviews
21 May 2023 

Patrick

Grown at home on one of the larger rootstocks in permanent partial shade of a very large sycamore. Crops reliability and heavily with healthy classic cooking apples which slowly sweeten after picking and can (slight stretch) be used as an eating apple after some time (weeks in cool storage). Seems very disease resistant and has done well in a heavy clay soil. Excellent overall cooking apple.

12 May 2023 

David

I have seen this cultivar in the north east of Scotland

30 Aug 2022 

Jacob Butler

We had one in Duffield when we moved there in 1953 which must have been 40 years old or more as it was huge and I spent half my childhood up in the branches. Lasted another 50 years and collapsed . Excellent apples very other year.

30 Jun 2022 

Kay Newman Nee Quinby

My great grandad was one of the couple of men who found the seedling on the roof of the pub in King's Newton. The seedling was then planted into the pub garden where it still stands. He didn't actually get it off the roof, I don't imagine, as he had a wooden leg, having lost his in a thrashing machine in his early teans. He lived in Melbourne all his life where he was a tailor, until retirement in Chellaston. He died in the very early '50s.

14 Oct 2013 

Adam Norman

ENGLAND, United Kingdom

We have had an amazing crop this year, and have been eating straight from the tree since mid/late September. They are exceptional by all accounts. Looking forward to storing them and seeing how they develop in taste over the coming months.

01 Sep 2013 

David Bell

WEST YORKS, United Kingdom

Have a tree approx 30 years old, still crops reliably and the apples also keep really well, until March at least.

21 Jul 2013 

Richard Newton

DERBYSHIRE, United Kingdom

I have two Newton Wonders,but only recently planted.The first planted about 4 years ago. 2011 produced an excellent crop and very tasty.Very poor crop last year. The second tree planted last year and this years crop looks good.

22 Mar 2012 

Janet Collins

NOTTINGHAMSHIRE, United Kingdom

The Newton Wonder was 'found' as a seedling on the edge of the roof of the Hardings Arms, public house, at Kings Newton in Derbyshire and was grown on to become a tree. The man responsible was Mr Taylor; my great great grandfather. The Taylors went on to become market gardeners in Stanton by bridge, not too far away; where my great grandad had an orchard in a stone masons quarry. and raised his children.

17 Dec 2010 

Jim

WORCS, United Kingdom

My family held a Glos CC small holding from 1945 until 1985,and we had a mixed orchard of apple and pear trees. The apples were about 50/50 Newtons and Bramleys, with ONE Blenheim. Mum stored them all, after their careful picking. She kept them, well strawed, on the floor of our attic. Picking them over regularly to weed out bad ones, of which there were not that many. The Newtons kept until Christmas, by which time they were matured and wonderful to eat. Still pretty crisp, but with that softer texture that comes with keeping them. My brother and I, now 75 and 70, respectively always new we'd have a good Newton in the toes of our Christmas stockings. Incidentally the pears were Williams and Conference. The Williams kept well too, and were also better, I feel, by the time Christmas came round. However, having passed the old orchard of late, the Newtons need a good pruning and a little TLC. Shame!

10 Oct 2010 

Samantha Cribben

SUFFOLK, United Kingdom

I have a very old Newton Wonder apple tree in my garden and the fruit really is amazing. I have to agree with the fact that it is delicious to eat and wonderful to cook with. The amount of fruit that is produced every year is astounding. . a really worthwhile apple tree

29 Nov 2009 

Duncan

BERKSHIRE, United Kingdom

Beautiful Apple, I have one planted in the late 1850's. Orchards were here well before the victorians put up our homes (victorian villa's). So I know it is that age. Knocks a bramley into a cocked hat. Mine has different coloured friuts and slightly different bloom and textured. The colour on one bow is a deep blood red ! Very juicy and crisp when picked, good keeper, and sweet when stored - totally unlike a bitter green and boring bramley bought in a supermarket ! The trunk is huge and hollow, with some port holes. A mini twister has recently damaged the tree very badly, the climate has changed here, the tree had been an old girl 40 years ago, but in the last 5 years the weird winds have damaged more than 40% of the tree. The tree use to throw a huge crop every other year, and 5% crop in between. The best bows have been bought down by the wind when bald and not carrying any weight.. Do not cut large branches off near the trunk, this varienty hates having its limbs cut, and dies back to a port hole eventually when it is unable to push sap to subsidiary branches. Wonderfull flavour - you cant buy this kind of quality, apple vary in size and are round, not flat like a bramley. The king apple on a spur can be huge if thinning is done

25 Oct 2009 

Ian Greenfield

GLOUCESTERSHIRE, United Kingdom

We have a small orchard, planted with Bramleys newton Wonder, Cox, Blenheim and Worcesters. the newton Wonder are the best for juicing and make delicious juice and lots of it. I agree this is a better apple than a Bramley

11 Oct 2009 

Mark Smith

DERBY, United Kingdom

Im sorry Sue, but it was found , not produced in King`s Newton, Melbourne, Derbyshire. The orginal seedling is still in the garden where it was found which is now a pub beer garden. This has been well documented in the Derby Evening Telegraph.

03 Sep 2009 

Alan Smith

NR SWINDON, United Kingdom

Mine is 35 yrs old and has regular heavy crops. They keep well into the new year. Very vigorous grower and not for the smaller garden.

29 Aug 2009 

Sue

LEICESTERSHIRE, United Kingdom

As I understand it my gt gt uncle, Newton Fowkes, (c1853) was responsible for producing the Newton Wonder. He had a smallholding at Swannington and Orchard in Bakewells Lane. He was also a local preacher.

20 Nov 2008 

Barbara Markham

LUTON, BEDFORDSHIRE, United Kingdom

My friend has a Newton Wonder in her garden dating back to the 1930's. They are a lovely apple and what a crop she has had this year, fantastic.

19 Nov 2008 

Mark Smith

DERBY, United Kingdom

Just to inform ... The Newton Wonder was discovered in a garden at King`s Newton, Melbourne, Derbyshire

27 Oct 2008 

Appleman

STAMFORD, United States

Hi eddie I think your apple could be a Yarling Mills and that would be a Cider apple.

22 Oct 2008 

Catherine Sweet

LONGPARISH HAMPSHIRE, United Kingdom

I have just discovered that the "unknown" apple tree in our garden is a Newton Wonder, and I have to agree with Edward Buckle- this is a dual purpose apple. We've had it picked straight off the tree as a crisp and sweet eater, as well as a fabulous cooker. We have Bramleys Seedlings too, and in my book the Newton Wonder is better. This year's crop was astoundingly large and heavy individual apples, and lots of them- our best crop in fifteen years.

17 Oct 2008 

Edward Buckle

HALESWORTH SUFFOLK UK, United Kingdom

Fabulous prolific apple - more a cooker/eater than a straight cooker as I eat them every day from the tree until they're gone - last well in cool store if they survive my appetite. In passing do you know the apple Yarling as i was given one and I can't find the history or any acknowledgement - small conical apple with pale pink blush - taste OK but texture mealy - but my plant young may improve with age or in a better season - thanks Yours Eddie Buckle
Tree register
Spring blossom records for this variety
2022 season
2017 season
2013 season
2012 season
2011 season
2010 season
Record your blossom dates in our Fruit Tree Register - more >>.
Harvest records for this variety
2017 season
2016 season
2015 season
2014 season
2013 season
2012 season
2011 season
2010 season
Origins
Species: Malus domestica - Apple
Parentage: Possibly Dumelow's Seedling and Blenheim Orange
Originates from: Derby, England, United Kingdom
Introduced: 1870s
Developed by: Found by an innkeeper, Mr Taylor
UK National Fruit Collection accession: 1973-140
Some historical details taken with kind permission from 'The New Book of Apples' by Joan Morgan and Alison Richards , illustrated by Elisabeth Dowle, published by Ebury Press, 2002.
Identification
Country of origin: United Kingdom
Period of origin: 1850 - 1899
Flower colour: White
Leaf colour: Green
Popularity: Best sellers
Annual cycle: Deciduous
Awards: RHS AGM (former)
Using
Picking season: Late
Keeping (of fruit): 3 months or more
Flavour quality: Very good
Flavour style (apples): Sharper
Cooking result: Puree
Discoloration of fruit: Oxidising
Cropping: Heavy
Fruit persistence: Normal ripening
Food uses: Culinary
Food uses: Traditional cooker
Picking period: mid-October
Wildlife: RHS Plants for Pollinators
Growing
Gardening skill: Average
Flowering group: 4
Pollinating others: Average
Ploidy: Diploid
Vigour: Vigorous
Bearing regularity: Biennial tendency
Fruit bearing: Spur-bearer
Organic culture: Suitable
Self-fertility: Partially self-fertile
Climate
Frost resistance of blossom: Good resistance
Climate suitability: Temperate climates
Climate suitability: Mild damp climates
Summer average maximum temperatures: Cool ( 20-24C / 68-75F)
Cold hardiness (RHS): H6 (to -20C)
Summer average maximum temperatures: Cold (< 20C / 67F)
Other qualities
Disease resistance: Average
Canker: Some resistance
Scab (Apple and Pear): Some resistance
Powdery mildew: Some susceptibility
Where to buy trees
The following tree nurseries offer Newton Wonder apple trees for sale:
Where to buy fresh fruit
The following orchards grow Newton Wonder:
United Kingdom
England - midlands

England - north

England - south-east
References
Apples of England (1948)
Author: Taylor
Fruit Expert
Author: Hessayon