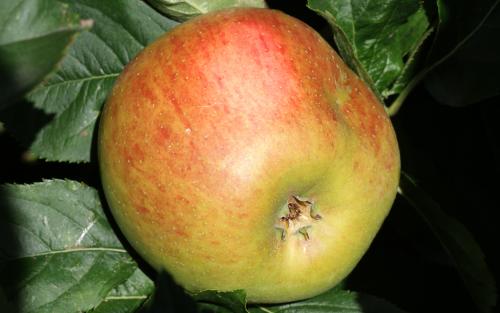 A popular old English apple variety, primarily a cooker. Good for making 'Apple Charlotte' as it cooks to a stiff puree. Lovely eaten with cheese, having a nutty, quite sweet taste and a crumbly texture.
Our photo shows a redder-sport called Blenheim Red which was found in 1966.
Blenheim Orange is an exceptionally vigorous tree, growing to a similar size to Bramley's Seedling.
Blenheim Orange apple identification images
All images copyright Orange Pippin unless otherwise stated.
USDA identification images for Blenheim Orange
The identification paintings in the USDA Pomological Watercolor Collection span the years 1886 to 1942.
Citation: U.S. Department of Agriculture Pomological Watercolor Collection. Rare and Special Collections, National Agricultural Library, Beltsville, MD 20705.
Offspring of this variety
Visitor reviews
19 Oct 2022 

Mariska

I have a Blenheim Orange in Aberdeen Scotland. Fortunately the garden is huge (1 ha) so space is not an issue, the tree is still young (8 years) but very large already. Lots of apples this year(2022), long branches weeping down with the weight of it. Healthy tree, great apples.

17 May 2017 

Eed

PORTSMOUTH, United Kingdom

I worked in the gardens of an old people's home and we used this variety to decorate dining tables at xmas. Pity really because they still tasted good. I now have my own but I think it has lost its pollinator as it has very few apples now. I plan to get another. Good for eating and cooking.

20 Oct 2015 

Patricia27

IPSWICH, United Kingdom

Very large appleand sweet like russet

17 Sep 2010 

Adrian Hodges

WORCESTERSHIRE, United Kingdom

the tree was in my garden when i came in 1972, this year it is the best it has ever been, it is loaded and have been giving them away, and they taste good.

16 Feb 2009 

Richard Banks

MILVERTON, ONTARIO, Canada

We used to have an apple orchard near Woodstock, Ontario and we had an old tree that someone had planted years before we even moved there. My dad said he thought it was a Blenheim Pippin. It was very tart, but had a great flavour and kept well. It is a taste I miss!!

28 Oct 2008 

Barbara Smith

EAST SUSSEX, United States

We have a very old tree in our garden we thought it was a cooker and this year it has produces a very large crop so much so we have given so many away we only found out about the apple when a lady had taken some of the apples and told us it was Bleneheim orange and it was a verry old variety.

04 Oct 2008 

J A Sutherland

MONMOUTH, United Kingdom

On two occasions I have had very old stumps ruthlessly pruned when I wasn't looking. In a few years it recovers and occasionally crops really well.

29 Sep 2008 

Jean Stephenson

SURREY, United Kingdom

We have a very ancient and decrepit Blenheim Orange which produces a huge crop of beautiful unblemished fruit almost every year, untreated. I think the flavour developes when they are cooked - we love them, so do our friends!

05 Nov 2007 

Nigel Puckrin

EAST YORKSHIRE, United Kingdom

Found in a bucket outside a farm saying take some to try. It said first found in 1740 growing against a wall at Blenheim Palace, formerly known as Kempsters Pippin. One of the nicest tasting apples I've ever had!

18 Oct 2007 

Charles

CRAWLEY, United Kingdom

I have a dwarfed tree in a pot and I think they are the best eating apples in the world! They may be a bit sharp for some people but I love them!

03 Aug 2007 

Tom

United Kingdom

I have a Blenheim orange tree in my garden, that nearly every year produces a good crop of large apples. I first used it as a cooker but it does not "fall" when cooked, and I prefer the taste of Bramleys.I have now decided that it is better as an eater. It is excellent with cheese and tastes similar to Egremont Russets. They keep well for a few months in my garage.
Tree register
Spring blossom records for this variety
2023 season
2022 season
2021 season
2020 season
2019 season
2018 season
2017 season
2016 season
2015 season
2014 season
2013 season
2012 season
2011 season
2010 season
2009 season
Record your blossom dates in our Fruit Tree Register - more >>.
Harvest records for this variety
2022 season
2021 season
2020 season
2019 season
2018 season
2016 season
2015 season
2014 season
2013 season
2012 season
2011 season
2010 season
2009 season
Origins
Species: Malus domestica - Apple
Parentage: Unknown
Originates from: England, United Kingdom
Introduced: 1740
UK National Fruit Collection accession: 1973-133
Some historical details taken with kind permission from 'The New Book of Apples' by Joan Morgan and Alison Richards , illustrated by Elisabeth Dowle, published by Ebury Press, 2002.
Identification
Awards: RHS AGM (current)
Country of origin: United Kingdom
Period of origin: 1700 - 1749
Fruit colour: Orange flush
Leaf colour: Green
Popularity: Best sellers
Annual cycle: Deciduous
Using
Picking season: Late
Keeping (of fruit): 1-2 months
Flavour quality: Good
Flavour style (apples): Sharper
Cooking result: Puree
Discoloration of fruit: No discoloration (Good for drying)
Vitamin C content: Medium
Cropping: Good
Fruit persistence: Normal ripening
Food uses: Eating fresh
Food uses: Culinary
Food uses: Dual purpose
Picking period: early October
Wildlife: RHS Plants for Pollinators
Growing
Gardening skill: Experienced
Flowering group: 3
Pollinating others: Poor
Ploidy: Triploid
Vigour: Very vigorous
Precocity: Slow to start bearing
Bearing regularity: Biennial tendency
Fruit bearing: Partial tip-bearer
Attractive features: Attractive fruit
Attractive features: Attractive tree / plant
Longevity: Long-lived
Self-fertility: Not self-fertile
Climate
Frost resistance of blossom: Susceptible
Cold hardiness (USDA): (5) -20F / -29C
Climate suitability: Temperate climates
Summer average maximum temperatures: Cool ( 20-24C / 68-75F)
Cold hardiness (RHS): H6 (to -20C)
Summer average maximum temperatures: Cold (< 20C / 67F)
Other qualities
Disease resistance: Average
Canker: Very resistant
Scab (Apple and Pear): Some resistance
Powdery mildew: Some resistance
Bitter pit: Some resistance
Where to buy trees
The following tree nurseries offer Blenheim Orange apple trees for sale:
Where to buy fresh fruit
The following orchards grow Blenheim Orange:
United Kingdom
England - midlands

England - north

England - south-east

England - south-west
Canada
Australia
References
Apples of England (1948)
Author: Taylor
Fruit Expert
Author: Hessayon