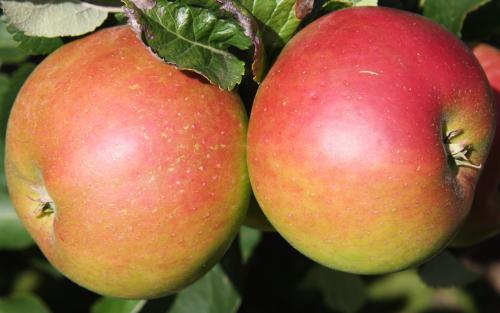 Annie Elizabeth is an old-fashioned English cooking apple, possibly a seedling of Blenheim Orange, which it resembles in shape and size, and also in its relatively sweet flavour.
This is one of the best apple varieties for any recipe which calls for an apple which keeps its shape when cooked - interesting, given that Blenheim Orange cooks to a puree.
It is also an easy variety to grow in the garden, fairly resistant to most of the usual diseases and tolerant of the wet mild climates often found in northern Europe. A notable feature is the attractive purple blossom.
Annie Elizabeth apple identification images
All images copyright Orange Pippin unless otherwise stated.
USDA identification images for Annie Elizabeth
The identification paintings in the USDA Pomological Watercolor Collection span the years 1886 to 1942.
Citation: U.S. Department of Agriculture Pomological Watercolor Collection. Rare and Special Collections, National Agricultural Library, Beltsville, MD 20705.
Parents and other ancestors of this variety
Blenheim Orange (parent) - Annie Elizabeth is believed to be a seedling of Blenheim Orange
Visitor reviews
12 Jun 2016 

Rod Blair

VIC, Australia

I have at last managed to find an AE here in Australia. Very rare here. Family lore has it that my Grandmother (born 1879) was named after this apple

11 Sep 2012 

Luc

France

Is this the variety called Lanscailler ou Lancashire in northern France ? Delightful in "tarte tatin".

10 Oct 2011 

Gill Tennant

CEREDIGION, United Kingdom

I planted a 12 tree orchard when we moved here 30 years ago, and have replaced and supplemented those original fruit trees over the years. I particularly wanted an Annie Elizabeth to extend the fruit season, and the volunteer gardeners at Llanerchaeron, a local National Trust traditional estate where I worked as a volunteer for a time, grafted and grew me one, as it was not available commercially near me. It has been planted for about 8 years now and yielded good crops. This year it has forked sticks protected by cloths supporting very heavily laden branches! I have picked up 4 trays of windfalls and we have only just entered October. My son is visiting to help 'harvest' and take fruit back home!

10 Sep 2011 

Neil Masey

EAST SUSSEX, United Kingdom

I have a beautiful specimen that is over 100 years old and is a fantastic shape, having been well tended to over the years. This tree was one of a pair in a small orchard of other trees at the end of the garden of a huge house. This is now my own back garden. The fruit is juicy and delicious and I made 48 jars of spiced apple chutney in 2010 and over 30 pounds of apple sauce from the crop. It seems to have produced more fruit this year but this has ripened many weeks earlier than last year and today (10th Sept) the leaves are already on the turn. My beloved grandma is called Annie Elizabeth and my cherished cat if 18 years is buried under it. I like to think a little bit of her soul is in every apple.

16 Jun 2011 

Petek

BERKSHIRE, United Kingdom

The tree is in the front garden and seems to produce fruit every two years. It is, sadly, in poor condition and approximately 100 years old

10 Apr 2010 

N. Buck

CAMBRIDGESHIRE, United Kingdom

Annie Elizabeth is the finest cooked apple that I've tasted - and I grow (or grew) quite a few different varieties of apple to compare against. The fruits also make very well-flavoured but slightly acid eating apples. Blossom buds start off as dark maroon-red, but open to produce pale pink blossom. Annie flowers slightly late, but not so late that pollination could be a problem. As mentioned in an earlier post; the trees have an upright tendency. Disease resistance and pest resistance is good. Over the years, I've grown, planted or grafted several Annie Elizabeth trees and I always find them to be slower to settle in to a new location and slower to get a good root system down. They also seem to grow smaller root systems than many apple trees of similar above-ground size. Another problem with the trees is that the fruits are very large, which causes many fruits to break off under their own weight, when tossed around by strong winds. Either give the tree wind protection, or grow it as a smaller tree that moves less in the wind.....otherwise, accept that strong winds could cause a lot of fruit to drop before it's ripe. If it wasn't for the excellent fruit flavour and overall fairly good resistance to pests and diseases, I would have given up on this variety long ago.

18 Nov 2009 

Paul

SOMERSET, United Kingdom

hi, i lost my wife in 2007 and 8 months later my 17 year old daughter too, have planted a 31 tree orchard in there memory, but it soon will be 32 ,when i get a annie tree.after reading your comment

03 Nov 2009 

Elizabeth

LEICESTERSHIRE, United Kingdom

I planted an Annie Elizabeth 20 years ago in memory of my daughter and was delighted to read that it comes form Knighton, just a couple of miles up the road from where she was born. I have found it to be a useful all round apple which keeps well and holds its shape when cooked.

27 Oct 2009 

Melanie

LEICESTERSHIRE, United Kingdom

Annie Elizabeth comes originally from a garden in Knighton, Leicestershire. It is said to have been named after the daughter of the family who died very young. The trees tend to be quite upright .

11 Oct 2009 

Anne Osborne

SUNSHINE COAST, QUEENSLAND,, Australia

I have heard that 'Annie Elizabeth' originated from an allotment in Knighton, Leicestershire. I have a fondness for this Apple because I am an Annie Elizabeth too.

24 Dec 2008 

Mal

GATESHEAD, United Kingdom

I've just planted one of these on my Gateshead allotment - for my daughter, Annie Elizabeth!

10 Oct 2008 

Annie

INDIANA, United States

It's kind of ironic because i was at a local orchard and they had these beautiful apples and i asked one of the little kids working there what it was and he said he didn't know. So I came home and later I was googling my name and this popped up, the exact apple i was looking at! also, annie elizabeth is my name so i will definatly be planting and enjoying these apples!

14 Sep 2008 

Ursula Blair

BRIGHTON, EAST SUSSEX, United Kingdom

We moved two years ago to Saltdean, in the garden is a large apple tree, the first year we had no apples at all, so thought about getting rid of it. This we have so many lovely juicey apple but I didn't know what they were, your site has just solved that for me. They do cook very well, but intersring to now they can be left on the tree for so long. But how long can you store them, and what is the best way to store them. Many Thanks for your info

25 May 2008 

Graham Stocks

LEICESTERSHIRE, United Kingdom

We have an old tree - planted late 1890s by my great- grandfather. Successfully grafted a few offspring. Fruit can be left on the tree until December - keeps well. We regard this apple as both an eater (if you haven't got too sweet a tooth) and a cooker. Tends to scab and is a biennial fruiter. Wouldn't describe the blossom as purple - more the usual pink and white.
Tree register
Spring blossom records for this variety
2018 season
2017 season
2016 season
2015 season
2014 season
2012 season
2011 season
2010 season
2009 season
Record your blossom dates in our Fruit Tree Register - more >>.
Harvest records for this variety
2017 season
2016 season
2015 season
2012 season
2011 season
2010 season
2009 season
Origins
Species: Malus domestica - Apple
Parentage: Possibly a Blenheim Orange seedling
Originates from: England, United Kingdom
Introduced: 1850s
UK National Fruit Collection accession: 1957-175
Identification
Country of origin: United Kingdom
Period of origin: 1850 - 1899
Fruit colour: Orange flush
Flower colour: Crimson
Leaf colour: Green
Annual cycle: Deciduous
Using
Picking season: Late
Keeping (of fruit): 3 months or more
Flavour quality: Good
Flavour style (apples): Sharper
Cooking result: Keeps shape
Discoloration of fruit: No discoloration (Good for drying)
Vitamin C content: Medium
Cropping: Good
Fruit persistence: Fruit drops when ripe
Food uses: Culinary
Picking period: early October
Wildlife: RHS Plants for Pollinators
Growing
Gardening skill: Beginner
Flowering group: 4
Pollinating others: Poor
Ploidy: Diploid
Vigour: Vigorous
Bearing regularity: Regular
Fruit bearing: Spur-bearer
Organic culture: Suitable
Attractive features: Attractive flowers
Self-fertility: Partially self-fertile
Climate
Frost resistance of blossom: Good resistance
Cold hardiness (USDA): (5) -20F / -29C
Cold hardiness (USDA): (6) -10F / -23C
Cold hardiness (USDA): (7) 0F / -18C
Cold hardiness (USDA): (8) 10F / -12C
Climate suitability: Temperate climates
Climate suitability: Mild damp climates
Summer average maximum temperatures: Cool ( 20-24C / 68-75F)
Summer average maximum temperatures: Warm (25-30C / 76-85F)
Summer average maximum temperatures: Cold (< 20C / 67F)
Other qualities
Disease resistance: Good
Canker: Some resistance
Scab (Apple and Pear): Some resistance
Powdery mildew: Some resistance
Where to buy trees
The following tree nurseries offer Annie Elizabeth apple trees for sale:
Keepers Nursery
United Kingdom  More >>
Where to buy fresh fruit
The following orchards grow Annie Elizabeth:
United States
References
Apples of England (1948)
Author: Taylor
Fruit Expert
Author: Hessayon