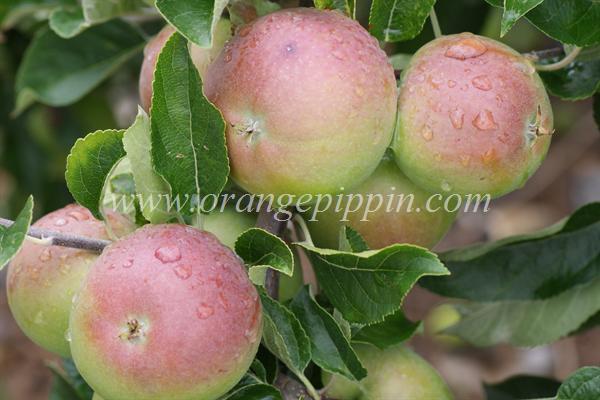 Medium sized flat shaped fruit, rectangular, convex, not ribbed; skin greenish yellow, sometimes with a slight brownish red flush. Flesh tender, crisp, creamy white; flavor sweet subacid.
Merton Charm identification images
USDA identification images for Merton Charm
The identification paintings in the USDA Pomological Watercolor Collection span the years 1886 to 1942.
---
Citation: U.S. Department of Agriculture Pomological Watercolor Collection. Rare and Special Collections, National Agricultural Library, Beltsville, MD 20705.
Tree register
We don't have any registered trees for this variety yet.
Species: Malus domestica
Parentage: McIntosh x Cox's Orange Pippin
Introduced: 1933
Developed by: M.B. Crane, John Innes Institute
Cold hardiness (RHS): H6 (to -20C)
Summer average maximum temperatures: Cold (< 20C / 67F)
Summer average maximum temperatures: Cool ( 20-24C / 68-75F)
Where to buy fresh fruit
The following orchards grow Merton Charm:
United Kingdom