Melrose apple
Malus domestica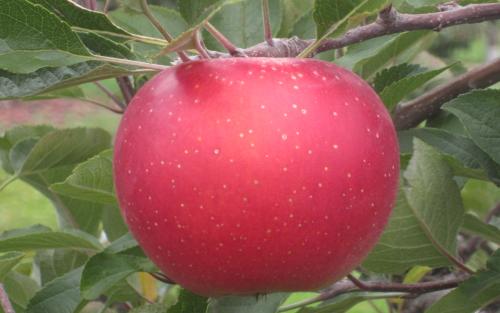 Official Ohio State apple. Large flattened fruit. Yellowish green skin flushed and streaked dark red with russet spots. Firm, coarse, juicy creamy white flesh. Slightly acid flavor. Very good cooking and dessert qualities. Best after Christmas when it develops it's fruity aroma.
Melrose apple identification images
All images copyright Orange Pippin unless otherwise stated.
USDA identification images for Melrose
The identification paintings in the USDA Pomological Watercolor Collection span the years 1886 to 1942.
Citation: U.S. Department of Agriculture Pomological Watercolor Collection. Rare and Special Collections, National Agricultural Library, Beltsville, MD 20705.
Offspring of this variety
Visitor reviews
30 Nov 2015 

Joseph RéZeau

France

My favourite apple, raw or cooked. Not so easy to find in French stores, but it's now cultivated by my local organic apple-grower, so made ample provision for the winter. I had no idea this cultivar was of US origin. Thanks to this site for the great information!

27 Sep 2015 

Jenny

OHIO, United States

Just picked from my favorite Orchard (Branstool Orchard Utica Ohio) on Sept 26th. It's a little early, but it's been a good year and they are sweet/tart with those lovely Pineapple notes that I enjoy so much from Melrose. I like to eat them fresh, but they are also wonderful when cored and baked for dessert with butter and cinnamon or with homemade caramel inside. The early ones are pretty good in pies as well.

04 Oct 2013 

Rose

WISCONSIN, United States

While shopping at our local nursery I came upon the Melrose apple tree. I thought it would be a great way to remember my mother, Rose, who had past away. This apple is a perfect combination of sweet and tart in taste, the flesh has a medium firmness, so eat, bake , or can it. I may try wine making this year! My mom ate a apple everyday, and made the best pies. 5/5 just heavenly!

06 Jan 2013 

M. Ditty

OHIO, United States

Somewhat tart apple . Needs to be pruned and apples thinned out to produce good apples. Grows very fast.

26 Nov 2012 

Ted &Amp; Marjorie

NORTHUMBERLAND, United Kingdom

The variety was unknown to us when bought from a market stall in Clitheroe, Lancashire. Looked an appetizing colour and had a pleasant, reasonably sharp taste. Will now probably seek to buy a small tree.

21 Oct 2012 

Bonnie Shemenski

OHIO, United States

First time user. Bought at a local orchard. Made pies,used an old style peeler and corer,and slices were thin. We don't care for tart pie apples ,too much sugar needs to be used to make them palatable so we tried these. The apple flavor comes through, great texture. We already bought more and have them sliced and in the freezer. I'll be planting a few them in my small orchard.

09 Jun 2012 

Guy

KENT, United Kingdom

We have a smallish orchard of these (30+ on mid rootstock) and whereas they are huge fruiters the initial flavour (UK spelling!) is insipid without good sun, the flavour develops into the autumn though. We juice 80% of our and the trick is to pick then wait before processing.

21 Aug 2011 

Cris Sherman

WA, United States

This is one of my favorite apples. It has the crispy characteristics of the Jonathon. The flavor tends to lean toward the Red Delicious. If you like a more tart apple, start eating this variety at the end of September. It is good for pie at this time. If you lean toward the sweeter characteristics, wait until late November when it becomes a good eating apple and a good apple for cider. This apple will stay on the tree for a long time. You can harvest it during a three month period for different reasons.
Tree register
Spring blossom records for this variety
2016 season
2015 season
2014 season
2013 season
2012 season
2010 season
2009 season
Record your blossom dates in our Fruit Tree Register - more >>.
Harvest records for this variety
2015 season
2013 season
2012 season
2011 season
2010 season
Origins
Species: Malus domestica - Apple
Parentage: Jonathan x Red Delicious
Originates from: United States
Introduced: 1944
Developed by: Freeman S. Howlett, Ohio Agricultural Experiment Station, Wooster, Ohio
Identification
Country of origin: United States
Period of origin: 1900 - 1949
Fruit colour: Red - dark
Annual cycle: Deciduous
Flowering duration: Average (2-3 weeks)
Flesh colour: Cream
Fruit size: Average
Alleles: 9
Alleles: 28
Using
Picking season: Late
Keeping (of fruit): 3 months or more
Flavour quality: Very good
Flavour style (apples): Sweet/Sharp
Cropping: Heavy
Fruit persistence: Normal ripening
Food uses: Eating fresh
Picking month: October
Picking period: mid-October
Wildlife: RHS Plants for Pollinators
Growing
Gardening skill: Beginner
Flowering group: 3
Pollinating others: Average
Ploidy: Diploid
Vigour: Vigorous
Bearing regularity: Regular
Fruit bearing: Spur-bearer
Self-fertility: Not self-fertile
Growth habit: Upright-spreading / Vase
Climate
Cold hardiness (USDA): (4) -30F / -34C
Chill requirement: High-chill
Climate suitability: Temperate climates
Climate suitability: Warm climates
Cold-hardiness: Cold-hardy
Summer average maximum temperatures: Cool ( 20-24C / 68-75F)
Other qualities
Disease resistance: Average
Cedar apple rust: Some resistance
Canker: Some susceptibility
Scab (Apple and Pear): Some susceptibility
Powdery mildew: Some susceptibility
Fire blight: Some susceptibility
Where to buy trees
The following tree nurseries offer Melrose apple trees for sale:
Where to buy fresh fruit
The following orchards grow Melrose:
United States
United Kingdom
Canada
References
Apples for the 21st Century
Author: Manhart